A wealth of restorative sanctuaries hide just below the surface in Berlin's bustling Kreuzberg neighbourhood. With local Fashion Designer Hien Le as our trusted guide, they are quick to reveal themselves.
Hien—the man who talks of pleats in high-performance tennis dresses as if it were haute couture— was raised in the area and is the picture of calm against his familiar urban backdrop. Kreuzberg doesn't first spring to mind alongside the designer. The label doesn't exude 'protest chic'—there's no purposely deconstructed clothing or gaudy mirrored sunglasses, so beloved in Kreuzberg. Instead, his designs offer free flowing pieces in soft muted colors. When not working, the Laos-born designer has a commitment to seeking out the best spots to unwind. If Hien needs a day off, he takes a detour to the botanical garden. If dessert is on the menu, it's off to the Eismanufaktur for one of their sorbets. He likes to have things neat and structured—no chaos. His apartment, for example, is a stone's throw away from one of his main manufacturers. To capture the Hien Le-life: the more safe and comfortable he feels, the more willing he is to take risks with his work and the more inventive his designs become.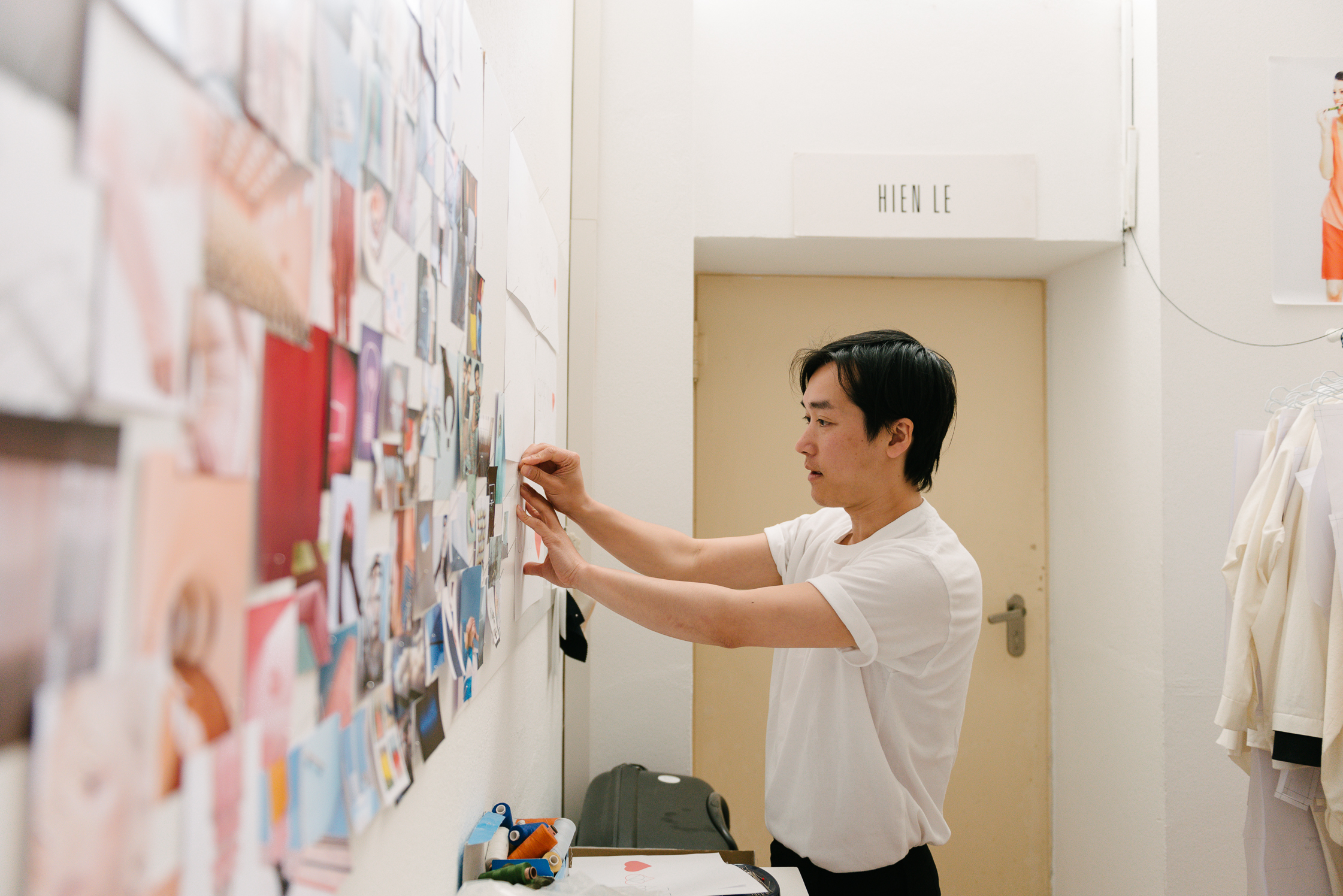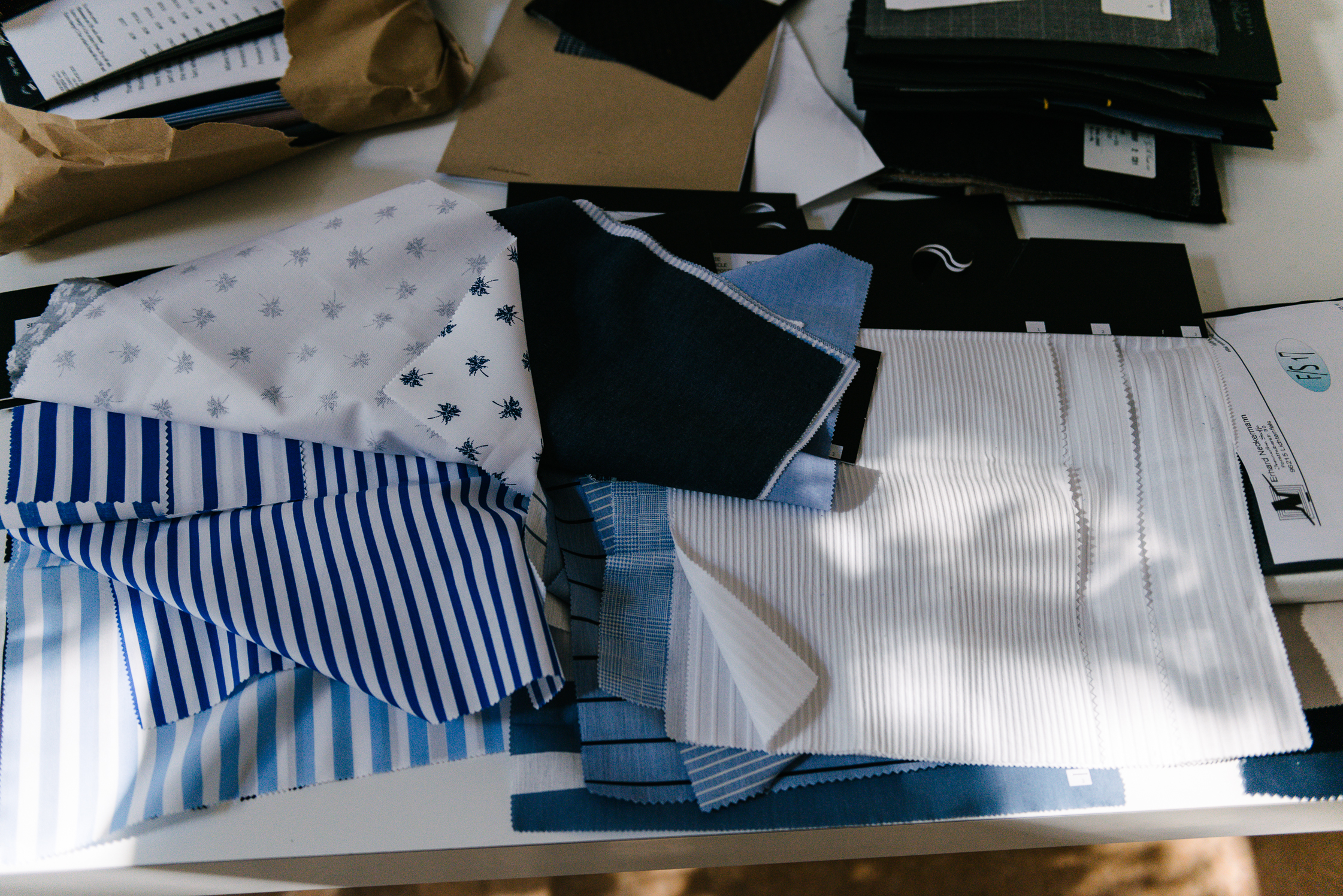 Hien's ideas have no singular origin. Each collection can differ in style and depending on his influences at the time. "The creative process can be triggered very quickly and maybe by something very small. A movie, a song or maybe even an object. What comes after this initial trigger is a much lengthier and technical process. For example, one specific color can influence the whole range of the color and material selection. And that's when the design process begins."
The "negative form," as Hien puts it, is the main inspiration for the S/S '17 collection. The buzzwords: transparency and contrast. He plays with contrasts, from the form to materials and little details. Hien describes how he created the sweatshirt for the MINI Fluid Fashion Capsule Collection, whose design was derived from this season's works: "The sweatshirt as a piece of clothing is timeless, as are my designs. The sweatshirt is and will always be genderless piece. I wanted to unite a sense of unlimited, boldness, communication, and love at the same time, which explains the choice of cut and the emoji-heart. The zeitgeist captured in the timeless sweatshirt."
Hien's essential stops in Berlin
In good hands: Where Hien's creations are sewn to life
To understand Hien Le better, we visit his workspace. The bright atelier, located in a courtyard that he shares with a few partners, also in design, is only a heartbeat away from his manufacturer "110prozentig." We wait a full two minutes until Hien and the owner Susanne are finished hugging each other. "Without her and this place, I wouldn't have been able to develop many of my things," he says.
Kreuzberg, where he grew up, has long been a trusted source of inspiration. "I love watching the older Kreuzberger ladies and gents. They don't seem to be aware of how amazing they look and how great their way of dressing is. There's this one amazing Turkish guy in my neighborhood who wears a waistcoat, shirt, and a pair of pleated trousers every day. That makes me really happy."
Hien's story as a designer doesn't begin in Kreuzberg, however, but with his internationally-minded and MTV-influenced adolescence. "When I was 12, I was sitting in front of the TV and watching House of Style with Cindy Crawford. Karl Lagerfeld was a guest in one of the episodes and ever since I started fantasizing about life as a fashion designer," Hien explains over a tomato soup and a sandwich at Louis Pretty an upcoming lunch spot in the neighborhood that Hien loves for its David Hockney colored tables.
Hien's fashion language speaks in serene tones. There's nothing pithy to it and it answers instead to 'sophistication.' Although he would never describe it quite so, and he's happy with each and every interview where he doesn't have to recount his own style. "It's practically impossible," he explains from the familiar environs of Voo Store, where his designs are stocked, as he films the swaying movement of a pleated skirt from his current collection. And no, the video does not end up on Instagram. "I'm not obsessed with it. I use it but I also have people who help me with it!" And Hien knows that he needs them, in the same way he taught himself everything he needed to know about starting an eponymous label.
"I have seen many successful labels come and go. That frightened me, but I didn't want to give up."
Hien is well-versed in the fashion world, with an apprenticeship in tailoring, assisting Veronique Branquinho, followed by a stint in France—and held his first show at Berlin Fashion Week in 2011. His bio is featured on Vogue.de and Italian Vogue suggested him as one of the five designers to create a piece for the MINI Fluid Fashion Capsule Collection. "Nevertheless, I have seen many successful labels come and go. That frightened me, but I didn't want to give up."
So how does he keep up? One way is to get out every now and then finding places beyond the city pace. One such is Hallesches Haus, where Hien stops by regularly for its coconut water and the crunchy biscuits. More important than the snacks, though, are Vinyasa flows at Südstern for Bikram and aerial yoga sessions 3-4 times a week. Otherwise the balance of his life and work wouldn't work. The same way it wouldn't function without the right amount of Kreuzberg. "When I leave the train at Kotti, I feel immediately at home and back to normal. And yet I know for some people, it's one of the craziest places in Berlin."
Berlin's trademark concept store
"Voo Store is one of my first, best and biggest customers, and one of the best concept stores in the city."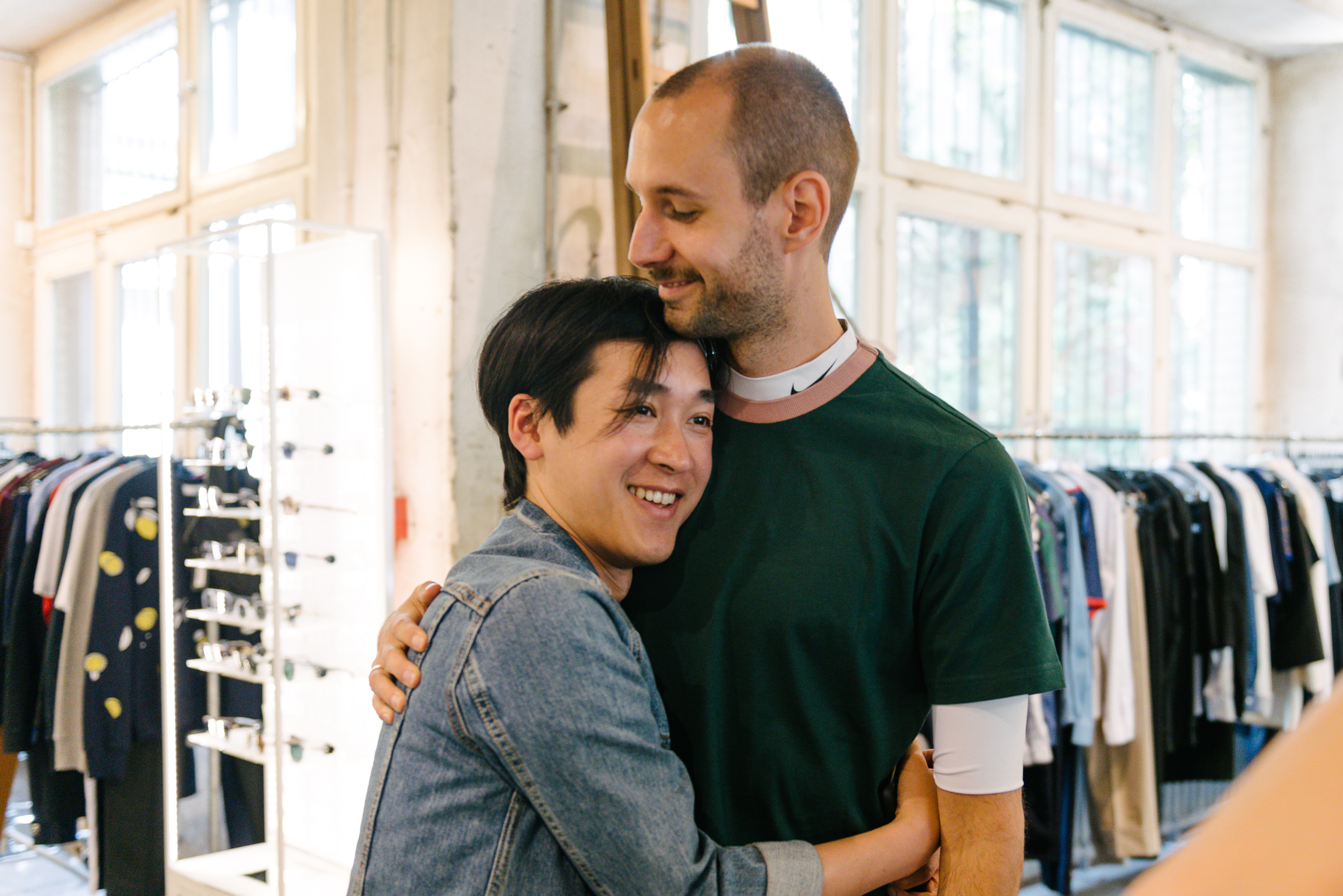 A Kreuzberg deli serving up pastrami and photogenic interiors
"Louis Pretty – my new 'hotspot' for lunch breaks. Personally, I like the redevelopments in Kreuzberg. Sure, I don't appreciate everything that has changed here, but I'm happy about nice and high-quality venues like this one or ORA, for example."
Dahlem's Botanical Gardens for introspective wanders
"The botanical garden is always a safe haven for me, basically a holiday for a day, especially in the big palm house."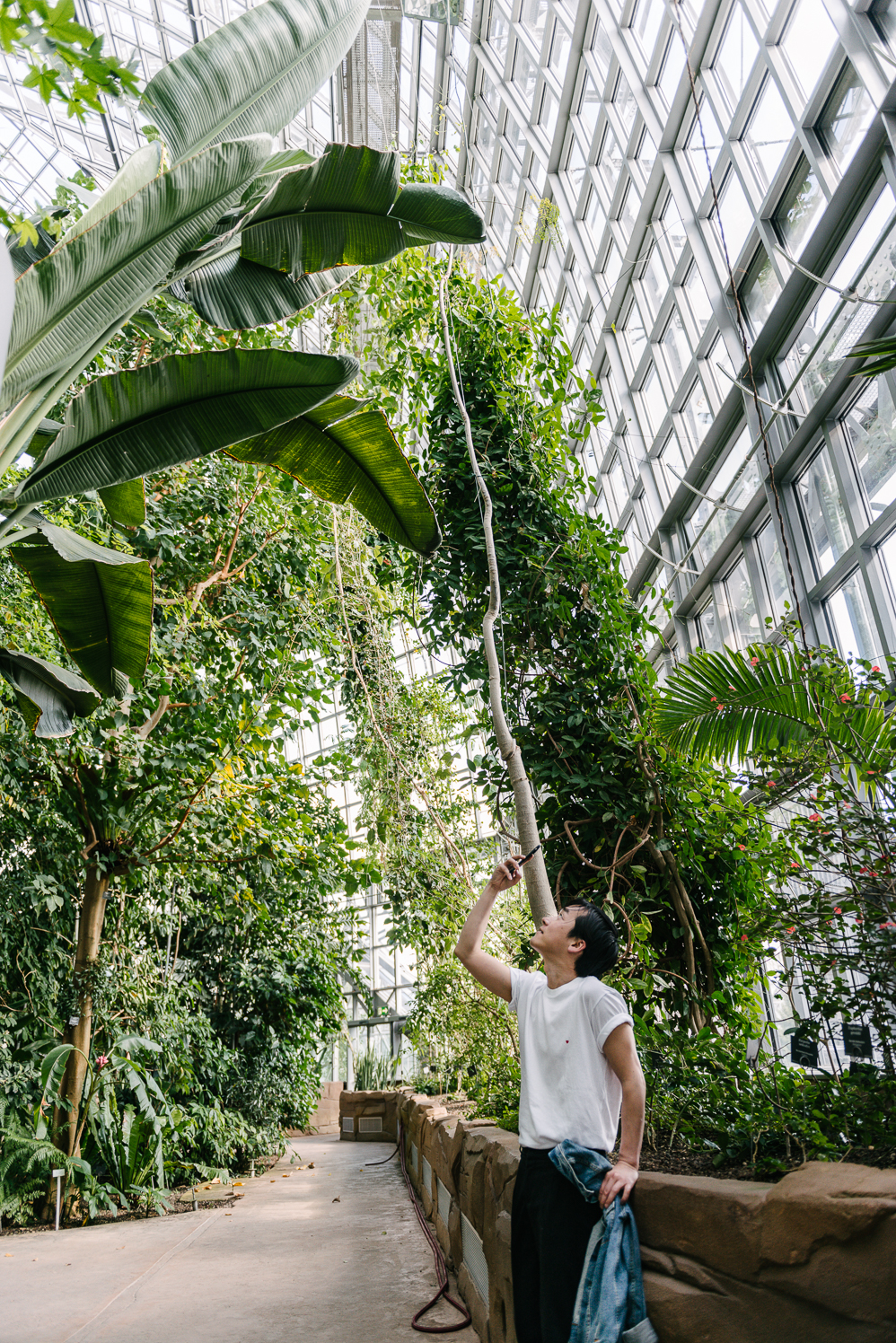 Eismanufaktur is a go-to for locally produced ice-cream
"I love ice-cream. I eat it almost every day. I always have my first and last of the season at Eismanufaktur. Their ice-cream is locally produced and they offer some of the best sorbet flavors."
Thank you, Hien,  for showing us around your atelier and letting us see Kreuzberg through your eyes. See Hien's designs here.
This portrait is part of a collaboration between MINI and Freunde von Freunden. Berlin Fashion Designer Hien Le is one of five international designers to create a fashion product for the MINI FLUID FASHION Capsule Collection, which will be launched at the start of the PITTI Uomo 90. The portrait tells the inspiring story behind Hien Le's creative process, focusing on the latest trends in urban culture and lifestyle, and honoring MINI and PITTI's shared values of passion, innovation, and creativity.
Look for a more fashion-focused angle of this story on Vogue Germany.
Photography: Daniel Müller
Interview & Text: Anne Philippi