From the traditional craft of feather work to Madonna's Superbowl outfit- the term "accessory designer" is too narrow to describe Erik Halley's profession. The Parisian designs "anything crazy that people would like to wear on their face" as he puts it. Before the Second World War feather works were highly popular beyond the French borders. Women of that time used the delicate designs to hide any imperfections of their hair. Feather makers like the Maison Février were busy supplying the local Haute Couture brands as well as the infamous cabaret shows at Moulin Rouge or Lido.
Erik began designing his first feather necklace during his internship at a PR agency. Quickly his creations started to spread all around the fashion circuit. Naomi Campbell wore one of his pieces on the cover of French Elle, which kick-started the career of this charming French man who nowadays leads a not-so-secret second life as a DJ.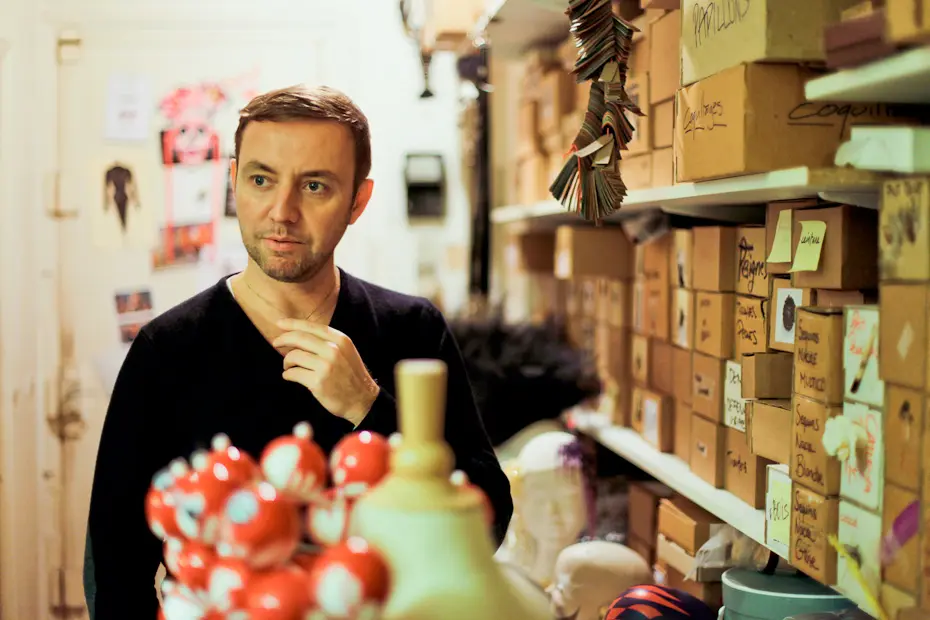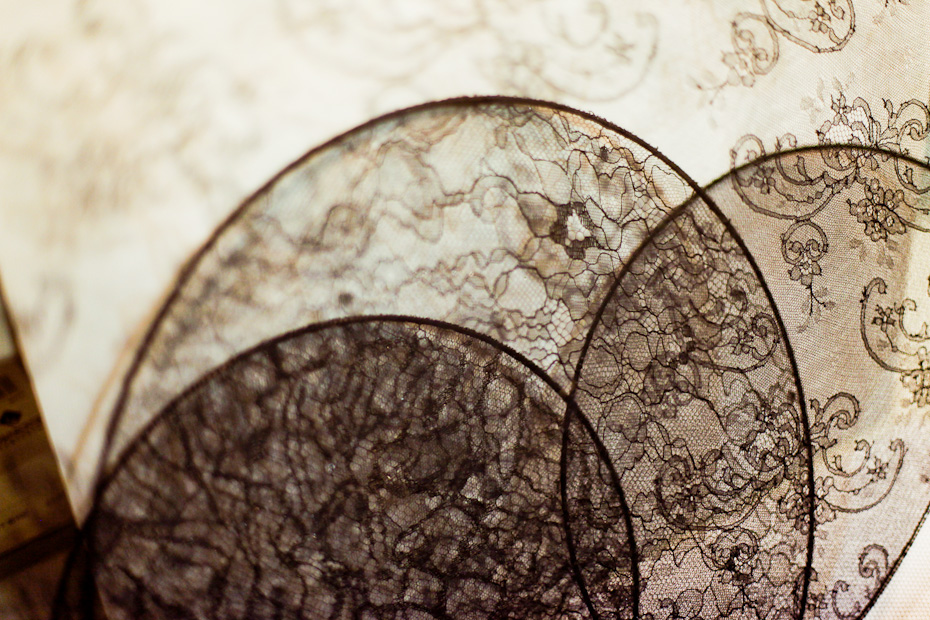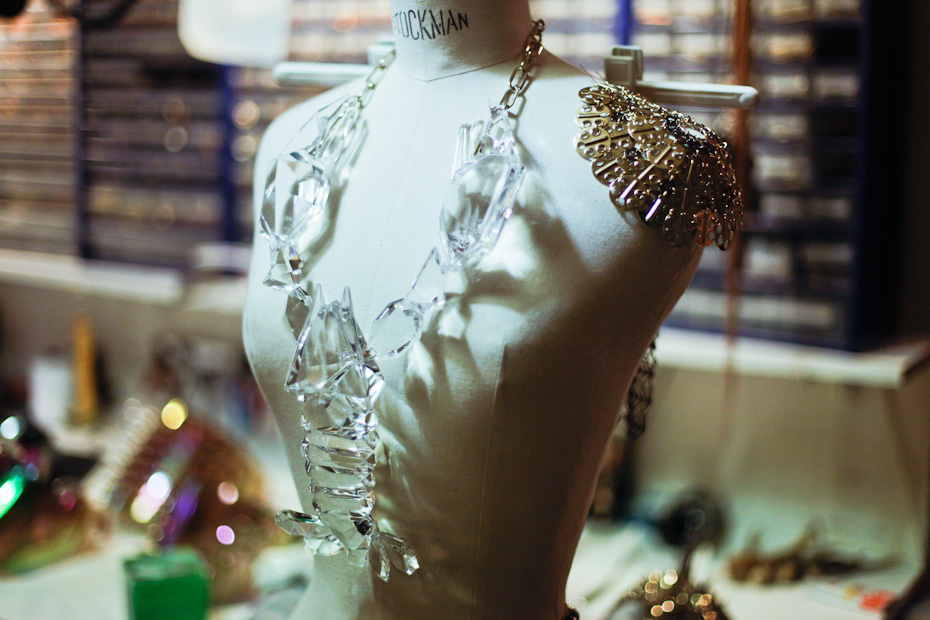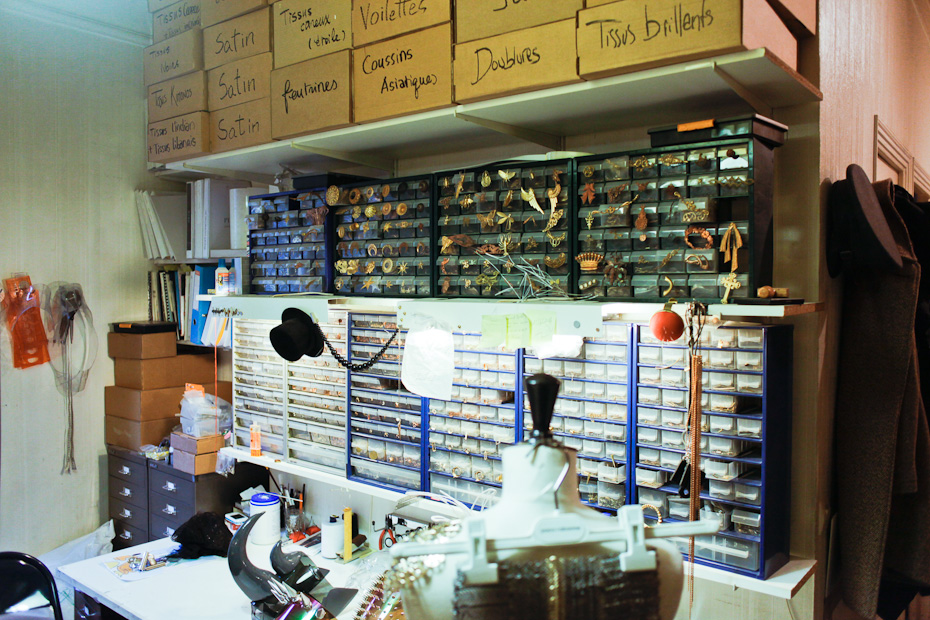 Maybe you could start by introducing yourself for the people who don't know you…
I'm Erik Halley, I'm an accessory designer in a very large way. I'm not only doing bags and jewellery, I'm also doing pieces for performances and anything crazy that people would like to wear on their face or anywhere else (laughs). It's always unusual – my work as well as the requests. I've been doing it for 15 years now.
Let's start at the beginnings, how did you end up doing what you are doing today?
Well I went to a fashion school and after that I worked at a trend office for some time. During this time, I designed some sports clothing collections for different companies in Europe and Japan too. At one point I just started doing little things with feathers and I came up with my first feather necklace. Within a few months I made a few more pieces and started selling them in shops. As I was an intern at a press office at that time I showed them what I was doing and they said, "Oh yeah, well leave your creations here and we'll see if we can do something with it". Four months later I got on the cover of French Elle with Naomi Campbell.
That was in 1994 and that's how it all really started. I made a little collection after that and I started to sell it. I got a call to go to London to meet some people and for a few jobs. Within a day I was hired to work with Berardi, McQueen, Chalayan and Julien McDonald. I also met one of the fashion directors of British Vogue, who liked my work and used it for editorials. As you can see it all happened really, really fast.
Wow, it seems like it! What did you do before all that, what's your family background?
I am French, I was born in Normandy but my name is British. Actually the man who discovered the Halley's Comet is my great uncle, one of the most talented scientists of his time.
At a very young age I moved to South of France and I grew up at the French Riviera. After some time my parents decided to move back to Normandy. After finishing my high school there – I eventually moved to Paris to go to a fashion school.
Growing up in the countryside, what made you realise that you have a special talent?
I don't know, I guess it has always been a part of me. I've always seen the world in my own way; I usually have a different point of view than most people. I constantly try to change the way things are in my mind and make them more playful, positive, happy, mad or even crazy.
What inspires you?
Looking back I realize that I was inspired a lot by Pop and Rock'n'Roll. I was born in the 70's and I grew up in the 80's with Bowie, Cindy Lauper and Madonna. Those were my first influences.
When I moved to Paris I discovered art, I particularly love surrealism; it's one of my biggest inspirations. I love how artists like Dali or Schiaparelli just seem to twist the world with their own eyes.
Music obviously plays a big part in your life. You're a DJ as well.
Yes, I've been DJing at Club Sandwich for 6 years which is a monthly party in Paris. We started this party because we were bored with what was happening in Paris nightclubs. In the beginning I did a set for a very good friend of mine, DJing in a small club with maybe up to150 people attending. It quite quickly became successful, so we ended up partying in bigger spaces like theatres or the Espace Pierre Cardin where between 1500 and 2000 people would come.
I stopped DJing there now because I recently had a lot of work especially for Paco Rabanne with Manish Arora, who has just been nominated the artistic director. He called me to do all the clothing chains, like Paco Rabanne used to do. I'm basically making pieces of clothing out of metal parts and chains. It's a lot of work, it's not just cutting fabric and sewing it together – it is much more about architecture and volume. The chains need to stay supple; it's a matter of many different ring sizes so that the pieces perfectly fit the mannequin.
How did you find the atelier that you're currently working in?
I used to live in a huge 200 sqm apartment with two friends of mine. I had my atelier on one side of the apartment and we were sharing the rest of the space. When everyone started changing directions in their professional lives, we knew we couldn't live together anymore. A friend of mine informed me his accountant is taking care of these two apartments that are next to each other, so I took both of them. By doing so, I was sure to separate my work and my personal life from each other.
It was a nice coincidence because this street in particular was full of feather makers before the Second World War. Before the war, there were about 120 000 workers in the feather business. It was a big thing at the time, since Paris was making the hats for the rest of the world.
There are not many feather makers left today, are there?
Now there are very few feather makers left, because it takes a lot of time to work on feathers. Before the Second World War, when there was no social security or salary system, people were just paid monthly or weekly. So you would get a lot of people to work for you to make the proper piece in the time you wanted to, which made things much easier.
After the war the Americans created hair salons, which didn't really exist before. Before that women were doing their own hair and they used feather pieces or hats to hide any imperfections. After that the feather making business declined just as quickly as hair salons started to spread.
How did you learn feather making since there are not so many people working in that business today?
There used to be a school to learn feather work, I don't know if it still exists but I mostly learned it by myself. I went to different feather places that were still open at the time, they showed me some tricks and then I worked alone, always keeping in mind what they had taught me. I happened to learn very quickly because I was really into it. The feather makers were somewhat surprised that someone was interested in their work so they were really nice to me. The Maison Février, who used to do feathers for Haute-Couture and for cabarets like the Lido or the Moulin Rouge closed a few years ago. Unfortunately no one wanted to take over the business and the women working there were retiring. There are still the Maison Lemarié that is owned by Chanel now and Legeron who are working with feathers. That's about it; there are only three of us left.
You did the first ever runway show for accessories in Paris.
Yes the first and the only one! I wanted to do this show just to show my work and to push the boundaries of accessories. At that time accessories were not that big. Now it's everywhere of course, almost every brand has a bag and jewellery collection. It also was one of my fantasies to have my own fashion show when I was a student. So I used it as an experimental territory to try out different things and also for promotion. However it does cost a lot of money to produce a show and I wasn't really showing a collection to sell, for me it was more of an art piece than a real fashion show.
Would you like to do more shows like this one in the future?
I would like to do another show but in a more artistic way. Of course I'm also working on a bag collection and on a commercial collection of jewellery. Yet if you want to move on you have to create and think differently. All those masks I make are more pieces of art than anything else. I only create them once, I never repeat anything. When someone says "I want something like that", it will never be the same; I don't want to do the same thing twice. I'm working on an exhibition right now because I have gotten some requests. I don't know how to describe it though, it is fashion but not fashion, it's art but it's not art. It will be something in between.
What is your favourite piece?
You know, when you're working on a piece you are really into it for a while, then you just can't see it anymore and usually after a while you start liking it again (laughs).
Many of my works are based on animals like rabbits, rhinos and spiders. My logo and favourite animal is the lobster, the symbol of surrealism, which also became my trademark. I use real lobsters and cover them with rhinestones. Another variation is the one entirely made out of crystal. The guy who shaped it for me also designed the Thierry Mugler Angel perfume bottle. I made it for my first fashion show and it has followed me ever since. I would like to make a new one but it takes a lot of time to make it.
Where do you find all the materials you work with?
Mainly antique markets and of course all the Parisian suppliers that have existed for decades, almost for a century for some. In 15 years I have collected a lot of things. One of my suppliers has about 35,000 references, so you can say I have a lot of options. I collect feathers and sometimes people call me to sell me their old stock.
Everywhere I go I try to find things. I travel a lot, so when I go to New York or Beirut I look for new suppliers. I also bring back a lot of things when I travel to countries like Brazil or South Africa.
Let's talk about Paris. What do you love about this city and what makes you stay here?
First of all I have all these suppliers here and you need to build up trust to work together, it takes time. I'm also deeply French about the food and the quality of life. I love living in Paris. It is just incredible, I'm still discovering places I've never been to and I've lived here for 20 years!
Since you like good food so much, would you mind telling us about some places you like in Paris?
What is important to me is not only the quality of the food but also the quality of the people. I go to Les Vitelloni for Italian Food, to Café de Paris at Rive Gauche for delicious French Food and for Japanese food I go to Yamamoto, whose owner always puts surprising creations on the table that are not on the menu. Some of the new places I like are, Nanashi for Bento's and Bob's Juice Bar for their perfect smoothies and delicious muffins. There are many more great places I like to go to, but I don't want to give all of them away, I prefer to keep some spots for myself (laughs).
Thanks a lot for this nice interview, Erik!
Interview: Mascha Kaessner
Text: Sarah Weinknecht
Photos: Ailine Liefeld
Entre le savoir-faire traditionnel du travail des plumes et sa dernière création, la tenue de Madonna pour son show du Superbowl, le terme créateur d'accessoires, ne suffit pas pour décrire le travail d'Erik Halley. Ce parisien crée des pièces « et toutes autres excentricités que les gens voudrait porter sur leur visage ou ailleurs.»
Avant la seconde guerre mondiale le travail des plumes, la plumasserie, était une activité importante et très populaire. Les chapeaux et accessoires de plumes servaient alors à cacher les imperfections des coiffures des dames. La Maison Févier fournissait les plumes pour la Haute Couture et pour les cabarets tels que le Lido ou le Moulin Rouge.
Son premier collier de plumes, Erik l'a dessiné alors qu'il était stagiaire dans un bureau de presse.
Ses créations ont rapidement fait le tour du monde de la mode : bientôt Naomi Campbell portait une de ses pièces en couverture du ELLE France. La carrière de ce charmant français était lancée. Il mène aujourd'hui une vie avec une facette publique, en tant que DJ.
Erik, peux-tu te présenter, pour ceux que ne te connaissent pas?
Je m'appelle Erik Halley, je dessine et crée des accessoires, dans le sens large du terme. Je dessine des sacs et des bijoux mais pas uniquement. Je crée également des pièces pour des performances et toutes autres excentricités que les gens voudrait porter sur leur visage ou ailleurs (rires). C'est toujours inhabituel et insolite, mon travail tout comme les demandes que je reçois. Je fais cela depuis 15 ans.
Parle-nous de tes débuts, comment en es-tu arrivé à ce que tu fais aujourd'hui?
J'ai fait une école de mode puis j'ai travaillé pour un bureau de tendances, pendant quelques temps. Pendant cette période, j'ai dessiné des collections de vêtements de sport pour différentes marques en Europe et au Japon. À un moment, j'ai commencé à créer des petites pièces avec des plumes, ce qui a donné naissance à mon premier collier de plumes. En quelques mois, j'ai conçu plusieurs pièces que j'ai commencé à vendre dans des boutiques. Puisque j'étais stagiaire dans un bureau de presse, je leur ai montré ce que je faisais et ils m'ont dit «  Bien sûr, laisse nous tes pièces et nous allons voir ce qu'on peut faire. » Quatre mois plus tard, je faisais la couverture du ELLE France avec Naomi Campbell. C'était en 1994 et c'est ainsi que tout a vraiment commencé. Par la suite, j'ai travaillé sur une petite collection que j'ai vendue. Un jour, j'ai reçu un coup de fil. On me proposait d'aller à Londres, de rencontrer certaines personnes pour des jobs. En l'espace d'un jour, j'ai été embauché pour travailler avec Berardi, McQueen, Chalayan et Julien MacDonald. J'ai également rencontré un des directeurs de la création du Vogue anglais, qui a apprécié mon travail et l'a fait apparaitre dans des articles. Comme vous le constatez, tout est arrivé, très, très vite.
Ca m'en a tout l'air! Que faisais-tu avant? D'où viens-tu et quelles sont tes origines?
Je suis français, né en Normandie mais mon nom est d'origine anglo-saxonne. L'homme qui a découvert la comète de Halley est en fait mon grand- oncle. Un des scientifiques les plus talentueux de sa génération. Très jeune, nous avons déménagé dans le Sud de la France, j'ai grandi sur la côte d'Azur. Après plusieurs années, mes parents décidèrent de revenir en Normandie. Lorsque j'ai fini mes années de lycée, j'ai déménagé à Paris pour étudier la mode.
Comment as-tu remarqué que tu avais un talent particulier en grandissant à la campagne?
Je ne sais pas. Je présume que c'était toujours en moi, une partie de moi. J'ai toujours vu le monde à ma façon. D'habitude, j'ai un point de vue différent de la plupart des gens. J'essaie constamment de changer la manière dont je conçois les choses dans mon esprit pour les rendre plus amusantes, positives, joyeuses et incroyables voire dingues.
Quelles sont tes sources d'inspiration?
Quand je regarde en arrière, je réalise que la Pop, le Rock et le Roll m'ont fortement influencés. Je suis né dans les années 1970, grandi dans les années 1980 avec Bowie, Cindy Lauper et Madonna. C'étaient mes influences. Lorsque j'ai déménagé à Paris, j'ai découvert l'Art. J'aime particulièrement le mouvement surréaliste, qui est une de mes plus grandes inspirations. J'aime des artistes comme Dali ou Schiaparelli et la vision alternative, déformée du monde qu'ils proposent.
La musique joue apparemment un grand rôle dans ta vie. Tu es également DJ.
Oui ! Je joue depuis 6 ans au Club Sandwich (ndlr : soirée mensuelle à Paris). Nous avons commencé ces soirées parce que nous nous ennuyions à Paris. Au début, un très bon ami et moi, mixions dans un petit club avec, environ 150 personnes. Ces soirées ont rapidement gagné en popularité, nous avons alors pu jouer dans des lieux et clubs plus grands comme des cinémas ou l'espace Pierre Cardin, où le public avoisinait les 1500 ou 2000 personnes. J'ai arrêté de mixer pour ces soirées depuis peu car j'ai beaucoup de travail, en particulier pour Paco Rabanne, avec Manish Arora, récemment nommé directeur artistique. Il m'a appelé pour réaliser toutes les vêtements en maille que Paco Rabanne faisait. Je réalise donc toutes les pièces en maille, chaine et pièce de métal. Cela demande beaucoup de travail, ce n'est pas comme couper du tissu et le coudre, il s'agit plutôt d'architecture et de questions de volume. Les chaines doivent rester souples, et il faut allier de nombreuses tailles d'anneaux pour épouser les formes du mannequin.
Comment as-tu trouvé l'atelier où tu travailles maintenant?
Je vivais dans un grand appartement de 200 m2 avec deux amis. J'avais mon atelier d'un côté de l'appartement et nous partagions le reste de l'espace. Lorsque chacun d'entre nous a commencé à changer de directions dans sa vie professionnelle, nous savions que nous ne pouvions continuer à vivre ensemble ici. Un ami m'a parlé de son comptable qui s'occupait de deux appartements côté à côte. J'ai pris les deux. Ainsi, j'étais sûr de séparer vie professionnelle et personnelle. Il s'agit en fait d'une belle coïncidence, car cette rue était, avant la seconde guerre mondiale, remplie de magasins et d'ateliers d'artisans plumassiers. Avant la guerre, environ 120 000 personnes travaillaient pour l'entreprise plumassière. C'était une activité importante, sachant que Paris confectionnait les chapeaux pour l'étranger.
Et aujourd'hui y-a-il encore des plumassiers?
Il n'en reste que quelque uns, car travailler les plumes demande beaucoup de temps. Avant la seconde guerre mondiale, alors qu'il n'y avait ni sécurité sociale ni de système de salaire, les gens étaient payés chaque semaine ou chaque mois. Il était alors possible d'avoir de nombreux employés pour réaliser de belles pièces dans le temps imparti, ce qui rendait les choses bien plus faciles. Après la guerre, les américains ont importé les salons de coiffures, concept qui n'existait pas vraiment auparavant. Les femmes se coupaient les cheveux et se coiffaient elles-mêmes, les plumes et les chapeaux servaient à cacher les imperfections. À partir de ce moment, l'industrie de la plume commença à décliner aussi vite que les salons de coiffure se propageaient.
Où et comment as-tu appris les techniques et le travail des plumes, puisqu'il ne reste que peu de professionnels?
Il y avait une école pour apprendre le savoir faire et le travail des plumes, je ne sais pas si elle existe encore. J'ai principalement acquis mes connaissances seul. Je suis allé dans différentes maisons encore ouvertes à l'époque, ils me montrèrent des astuces puis j'ai toujours travaillé en gardant à l'esprit leurs conseils.
Il se trouve que j'ai appris relativement vite parce que j'étais plongé dedans. Les artisans étaient quelque peu surpris de rencontrer quelqu'un avec un intérêt pour les plumes et leur travail, alors ils étaient sympas avec moi.
La Maison Février qui fournissait les plumes pour la Haute Couture et pour les cabarets tels que le Lido ou le Moulin Rouge, a mis la clef sous la porte il y a plusieurs années. Il n'y avait malheureusement pas de repreneur pour continuer l'activité, alors que les employées partaient à la retraite. La Maison Lemarié, qui appartient aujourd'hui à Chanel et Longeron travaillent encore les plumes. C'est à peu près tout. Nous sommes trois.
Tu as été le premier à Paris à faire un défilé uniquement composé d'accessoires.
Oui ! Le premier et le seul ! J'avais envie de faire ce défilé pour montrer mon travail et repousser les limites des accessoires et de ce qui ce faisait dans le domaine. À l'époque, les accessoires n'étaient pas si présents. Aujourd'hui, ils sont partout, presque toutes les marques ont leur collection de sacs, bijoux et accessoires. Ce défilé était également un de mes fantasmes, avoir mon propre défilé de mode alors que j'étais étudiant. Je l'ai dès lors utilisé comme un territoire d'expérimentation pour essayer, tester différentes choses mais aussi comme outil de promotion. Mais produire un défile coûte beaucoup d'argent, et je ne montrais pas une collection destinée à être vendue… il s'agissait plus d'une œuvre d'art que d'un vrai défilé de mode.
Voudrais-tu monter plus de défilés de ce genre dans le futur?
J'aimerais faire un autre défilé mais avec une orientation artistique. Bien sûr, je travaille aussi sur une collection de sacs et une collection commerciale de bijoux. Par contre, si tu veux évoluer tu dois créer et penser différemment. Tous les masques que je fais sont bien plus des œuvres d'art qu'autre chose. Je ne crée jamais deux fois la même pièce, chacune est unique. Si un client me demande « je voudrais quelque chose qui ressemble à cette pièce », ce ne sera jamais la même, je ne veux pas faire deux fois la même chose.
En ce moment, je travaille sur une exposition, car j'ai eu des demandes. Je n'arrive pas vraiment à la décrire, ce n'est pas vraiment de la mode, ou de l'Art à proprement dit. Le résultat sera un hybride, entre les deux.
Quelle est ta pièce préférée?
Quand tu travailles sur une pièce, tu l'adores pendant un temps, puis tu ne peux plus la voir. Habituellement, tu recommences à l'apprécier quelque temps après (rires).
Beaucoup de mes pièces sont inspirées d'animaux tels que les lapins, rhinocéros ou les araignées. Le homard, symbole du surréalisme, est mon animal préféré. Il est représenté dans mon logo. C'est également devenu depuis ma marque de fabrique.
J'utilise de vrais homards que je couvre de strass. Il y a une autre version entièrement réalisée en cristal. Le mec qui l'a réalisé a également conçu le flacon de parfum Angel pour Thierry Mugler. Je l'avais fait pour mon premier défilé et depuis il me suit partout. J'aimerais en faire un nouveau, mais il faut beaucoup de temps pour le réaliser.
Où trouves-tu tous les matériaux que tu utilises?
Principalement à des marchés d'antiquaires et tous mes fournisseurs parisiens existent depuis des décennies voire presque depuis un siècle pour certains. En 15 ans, j'ai accumulé pas mal de choses. Un de mes fournisseurs a 35 000 références, autant dire que j'ai pas mal de choix. Je collectionne les plumes et parfois des gens m'appellent lorsqu'ils vendent leur stock.
Partout où je vais, j'essaie de trouver des choses. Je voyage beaucoup, quand je vais à New York ou à Beyrouth, je cherche de nouveaux fournisseurs. Je ramène également beaucoup d'objets de mes voyages au Brésil et en Afrique du sud.
Parle-nous de Paris. Qu'est ce que tu y aimes et pourquoi restes-tu ici?
Tout d'abord j'y ai tous mes fournisseurs, et construire une relation de confiance prend du temps.
Je suis profondément français pour ce qui concerne la nourriture et la qualité de vie. J'aime vivre à Paris. C'est juste incroyable. Je découvre toujours encore de nouveaux endroits bien que j'habite ici depuis 20 ans !
Comme tu sembles être un amateur de bonne cuisine, est-ce que tu pourrais partager quelques adresses à Paris?
Ce qui est important pour moi, ce n'est pas uniquement la qualité de la nourriture mais aussi l'entourage, les gens. J'aime Les Vitelloni pour la cuisine italienne, le Café de Paris sur la rive gauche pour leur délicieuse cuisine française et Yamamoto pour les mets Japonais. Le chef propose toujours des créations surprenantes qui ne sont pas au menu. Parmi les nouvelles adresses, j'apprécie Nanashi pour les bentos et Bob's Juice Bar pour ses smoothies parfait et des muffins à tomber. J'ai de nombreuses autres adresses, mais je préfère les garder pour moi (rires).
Merci, Erik!
Interview: Mascha Kaessner
Text: Sarah Weinknecht
Traduction: Léa Munsch
[:pt]