It was a cold Saturday morning when we met knitwear designers Cozette McCreery, Sid Bryan and Joe Bates of the London label Sibling. Before visiting their studio near Brick Lane, we glimpsed Sid and Joe's beautiful apartment, located on the 19th floor of a tower block on Shoreditch's Columbia Road. While the building appeared bleak from the outside, the sophisticated home interior is comprised of rich colors, dark brown wood flooring and walls painted in shades of vivid blues, from which framed photographs of Dobermans and English Bull Terriers are hung. More so, the home comes alive with fondly selected objects from skulls to taxidermy.
Cozette, Sid and Joe have known each other for ages and collaborated on other work projects before founding their own brand, Sibling, the exceptional knitwear company for men. Punk, pop art and youth culture inform the brand's collections with bright colors and bold graphics, and which often arise in collaboration with selected artists, as the designers find their devotees easily. Years of experience in the industry reveal a certain effortlessness, an ease that crosses over into both designs and playful conversation.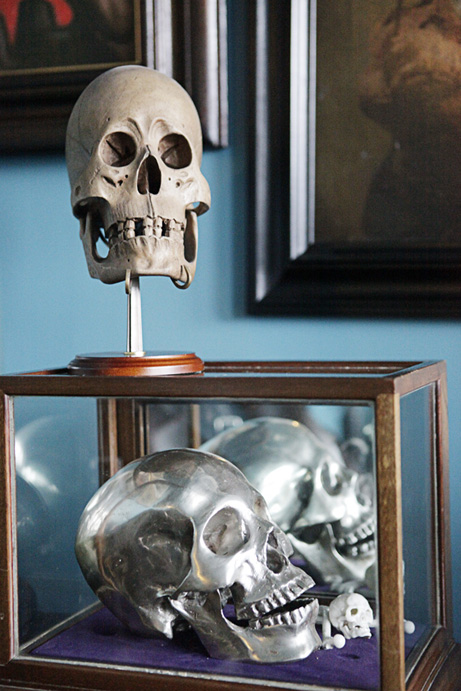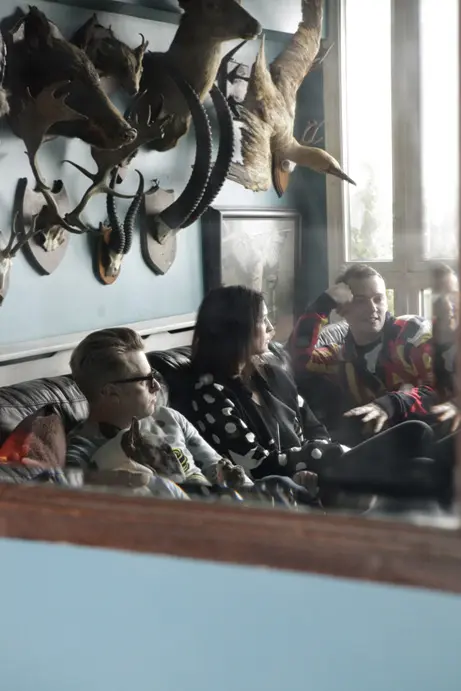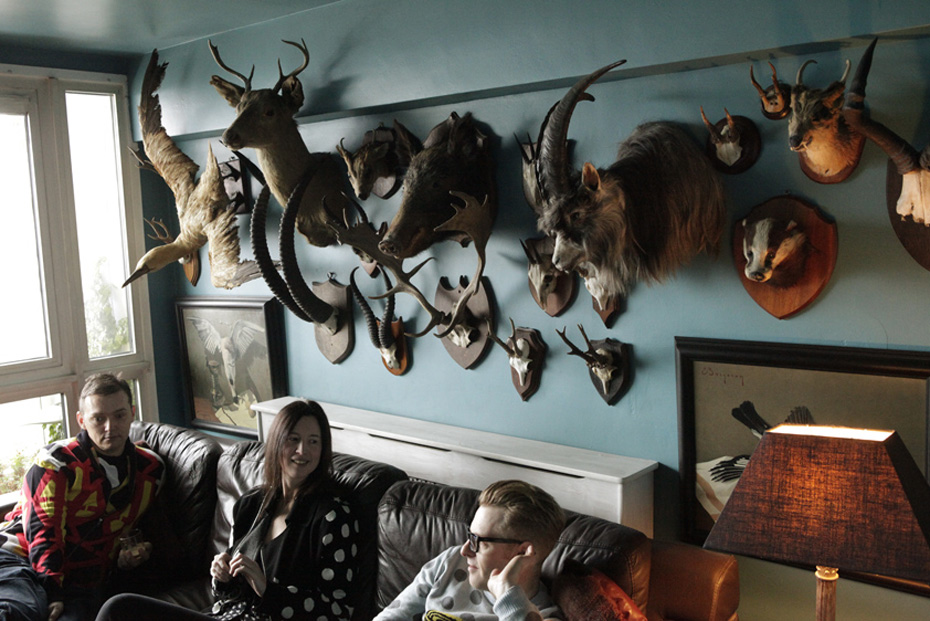 Where are you from and what brought you to London?
Joe Bates: I was born in Leicester to an Irish immigrant family and I escaped as soon as I could like my hair was on fire to come to London. So I've lived all my adult life in London.
Sid Bryan: I'm from South Yorkshire. Again, I just wanted to get to London as soon as I possibly could. I did my degree first in Buckinghamshire, left Yorkshire when I was eighteen and then I went to the Royal College of Art and that was when I first moved to London.
Cozette McCreery: I come from a village in Surrey called Woldingham, but I actually grew up for the first eight years of my life in London. So I'm probably the only person who didn't want to come back to London. But when I got here at sixteen, because my family moved back to London, after being here for two months I didn't want to leave. And since then London is being my home. But I feel probably more like I left London and came back.
Have you ever lived somewhere else or could you imagine to?
Joe Bates: I've lived in New York in the 90's and I loved it, absolutely loved it. I could happily see myself spending some time there again. But I love London dearly and I think at this time it is probably the most exciting city in the world.
Sid Bryan: I have never lived anywhere else, but we do travel a lot, we do experience a lot of other cities for work.
Cozette McCreery: Paris, Hong Kong… and I lived abroad. I lived in Israel, as a shepherd, weirdly, for two years. So that was then going back to another village community on Kibbutz.
Joe Bates: And Sid and I are hoping to buy a place in Paris. We want to share our time between London and Paris.
Cozette McCreery: I want to live in Tokyo, running my own Sibling store in Tokyo. That's what I'd like to do.
What are the three best things about London?
Joe Bates: Choice. That's the best thing. Choice.
Cozette McCreery: Friends.
Sid Bryan: Just the fact that you can get anything, any time really. It's like a 24 hours city.
Cozette McCreery: Availability.
Sid Bryan: When I get home for Christmas, you realize that London is a different world really to a lot of the rest of the country, which is fabulous.
Cozette McCreery: Even in Paris. In Paris most of the shops are closed on Sunday.
Joe Bates: We were just saying, London is very much like New York now.
Sid Bryan: It's catching up.
Joe Bates: You can get anything any time. The thing that I fell in love most with in New York was that you didn't have to think about where you're going to eat or when you're going to eat. When you were hungry and needed to eat, you just looked around and turned into the nearest diner and you would be able to get good food at good prices that was well served. It was that which I really fell in love with about New York, it wasn't anything rock'n'roll or the magnificent art scene, which of course they have. It was actually being able to function. And when I say New York, I really talk about Manhattan, because my life was in a very tiny area called downtown. It was like a village, but a village where you could get anything at any time and I loved that. And I think London has caught up with that.
Cozette McCreery: It lacks the quality a bit. But it will get there.
Which are the best clubs right now in London?
Cozette McCreery: Actually it's all quite quiet. Horse Meat Disco is really good.
Joe Bates: It is a weird time for clubs, isn't it?
Cozette McCreery: I worked with Richard Mortimer, who was the person who started BoomBox and Golf Sale before that, then Family, then Ponystep and I still work with him on Ponystep. He actually moved that from London to Paris, because it's an odd time in London for clubs.
Joe Bates: What's nice, what's happening at the clubs at the moment, is that the music is coming back to something that is more joyous and it's not about drug-taking, it's not about pumping and isolation. It's quite upbeat and retro disco, not in a kitsch way, it's true great 70's and 80's disco that was made by really talented producers and was groundbreaking. So it's quite joyous and uplifting, it's lovely to be around.
Cozette McCreery: The music scene, especially around East London, seems to be getting smaller again. Hot boys tends to be at Dalston Superstore, which is again on two floors. So you have the little hotbox downstairs and then upstairs you can actually sit down, there's a long bar, so it feels nice, it's this sort of friendly atmosphere and you can go out and feel, as you say, not isolated. It's a place to meet friends.
Joe Bates: They are very small. The clubs in London, well, for a while, aren't places to go and get out of your head, sort of just stand on your own all night. They're becoming much more sociable, because they're getting much smaller and by nature much friendlier. I like that very much, it's a very uplifting time for clubs in London.
Do you have any relation to Berlin?
Cozette McCreery: I have friends in Berlin.
Joe Bates: Sid was actually born in Germany.
Sid Bryan: Yeah, I was born in Münster. My dad was in the army. I've been to Germany a lot, I think we all quite like Germany a lot.
Cozette McCreery: Joe is sitting there in the German flag practically.
Joe Bates: I grew up at a time when I was too young to go. But the idea of Berlin was still very very übercool, it was still when the wall was up.
Cozette McCreery: It's Bowie, it's Iggy Pop. We have a very romanticized idea of Berlin. All of those amazing photographs of the punk movement in Düsseldorf and places like that. And also Germany, there were just things, that we reference quite a lot. And then the music.
Sid Bryan: And we've got lots of German friends.
Your flat and studio are both located in East London. What is so appealing about this part of the city?
Joe Bates: I lived around the Westend of London, the centre of London, but my studio was around here and I was always commuting into the Eastend from the Westend. All my social life was in the Eastend and I worked in the Eastend, so it seemed crazy living in the Westend and paying the Westend prices and then living all my life in the Eastend, where it was very inexpensive. So that's why I moved here.
Cozette McCreery: For me it was kind of the same. My social life was here, but then it sort of started moving into my working life as well, because when we first arrived, it was a really big fashion and creative networking. Every pub was just filled with people who are now going off and heading up to design, showrooms and things like that.
Joe Bates: It's like any city around. It's the same in the East Village in New York, or in Berlin. People are moving to where artists and designers live, people who need space at an affordable price. They're moving and slowly – and normally these places are shitholes, that's how it was around here – as they move in. Then it becomes cooler and cooler and then the prices start to creep up. It's a story that happens worldwide again and again and again and it happened around here. Now artists and young designers can't afford to be around here so they're moving further East, because we're actually not true Eastend, we are still very central here, but they're starting to move further. Dalston is how Shoreditch or Hoxton was a few years ago. That's really where everyone goes out and where everyone lives right now.
Cozette McCreery: When I bought my flat, nine or ten years ago, when my father came to visit it, the first thing he said was "As a moving in present I'm buying you a gun and a large dog", because that's how it was. It did feel quite like a threatening area. I mean I was quite blasé about it, I was like "No, I know these people, it's fine", but it did feel that it was very much on the sort of tipping point when we first moved in. But it was where I could afford and where my friends were.
Sid Bryan: I haven't lived in East London for years. When I was studying I was in South London, Streatham, which is so far away, I rode a train and then a bus and then a tube. To be in zone 1, was like the most amazing thing in the world for me. I was suddenly in Central London. It's fabulous.
As much as clothes do, the way we live and furnish our flats says a lot about our personalities. Is here anything in the flat that is really representative for you?
Sid Bryan: Well, look! Such an eclectic mix.
Joe Bates: I think it's the mix of pieces that reflects my taste rather than any individual piece.
Sid Bryan: And also, when we were decorating, when we first moved in, we wanted to find the darkest wooden floor that we could find. It isn't fashionable i but it suits our taste. And obviously, everything is painted in very strong, way too dark colors usually for living spaces.
Cozette McCreery: It reduces the height of the room, normally people, like interior experts, would say that this has made the space very small. But in a way, for me, when I come here, it feels like it's quite comforting, quite inviting, because you're surrounded by everything and there is a warmth to it. You could have easily painted it white and then put all the pictures on the wall, but from an outsiders point of view, that wouldn't have said anything about these two at all.
Which designers influenced you most during your youth?
Cozette McCreery: For me, personally, at one point it would have been Gaultier and Alaïa, when I was doing that whole look. Then after that I worked with Jasper Conran. He was one of the first people I worked with and at the time he was with John Galliano, so I knew John from pretty much when he just left college. So that was quite an amazing experience to work with him even though I only worked on his sales and show side, but to see how John created an event was astonishing.
Joe Bates: I agree with Gaultier. It's just this generation, Gaultier was a god in the 80's and it's quite bizarre that this is not appreciated so much now and how much influence he had. On a personal wardrobe level, mine has to be Westwood, just because when I was in my poorest times when I was a student, I used to go straight down to Westwood with my grants. I used to have no food but I still had a Westwood wardrobe. My friend and I lived together and we just always had the philosophy that you'll always find food from somewhere, but where you can find a great coat? Westwood. I won't buy it anymore, as I've fallen out with the brand, but definitely my wardrobe still is probably 70% Westwood unfortunately.
Cozette McCreery: It's true, I used to work with a DJ called Fat Tony, who was quite big in the sort of late 80's, early 90's. We would just go into Brown's and just spend whatever money we've made on a club night to own some Gaultier. As Joe said, we can't afford to eat anything – we just had chocolate cake and vodka and oranges – but at least we would be skinny. And then we would go and ruin our Gaultier pieces in a boiling hot rave, but there we are. Same thing I suppose, just obsessed with fashion from quite a young age.
Sid Bryan: I didn't have a clue about fashion when I was living in Yorkshire. First designer piece I bought was on Neal Street.
Cozette McCreery: Was it Pierre Cardin?
Sid Bryan: No, it was Destroy. Who is the designer again?
Cozette McCreery and Joe Bates: John Richmond.
Sid Bryan: Destroy, exactly. And I loved it. It was like a star-shaped top, gold lamé with a sort of rubber. That and a pair of red ruffle creepers, I don't know what I was thinking. I bought most of my clothes from markets, I didn't own anything other than jumpers my mum knitted or that cost more than £10 or. It wasn't really part of me, designer clothes just didn't exist in my vocabulary.
What have you done before setting up Sibling?
Sid Bryan: I went to Royal College of Art, graduated, and then I immediately started working with Alexander McQueen and with Bella Freud, which is how I met Cozette and Markus Lupfer. I was doing knitted showpiece stuff and then it all just went from there and I worked with tons of people since then. That was the beginning. And then Sibling, we've known each other for many many years and obviously I'm a knitwear specialist. We've all had a real passion for knitwear and we all spoke about knitwear and in 2008 we decided to do something.
Cozette McCreery: I met Sid at Bella Freud's. I'd worked for her just before that, I was doing sales for Galliano in Paris and then after that I worked for a jeweler called Solange Azagury-Partridge and on top of that I have always been involved in clubs and sort of DJ scene, for a long time, then did BoomBox and then Ponystep. Still continue quite a few of these things at the same time and then Sibling is the main thing.
Joe Bates: I sort of started my own line by accident. When I graduated, my final collection got bought, and so without even thinking about it, I started a business and that went on for many years. Then I moved up to New York and worked there and came back and started another business with a friend of mine, like an urban streetwear company, denim based, that was very successful. We all freelanced on many people, but then I suppose after that the biggest thing was starting Sibling.
Have you ever worked on anything together before setting up Sibling? How did you know you would make a good team?
Sid Bryan: My first job was with Bella, which was when we first met back in 1999.
Joe Bates: And Sid and I worked together on different collaborations within different companies.
Cozette McCreery: Yeah, Sid was always the main one and then the two of us have worked independently.
Sid Bryan: We knew each other, absolutely! Oh Gosh, we were good friends! We don't agree all the time, it's not like we're sort of…
Cozette McCreery: The Waltons.
Sid Bryan: We all have very strong opinions, absolutely. We do clash. But there is a friendship which is beyond the business.
Cozette McCreery: That's also why we came with the name Sibling. We wanted something that felt quite inclusive to a lot of other people, because we do lots of collaborations with our own label. And yet again, we didn't want something that was all quite twee, as Sid said, the Waltons kind of words. So Sibling actually gives the feeling that perhaps, like a group of brothers and sisters you can squabble, you can have brilliant times, you can have tough times, but in the end you're inter-related and that's a strong bond. So Sibling sounded a little bit less of a twee name for what we're trying to do.
Joe Bates: And also other people could feel that they belonged to us as well. They can hopefully feel that the brand is theirs too.
Sid Bryan: We did collaborate with an artist each season, normally Djs and music producers, it happened from the very beginning and it is a very inclusive work with Sibling, that really encompasses what we've done from the beginning. We do get inspired by other and inspire other people that thankfully we can work with.
Joe Bates: A very respective brand expert warned us against Sibling, because we wouldn't be pronounceable and so wouldn't be appreciated in the Far East. We would basically be blocking out the Far East market. But very happily and instantly the Far East was our first market and our strongest market.
How does the creative process work for you three? Do you each take on different roles?
Sid Bryan: We naturally slot into roles if you like, we are all involved in every part, because we all work together and we all sit together.
Joe Bates: I mean, naturally, some jobs tend to get done more by one person than another, but I would say it's pretty much split really.
Sid Bryan: One person is a designer, one person is a researcher, one person is a technician, one person does the PR.
Cozette McCreery: We've all had experience in all of those things, so that's the way it tends to work out. But then, what's great, because there's three of us, we can work on each others strengths.
Joe Bates: It really is, because people always ask about how we manage to work as three, but I think a good sign how well it works is, we can't think how people work if it's not three.
Sid Bryan: Yeah, we're in a very very fortunate position that we're all very good at different things and all very relevant things to what we're doing.
Cozette McCreery: From the beginning it was very much like The Three Musketeers – that's it.
How did men's interest in fashion change since the time you first started to work in fashion?
Joe Bates: The great thing about the menswear fashion industry is that it's much slower than the womenswear market. And sometimes, even though I work in the womenswear market as well and constantly do, I really fall out with it. Not so long ago it was full of artificial trends, that every season it was like the market would be manipulated and that the customers would be manipulated to buying the new trends, trying to force them to buy new pieces all the time. When it's so manipulated, it gets very tiring from the design point of view. It has nothing to do with design, it has all to do with marketing. Whereas the joy of the menswear is, that this just never happens. It's much slower and the truth is, if you produce great design it doesn't stop being a great design the next autumn/winter. That's the joy and that's why the product tends to be better in the menswear market.
Men would not buy product that is given out to women, even at the highest price point, because of the quality level. And men, instinctively, whether they're aware of it or not, are attracted to richness of design. The way that men shop has actually changed very little. There are still a lot of psychological walls to how men shop and what men are drawn towards. All fashion is circular, whether men are dressing more formally or informally. I'm loving at the minute when men are dressing very formally, I personally think that it's a beautiful look on men. Very elegant.
Do you have someone in mind when you're designing?
Joe Bates: We are very instinctive. We know the feeling an item has to have to be Sibling. But it's not intended for a single customer. Because we're, and that's easier for us, knitwear specific, that if we were a brand that incorporated tailoring and a denim line and a jersey line and things, we understand we would have to be much more specific in our targeting. But because we are knitwear specific it gives us the luxury of not having to hold it down to a target customer. Our target customer really is about an attitude, then it's about us, we say it's about a sense of humor and a sense of style.
Cozette McCreery: It's true, it's more to do with us being able to place things into someone's wardrobe. And as Joe said, because we're not doing an entire collection, we have the luxury to be able to be a little bit more eclectic as to how our design process is and who then, whether it's a skater boy in Shibuya or it's an architect in Madrid, there's hopefully something that would appeal to either of them.
What are the main influences on your designs?
Cozette McCreery: Music. Always.
Joe Bates: I'm very visually stimulated. It would normally be some image that I've seen, whether it's high art or a piece of advertising or something like that. I think that's probably normally something that would kick me off. And normally something that would make me smile, if not laugh.
Sid Bryan: And there are always influences of punk, pop art.
Joe Bates: The running thread of influences for Sibling is working class youth cultures and male gangs. So whether it be mods or mod revival or mod revival revival, they each have their different looks. It's that joy of dressing up that traditionally the English working class male has, that he would spend a disproportional amount of his income on how he dresses, and the difference between the working class way of dressing and people with a more privileged background is, that the working class would never dream about looking scruffy. You just wouldn't. And of course the more privileged find it very cool to look shabby and trying to look a bit down-to-earth. But it's that joy of dressing up that is very inspirational. And that's been happening for generations and generations so I can happily dip into what happened two years ago or what happened when my father was in his youth or my grandfather was in his youth. It would still give me the same joy.
Are you currently working on any other projects?
Cozette McCreery: We all do.
Joe Bates: Yeah, we're all very active, we all have consultancies and things like that. Again, we all have a lot of experience and it's valuable, so we sell it.
Cozette McCreery: Exactly. Whether it's a design project or a PR project or a club project, one of us, somewhere along the line, would be involved in it.
Sid Bryan: We've done a collaboration with Sibling as well with Brit artists Tim Noble & Sue Webster, the Puny Undernourished Kid and the Girlfriend from Hell sweaters.
Joe Bates: They are local artists, they're recognized worldwide and respected very highly. They live around the corner. I've known them for a long time and so it's nice to tie in people that you've known socially, then bring our work together as well.
You've worked with lots of photographers, artists and musicians. Who is still on your list of people you'd love to team up with?
Joe Bates: We try to hold it back to one collaboration per season, as we get really excited.
Sid Bryan: It would also be great to collaborate with a very traditional UK based knitwear company like Smedley or Ballantyne, two of the few remaining knitwear producers in the UK.
Joe Bates: Where I'm from originally, it's a manufacturing town, and basically, everyone's mum worked in knitwear factories and everyone's dad worked in engineering. In my lifetime that all disappeared. So Ballantyne, or companies like this, hardly exist anymore. We would really dearly love to be a part of what is surviving and on an emotional level that would mean to me to bring some new energy to the remains of what is a traditional, and very English craft and industry.
Have you ever had doubts or got sick of fashion and considered to do something totally different?
Cozette McCreery: Yeah, I did for two years.
Sid Bryan: No I love it. I do, I do. I wouldn't say I love all fashion, but I love knitwear absolutely and I love the tradition and the craft and the skill and the technique of knitting. Obviously that is me and that is what I love and I haven't become tired of it, no. I know that sounds really idealistic and twee, but I love it.
Joe Bates: Fashion as in trend I really don't like. I was especially thinking about the fashion scene.
Cozette McCreery: You just can't help it. Can you?
Joe Bates: It's just that when you're working in any industry, if you're a fisherman, your friends will be fishermen, and you've probably married a fisherwoman or someone whose father was a fisherman.
Sid Bryan: A fish!
Cozette McCreery: Married to a fishwife!
Joe Bates: When you study a subject at university, when you then move into an area where everyone moves into within that industry, you go for drinks with your friends and then you meet their friends and of course you're part of a scene. But I don't think of it as a scene.
Cozette McCreery: I left it for two years to go off and do hands-on farming work. I tend to go at things in a sort of really full-on way, it's more of a sort of personal choice to then stand back from it, it's not like getting sick of something, it's actually more "Hold on a minute, I'm doing fifty jobs at once, I think I need to take a break." So even I was two years out of the fashion industry, I weirdly was still modelling in Israel. I didn't go there to have anything to do with fashion, I was then discovered and put back into it again. So in a way when I returned back to London, I was like "Let's not fight this." I was in my early twenties, this is obviously where I meant to be so then when you stop fighting against it, it makes life so much easier.
Are there any magazines that you find inspiring at the moment?
Cozette McCreery: I like the way i-D is now going. I think it sort of lost its way for a little while and it seems to be coming back to something quite strong. French Vogue is another one that I think we all reference and it will be interesting where that moves on to.
Joe Bates: Fantastic Man.
Cozette McCreery: Fantastic Man and The Gentlewoman are both fabulous magazines.
Joe Bates: Fantastic Man I love because it's the first magazine in many many years that I actually read rather than just flicked through. I'm sitting and before I realize I've read it cover to cover and I like that. I don't think it sets out to be particularly challenging, there is no false intellectual attempt to it, it's just an interesting read I think.
Cozette McCreery: From my work, I'm probably the one that would digest the most magazines. But then it's my business to be on top of what magazines are being published and stuff like that. There are some brilliant ones for different reasons. Grazia is just always one I get for the Eurostar to flick and see what Cheryl Cole is up to and there are magazines, like Love Magazine, like Feld in Germany, who have always been really supportive of us, and Ozon in Athens. There's a lot of different style magazines out there, but theyhave their own voice rather than looking like one big mess of adverts. But there has been a lot of shake-ups in the magazine industry recently so it will be interesting to see where these things go off to. These are quite exciting times for magazines I think. Ponystep is quite good I think.
Are there any blogs you follow?
Cozette McCreery: Blogs I find difficult, because there's a certain type. I like blogs like Style Selvage for menswear, Susie Bubble for womenswear and then Dean Mayo Davies, who works at i-D, he does a blog which is images and it might be the same image multiple times with very little writing. What I'm not so keen on is seeing somebody taking a polaroid of themselves and telling me where they got their hair done and what tights they're wearing and what shoes they're wearing. There's a lot of those blogs out there and I can't quite see – unless that's just a total vanity project – what that gives anybody. So blogs actually, although they're very much about now, I personally don't find them that inspiring or that interesting. Even they will say, she has one herself. But that's mainly because I am in the industry of promotion, so I have things to promote. So I'm hoping that people don't just look at it and just think what she's banging on about blogs, what they probably do. But yeah, I've got a very love-hate-relationship with blogs. There's more that I don't like than I do like.
Joe Bates: I think it's a bubble that's going to burst and people realize that it was nothing else than vanity projects. Lots of time and energy is wasted on them. It's because everyone can now publish. Publishing was an achievement before. If that's good or bad, I'm not saying it's either way. But you had to work before it became published, so it doesn't mean that you're necessarily good, but it was a scarp. Now, a nine-year-old can publish, because they're so computer savvy that they would be able to blog. People still have that sense of importance as if they're producing a magazine that's going to sit next to Italian Vogue, because they can function on the computer well enough to put up a blog. That's what I mean by saying that bubble is going to burst, that someday they've got to realize that they are all more or less important than anyone else.
Cozette McCreery: I mean there's a huge difference between online magazines and blogs, that's two completely different things. And there are a lot of online magazines or newspapers that we look at which are completely the way forward.
Joe Bates: Yes, that's the future.
Cozette McCreery: But blogging for me personally, having to deal with PR on a daily basis, bloggers at the moment can be the bane of my life. I will probably get hate mail.
Sibling's Knit Monster is featured on the cover of the book Doppelganger, which is published by Berlin-based Gestalten Verlag.
More information about Sibling you can find on their website. Their latest collection is stocked with progressive London retailer LN-CC.
Photography: Jean-Philippe Woodland
Interview & Text: Lilli Heinemann