A backyard in the midst of Munich's Bahnhofviertel: in between the sewing machines mountains of books and material samples. The studio is simultaneously a living and working space for artist and designer Ayzit Bostan. Here in her environment of creative and productive chaos arise a range of linear, almost minimalistic designs. For more than 15 years, Ayzit has enriched German fashion and art worlds with her critically acclaimed and stylistically confident products and experimental site specific installations.
Ayzit recently received outstanding recognition for the sophisticated handbag designs in collaboration with Phillipp Bree owner of the newly launched label "PB0110". PB0110 is the result of his vision to design the perfect bag which ages beautifully the longer it is worn. Ayzit has been instrumental in assisting with this ambition, specifically with her selective sourcing of quality materials. Within nine different designs Ayzit implemented her very own concept of resistance with the approach of designing timeless classics. She opens the doors to her personalised atelier in the most beautiful part of Munich: an inspired and artistic microcosm. Here she discusses why she continues to cross her fingers for the Turkish football team while giving her top tips on the best places to see cutting edge contemporary art in her hometown.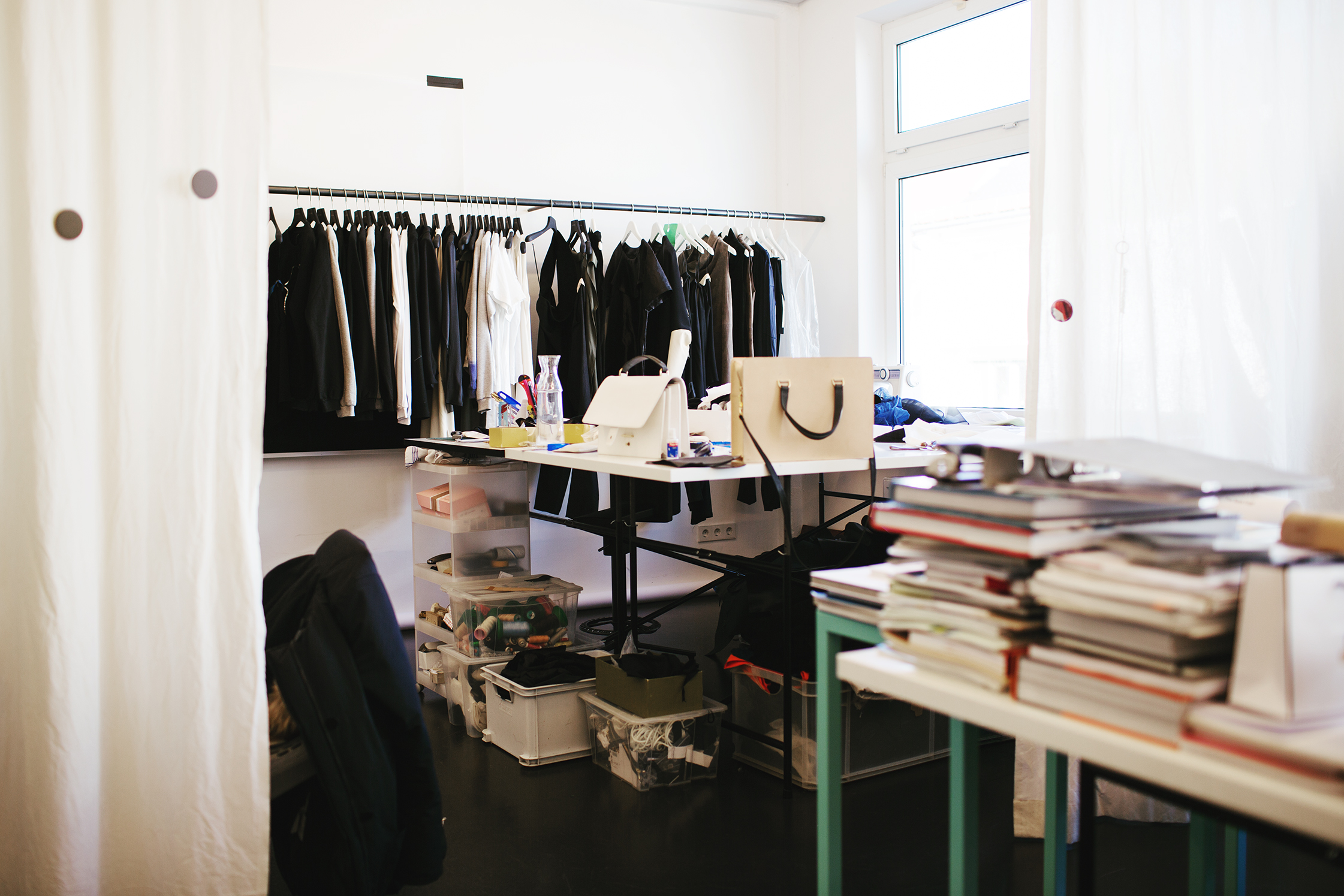 Is there anything that would give away your Turkish heritage?
I am looking increasingly more Turkish as the years going by. But even though my roots are from Turkey, I have lived my life here in Germany since I was four and have adapted in the sense of leading a European life. When it comes to football I completely support Turkey, however, because they don't often succeed in it.
What do you say to people that describe Munich as an ostentatious city?
There are wealthy mansions in corners of every city and Munich certainly possesses areas where socially weaker income groups live. Of course Munich appears as a very slick place, just like Disney World. After having been to Berlin for Fashion Week, I realized how well organized and clean this city is. But there are many wonderful people here, just like in Berlin.
Where can I find you on a Sunday in Munich?
Most likely at my atelier. I love being here, especially on weekends because that is the time I have peace and can be alone. It is my very own cosmos. That doesn't mean that I work every single minute here. When I am alone I often sit on my couch and read a book. I am simply more often here than at my flat. I often prepar my seminars for my professorship at art school Kassel as well.
What do you try to convey to your students?
The goal is to create interesting and passionate projects by having exciting topics that hopefully result in something good. It is about doing something and it is alright to fail at it. Failure is a much better mentor than trepidation.
Back to Sunday: let's take a special scenario and pretend you are having breakfast with a friend!
I don't like that so much because it often gets too crowded. I like the Hofgarten – perhaps I would get myself a cup of coffee at the art society – at the Kunstverein– and sit in the sun.
You are a quasi expert when it comes to art. Where would you take friends that are in Munich for a visit?
I would recommend Haus der Kunst because they have always exceptional exhibitions. Also I recommend the Götz collection and the Kunstverein. I am really looking forward to the new Lenbachhaus. It will be an architectural highlight. I would also suggest going to Schumann's for schnitzel and beer in the early afternoon afterwards.
The project 'Replica' was realized at the Hofgarten – what other place would be tempting for a project?
I definitely would be tempted to realize a project within an open space again. Maybe even a not just visual one. I find it really exciting to intervene without some kind of premonition at public space that is so often used. The Hofgarten is a beautiful, central place that has an international flair. I am also extremely proud to have won a prize and that invited me to present a project at the Philharmonie.
You are very connected with art and your works are often exhibited. What do you answer when a stranger asks you about your profession?
I say both. When the question stems from an art perspective, I say I am an artist and designer. If someone asks me in regards to fashion, I say I am a designer and artist.
How did you get into fashion?
Honestly, it really started because of a desire to possess clothes that I couldn't afford and avoid walking around in mass produced garments. Additionally, I am lucky to say that I am very good with my hands. I did an apprenticeship as a tailor. After that I worked so much on my own that I didn't even realize that I was self-employed. I didn't want to work for another label and was also unable financially to go abroad for a year.
Does designing take all your energy or is it a natural process that happens easily?
It is my cosmos and is with me 24 hours a day. Of course one faces difficult tasks but that is the very challenge: to not stand still. I am very fortunate to do what I want to do. Even though there are exhausting sides to it, I still like to grapple with design and its problems.
You designed a very classic but modern Chelsea boot. How do you approach a draft like that?
My intent is to bring more sexiness and even more modern timelessness to an existing classic design. A friend, who owns the shoe store, asked me to collaborate with her. Half a year later I had the idea of making a varnish cap for the classic Chelsea boot. It gets noticed without screaming fashion.
What are the reactions to your prints like Blackflag?
It varies. I always get feedback by friends and clients who are approached by people due to the prints – they are 'conversation pieces.' People really appreciate this within the area of the central station because it is Turkish and they feel flattered.
Let's talk about your current project: the bag collection for PB 0110.
I did the women's collection. I had previously worked with Bree and was very happy to be asked by Philipp Bree. As soon as I saw the concept I really wanted to collaborate with them. This was not about 'fashion-mania,' but about designing a favorite bag. I was excited about making more mature bags that would look good for women of many different ages. For instance these bags look much more punk on me than on others.
Where are the PB 0110 bags produced?
They are produced in the Czech Republic, the fittings are from Italy, and the leather comes from Belgium.
Is there pressure when someone puts such great trust in you?
Not really. Rather, Philipp Bree and I are under the same pressure with the material needing to be top quality. This is something very different for Bree, as he is used to mass production. The details and fashioning were important this time. It is also a very different price range. I didn't want to design one hundred bags for each season. I do two or three, each one of them being classic and modern.
What is the next step for you?
We are meeting soon for the new collection and will do additions or new colorations for the already existing models. It is important to me that the pieces are being accurately and well presented in Berlin. This includes the fair appearance and off-location, through which we are able to celebrate the brand again.
Ayzit laughs heartily. This charming statement is very modest, because the bag collection was excellently received by the press. With their first collection, Phillip Bree and Ayzit Bostan achieved their goal for PB0110 effortlessly: Creating timeless special pieces. The collection will be available from Mai 2013 onwards.
Ayzit it was wonderful to talk to you about your art and fashion projects and hear about life in Munich. If you would like to find out more about Ayzit's work see her website here.
This portrait is the first episode of a collaboration with Elle Online. See the story on their website here.
Photography: Christoph Schaller
Interview & Text: Isabelle BraunEin Hinterhof im Bahnhofsviertel in München: Zwischen den Nähmaschinen Berge von Büchern und Stoffproben. Das Atelier ist Arbeitsbereich und auch Lebensraum der Künstlerin Ayzit Bostan. Hier in ihrem kreativen wie produktivem Chaos entstehen ihre geradlinigen, fast minimalistischen Entwürfe. Ayzit bereichert die deutsche Mode mit ihrer stilsicheren Handschrift und die Kunstwelt seit nun über 15 Jahren mit digitalen und dreidimensionalen Installationen, die in Museen ausgestellt und prämiert werden.
Herausragende Resonanz bekam die Wahlmünchnerin aktuell für die mondänen Taschenmodelle, die sie für "PB0110" kreierte. Das vor wenigen Monaten gelaunchte Label gehört Philipp Bree, der das namensgebende internationale Familienunternehmen "Bree" nach 10 Jahren verließ, um nun die ideale Tasche zu entwerfen. Taschen, die mit der Zeit und dem Gebrauch noch schöner werden. Ayzit Bostan verwirklichte neben anderen Designern ihre Vision von Beständigkeit innerhalb neun eigener Entwürfe mit dem Ansatz, einen modernen Klassiker zu entwerfen.
Wir sprachen über ihren individuellen Designkosmos, Münchens schönste Seiten und warum sie beim Fußball stets der türkischen Mannschaft die Daumen drückt.
Gibt es irgendwas, was Du an Dir als typisch-türkisch bezeichnen würdest?
Ich finde, dass ich immer türkischer aussehe, je älter ich werde. Ich habe zwar türkische Wurzeln, aber ich bin seit meinem 4. Lebensjahr hier und führe ein europäisches Leben. Beim Fußball bin ich trotzdem für die türkische Mannschaft, weil sie es ja nicht so oft schaffen.
Was entgegnest Du Leuten, die München als Schicki-Micki-Stadt bezeichnen?
In anderen Städten gibt es auch Villen-Gegenden und auch in München gibt es Gegenden, wo sozial schwächere Einkommensgruppen wohnen. Natürlich erscheint München immer so wahnsinnig glatt, so wie Disney World. Nachdem ich zur Fashion Week ein Wochenende in Berlin war, kam mir hier schon alles sehr niedrig und sehr geordnet vor. Aber hier gibt es, wie auch in Berlin, viele tolle Menschen, die ich sehr gerne mag und schätze.
Wo treffe ich Dich an einem Sonntag in München?
In meinem Atelier wahrscheinlich. Ich bin total gerne hier und an den Wochenenden vor allem, weil ich dann auch alleine bin und meine Ruhe habe. Das ist dann mein ganz eigener Kosmos. Das heißt nicht, dass ich hier jede Minute arbeite. Wenn ich alleine bin, dann sitze ich oft auf dem Sofa und lese Bücher. Ich bin einfach mehr hier als in meiner Wohnung und bereite hier auch mein Seminar für meine Professur an der Kunsthochschule in Kassel vor.
Was versuchst Du Deinen Studenten zu vermitteln?
Ziel ist es mit spannenden Themen gute, leidenschaftliche Projekte umzusetzen und gute Ergebnisse zu erzielen. Es geht vor allem darum, viel auszuprobieren. Auch wenn man scheitert, lernt man dabei Kompromisse einzugehen und dadurch auch neue Lösungen zu finden.
Zurück zum Sonntag: Nehmen wir mal den gesonderten Fall: Du bist nicht im Atelier sondern gehst mit jemandem frühstücken.
Das mache ich ungern, weil es mir in Frühstücklokalen immer zu voll ist. Ich mag ja den Hofgarten sehr gerne – wahrscheinlich würde ich mir im Kunstverein einen Kaffee kaufen und mich draußen in die Sonne setzen.
Du bist ja sozusagen Kunst-Expertin: Wo würdest Du Freunde, die zu Besuch sind, hinführen?
Ins Haus der Kunst, weil dort immer sehr gute Ausstellungen sind, in die Sammlung Götz, und anschließend in den Kunstverein. Ich freue mich auch schon auf das neue Lehnbachhaus – es wird ein architektonisches Highlight mit sicher sehr spannenden Ausstellungen. Ich würde sonntags am frühen Abend ins Schumann's gehen zum Wiener Schnitzel essen und ein Pils trinken.
Das Projekt "REPLIKA" wurde im Hofgarten realisiert – welcher andere Ort würde Dich denn für ein Projekt reizen?
Mich würde es auf jeden Fall reizen, noch mal ein Projekt im öffentlichen Raum zu machen, nicht unbedingt ein rein visuelles. Ich finde es spannend, ohne Vorwarnung in öffentliche Plätze einzugreifen, die so selbstverständlich genutzt werden. Der Hofgarten ist natürlich ein schöner, zentraler Platz, er hat so ein internationales Flair. Wir haben uns sehr gefreut, dass wir damit den Wettbewerb gewonnen haben.
Du bist ja sehr verbandelt mit der Kunst und Deine Entwürfe werden oft ausgestellt – was sagst Du, wenn Dich ein Unbekannter nach Deinem Beruf fragt?
Dann sage ich beides. Wenn die Frage aus der Kunstrichtung kommt, sage ich "Künstlerin und Designerin" und wenn sie aus der Moderichtung kommt, sage ich "Designerin und Künstlerin".
Wie bist Du denn ursprünglich zur Mode gekommen?
Eigentlich aus dem eigenen Bedürfnis heraus, Kleider zu besitzen, die ich mir nicht leisten konnte und auch nicht mit Massenprodukten herumzulaufen. Zusätzlich habe ich ein handwerkliches Geschick und habe auch eine Schneiderlehre gemacht. Nach der Meisterschule habe ich direkt selbstständig gearbeitet, ohne dass ich wusste, dass ich mich selbstständig gemacht hatte. Mir war klar, dass ich bei keinem Label arbeiten möchte und ich konnte es mir finanziell auch nicht leisten, einfach mal ein Jahr ins Ausland zu gehen.
Ist Design für Dich kräftezehrender Prozess oder kommt das wie von selbst?
Das ist mein Kosmos, der auch 24 Stunden in mir drin passiert. Natürlich gibt es Aufgaben, die schwieriger zu lösen sind und das ist ja auch die Herausforderung: nicht stehen zu bleiben. Ich habe sehr viel Glück, dass ich das machen kann, was ich gerne mache. Obwohl es auch sehr anstrengende, harte Seiten gibt, setze ich mich sehr gerne mit Design und Problemen auseinander.
Du hast einen sehr klassischen, aber ebenso modernen Chelsea Boot entworfen. Wie gehst Du an den Entwurf heran?
Ich versuche in die bestehende Klassik eine Spur mehr Sexyness reinzubringen und noch mehr moderne Zeitlosigkeit. Eine Freundin von mir, der das Schuhlabel gehört, hat mich nach der Kooperation gefragt. Ein halbes Jahr später hatte ich dann die Idee mit dieser Lackkappe für den klassischen Chelsea-Boot. Er fällt auf und das ohne, dass er nach Mode schreit.
Wie sind denn die Reaktionen auf so einen Print wie Blackflag?
Verschieden. Ich bekomme immer das Feedback, dass meine Kunden und Freunde oft auf die Prints angesprochen werden – es sind "conversation pieces". Hier im Bahnhofsviertel finden es viele ganz toll, weil es türkisch ist und sie sich geschmeichelt fühlen.
Zu Deinem aktuellen Projekt: Deine Taschenkollektion für BP 0110:
Ich habe die Damenkollektion gemacht. Ich hatte ja schon mal mit Bree gearbeitet und habe mich sehr gefreut, als ich von Philipp Bree angefragt wurde, bei der neuen Marke mitzuwirken. Als ich dann das Konzept gesehen habe, war mir klar, dass ich da Lust zu habe. Kein Fashion-Wahnsinn, sondern Lieblingstaschen. Ich fand es sehr spannend, erwachsenere Taschen zu machen, die trotzdem vielen Altersgruppen gut stehen. An mir sieht die Tasche zum Beispiel viel punkiger aus, an anderen eher elegant.
Wo werden die PB 0110 Taschen hergestellt?
Sie werden in Tschechien gefertigt, die Beschläge sind aus Italien und das Leder kommt aus Belgien.
Spürt man viel Druck, wenn jemand da so viel Vertrauen in einen setzt?
Eigentlich nicht. Philipp und ich stehen eher beide unter dem gleichen Druck, dass die Qualität top sein muss. Anders als bei Bree, wo es eine Massenproduktion war. Diesmal sind die Details und die Verarbeitung viel wichtiger. Das ist ja auch eine andere Preisklasse. Es ist auch nicht so, dass ich jede Saison hunderte neue Taschenmodelle entwerfen muss, da kommen vielleicht ein bis zwei neue Modelle dazu – sehr klassisch und modern.
Wie sieht der nächste Schritt aus?
Wir treffen uns bald wieder für die neue Kollektion, um Ergänzungen oder neue Farbgebungen für bestehende Modelle zu besprechen. Mir war es wichtig, dass die Taschen auch akkurat und sinnlich in Berlin präsentiert wurden. Zum einen der Messe-Auftritt und dann die Off-Location, bei der wir die Marke noch mal extra präsentieren und feiern konnten. Wir haben da etwas geschaffen, dass uns kein bisschen peinlich ist.
Ayzit lacht herzlich. Diese charmante Aussage ist sehr bescheiden, denn die Taschenkollektion wurde von der Presse ausnahmslos begeistert aufgenommen. Phillip Bree und Ayzit Bostan haben mit der ersten Kollektion von PB0110 ihr Ziel mühelos erreicht: Lieblingsstücke zu schaffen. Die Kollektion wird ab Mai erhältlich sein.
Vielen Dank für das schöne Gespräch, Ayzit. Wer mehr über ihre aktuellen Mode- und Kunstprojekte erfahren möchte, kann sich auf ihrer Webseite informieren.
Dieses Portrait ist der erste Teil einer Kollaboration mit Elle Online. Die erste Episode ist hier zu finden.
Fotografie: Christoph Schaller
Text&Interview: Isabelle Braun