"I was always taking things apart as a child! I had the type of imagination that told me, if I have a vacuum and a computer, I can make them into a vacuum robot. I was always getting in trouble for completely destroying things," says designer Ini Archibong.
Ini's charisma and insight compliments his natural design talent. Influenced by fantastical worlds and mystical scenarios, his collections often aim to create dreamlike experiences within the realm of reality. For him, it's about the idea of escape, often to a world beyond that is truly fascinating for the designer. The Basel-based designer is no stranger to quality design and craftsmanship. He's very comfortable and capable of using monumental materials including marble, brass and glass. Working alongside talented craftsmen, Archibong designs luxurious items that are a true cross between art and design.
As the son of Nigerian emigrants to the United States, and a resident of the US, Archibong has lived and worked in Los Angeles, Singapore and Switzerland. His work respects and acknowledges the rich cultural traditions he comes from and the places he has experienced over his lifetime. "It's strange to think about, but I'm now doing what comes easiest to me," he says. "At a certain point, you have to reflect and ask why? Then use the "why" to try and benefit as many people as possible."
Ini designed the ceramic "Carlo Bookend" for OTHR. This portrait is part of our ongoing collaboration with OTHR, as we profile their international roster of designers. Visit OTHR for more on this story and see the beautiful designs they've curated.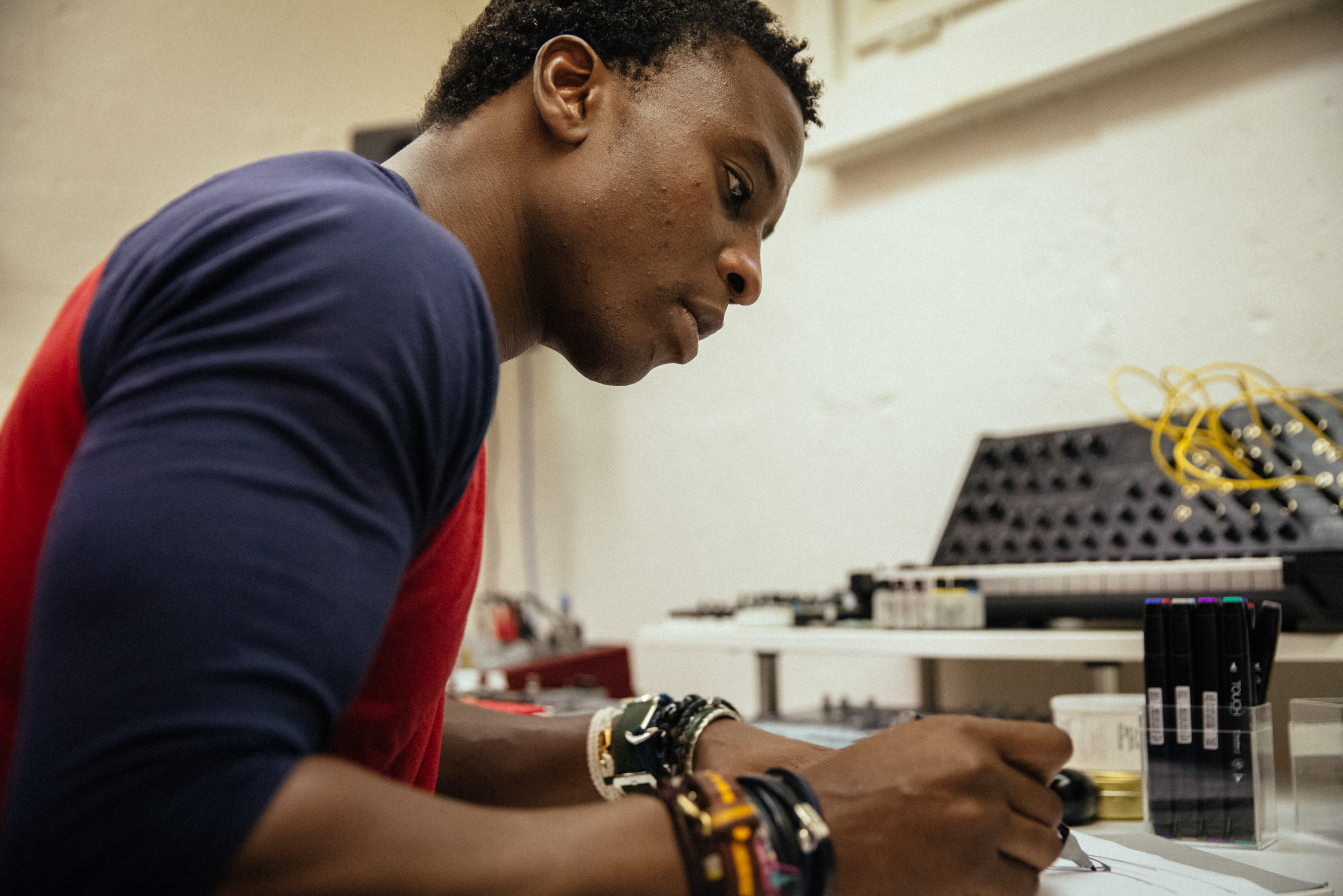 Ini's work at a glance
"I was trying to do music and architecture simultaneously, and my music friends didn't understand why I spent time on the design stuff."
Ini's path to becoming a designer was never straightforward. "It wasn't something I considered as a career option, to be honest," he says. "But the school I attended had a robust arts program that I took advantage of. I started teaching myself Photoshop and 3D programs when I was 12, and I also did ceramics, enamel, woodwork and sculpture." Though a design career wasn't on his mind early on, Ini was always seeking a creative outlet for exploration.
Ini decided to drop out of business school in favor of pursuing a creative career. With no plan or direction in mind, he started exploring his options. "I walked into an architecture firm, and the owner of the firm asked me to meet him the next day. He quickly took me on as an apprentice, gave me a few weeks to learn CAD and put me to work," he says. At the time, Ini was also busy making music as a part of L.A.'s beat scene. "I was heavily into making music, and the scene I was involved in was very much underground. Everyone knew it was going to be big though, and now you have guys like Flying Lotus, Gaslamp Killer—we were all original beat makers," he says.
The L.A. beat scene borrowed the swung syncopation and production methods of traditional hip hop and pressed on them to create something new. This reworking of traditional methods is somehow emblematic of Ini's career as a designer as well—taking influences and shaping them to his own needs. "I was trying to do music and architecture simultaneously, and my music friends didn't understand why I spent time on the design stuff. My architecture mentor felt the same! He got so frustrated with me when I showed up late to work because I was tired from playing music all night!"
Some early, raw and unmastered beats from Ini
Ini ended up working for three years without an architecture education or background. "I guess the biggest thing I learned was an approach and direction that was very architectural, and my ability to see was cultivated," he says. "It's also about learning scale. From an architectural standpoint, you have to learn the importance of every line," he says. "When I decided to pursue architecture as a career, I came to a conclusion that I wanted to use whatever I was given to have a positive impact on the world," he says. "As I was expanding my life in those ways, I was becoming more coherent with my idea of what I thought was beautiful. I was putting that on paper and applying it to design as well." At that point, all of these different elements of Ini's life started moving in one direction. "Architecture seemed like the realm where you could create the background for people's experiences. I came to these realizations and felt I wanted to take it one level deeper."
"Now it's really to me about the experiences in those closest, smallest circles."
After a stint working in a technology-focused design position in Singapore, Ini moved to Switzerland to pursue a more hands-on creative route. "That's why I decided to apply to art school and go to the Environmental Design program. It's architecture on scale, but it's about designing the experience within spaces. That intrigued me," he says. "You're looking at the sphere of experience and talking about the individual spaces—how they are impacted, the impact of the decisions being made, how you design those spaces. From there, I went to furniture which was one step further in. And then, I started designing smaller and smaller objects and details. Now it's really to me about the experiences in those closest, smallest circles."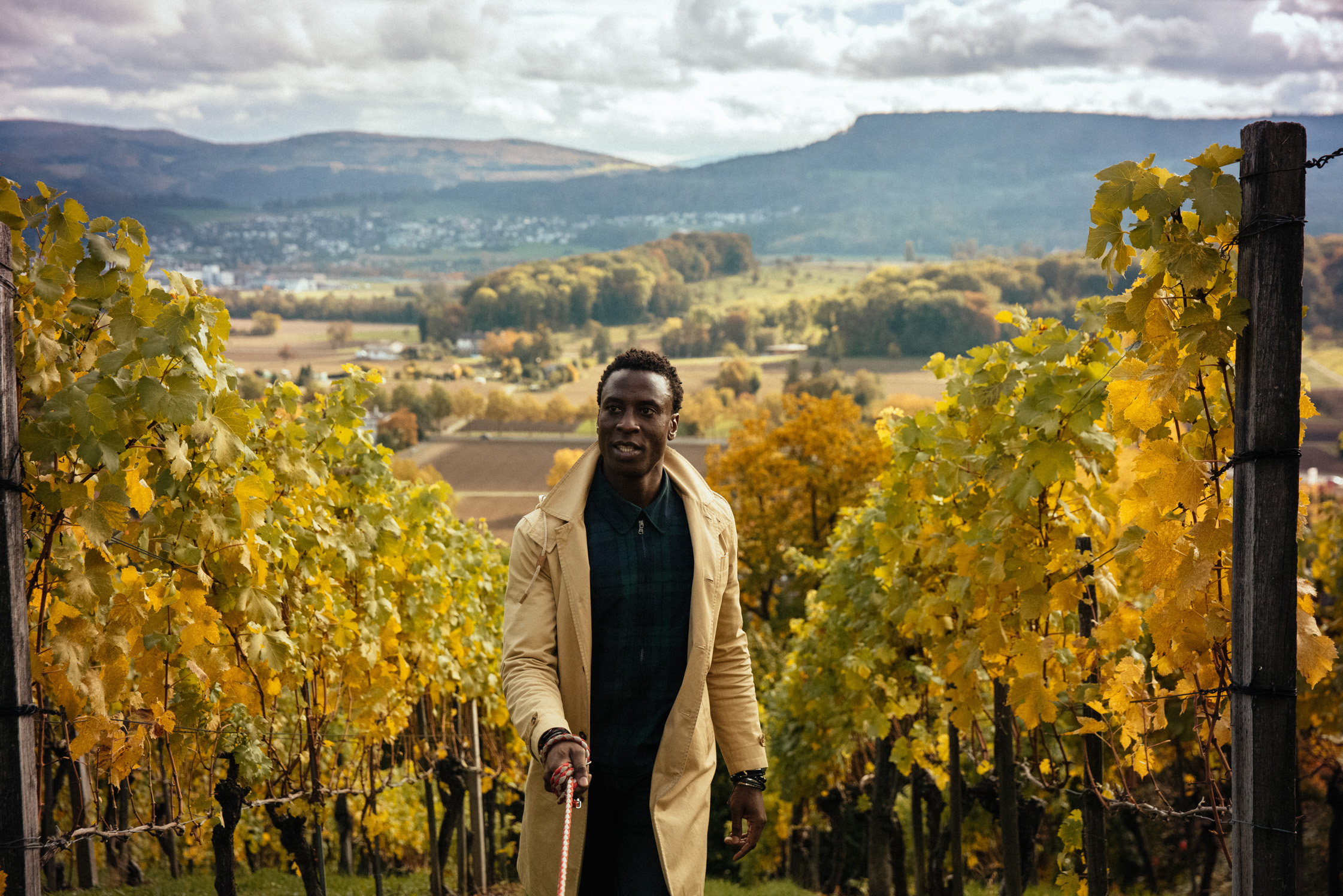 With degrees in Environmental Design from the Art Center College of Design and a Masters in Luxury from the prestigious Ecole cantonal d'art Lausanne (ECAL), he draws from a deep expertise in architecture, engineering, environmental and product design, Ini's diverse professional background has shaped him as an artist. His design strategy also draws from his lifelong passions for mathematics, philosophy and even world religion.
"My journey wasn't very straightforward; there was a point when I felt very lost. When I dropped out of school, I didn't have a plan at all. I didn't drop out to be an architect—I dropped out just knowing that I needed to be a creative person," Archibong says. "So when I was feeling lost, I got into more spiritual books. I started noticing artists that I respected and their spiritual connections to the art they were creating, which lead me down the path of exploring sacred geometry, golden ratios, pythagoreans, things of that nature. Elements and things leading toward the spiritual but still tied to the physical world."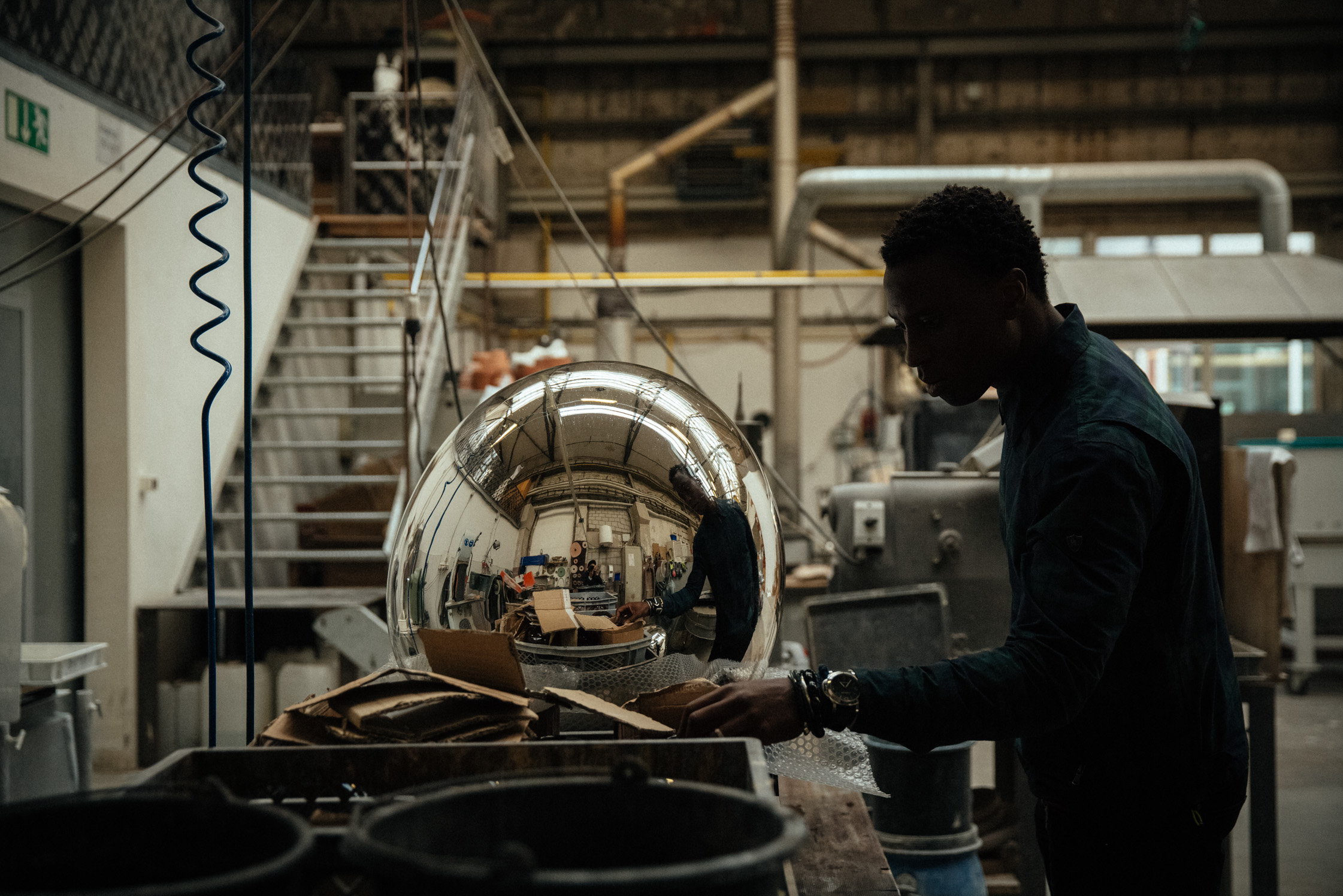 Ini discussing the next project with master glass blower Matteo Gonet at his studio, Glassworks.
Thank you, Ini for inviting us into your beautiful studio and telling us more about your designs. Visit Ini's website to see more of his work. Gaining a unique insight into your process and life was a pleasure.
Ini Archibong is an award-winning designer based in Basel, Switzerland. Known for combining his creative and intuitive mind with the skill of craftworkers in glass, ceramic, marble and other unique materials. A son of Nigerian Immigrants and resident of America, Singapore and Switzerland, Ini also incorporates inspiration from his world travels to produce his dreamy, fantastic designs. If you would like to own some of his work, you can purchase the 3D-printed ceramic "Carlo Bookshelf" on OTHR.
This portrait is part of an ongoing collaboration with OTHR, a vibrant hub for unique ideas and new possibilities in design. Visit OTHR for more on this story and many more.
Text: Sarah Rowland
Photography: Yves Bachmann