In their Lower Manhattan showroom—pristinely white, though anything but clinical—Egg Collective are naming their latest creation: a modular set of 3D printed steel vessels. "Brutus," suggests Crystal.
"For Brutalism!" chimes in Hillary.
"It has to be Brutus," says Stephanie. "That's Crystal's cat."
Like all collectives, their origin story is rooted in friendship. They met at Washington University's architecture school. Jaded freshman Stephanie Beamer, yet to meet inspiring peers, took a seat next to Hillary Petrie during a student meeting. The two hit it off immediately. When, later, they met Crystal Ellis, a productive and highly creative relationship ensued. From there the three quickly transitioned from friends to collaborators and, eventually, business partners. They met each week for dinner and prototyping, forming a shared design language, which culminated in the formation of Egg Collective, their self-run design agency.
Today, Stephanie, Hillary and Crystal make all decisions on a consensus basis, a practice that extends far beyond the walls of their own studio. They work closely with an entire community of artists and local manufacturers, whom they now count as good friends. This symbiotic approach has proved a major strength for the trio in the New York design ecosystem. They've enjoyed much success: in 2014 they appeared on Forbes' 30 Under 30 list and won the Martha Stewart American Made Award; a year later, they licensed a product with Design Within Reach. But, according to them, they're nowhere near finished yet.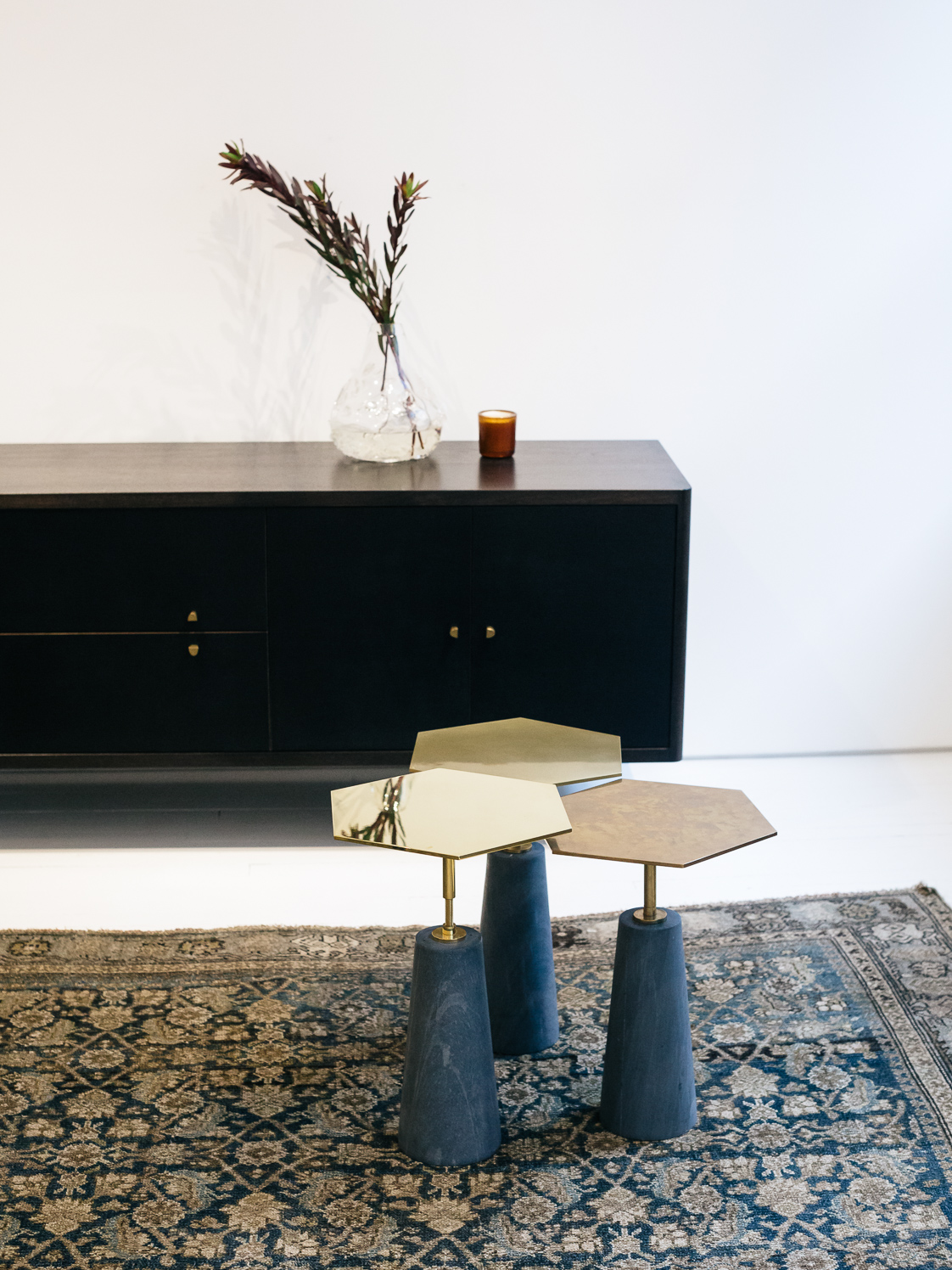 You all lived in separate cities after graduation. Why did you eventually decide to base Egg Collective in New York?

Hillary: We launched a massive city search—we actually first said to each other that we didn't want to go to New York. It was too expensive, and we thought that we weren't going to be able to start a company there. So we looked at Philadelphia, St. Louis, New Orleans, Chicago…we'd fly to these places to meet up for long weekends, and tried to envision what it would look like to move there and start a business. Then Stephanie, who was living in New York at the time, described this model that existed here of a shared wood shop, with a landlord who provided tools and rented out bays of the space. That made a lot of sense to us: with very little overhead and a month-to-month situation, we could give this idea a shot.

Even since 2011, the city has changed significantly. Is New York still as viable a starting point for young creatives as it was when you got here?

Crystal: I want to say yes, but I think, in reality, no. The wood shop that we started out in—a shared shop space which had been here since the 80's—just sold for $200 million. It's being turned into—I don't know what—but it's got scaffolding all over it.

Stephanie: Yeah, it's being developed. We were lucky—when we were looking, we found a shop space in Industry City in Sunset Park, Brooklyn, where we were able to set up shop, but we've only been there for two years. We couldn't rent space today, based on how quickly the rent prices have increased, even there.

Egg Collective has achieved a lot so far. By your standards, have you achieved success?

Hillary: It's nice to be recognized for our designs and the things that we've done, but I feel like we're still trying to build the business behind it all. There are days when we feel like we're having successes, and there are days when you start crying in traffic on the BQE because you got some bad news, and that's just what it feels like.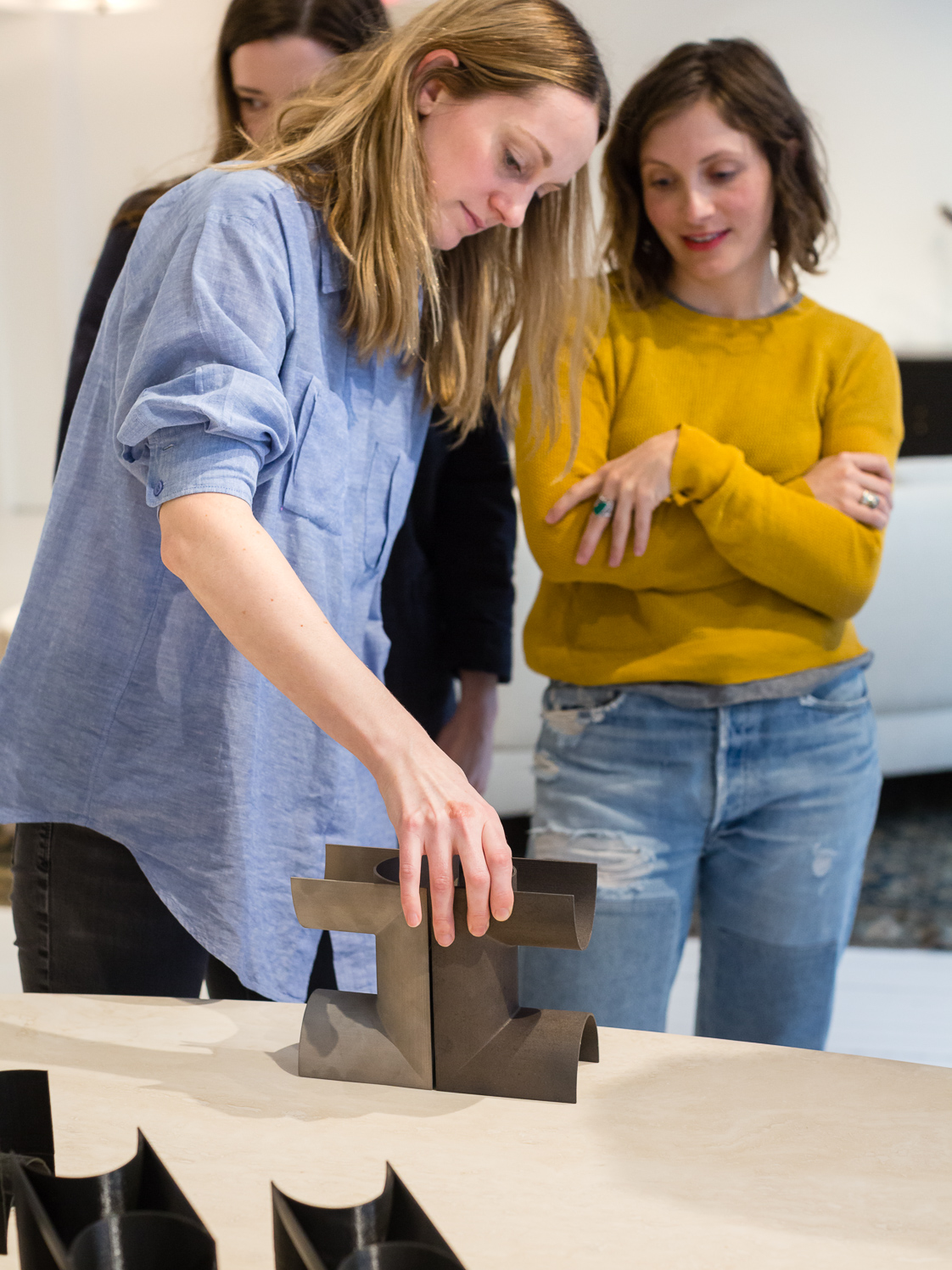 What has your biggest challenge been as you grow the business? What did you encounter that was unforeseen, or a surprise to you?

Stephanie: The first hurdle—like a damaged prototype—feels like the end of the world. But at this point, damaged work is the least of our concerns. That happens on the regular.

Crystal: I think the biggest thing in our history that we tackled was the wood shop. We opened [the showroom] thinking that we were going to be able to stay in our wood shop. But then we found out that the lease on the space wasn't being renewed. We knew we were going to outgrow it, but we didn't know it would happen as soon. Our hand was forced by New York City real estate. So, sooner than we'd hoped, we had to move.

Hillary: The most monumental day was loading eight or ten machines onto a flatbed truck.
We watched the thing drive away down the BQE and Crystal said, "Well, I guess I own a third of those tools now." It felt very heavy.

Crystal: Metaphorically and physically heavy. That is tons—literally tons—of machinery right there. Like, that is some heavy shit that we now own.

Hillary: It felt like laying down roots for sure.
"To us, the most sustainable way to make products is locally, and out of high-quality materials that will stand the test of time."
You manufacture all of your wood products from your wood shop, and use local fabricators for other materials. Why is it so important to you to produce locally?

Stephanie: To us, the most sustainable way to make products is locally, and out of high-quality materials that will stand the test of time. We're responding to the wastefulness of the industry.

Hillary: For us, it was about meeting people in their shops and learning what their capabilities were—what they were proud to be making, and what they were very good at making. We got to know people for their specific strengths. Those relationships are very meaningful to us, and they make our products stronger in the end. Some of our dearest friends are the people we've been working with since we started.

Crystal: When we moved here we didn't know anyone, and we started meeting people and were like, "You want to be friends?" [laughs] And most people were like "Yeah, let's be friends!" So it feels like a community.
In your pieces, you look for materials that will patina over time, and create objects that are meant to last for generations.

Crystal: We were born in the 1980s. Our earliest memories are probably the late '80s, early '90s. You have to think about what was happening then: mass consumerism was at its peak. Design felt disposable. I don't think any of us related to that—we wanted to make things that will last for a long time.

With that in mind, we wanted to make things that became more beautiful as they aged. Or, at least, held onto their beauty. Patina, for instance, is definitely an education to our consumers. Not everyone understands that. The first time you get a fingerprint on your fancy credenza that was just delivered and looks perfect and brand-new, it can be jarring.

Hillary: Clients are like, 'Yes—fingerprints, but just not that fingerprint.' And we're like, 'Ah, you don't quite get it yet.'

Crystal: Yeah—you've got to put a lot more fingerprints on it, and then you'll like it. So just touch it a lot.

Many of your pieces have people names. I'm curious about your naming convention; how do you name a piece?

Hillary: In all of our work, we name all of our pieces after friends and family members—people who have been meaningful to us along the way.

Stephanie: They all have a personality. And that definitely relates to the people they're named after.

Hillary: It's been really special for us. It's the moment right before we get to ICFF, or any show, that we take the list and we start talking about what each piece means, the kind of character it exudes, and why it might be a good fit for this person. For example, that's our Crain cabinet. It's named after Casey Crain, our shop manager.

With every design, you have a piece of art alongside it, and you represent these artists. Why did you start doing this?

Crystal: We're art lovers. And for us, it's beneficial. We get to have beautiful art on the walls, and we get to use it in our photoshoots. We also get to make new friendships with people outside our industry.

Stephanie: Honestly, it still feels really exciting when anyone purchases a piece from us. Every sale feels like a win, but it feels even more exciting when we sell someone else's work. You feel like you're actually doing right by them, and that this concept is working.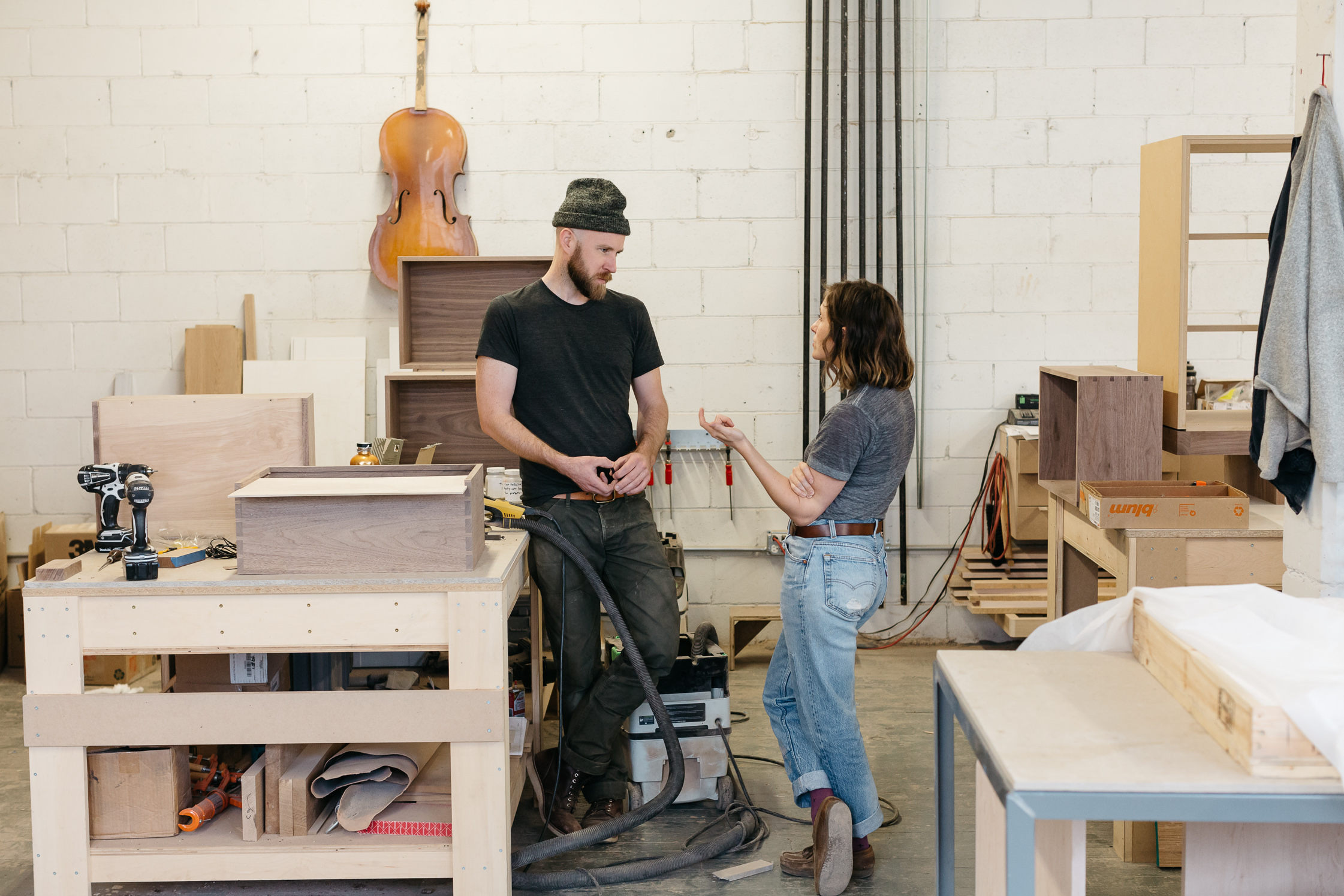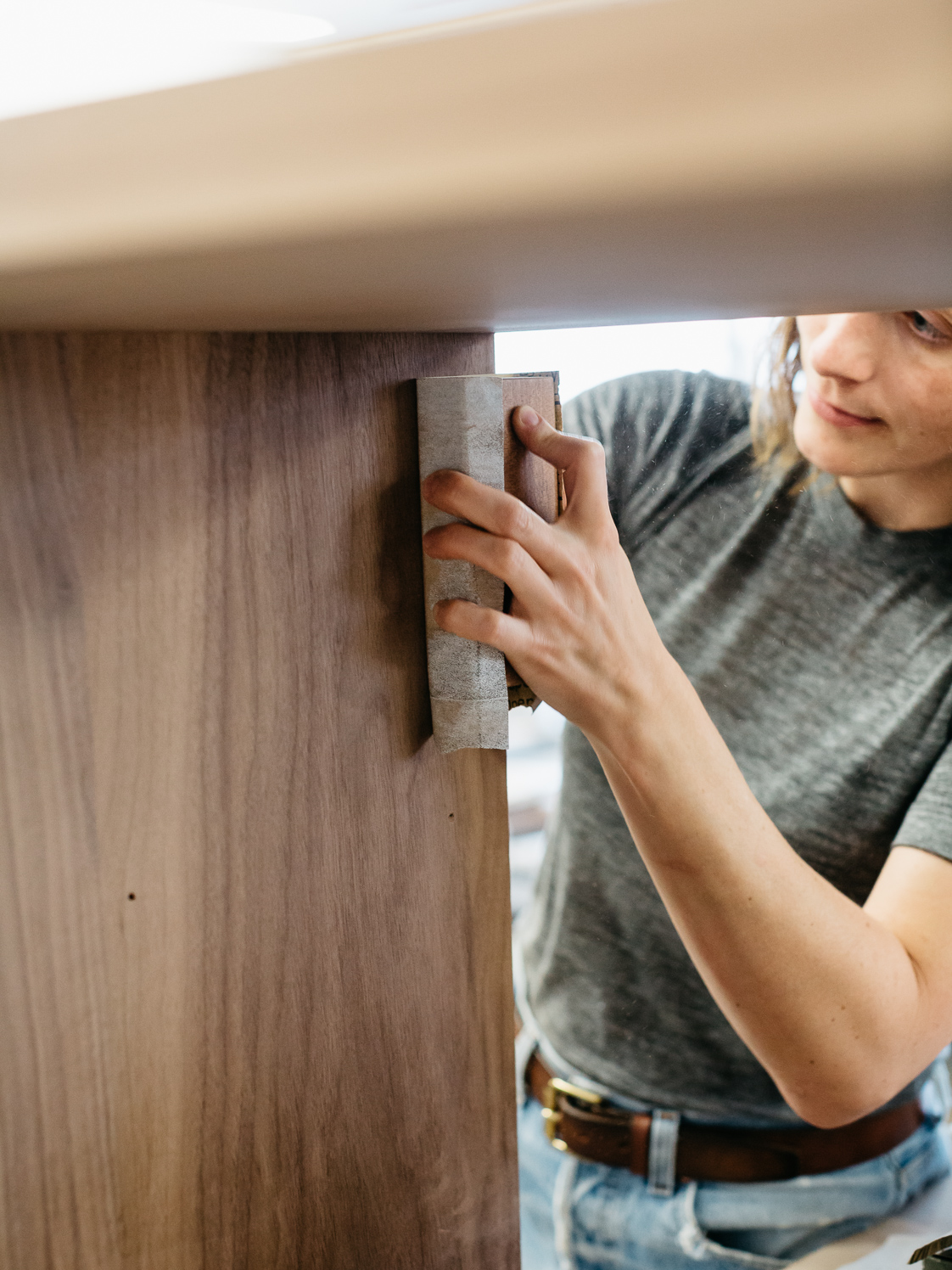 A closer look at Egg Collective's designs
"Every sale feels like a win, but it feels even more exciting when we sell someone else's work. You feel like you're actually doing right by them, and that this concept is working."
You were recently nominated by Annabelle Selldorf to create an object for the Collective x OTHR Vanguard Collection, which was then 3D printed. What was surprising to you about the 3D printing process?

Hillary: It looks as though it's been cast much more than I would have expected. The quality of the material was exciting.

Crystal: We also like to understand processes. I knew about 3D printing—we all knew about it—but we'd never designed for it before. So it was great getting to talk to OTHR about how precise can it be—how thin can it be, how thick it can be, what its limitations are, what it's good at doing—and then use those rules to come up with a design.

What was most exciting about being nominated?

Stephanie: We were super surprised, and the fact that we were nominated by Annabelle Selldorf was such a huge honor. And particularly as women in design—there are only a couple of women "starchitects" at this point, at least in our minds, so it felt like a really nice gesture that she nominated us.
Thanks to Egg Collective, for sharing your story and inviting us into your workshop and showroom.
Find out more about Egg Collective on their website. Visit our archive to meet more inspiring personalities from New York.
This portrait is part of an ongoing collaboration with OTHR, a vibrant hub for unique ideas and new possibilities in design. Visit OTHR for more on this story and more.
Photography: Brian W. Ferry