Almost like alchemists in their laboratory, Katharina Mischer and Thomas Traxler, demonstrate extremely precisely how their products function within their studio. After having met during their product and furniture design studies, the two designers have worked together very successfully to produce some fascinating creations over the last ten years. During that time the two Austrians have received several national and international awards. One of particular note was the 'designer of the future' award presented at Design Miami/Basel. Their work can also be found in the permanent collections of the Art Institute, Chicago, and the MAK, Vienna.The mischer'traxler studio is located in Rudolfsheim-Fünfhaus, in the 15th district of Vienna, which had its heydey during the second half of the 19th century with the opening of the Western train station. Later, the area experienced further development with a range of hotels emerging along with the establishment of the centre of the Austrian capital's textile industry. As the rent in this multicultural neighborhood has remained comparatively quite low, many creative agencies and artistic studios have migrated here: a typical gentrification scenario. Katharina and Thomas who moved to Vienna in 2009, feel very comfortable in this locale and appreciate its special charm. Over coffee and croissants, this design duo discuss how they come up with their innovative ideas, concepts and systems.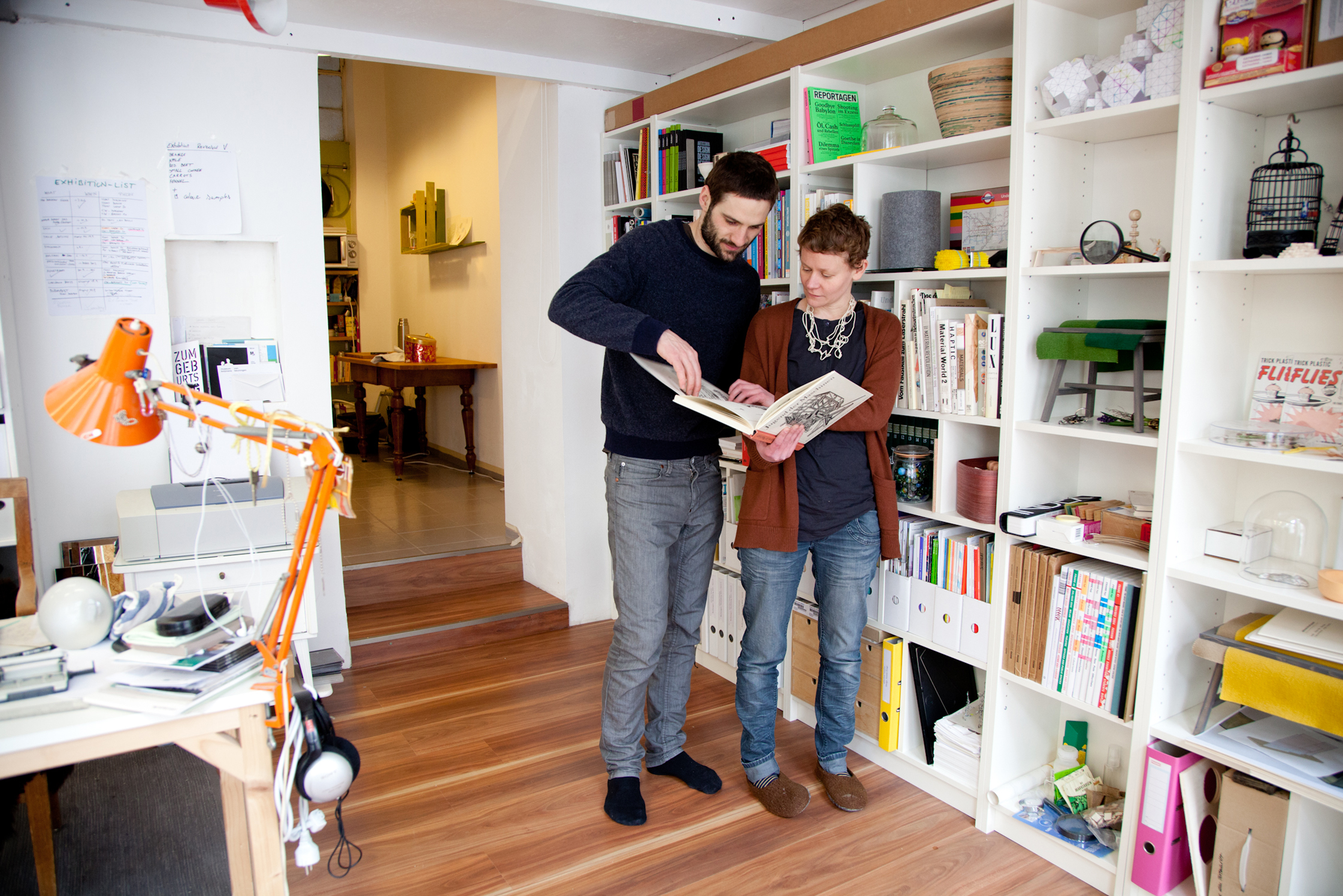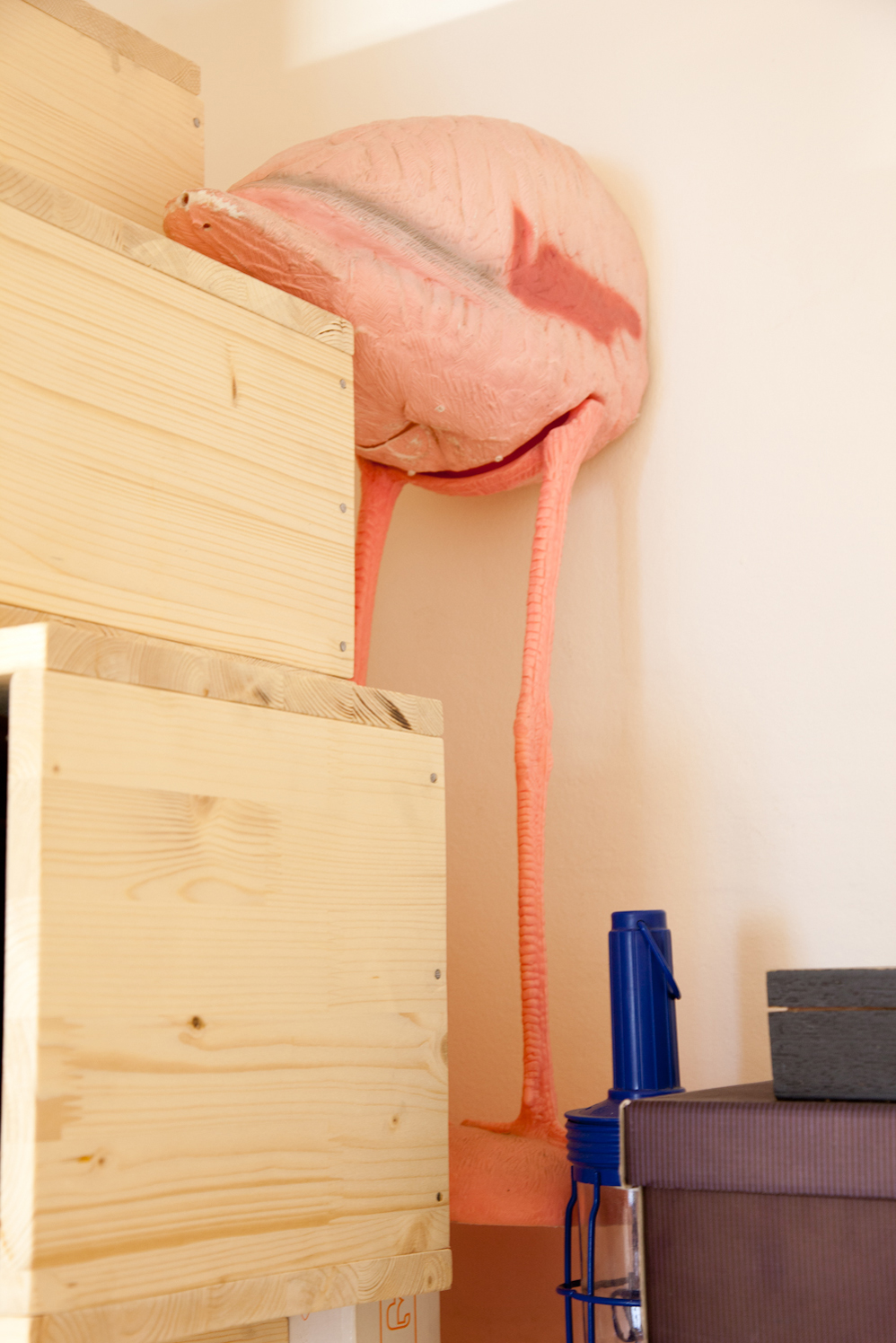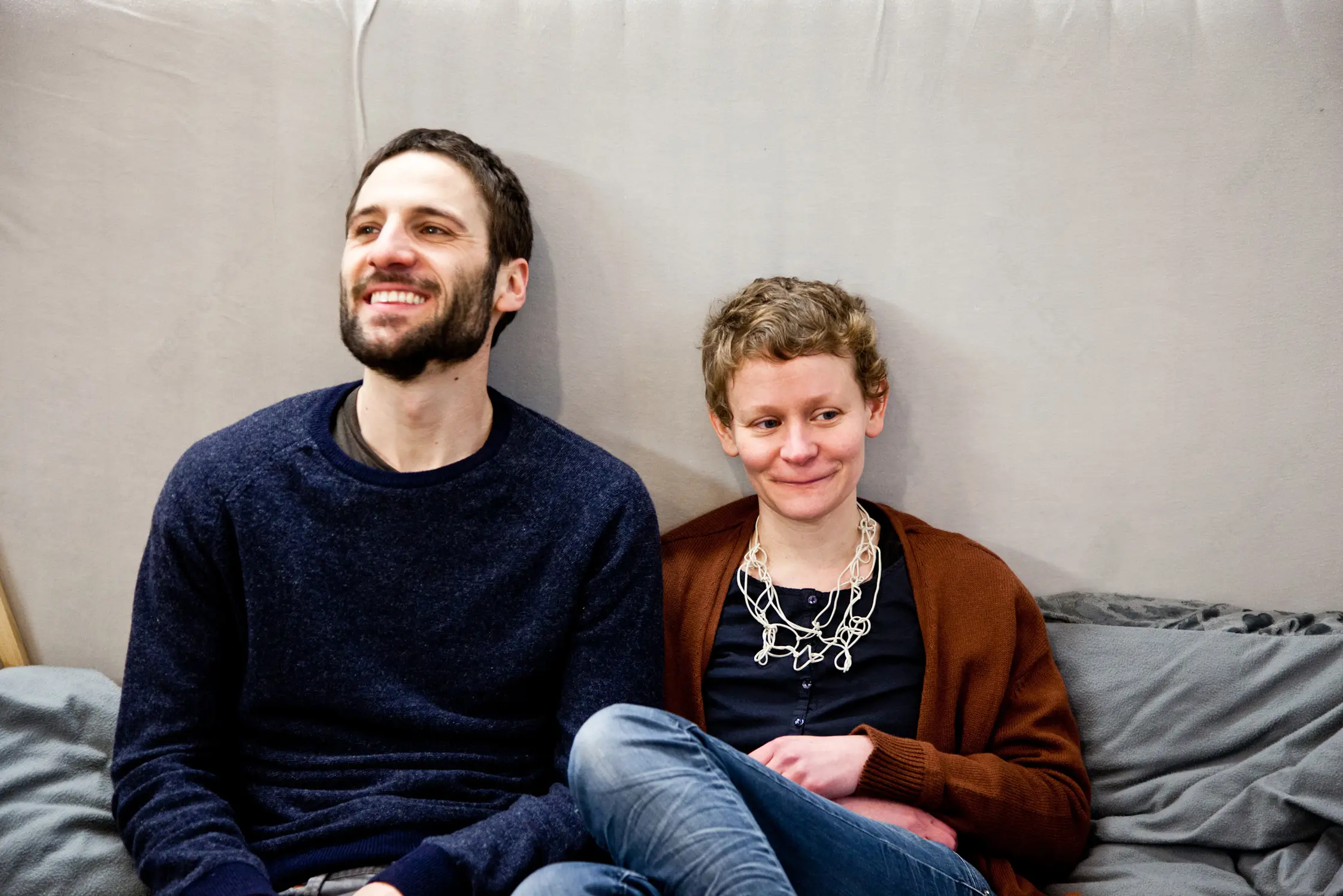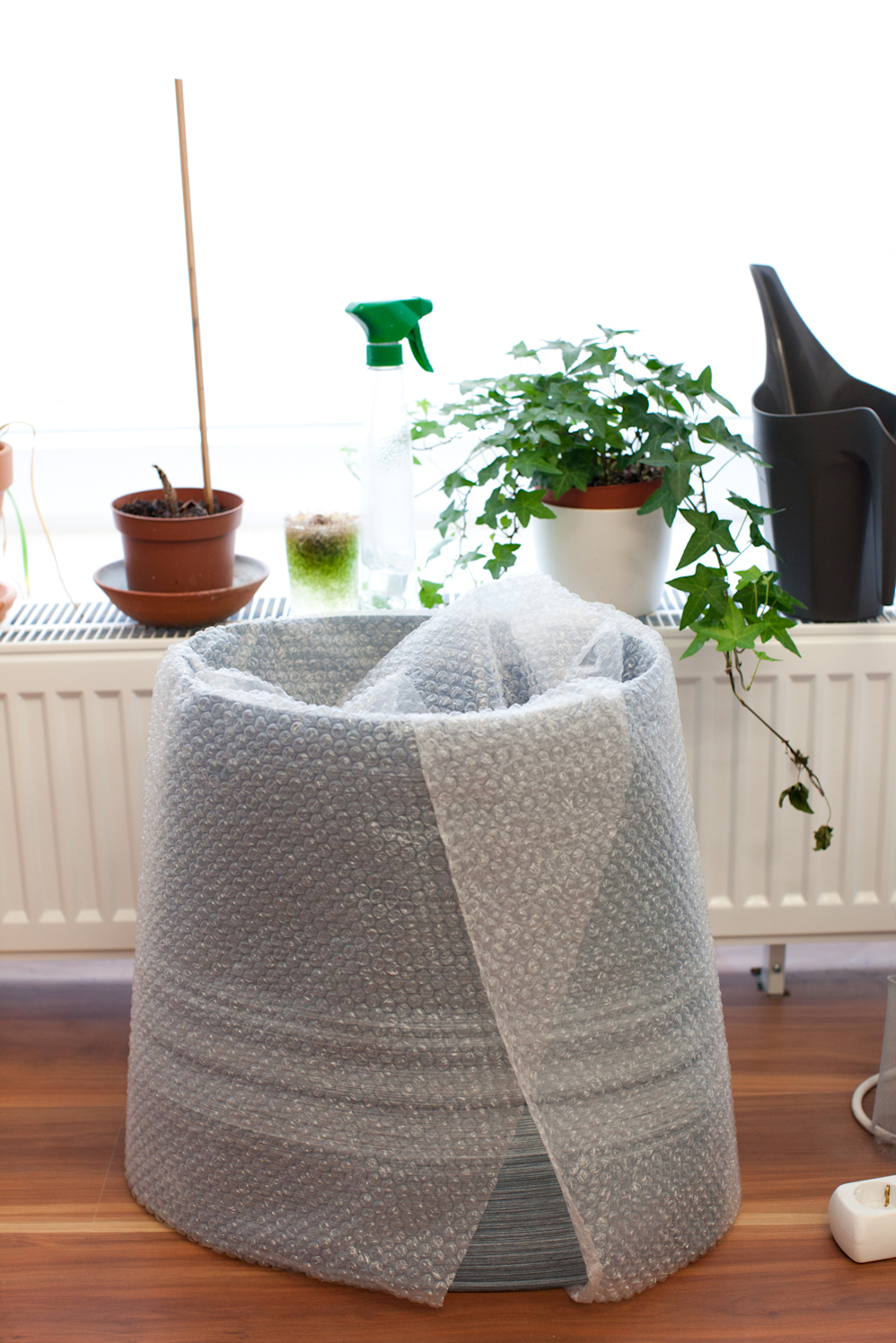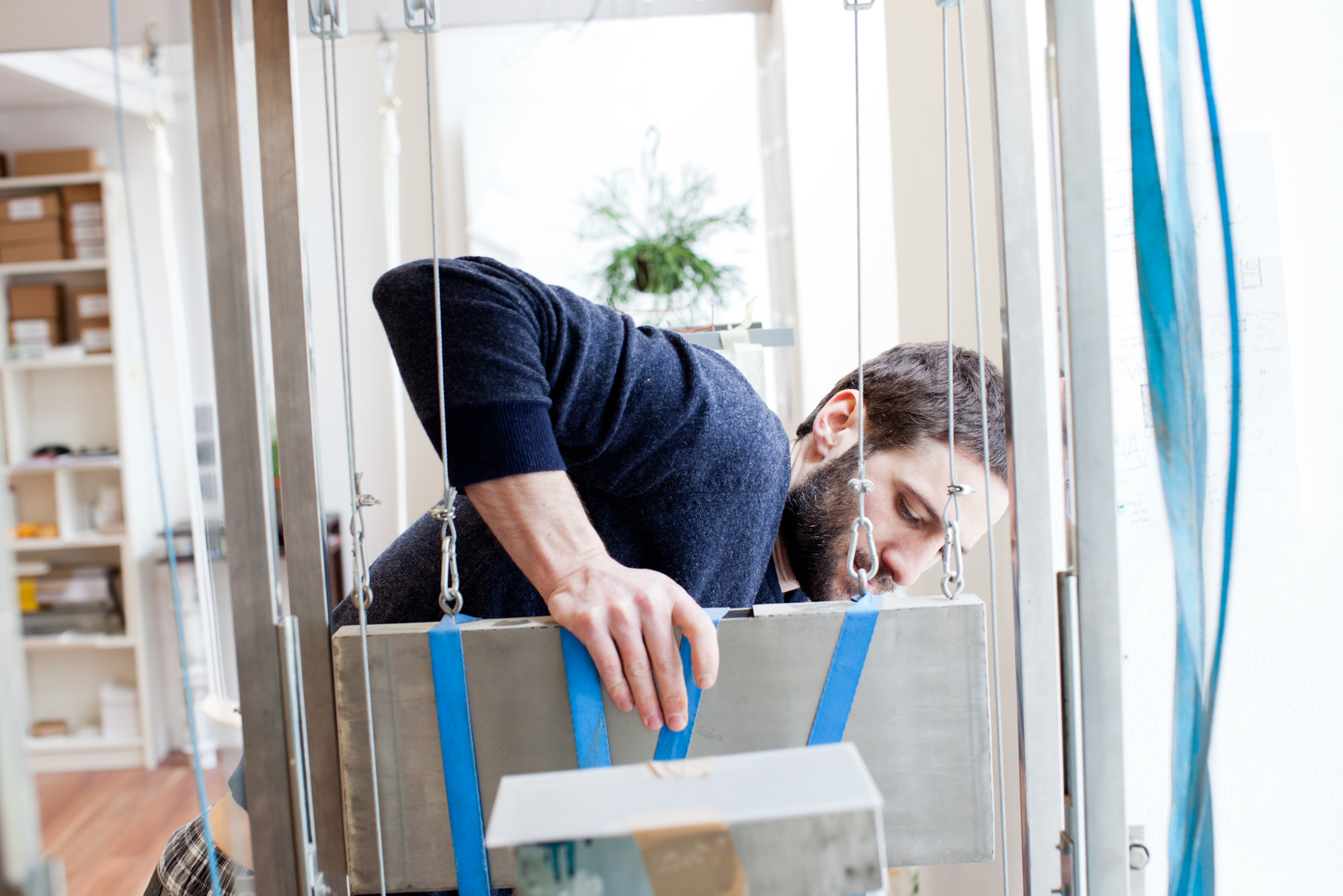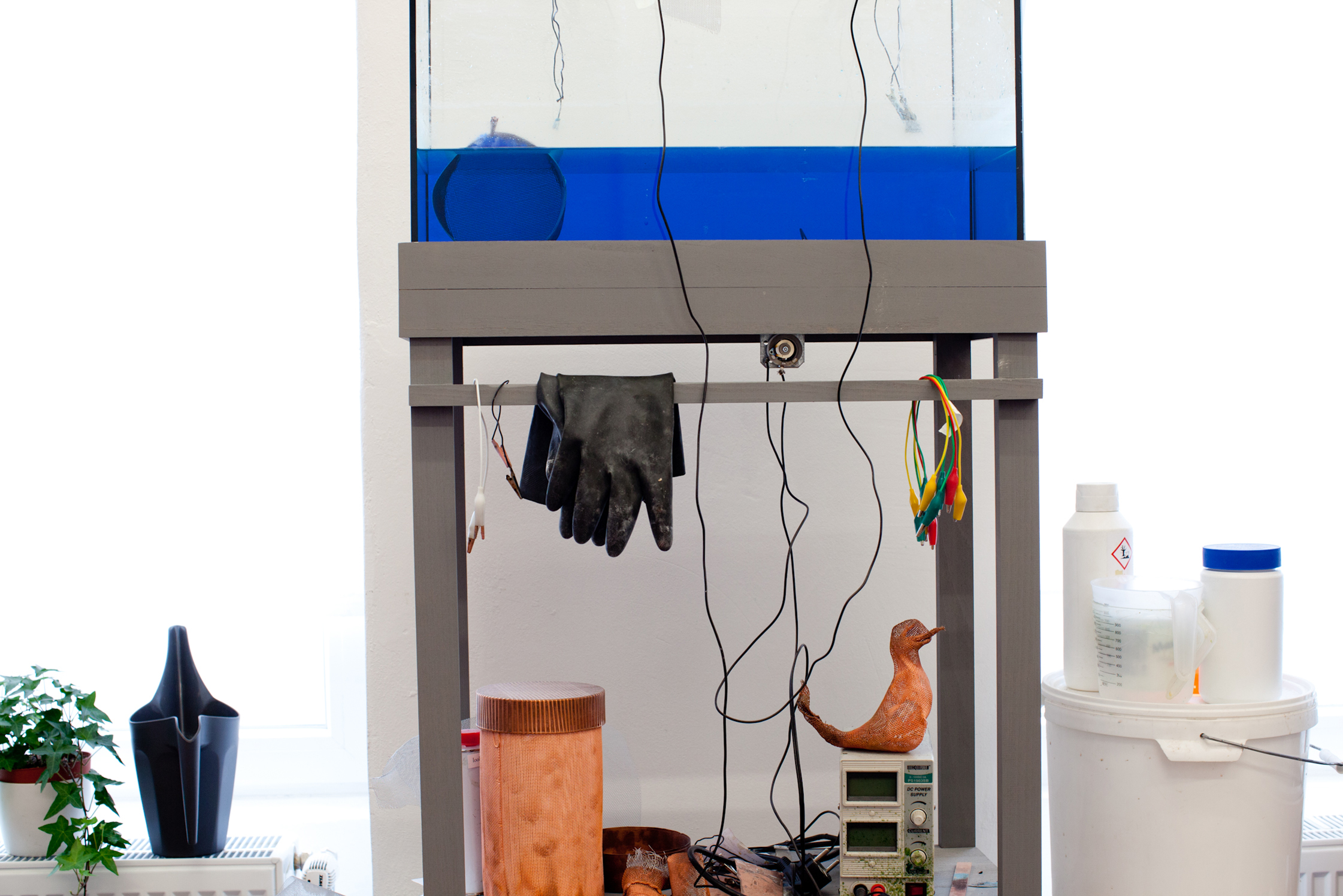 Who are you and what do you do?
Thomas: Since 2009 we have run our studio mischer'traxler in Vienna. We work broadly across a range of fields that reach from product design, to installations to media arts projects.
Can you remember why you wanted to become a designer?
Katharina: I was a senior in the artistic department and I have always wanted to do something with art. Then I thought that you do not really earn money with art and decided to go for design.
Thomas: First I went to a technical academy for automation technology, but realized that everything was far too strict for me and everything had to be simple, fast and cheap. Therefore my interests went more in the direction of furniture and interior design. Doing so, I realized that I have a far bigger fascination for details then for a total approach. Through this detour I ended up in the design field.
Where did you guys meet?
Katharina: We met during our studies, which we both started in 2003, and during which we worked together more and more. In 2006, we applied for a masters course in The Netherlands and were both accepted at Design Academy in Eindhoven. After that, we decided to keep on working together and moved to Vienna.
Can you explain your working process?
Thomas: We work together on everything and discuss a lot. We need each other in order to develop a project.
Katharina: We complement each other. Thomas has more of a technical background and I have a more overall background. With collective discussions and dialogues it is much easier to get extensive results. So, as soon as we know what are working on, we do everything together. But I am more in charge of color, text and graphics, whereas Thomas controls more of the technical and materialistic implementations.
What influences you the most when you are developing something?
Thomas: Nature as a closed system, where everything is connected to everything in some way and everything just makes sense. Another influence is the technical part of productions, the method of machines and their process. Here we pose questions on how to change machines, we question to what extent they are useful to us, and also how we can adapt new processes.
And who builds the machines?
Katharina: We try to build as much as possible ourselves. But that obviously depends on the size of the project. I tend to have a naive view and have ideas on the possibilities of doing things. Thomas knows how it should be done due to his technical background. Thanks to this combination we often find extraordinary solutions for small mechanical problems.
Thomas: Yes and generally we build all the mechanical parts in the workshop or at friends place who possess welding equipment. We only need help with electro technical executions, and for this we work with a programmer. When you build a lot yourself, you are able to adjust, change small things and react flexibly.
How important is the topic of sustainability in your projects?
Katharina: Sustainability is a reoccurring topic here. But we don't automatically close off every other option. We always think about whether it is a product you will throw away, or if better materials can be chosen. But sustainability is not our most important criteria.
Thomas: Sustainability has many facets and can also be connected to social systems. It is also about what direction the production is aiming for.
Which part of your working process do you find most exciting?
Thomas: The beginning, when concepts are being developed.
Katharina: Yes, but that is also such as love-hate relationship as it is a painful process, which can extend itself over days. Of course, this is exhausting just like it is exciting. There are questions like: Where do we go or how can we get the best out of this project? It is also really exciting to have the final product and for it to be exactly how you wanted it.
Do you always work on one single project or many simultaneously?
Thomas: We normally work on two to four projects at the same time, which are always in very different stages. When a project is within the concept phase, other ones will be at its completion or test phase. The good thing about that is that you can change from one project when you are stuck on another one. That way you feel like you are always making progress.
Katharina: But we also have to follow guidelines externally that determine our work rhythm. For instance, openings of exhibitions, or clients who are waiting for a specific part in order to produce something.
Who are your clients?
Thomas: Our clients come from all sorts of fields. Partially they are companies for whom we develop products together, as well as institutions like museums and galleries or curators. We also have private customers who want very specific objects.
What is important to you when you are working on a design concept for a client?
Katharina: Definitely the dialogue between the client and ourselves. Then we think: What is the object for? What are the parameters? Why do these clients want this? And what makes sense in regards to the context.
What is more important to you, to make a useful object or a piece of art?
Katharina: For us it is important that the objects are functional, as we strongly stem from a product and furniture background. We don't want to make something that will only look good on a shelf.
Thomas: The advantage of making a project intended for a gallery context is, that you have more freedom. You can develop projects that are more elaborate and thus, not suitable for mass production. The objects can also be presented in another format. One can take more time for the object's explanation for instance, as someone going to a gallery usually has more time, is more open and wants to hear the story of the object. It is very exciting for sure.
Is there a project that you are particularly proud of?
Katharina: We don't have an absolute favorite piece. But a noteworthy project would be: 'the idea of a tree' – a machine that produces an object from dusk till dawn while reacting in regards to the different intensity of the sun. Another project, which means a lot to us, is 'RealLimited' which concentrates on animal species that are dying off in Austria.
What makes you so special in your field?
Katharina: I think it's our approach. We get involved with clients, the environment, and the theme, and very often we are not sure what the result will be. It can sometimes result in a film, a picture, or an object.
Thomas: In addition, we move around in several fields that we feel comfortable in. We can't be placed into one particular box.
What does success mean to you?
Thomas: When both ourselves and the clients are satisfied with the project. Or when our work gets a positive response at an exhibitions and stimulates discussions with interesting people.
You have received many awards for your work so far, how important is that to you?
Thomas: Receiving an award is always a very pleasant experience and it is wonderful to get recognition for what you do. But one cannot say that one particular award opened all the doors for us.
What do you know now that you would have liked to have known earlier?
Katharina: It is important to listen to your gut feeling and intuition. For the most part it is right. That is something learnt through experience. Every new project initiates a relationship with another person, you soon known whether the relationship fits and when it doesn't.
To what extent has the Vienna Business Agency supported you with your projects?
Katharina: It provoked us to start actively thinking about founding the company, seeking advice from experts, and making thoughtful decisions. As all these economic things are not really fun, it was really great to receive help in that particular department. Obviously we also received a lot more attention through the funding – especially in Austria. The money was used mainly for tests and material trials for 'the idea of a tree' and the first prototypes of our 'reversed volumes' bowls.
Where in Vienna can you find good design items?
Thomas: We buy our things at flea markets or at Caritas Lager. If one likes vintage furniture Bananas is great. Das Möbel has also a pretty good range of design, which sells local and regional products. In addition to that, Himbeer und Soda just opened and also stock products of ours also.
Katharina: MAK Design Shop is perfect for small presents and beautiful objects.
What do you like to do besides designing?
Katharina: Sleeping! (laughs)
Thomas: We love going for a walk and visiting exhibitions. MAK and tba21 are particularly perfect for these occasions. Other than that one can meet us at Quartier 21, a part of Museumsquartier.
Where do you take your guests in Vienna?
Katharina: Lainzer Tiergarten or we drive to Leopoldsberg where one gets a fantastic view of the whole city. Ólafur Elíasson's installation 'Yellow Fog' at Verbund headquarters is especially nice to look at during nightfall.
Is there a designer in Vienna that is absolutely necessary to check out?
Thomas: Numen/For Use always make quite nice installations.
Katharina: Breaded Escalope is also very exciting and experimental.
Thank you Katharina and Thomas for sharing the story of your professional journey in this interview. To find out more about mischer'traxler, check out the website here.
This portrait was produced in collaboration with the Vienna Business Agency and its creative center departure. You'll find more portraits and reports from Vienna's creative scene here.
Photography: Lukas Gansterer
Video: Jan Schöttler
Interview & Text: Nathalie HalgandFast wie Alchemisten im Labor führen Katharina Mischer und Thomas Traxler in ihrem Studio ganz genau vor, wie ihre Produkte funktionieren. Davon haben sich die beiden Designer schon viele Faszinierende ausgedacht. Denn die Zwei lernten sich bereits beim Studium für Produkt- und Möbeldesign kennen und arbeiten seitdem – inzwischen schon zehn Jahre – sehr erfolgreich zusammen. So wurden die beiden Österreicher bereits, national und international, ausgzeichnet. Darunter mit dem "Designer of the Future"-Award bei der Design Miami/Basel.
Ihr Studio 'mischer'traxler' liegt in Rudolfsheim-Fünfhaus, dem 15. Bezirk. Diese Gegend hatte in der zweiten Hälfte des 19. Jahrhunderts durch die Eröffnung des Westbahnhofs ihre Blütezeit. Später wurden viele Hotels gebaut und die Textilindustrie siedelte sich hier an. Da die Mieten in diesem multikulturellen Bezirk im Vergleich zu anderen zentral gelegenen Stadtteilen Wiens noch recht günstig sind, etablierten sich schnell immer mehr Kreativbüros und Künstlerstudios. Ein klassischer Fall von Gentrifizierung. Doch Katharina und Thomas, die 2009 nach Wien gezogen sind, fühlen sich sehr wohl in ihrem Atelier und schätzen den ganz eigenen Charme der Gegend. Bei Kaffee und Croissants erzählt das sympathische Paar, woher es seine Inspirationen nimmt und wie es auf die vielen innovativen Ideen, Konzepte und Systeme kommt.
Dieses Portrait wurde in Zusammenarbeit mit departure – die Kreativagentur der Stadt Wien – produziert und ist der zweite Teil dieser Kollaboration.
Wer seid ihr und was macht ihr?
Thomas: Wir betreiben seit 2009 unser Studio namens 'mischer'traxler' in Wien und arbeiten in einem relativ breitgefächerten Feld, das von Produktdesign über Installationen bis hin zu Projekten, die eher Richtung Media Art gehen, reicht.
Könnt ihr euch daran erinnern, warum Ihr Designer geworden seid?
Katharina: Ich war in der Oberstufe im künstlerischen Zweig und wollte immer schon etwas mit Kunst machen. Dann habe ich mir überlegt, dass Kunst an sich ein brotloser Job ist und bin beim Design gelandet.
Thomas: Ich habe eine Höhere Technische Lehranstalt für Automatisierungstechnik besucht. Doch während der Schulzeit waren mir die Sachen immer zu strikt. Außerdem hat es immer einfach, schnell und billig sein müssen. So habe ich begonnen, mich für ein anderes Feld zu interessieren. Ich habe mich dann mit Möbelbau- und Innengestaltung beschäftigt, wo mir bewusst wurde, dass mich Einzelteile mehr als das Gesamte interessieren. Über diesem Umweg bin ich beim Design gelandet.
Wo habt ihr euch kennen gelernt?
Katharina: Wir haben uns beim Studium, das wir beide 2003 begonnen haben, kennengelernt. Währenddessen haben wir mehr und mehr zusammengearbeitet. 2006 haben wir uns dann für einen Master in Holland beworben und wurden beide an der Design Academy in Eindhoven genommen. Danach haben wir beschlossen, dass wir weiterhin gemeinsam arbeiten möchten und haben uns dann für Wien entschieden.
Wie sieht euer gemeinsamer Arbeitsprozess aus?
Thomas: Wir arbeiten an allem gemeinsam und diskutieren viel. Wir brauchen uns gegenseitig, um ein Projekt entwickeln zu können.
Katharina: Wir ergänzen uns gut. Thomas hat eher einen technischen und ich eher einen allgemeinen Hintergrund. Gemeinsam kann man durch Diskussionen und Dialoge viel schneller umfangreichere Ergebnisse erzielen. Sobald wir wissen, an was wir arbeiten, machen wir viel gemeinsam. Aber ich kümmere mich eher um Farbe, Materialität, Text und Grafik, während Thomas besser das Technische und die Materialumsetzung beherrscht.
Was beeinflusst euch am meisten, wenn ihr eine Arbeit entwerfen müsst?
Thomas: Die Natur als geschlossenes System, wo alles irgendwie miteinander zusammenhängt und einen Sinn ergibt. Ein anderer Einfluss ist der technische Teil von Maschinenproduktionsmethoden und -prozessen, wobei wir uns fragen, wie man diese verändern, sich selbst zum Nutzen machen und neue Prozesse adaptieren kann.
Und wer baut die Maschinen?
Katharina: Wir versuchen viel selber zu bauen, aber das hängt natürlich von der Größe des Projektes ab. Ich habe eher einen naiven Blickpunkt und habe Ideen, wie man etwas anders Machen könnte. Thomas weiß aufgrund seines technischen Hintergrundes, wie es sein sollte. Gemeinsam finden wir durch diese Kombination manchmal ungewöhnliche Lösungen für kleine mechanische Probleme.
Thomas: Ja und in der Regel bauen wir so alle mechanischen Teile bei uns in der Werkstatt oder bei Freunden, die Schweißgeräte haben. Nur bei elektrotechnischen Ausführungen brauchen wir Hilfe. Da arbeiten wir mit einem Programmierer zusammen. Wenn man selbst viel baut, kann man selber viel adjustieren, kleine Sachen verändern und flexibler darauf reagieren.
Was für einen Stellenwert hat Nachhaltigkeit bei euren Projekten?
Katharina: Nachhaltigkeit ist immer wieder ein Thema. Aber wir schließen nicht automatisch alles andere aus. Wir überlegen uns immer, ob es ein Wegwerfprodukt ist, oder ob man bessere Materialien wählen kann. Aber Nachhaltigkeit ist nicht das wichtigste Kriterium.
Thomas: Nachhaltigkeit hat viele Facetten und kann ebenfalls mit sozialen Systemen zusammenhängen. Es geht auch darum, in welche Richtung sich die Produktion bewegen kann.
Welchen Teil eures Arbeitsprozesses findet ihr am spannendsten?
Thomas: Am spannendsten ist sicher der Anfang, wenn wir das Konzept entwickeln.
Katharina: Ja, aber das ist auch eine Hassliebe, denn es ist ein leidiger Prozess, der sich über mehrere Tage erstrecken kann, was anstrengend und spannend zugleich ist. Da geht es um die Fragen: Wo gehen wir hin oder wie bekommt man das Beste aus dem Projekt heraus? Sehr erfüllend ist auch, wenn man das Objekt fertig ist und es wirklich so ist, wie man es sich vorgestellt hat.
Arbeitet ihr immer an einem Projekt oder auch an mehreren Projekten gleichzeitig?
Thomas: Wir arbeiten normalerweise an zwei bis vier Projekten gleichzeitig, die sich immer in unterschiedlichen Stadien befinden. Während ein Projekt in der Konzeptionsphase ist, befindet sich das andere in der Durchführung oder Testphase. Das Gute ist, wenn man bei einem Projekt gerade nicht weiterkommt, kann man zu einem anderen wechseln und hat so schnell ein Erfolgserlebnis.
Katharina: Aber es gibt auch Vorgaben von außen, die unseren Arbeitsrhythmus bestimmen. Beispielsweise Ausstellungseröffnungen oder Auftraggeber, die auf bestimmte Teile warten, um etwas weiter produzieren zu können.
Wer sind eure Kunden?
Thomas: Unsere Kunden kommen aus sehr vielen verschiedenen Bereichen. Zum Teil sind es Firmen, mit denen wir Produkte entwickeln, zum Teil sind es Institutionen, wie Museen oder Galerien oder Kuratoren. Teilweise gibt es auch private Kunden, die aber eher spezielle Objekte anfertigen lassen.
Was ist euch wichtig, wenn Ihr an einem Designkonzept für Kunden arbeitet?
Katharina: Der Dialog zwischen uns und mit den Kunden. Dann überlegen wir uns: Wofür ist das Projekt? Was sind die Rahmenbedingungen? Warum wollen die Kunden das? Und was in dem Kontext wirklich Sinn macht.
Was ist für euch wichtiger, dass ihr Gebrauchsgegenstände oder Kunstobjekte herstellt?
Katharina: Uns ist wichtig, dass die Objekte benutzbar sind, denn wir kommen wirklich stark aus der Produkt- und Möbel-Richtung. Wir wollen nicht etwas machen, das nur schön im Regal steht.
Thomas: Der Vorteil an Projekten in einem Galeriekontext ist, dass es mehr Freiraum gibt. Man kann eher Projekte entwickeln, die vielleicht aufwendiger und nicht für eine Massenproduktion geeignet sind. Man kann die Objekte auch anders präsentieren. Sich zum Beispiel mehr Zeit für die Erklärung nehmen. Denn wenn jemand in eine Galerie geht, hat er mehr Zeit. Er ist offener und will Geschichten zum Objekt hören. Das ist dann schon ein sehr spannendes Gebiet.
Auf welches Projekt seid ihr besonders stolz?
Katharina: Wir haben kein absolutes Lieblingsprojekt. Aber ein Erwähnenswertes ist bestimmt: 'the idea of a tree' – eine Maschine, die von Sonnenaufgang bis Sonnenuntergang ein Objekt produziert und auf die verschiedenen Sonnenintensitäten reagiert. Ein weiteres Projekt, das uns sehr am Herzen liegt ist 'RealLimited' , welches sich auf aussterbende Tierarten in Österreich bezieht.
Was macht euch so besonders auf eurem Gebiet?
Katharina: Ich glaube unsere Herangehensweise. Wir lassen uns auf den Kunden, das Umfeld, das Thema ein und manchmal ist uns nicht ganz klar, was herauskommen wird. Das kann manchmal ein Film, ein Bild oder ein Objekt sein.
Thomas: Außerdem bewegen wir uns in mehreren Bereichen, in denen wir uns wohl fühlen. Man kann uns nicht in eine Schublade stecken.
Was bedeutet Erfolg für euch?
Thomas: Wenn der Auftraggeber und wir mit dem Projekt glücklich sind. Oder, wenn die Rückmeldungen bei Ausstellungen gut sind und man anfängt mit interessierten Leuten zu diskutieren.
Ihr habt zahlreiche Awards erhalten, wie wichtig ist das für euch?
Thomas: Awards sind immer sehr erfreulich und es ist nett, wenn man Anerkennung bekommt. Aber man kann nicht sagen, dass ein Award ausschlaggebend war für etwas Bestimmtes oder uns alle Türen geöffnet hat.
Was wisst Ihr jetzt, das ihr gerne früher gewusst hättet?
Katharina: Dass man auf sein Bauchgefühl hören sollte und die Intuition, die man hat, meistens stimmt. Das ist eine Erfahrung, die man machen muss. Jedes Projekt bedeutet auch eine Beziehung mit einer anderen Person und entweder es passt oder es passt nicht.
Inwiefern hat die departure Förderung euch bei euren Projekten weitergeholfen?
Katharina: Das hat uns dazu gebracht aktiv über die Firmengründung nachzudenken, Expertenratschäge einzuholen und überlegtre Entscheidungen zu treffen. Da alle diese ökonomischen Sachen nicht gerade lustig sind, war es wirklich hilfreich. Natürlich gab es durch die Förderung auch zusätzliche Aufmerksamkeit – vor allem in Österreich. Das Geld selber haben wir vor allem für Test- und Materialversuche für 'the idea of a tree' verwendet und die erste Prototypenserie der 'reversed volumes'-Schalen entwickelt.
Wo bekommt man in Wien gutes Design?
Thomas: Wir persönlich kaufen unsere Sachen auf Flohmärkten oder im Caritas Lager. Wenn man Vintage-Möbel mag, kann ich das Bananas empfehlen. Das Möbel hat auch eine gute Bandbreite an Design, dort werden Sachen verkauft, die lokal oder regional produziert werden. Außerdem hat vor kurzem Himbeer und Soda eröffnet, wo auch Sachen von uns verkauft werden.
Katharina: Kleine Geschenke und schöne Objekte findet man sonst noch im MAK Design Shop.
Was macht Ihr sonst noch gerne außer designen?
Katharina: Schlafen! (lacht)
Thomas: Wir gehen gerne spazieren oder in Ausstellungen. Dafür eignen sich vor allem das MAK und tba21. Sonst trifft man uns auch im Quartier 21, ein Teil des Museumsquartiers.
Was zeigt ihr Gästen, wenn sie nach Wien kommen?
Katharina: Den Lainzer Tiergarten oder wir fahren zum Leopoldsberg, wo man einen Blick über Wien hat. Bei der Dämmerung ist die Ólafur Elíasson – Installation 'Yellow Fog' beim Verbund-Gebäude besonders schön.
Gibt es in Wien einen Designer, den man sich unbedingt ansehen sollte?
Thomas: Numen/For Use, die machen immer sehr nette Installationen.
Katharina: Sehr spannend und experimentell finde ich auch Breaded Escalope.
Danke Katharina und Thomas für das spannende Interview! Wer mehr über ihre Arbeit erfahren will, informiert sich am besten auf ihrer Webseite.
Dieses Porträt ist in Zusammenarbeit mit der Wirtschaftsagentur Wien und ihrem Kreativzentrum departure entstanden. Mehr Porträts und Berichte zu der Wiener Kreativszene gibt es hier.
Fotografie: Lukas Gansterer
Video: Jan Schöttler
Interview & Text: Nathalie Halgand