There's absolute silence in Berlin-Mitte. Not a car, smartphone or rolling suitcase to be heard. Ansgar Oberholz sits at the Alter Garnisonfriedhof where he is all too happy to enjoy the peace that the city so seldom offers him. He's talking about what we call work.
For a long time, the culture of coworking, freelancing, and decentralized work was reserved solely for a young, urban scene who struggled to be taken seriously, all too often becoming the subject of ridicule when a business idea didn't have the greatest of starts. Yet more and more companies are now trying to use these methods. They've realized that the needs of their employees are changing in a fundamental way. The sparse, open-plan office is no longer enough to allow people to do the work that's demanded nowadays. Ansgar Oberholz, however, knows that beautified spaces are far from the ultimate end point. As a Berlin-based resident he observed this change from the outset and has since contributed to it. He's not only the co-founder of the Café St. Oberholz at Rosenthaler Straße 72A, also home to coworking spaces, but also co-founder of the Institut für Neue Arbeit (Institute for New Work). As a consultant and mentor, he's been offering his entrepreneurial experience to small and large companies alike.
St. Oberholz, like so many other polarizing places of Berlin, is either entered with conviction or avoided completely. The co-working cafe not only tells the story of the caffeinated bloggers who plan their big pitch suspended from digital test balloons, but as a hub for absolute contemporary cooperation. In his cafe, which opened in 2005, companies such as SoundCloud or HelloFresh were founded between espresso machines and charger cables; and books by authors such as Joachim Bessing and Holm Friebe were written here. The first cafe in Berlin for freelancers, founders, and journalists, who brought their laptops and smartphones with them, is a concept for success that cannot be dismissed. That's because St. Oberholz as a place doesn't just play a role in what's happening around new forms of the work, but shows an affirmative perspective on the vision of how we'll work in the future.
The question of how we can get as many people as possible to enjoy their work may well be Ansgar's driving concept. It goes back to a story from his time as a teenager when he had to start a job on the assembly line to repay a large sum of money to his father. "I was shocked the first day at how slowly time can pass," he says. "When my father quoted the phrase by the poet Khalil Gibran 'work is love made visible' after my first day of work, my shock was even greater." Since then, Ansgar has questioned the very meaning of work.
Together, Freunde von Freunden and watch manufacturer NOMOS Glashütte look to discuss the changing nature of the working world and what success means for innovators today.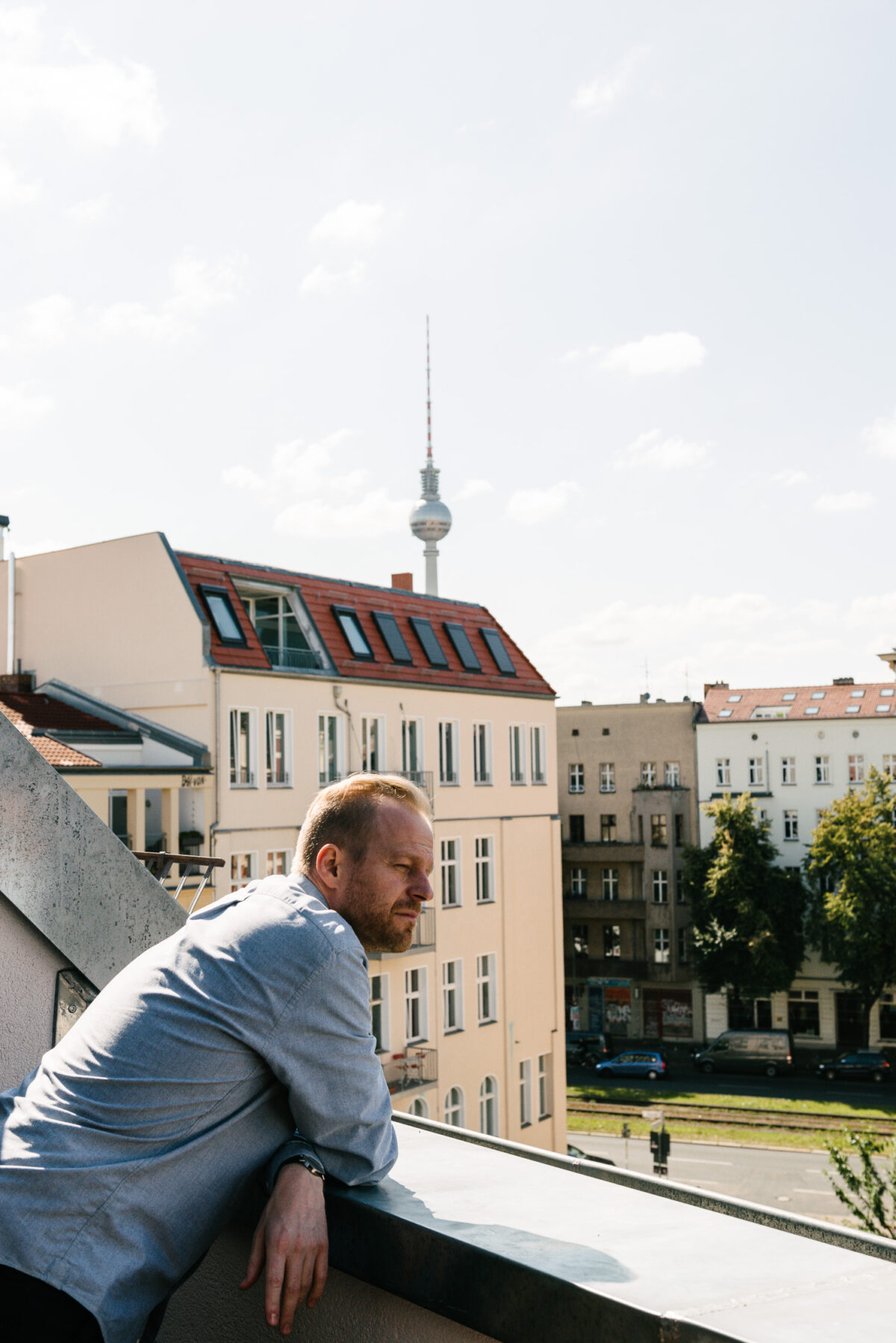 His own work has changed with varied roles as a cafe owner, entrepreneur, consultant, and novelist: "Two major megatrends are decentralized work and simultaneous networking," he says. "Through the use of new tools, I can work more sustainably and directly with colleagues and customers. That doesn't have to be the perfect chatbot algorithm, but rather starts with simple automation."
In a certain way, Ansgar is a futurist, only without the brachial aesthetics of flying cars or lovingly rendered prototypes of new smartphones. For him, it's not just about the phantom of new, fun work, which is all too easily manifested in the obligatory foosball table in every office. Ansgar sees himself more as the mediator of a new sentiment culture, which acts like antifreeze, prying away the idea that employees must be controlled in order to be successful.
"It doesn't always have to be agile design thinking, large top-down projects from the board or the transformation workshop. New work can also happen on a small scale."
That's because the usual view of companies that choose to tread new paths of communication remains full of resentment. Work doesn't necessarily have to be fun—that's what theaters, cinemas and evenings with friends are for. But for Ansgar, the connection between seriousness and fun is immensely important. "Work can only be really good, and therefore serious, if you can experience the joy of it, or derive joy from it." At its core, new work is not so radically oriented towards fun and show as many may assume. "It doesn't always have to be agile design thinking, large top-down projects from the board or the transformation workshop," he explains. "New work can also happen on a small scale if employees have more positive experiences because management dares to relinquish control."
"Giving up control doesn't always mean a breakdown of rules—you need other very clear and very good rules. Anyone looking for a higher level of team satisfaction should look to increase efficiency."
Alter Garnisonsfriedhof, Berlin-Mitte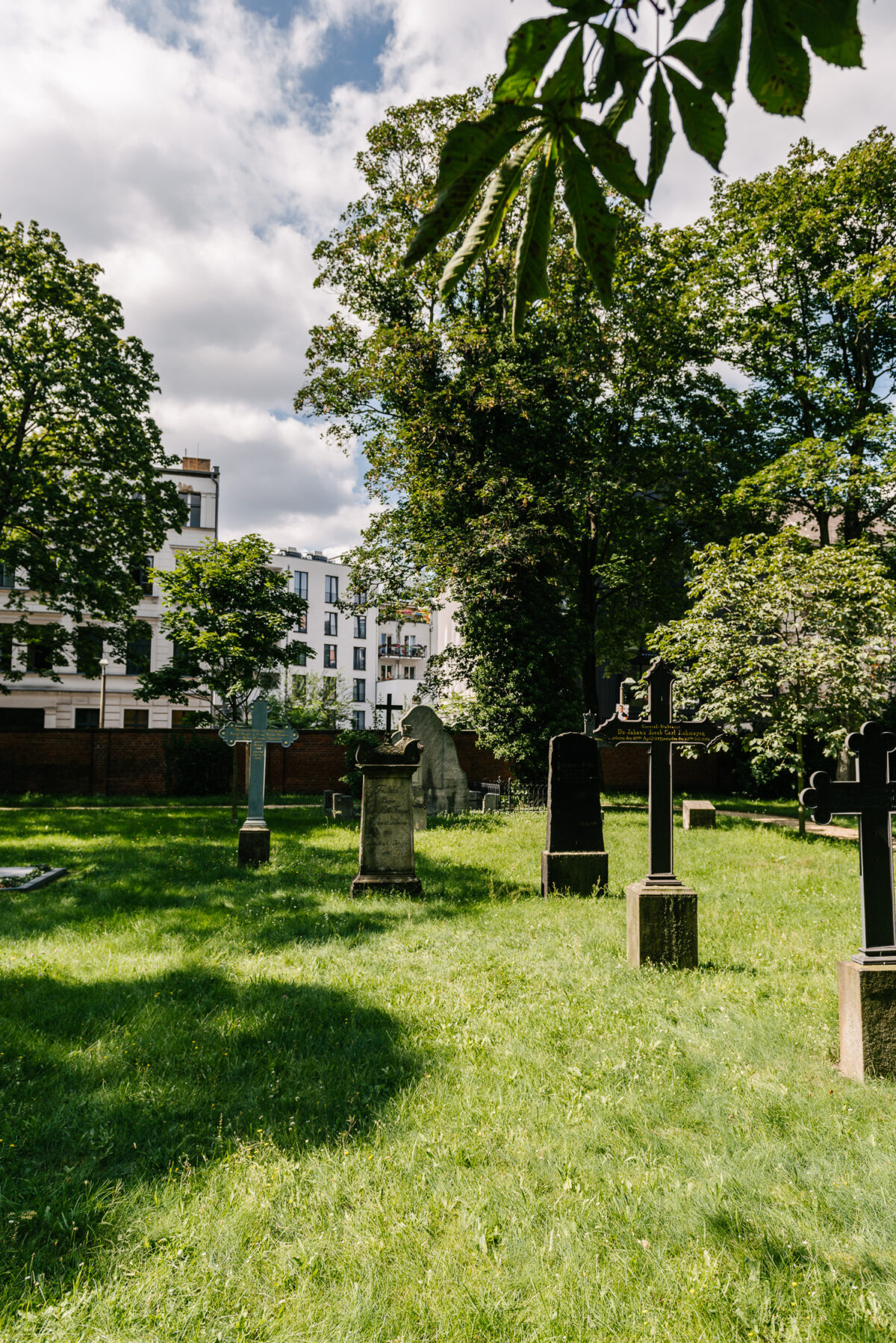 Moebel Horzon Office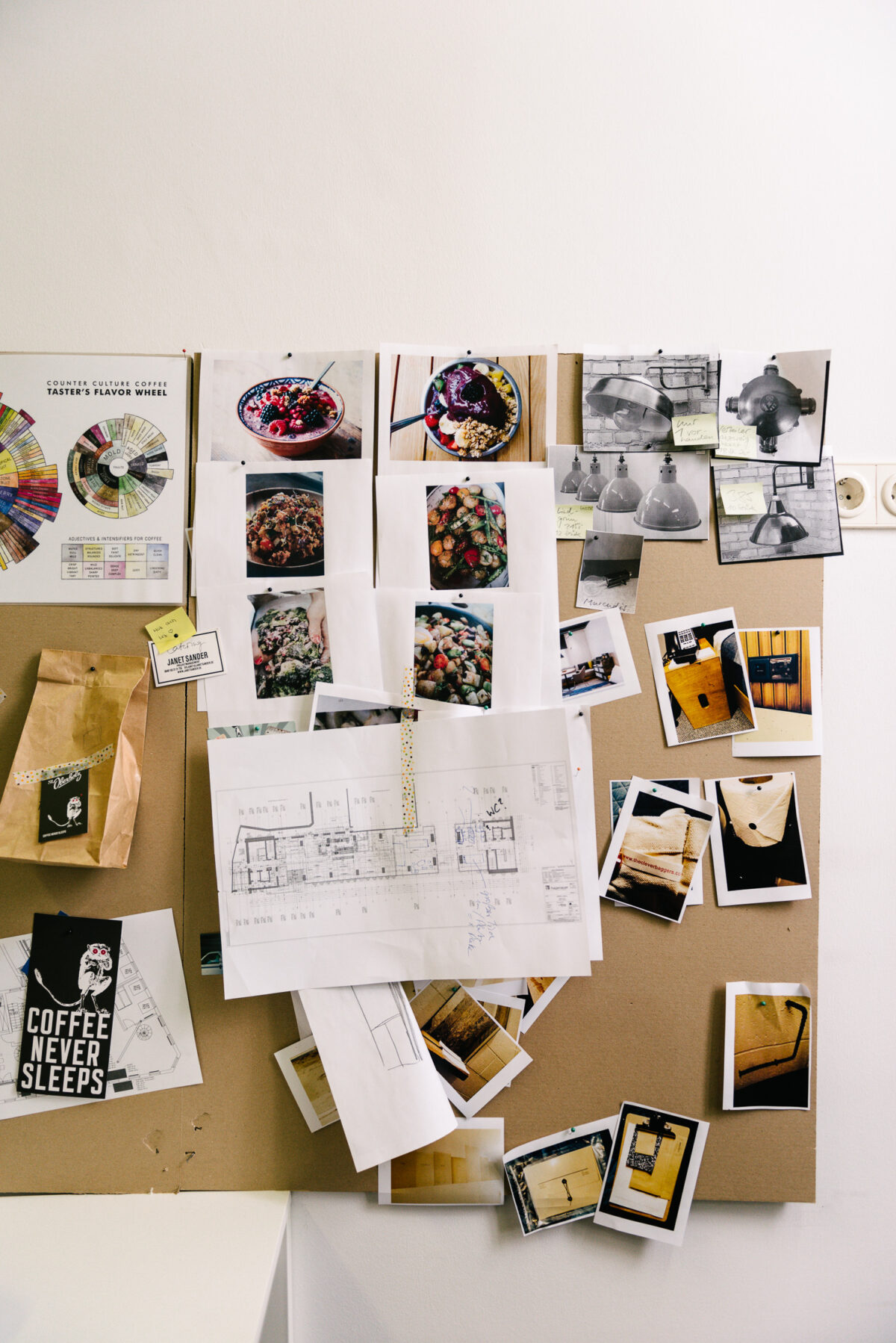 No question, the switch to a digital transformation society has been brutal for many. Ansgar has already had the experience of employees being reluctant to the very idea of coworking. How can you gain recognition from your boss when they can't even see the work you are doing remotely? "It's not about simply changing the concept. It's about tapping the needs of the employees and integrating them into the corporate objectives." That's because almost every employee finds his job quite ok. But breaking down masculine power structures, dismantling hierarchies, sharing knowledge, and using nonviolent communication can help committed colleagues to loosen up. The important part is that both parties participate.
"What children do when inventing things approximates the 'entrepreneurial mindset' that we're talking about today."
In his work, Ansgar is concerned with the possibility of heterotopia: a concept developed by the French philosopher Michel Foucault, which alludes to real utopias that we can visit for short periods of time. "New work means creating new spaces, sometimes this can also mean a clever hacking of what you already have," says Ansgar. "When a child gets into a rocket, he's an astronaut. That's heterotopia. We as adults do something similar when we open the laptop on the train or go to a party." Ansgar's four children are a great inspiration: "What children invent approximates the 'entrepreneurial mindset' that we are talking about today. However, through school and university this solution-oriented thinking is pressed into grid. If companies want a curious employee, then they'll have to get them into the habit."
The overall goal can also be seen in the space of a company. "If you think about the cubicles, the battery cages that still exist mainly in the USA, then it was mostly about making everything the same. The message there was: "Don't think outside the box, don't step out of line, for you are just one of many." The fact that you can find foosball tables in many companies is a sign that employees are now invited to think differently: "This is the skill many companies want today from their employees but they're not getting because of incorrect communication."
Fab Lab Berlin
Having an overall culture of new mindsets is necessary in order to offer more people access to new work in the coming years. In addition to post-capitalist approaches and post-growth philosophies, Ansgar also brings up unconditional basic income: "We still act as if digitalization is a natural force that we cannot control. If we leave the mantra of full-time employment behind us and think differently, it would release an enormous amount of energy and seriousness."
"I'd like to put provocative changes in motion without overburdening people. Sometimes that's just a Trojan horse that gets pushed into a company."
Within new work, is there enough room for status and ambition when working on a collaborative basis? Ansgar believes that status symbols have shrunk and in some cases are no longer needed. "Status symbols are the luxury goods that drive us. And having a lot of time can have a higher priority nowadays." If he has learned one thing over the years as an advisor, then it was to be regarded as someone who breaks with conventions, but also someone people can connect to. He learned that from meetings with board members, in which he showed up in jeans and a T-shirt. "I'd like to put provocative changes in motion without overburdening people. Sometimes that's just a Trojan horse that gets pushed into a company."
What drives Ansgar is the passion of being able to pass things on, to experience social change through digitization in an affirmative way and with his whole heart. "When I realize that I can act as a platform or hub for others and not only open doors, but whole rooms for them, I feel fulfilled."
The Berlin-based entrepreneur sees a clear trend for the future. Increasingly, dynamic and flexible working methods will be created which are encased in redistribution, freelance work and automated processes. "Clearly, the pendulum will also strike back at the places where new processes were hastily introduced," Ansgar admits. "But it's already clear that we will soon experience a wild mix of conventional and highly fluid work structures. This can mean that many more people can do what they really want." A vision worth working for.
St. Oberholz at Rosenthaler Platz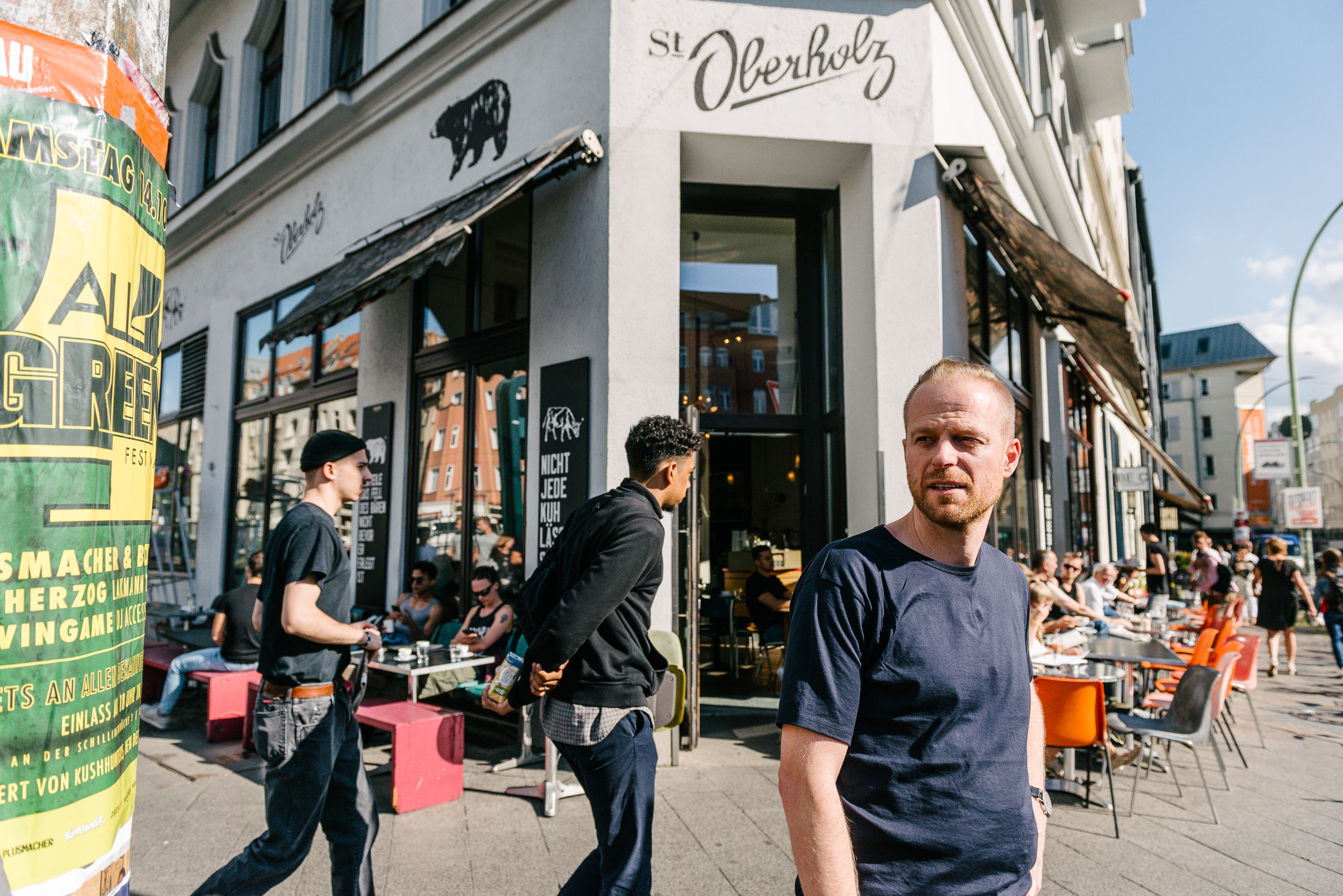 With ongoing debates about the future of the ways in which we work, we're thankful to Ansgar for his clear mediation. The St. Oberholz with coworking spaces at Rosenthaler Platz remains the same and is located at Rosenthaler Straße 72A. If you would like to discuss further opportunities, Ansgar can be consulted as an advisor through the Institut für Neue Arbeit. Otherwise he can be found relaxing in the beautiful Garnisonsfriedhof, dropping by the Fab Lab or even Moebel Horzon.
What is work today and what will it be tomorrow? The watch manufacturer NOMOS Glashütte and Freunde von Freunden spoke with entrepreneurs in various fields about success, vision and status.
You can find more portraits from this collaboration here.
Video: FvF Productions
DoP: Shai Levy
Director: Frederik Frede
Text: Daniel Sigge
Photography: Daniel Müller