"We all seek to surround ourselves with things we love. Collecting objects with meaning. Designs that resonate with our soul. Pieces reflecting different facets of our personality…"
Upon entering what feels like a sumptuous modern home in the center of Copenhagen, there's no immediate tell-tale sign that this is anything other than someone's personal residence. An enviable plant-filled courtyard leads inside to a sweeping staircase and floor after floor of contemplative living, dining, and study rooms—all overlooking Copenhagen's oldest park, The King's Garden. In one corner, discreetly illuminating the windowsill, is a yellow Verner Panton Flowerpot lamp, beneath which sits a Little Petra chair designed by Viggo Boesen, the first clues to the Danish design heritage so intrinsic in this house. While the intended effect is that of a collector's home, this is, in actual fact, the showroom and head office for the Danish furniture and lighting brand &Tradition.
The name &Tradition is inextricably linked to the very mission of the company: where the present plays with the past in a considered, emotive, and respectful way. "We connect with the old masters while giving space to new designers to define future classics," sums up Martin Kornbek Hansen, founder of the now eight-year-old company. Since 2010 the brand has focused on juxtaposing iconic pieces from those great Danes in the design world; Verner Panton, Arne Jacobsen/Flemming Lassen, and Jørn Utzon with newer international designers including Jaime Hayon, Norm Architects, and Sebastian Herkner. They continue to add designers to their collaborative roster in a bid to embrace new perspectives, creating collections that are at once playful and yet somehow also serene. Space Copenhagen, who are probably best known for designing restaurant interiors including that of Noma, created the Fly Sofa for &Tradition. The Fly series references classic Nordic techniques such as the comb-back slatted wood backrest with a modern sculptural look. "Their awareness of tradition with an avant-garde, international outlook perfectly epitomises that unique equilibrium we look for," says Kornbek Hansen. Local design firm All the Way to Paris' series of rugs were inspired by the vast heather-covered Scandinavian hills, aptly named The Moor, and focus on depth of color not pattern, giving them a grounding effect. Co-founder of All the Way to Paris, Tanja Vibe is also responsible for the visual identity of &Tradition, taking on a role that's part consultant, part creative director. "I really love looking at the overall picture and working with each department," says Vibe. "I guess you could say that I try to make sure there's a red thread running through everything in &Tradition."
Over lunch in the company's ground floor cafe we meet the four creative leads to discuss their enduring love for Danish design, how they stay relevant in a saturated market and moving forward with "future classics" despite the immense weight of a design past that continues to be revered worldwide.
Alongside Martin Kornbek Hansen, the round table roster includes &Tradition's head of design Signe Hytte. Her and the design team continuously foster relationships with furniture designers whose work will compliment the old master pieces. Overseeing the creative direction and graphic identity is the founder of design agency All the Way to Paris, Tanja Vibe, and heading up the company's concepts and growing house culture is Lonnie Castle.
Let's get started. Can you begin by telling us how you define &Tradition?

Martin Kornbek Hansen: Back in 2010 you had a lot of companies that were either furniture-driven or lighting-driven and today you have brands that have a mixture of everything. We aim to deliver furniture, lighting, and home accessories so it's a liveable universe but where we can do full interiors with both new pieces and classic pieces. So, if I were to define &Tradition for someone new, it's a company that strives to create future classics.

Lonnie Castle: Also, a link between the old masterpieces and the new future ones.

Tanja Vibe: Yes, merging the past with the present.

As the creative team, how do you all work and collaborate together?

MKH: Sometimes it can be very difficult working together! We really don't like each other, haha. But no, it's also very fun. I think our DNA within the company is that we think it's very interesting to have feedback from outside; Tanja is both inside and outside and we need that eye. Then our external designers and external partners help us to get a different view on what we are working on. In general that makes it interesting.

Signe Hytte: Getting a fresh perspective helps improve the overall designs, I think.

And who makes the final call on a product being developed, for example?

TV, SH, LC: Martin!

LC: But it doesn't mean we don't fight for what we want.

TV: Martin pretends that it's us!

MKH: Yeah, okay, okay, then I need to be better!

LC: Having said that though, we have a lot of space for creativity here, there is also a lot of time and it's really prioritized that we have to develop things and it has to take the time it takes. Obviously we need to deliver things, but having time to develop ideas and work on the creative processes that we are in—for all of us. Let's not forget &Tradition is also a commercial company and we need to sell furniture so it's always about merging the creative with the commercial.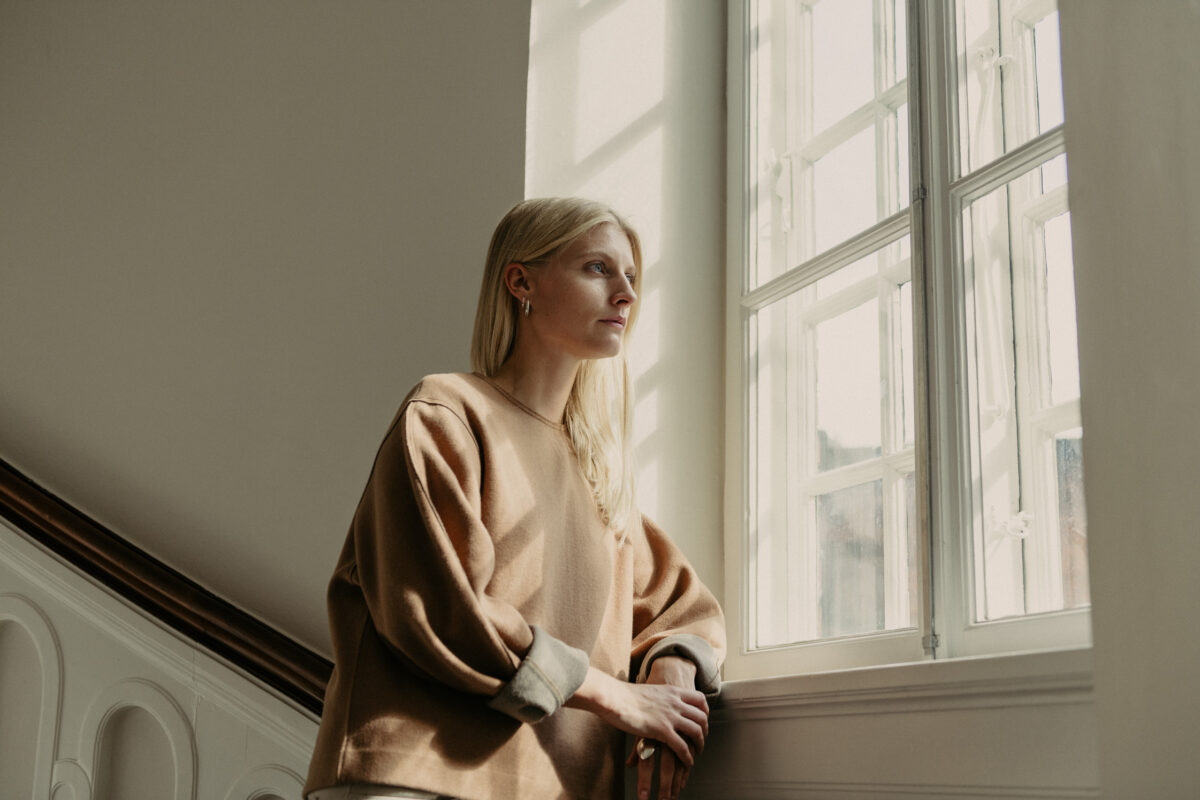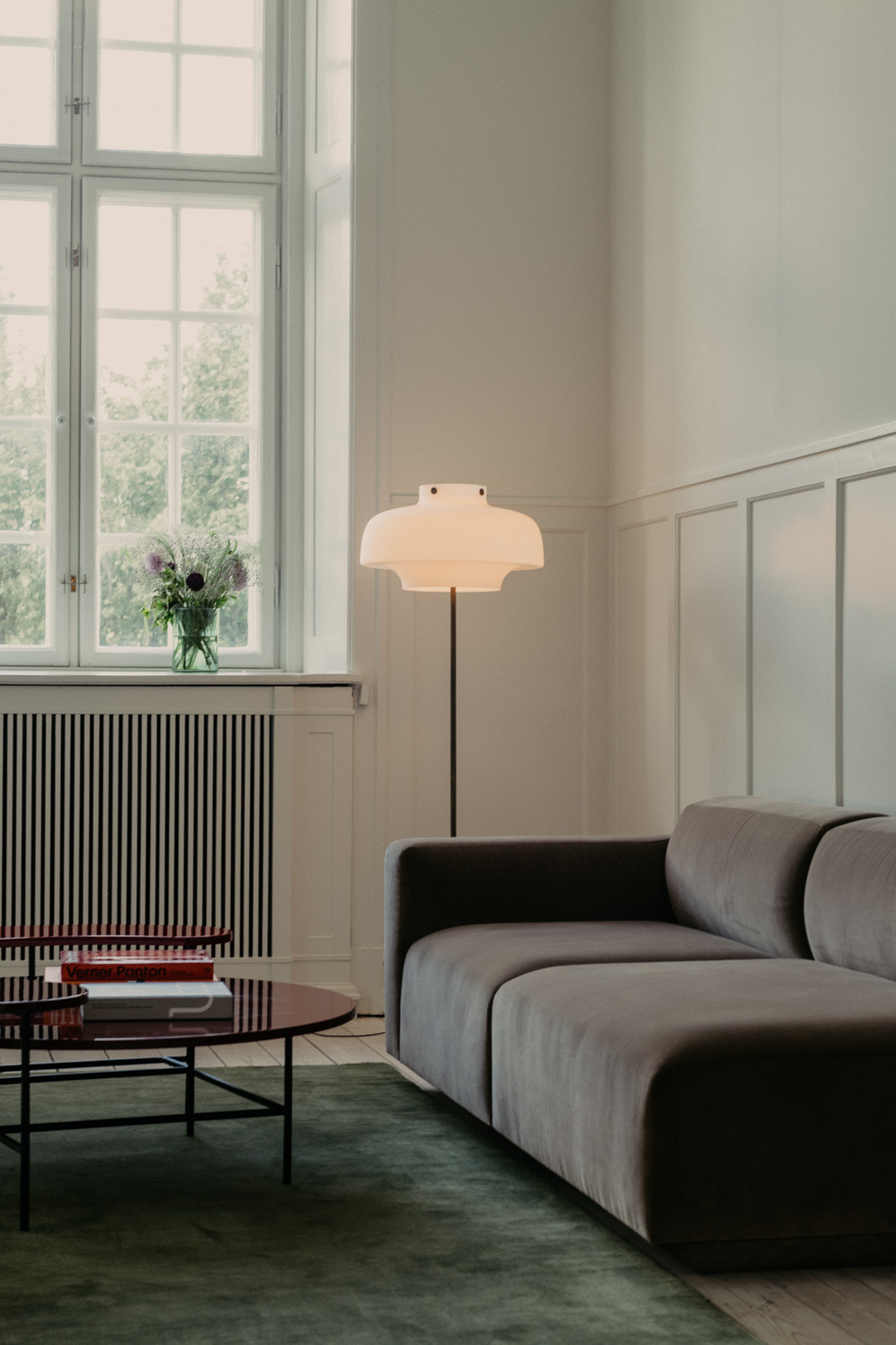 This space lends itself to people coming in and feeling at home. The idea of selling product seems far removed from this experience that quietly invites you to sit down, make yourself comfortable, order a flat white, read the house newspaper… you'd be mistaken for thinking you had entered a cosy Copenhagen cafe not the showroom! Tell us about this intention.

MKH: I think that's a really important factor for us. In the past, and especially when you start out, we were really only focused on making the products and the brand, which is crucial, of course, but this is something we're trying to be better and better at—inviting clients in so that we can have them experience this environment and see what they like.

TV: And that's much easier here. We moved in one year ago and before that we were in Holmen and it was very different space, more like a museum inside, very cool and conceptual but not as homey—this offers something completely different on a different scale and it has a more personal approach. It's also something we discuss a lot, 'how do we use this space in terms of collaboration and we're working on a plan for that.

And with this conscious effort to make the overall environment inviting, what thinking then goes into the consumer's subjective experience of each designed product?

MKH: That's very deep!

SH: Yeah, we definitely do that with our products and also in retail shops and at the fairs, we think about how they should represent the furniture and how we want people to interact with the pieces, we want to create this kind of dream that you want to buy; it's a feeling.

MKH: It's not trend-led in the way that, say, fashion is. The furniture industry is also changing all the time. But when you're at home you want something different, you want to relax and rest with your pieces over a long stretch of time.

LC: I think comfort is vital. It sounds really boring, but you could have a really beautiful red chair but if you can't sit in it it just loses everything. Functionality is key but on the flip side, if it doesn't talk to my notions then I don't think it's good design.

MKH: Our market is both retail and contract and the latter is where we've seen the biggest change in the last few years because the whole contract market has gone from being very corporate-office-focused interiors to more and more homey-style office interiors, where more people want to feel at home while they're working. It makes sense when you're spending more time in the workplace than at home, right? So these pieces—desks, tables, chairs—need to be appealing as you interact with them so much each day.

And do you take on board product feedback from clients and consumers about individual products?

MKH: We have a philosophy that we need to continue developing a product all the time, so if we get feedback that a product is too hard, say, we really use energy on developing it to be softer and more comfortable. With all our products, it comes down to the details and we are passionate about the materials and also the comfort of each product. It's something we always listen to. We, in turn, give a lot of feedback to the designers we work with.

We can't have this discussion without looking at Danish design heritage and how that comes into play. &Tradition is known for calling on the past to speak to a new design narrative, so how do you marry the two and push forward? Is there added pressure having this weight of iconic Danish furniture designs on your shoulders?

SH: Yeah, I think so, but I also see it as a good thing for us. People know about Danish design, there is respect. While it's important for us to have this Danish or Scandinavian heritage it's also important for us to be more international and to be working with international designers who are different from Scandinavian designers. It's important for us to have a collection that spans from this really colorful, playful shapes by Jaime Hayon. And then we have Norm Architects to Norm Architects and Space Copenhagen who have more of a Scandinavian design language. We do that a lot with the art direction, the colors, and the materials.
"We shouldn't just relaunch a classic to have a classic, it should be something that's still relevant."
Danish and particularly Mid-Century design is globally revered and it can seem like a saturated market for furniture and lighting producers—how do you ensure that you're staying ahead of competitors?

LC: With a focus on colors and materials, I think.

MKH: Well, that's where quality is key. We can't create products that are not good quality otherwise it's just a buy and throw out consumer and we don't want that. We need to create products that are long-lasting otherwise it doesn't make sense. We spend a lot of time looking through the archives, seeing what's still relevant—we shouldn't just relaunch a classic to have a classic, it should be something that's still relevant and contemporary and then I think it can live for a long time. Then we can create things on our own that are not from the past, and I think that's the playfulness element that's important.

LC: Also, using the materials and colors of today… That's where Tanya is the link.

TV: We work with colors for the identity part but also for the furniture, very much together with Signe. And I see it as two very different things: one thing is branding and one to make the products that are nice and long-lasting and I think we always try to balance things—something that's modern and spirited with something that's more laid back with quality—we try to find that balance in everything we do. For the graphic identity, using strong colors then means we also use a lot of neutrals and same with photography and styling: working with something bold married with something delicate and refined so again the contrast is always interesting.

SH: It's the same for the collection because we have the Little Petra and we have very classic upholstery. I wouldn't put something completely red or put metal legs or whatever on that chair, but at the same time it stands next to the Palette Table which is very playful and new with the material mix—it's this contrast in the collection and how they interplay with each other that makes it interesting.

LC: And even when you do choose a classic fabric for a piece, it's still never boring. It will still have a really beautiful texture…

TV: Also to work with respect for these old classics, that's important. Of course you can do anything but you need to have the right approach. You need to know the history and only then can you push it a bit.

SH: For example, I would never upholster Jaime's furniture in a grey wool fabric, that's just not his identity nor ours. The respect is both for the classics but also for the new designers, too.
We try to represent their own DNA in our collections.

Tell us about developing new products. Are you designing for today or for future use?

MKH: A good product development takes around a year for us or a year and a half…

SH, LC, TV: [Laughter]

MKH: Okay, sometimes it takes even longer! So you need to look ahead otherwise you can't introduce a product to the market. We're focused on the details and of course we could do it faster but we want to get it right, we are forced to look ahead. It doesn't work just to find an old classic and launch it again. You see the Little Petra and also the tk Pe over there—you can sit in it in various ways and it's comfortable for hours at a time and I think that will make it relevant in ten years time as well as today.

SH: Also with the lighting products, we spend a lot of time in the development choosing the right source of light and looking at what works for the future—we want people to use these products for a long time and also to be items we're really proud of.

LC: I think Signe's Journey Lamp is a good example: it goes from warm to cold, it's actually very targeted to the person buying it, not just thinking about the product. There's a lot of soul going into it.
&Tradition's Current Collection
Sketches by All the Way to Paris for the &Tradition newspaper

Little Petra by Viggo Boesen

In Between Chair by Sami

The Loafer Chair by Space Copenhagen

The Moor Rug by All the Way to Paris
Is there a formula to ensure your products have longevity? This is where your Nordic heritage seems advantageous…

MKH: Danish or Scandinavian design is fashionable, sure, but I think a good backbone in this is the simplicity and the honesty in the materials. I think if you just take those things then pieces will last for a long time. Playing on the Scandinavian trend will not stand the test of time, but the backbone will last fifty years or more.

TV: But we have an international outlook, so yes we have the Scandinavian heritage, which is in our bones but…

LC: We don't talk so much about it!

TV: The collection is very, well, collected you could say—different pieces put together creates a family but it's actually representing some very different designers. Yes, there's a red thread running throughout but I think we have more of an international character. Maybe people from overseas don't see it that way but I don't perceive it to be typically "Nordic"—not when you compare it to some other Danish brands.

MKH: I think you're right. We always say 'we're Danish from our heritage but we want to look more globally' and I think when you look at the products we've developed with, say, Jaime who's Spanish or Sebastian TK from Germany, the products that come out of our collaborations somehow are always different than from a local brand. And I think that's precisely because you have this contrast of cultures.

SH: And that's also because it's always a collaboration. We never take a piece in and say 'oh, we'll launch just like this.'

LC: It's always a collaboration.
How do you go about choosing your roster of designers?

TV: Do we start with the designer or with the product?!

SH: I think we really want to work with the designers that we can see a long collaboration with. We don't want to only work with one product. We want to know the person behind the product and see if they fit to our DNA and if we can do a lot with them.

MKH: That's also something we learned over time! The list is so long because everything is about people and relations.

Do you each have a favorite piece?

MKH, SH, LC: No!

SH: Tanja has one!

LC: Tanja designed The Moor Rugs herself.

MKH, SH, TV, LC: [Laughter]
What keeps you all creatively moving forward?

MKH: I stay home so I need to collect people here who experience a lot!

LC: It's always healthy to go out and see the world from a different perspective. And I think when you do that you have a tendency to look at yourself, where you come from, and your heritage so traveling does give a lot, but I think it's also about the talks we have; we have a very dynamic team and we do talk about what's going on.

TV: It's important to be visually oriented. It could be on your iPhone in the evening scrolling through pictures. I mean you [Martin] take 1,000 pictures per day! It's not something we ever agreed on, it's just intrinsic to how we work.

SH: And also to look outside of the furniture industry.

TV: Exactly. It could be art, it could be anything—things from your grandma, you know?

SH: That's another reason why working with other designers not from Scandinavia is really inspiring. When we get something from Jaime, say, maybe the first time we say 'okay, this is really crazy.'

What is that process like working with each designer?

SH: It's very different per designer. Some hand in drawings that are ready for production, others are more sketches…

LC: Sketches on a napkin!

SH: A little more abstract! But I think it's a collaboration, looking at materials and colors as they have to fit into the collection also.

Finally, what does good design mean to you?

MKH: I think right when I started it was just about the product, whereas now it's everything we just talked about. It needs to be long-lasting, inviting, I like when it has a little playfulness, or something that catches your eye—it could be just a small detail, something that makes you want to look at it or sit in it. We also need to listen to the feedback that we get and how do we actually use the feedback—we should always keep doing that.
For more information on &Tradition, see their website. The showroom in the heart of Copenhagen is a space for gatherings, showcasing art, fashion, and musical performances. Find out more about ongoing events here.
&Tradition bridges the values of Nordic tradition to contemporary design by reshaping materials and techniques for furniture and lighting made to last. This FvF collaboration with our friends at &Tradition aligns our common belief in sustainable, innovative design for now and future use and we are pleased to have &Tradition as a furniture partner in the FvF Friends Space in Berlin.
Inspired by this story from the Danish capital? Check out more of our creatives in Copenhagen with further interviews here.
Text: Andie Cusick
Photography: Robert Rieger