"This feels like MTV Cribs," smiles Mads Sætter-Lassen as he opens the door to his bedroom—a brightly lit space on the fourth floor of the central Copenhagen townhouse he shares with his girlfriend, Lærke. He smiles bashfully. "What is it they say? 'This is where the magic happens!'"
There's no bling in the bedroom, though—only the hallmarks of contemporary Scandinavian design: whitewashed walls, wooden floors, simple accents. And befitting one of Denmark's most promising young designers, the style throughout his house—Eames chairs in the dining room, Royal Copenhagen cups in the kitchen—is timeless, not tacky.
And no wonder. Mads is one half of the Danish design studio Krøyer–Sætter–Lassen. His "partner-in-crime" is Emil Krøyer, who's lurking downstairs making coffee. He went out partying the night before—Copenhagen's annual electronic-music festival Distortion is in full swing—and appears a little worse for wear. "I'm not saying I'm the oldest guy in the crowd," the 34-year-old admits. "But I'm not like one of those Red Bull drinking kids either."
Still, if anyone can justify raising a glass or two, it's Krøyer–Sætter–Lassen. Since teaming up three years ago, they've worked with a who's who of Danish design, from of-the-moment furniture companies such as Montana, Frama, and Skagerak, to A-list fashion designer Henrik Vibskov, with whom they collaborated on a pop-up shop at Roskilde Festival in 2014. So rapid has been their rise that they're working at full capacity, with a wide range of assignments from architecture to furniture, and commercial work to exhibitions including Mindcraft17 in Milan.
Music is an integral part of the FvF DNA, so we're very happy that our collaboration with Sonos allows us to step into the homes of new and interesting people and learn how music affects their lives. We now have a better understanding of Mads and Emil from their playlist—who would have guessed they're such Rihanna fanboys?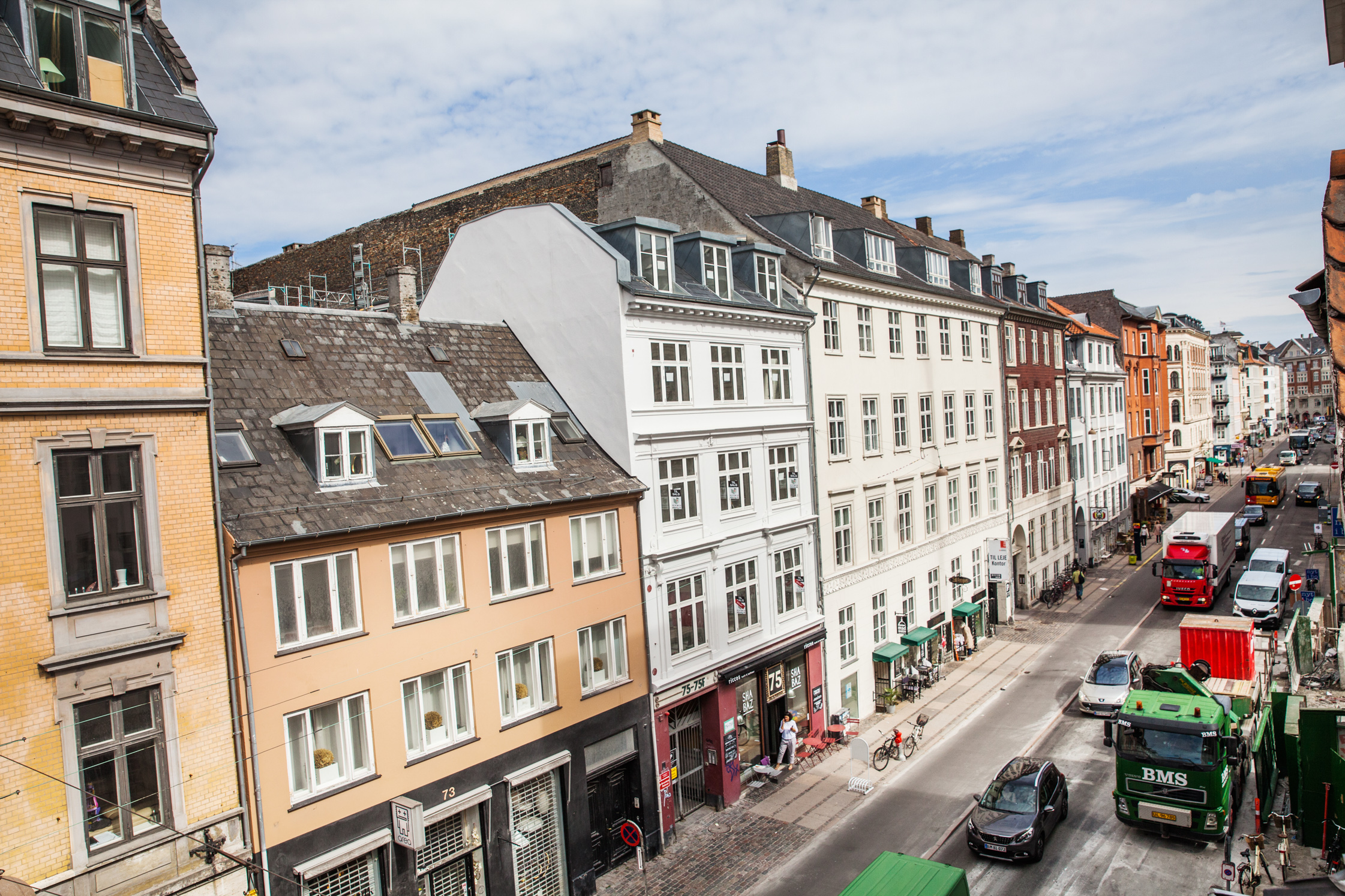 "We don't have a normal day, it's always changing," says Mads. In blue jeans and dark knitwear, he pads around barefoot, pointing out the structural quirks of the house—slanting ceilings, 18th century piping—as well as the retro esoterica spiffing up its Scandinavian standard décor: a Michelin man bedside lamp, a Pet Sounds LP on the turntable, a limited-edition photograph taken by 1960s shutterbug Philip Townsend.
Coffee brewed and a track by a hotly tipped Danish band playing in the background, the duo squeeze into Mads' galley kitchen and recall their story. They met in a blacksmith's workshop at the Royal Danish Academy of Fine Arts' School of Design, and fast became friends. "We talked about each other's projects the whole time, and it was Emil's idea to do something together," Mads says. "We connected more and more, and now it's difficult to get rid of each other," Emil jokes. "But we have great fun."
Six years older than his partner, Emil trained as a carpenter before studying ethnography at university. "I think it's why we started working together," says Mads. "Emil is really good at fixing things—he's a great problem solver—and I'm a little more nerdy." To avoid being pigeonholed as homeware designers, they work across a broad spectrum of design. Notable pieces include Eiffel—an elegant cylindrical lamp with a brass dimmer switch; Gerda—a contemporary version of a Victorian chaise longue; a collection of balcony equipment for design firm Skagerak; and a modern take on a blacksmith's hammer and anvil. "We like to do a lot of different things, and you have to embrace it," says Emil. "I mean, how often are you asked to do a hammer?"
The studio playlist of Krøyer–Sætter–Lassen
From First Hate to Fleetwood Mac
John Coltrane – In a Sentimental Mood
One of the biggest jazz classics, and for us the perfect way to start the day in the studio.
C.V. Jørgensen – Bellevue
C.V. Jørgensen is a Danish artist from our parents' generation. None of us listened to it growing up, but still it has made its impact. It is such a good summer tune.
Fleetwood Mac – Dreams
A quiet song which suits a lot of different work in the studio.
Rihanna, Kanye West and Paul McCartney – FourFiveSeconds
Pop at its best.
First Hate – Copenhagen
A young Danish duo with the sound of the '80s; think bands such as Human League and Depeche Mode.
Talking Heads – Psycho Killer
A tune we love to listen to while we're working in the workshop. A little upbeat is good with that type of work!
Jurassic Five – Jayou
We are both big fans of hip-hop, especially the more old school stuff.
2Pac featuring Dr. Dre – California Love
What a classic! Emil knows the lyrics to the Dre part, Mads is still practising 2 Pac's.
Michael Jackson and Paul McCartney – Say Say Say
Michael Jackson is for me (Mads) the greatest artist ever.
Mø – Final Song
Mø is one of the Danish artists we're really proud of. She just keeps making hits!
"We don't consider ourselves artists. Some designers do—and that's fine—but what we do isn't really art."

Mads Sætter-Lassen
Underpinning their output, however, is unrelenting honesty. "We don't hide stuff away, it's quite simple," Mads explains. "We don't want anyone to be in doubt about how a leg is fastened, so we use a nice screw and make it a detail. It gives it an industrial aesthetic, but it's also appealing in that there's nothing hidden. That's something we try to do in everything." Indeed, though they design things for exhibiting, they always aim to bring functionality to the fore—and refuse to be labeled artists. "We're really into function," Emil says. "A product has to have functionality." Mads reiterates the point. "We talk a lot about this. We don't consider ourselves artists. Some designers do—and that's fine—but what we do isn't really art."
Three years ago, Krøyer–Sætter–Lassen were invited to create the first official IKEA hack at SPACE10—the Swedish company's future-living lab in Copenhagen. "By seeing IKEA as a hardware store and their product as new materials," the duo explained on their website, "we came to realize that small details change how we perceive an IKEA product." Their hacks included a rejigged clothes rack, a bench and shelving units. "The way we hack, it still has to be functional," Emil says. "So maybe ours were the most boring ones. If you see the other ones, they're crazy. But we did it in a way that had to work for us."
Examples of their fondness for functionalism are scattered throughout Mads' house, like the minimalist Buddy desk lamp—it includes a pot for storing pens, tools or doodads—or Otto, a stylish rattan stool. "Rattan is such a nice material to work with," Mads says. "You steam it, and then you can bend it and tie a knot in it. The really nice thing about working in furniture design is getting introduced to new materials. Before we started doing this piece, I didn't really like rattan. It wasn't my kind of thing. But somehow when you start working with the material, you fall in love with what it offers you."
Gerda Lounge

Eiffel Lamp – 2015

Eiffel Lamp – 2015

Montana Entre – 2016

Montana Entre – 2016

Montana Entre – 2016

Copenhagen Homage
In fact, the duo's design process often starts with a single material. "Emil will drop in with a new sample," Mads explains. "And not a new nano material that didn't exist before but maybe something we did realise was around." Consider the beechwood hammer they made for the Reform exhibition at the Kinfolk gallery in Copenhagen last year. "Beech wasn't our thing but we decided to get into it and see," Mads says. "It has this salmon color, and everyone uses ash or oak—but this wood is all around us in Denmark."
Inevitably, too, music also gets their creative juices flowing. "We always listen to music while we work," Mads says. "In the morning, we're quite into jazz," adds Emil. "We play jazz radio, a program called Snooze. And we always talk about what the song of the summer will be." This year he's going with 'The One'—a slice of synthpop by First Hate, a local band heavily influenced by Human League and New Order. Emil says he likes its use of the harmonica, having recently bought one to play for his three-year-old twins. "It makes you feel like a cowboy," he says with a smile.
Though they share a love of Fleetwood Mac and, it would appear, Rihanna, it's hard to believe they always agree on what to play while working. "I'm the one usually saying let's change the song, if it gets too noisy," Mads concedes. "It needs to be something we can concentrate to. If we're in the middle of brainstorming, it's OK with music. But if we have to do technical drawings of a table, we need to concentrate."
"You're making big steps to be more and more boring," Emil teases. "Like not going to Distortion. There's still time, though." "I haven't been to Distortion," Mads admits. "But you know there's the grown-up Distortion now." He means Three Days of Design, a citywide celebration of the latest concepts in interior design and furniture. It's serendipitous, surely, that it coincides with Copenhagen's most debauched music festival.
Coffee drunk, the duo cycle across town to their new studio—a former blacksmith's workshop in Århusgadekvarter, a post-industrial part of northern Copenhagen. As well as space for several of their large prototypes and a pair of desks dotted with IKEA catalogs, hand tools and 3D-printed models, the studio is big enough for them to build a 1:1 replica of a room—a new interior-design project for an unnamed commercial client.
"I really love Copenhagen, especially in the summer. You can bike everywhere and you can swim in the harbour. Where else can you swim in the harbour?"

Mads Sætter-Lassen
Indeed, the studio is an enviable space, though it's telling that they chose to set up shop in Copenhagen, rather than New York, where Mads studied art, or indeed Berlin, where Emil worked with artists Olafur Eliasson and Jeppe Hein. "I really liked Berlin but my childhood friends and family are here, so it was about coming home," Emil says. "This is my home turf. And you actually meet your neighbours, say hello and connect here somehow." Mads is equally enthralled by the Danish capital. "There are so many good cultural things happening here," he says. "I really love Copenhagen, especially in the summer. You can bike everywhere and you can swim in the harbour. Where else can you swim in the harbour?"
Copenhagen's design landscape has changed significantly, too, in the past decade. "Look at Hay, Normann, Muuto—it has changed a lot, including for young designers like us," Mads says. "Something has also happened in the way people from outside Denmark relate to the country in terms of design. Ten years ago only Danish Modern popped into people's heads. Now there's a big scene of different companies doing new stuff." Denmark's modernist design icons still cast a long shadow—and Krøyer–Sætter–Lassen respect the legacy. "A lot of people grew up with Arne Jacobsen furniture, so they can see the difference in terms of quality materials and shape," Emil says. But they also make a compelling case against venerating the movement. "What was done back then was incredible but there have been so many brilliant things since," Mads says.
On cue, the pair head to a Three Days of Design launch event. And if their success continues, it could be them hosting the party next year. After all, they've got the venue for it. "The whole meaning of this place is that it should be fun," Mads says. "It's a playground where we can try stuff out."
For years we have glimpsed into the work and home lives of creatives worldwide. With each visit we have discovered something new, but what we've found everywhere is music. The collaboration with our friends at Sonos is special, together we have asked the people around us what the role of music plays in their life—what tunes they grew up with, and what their favorites are now.
With advances in technology, the way that we listen to music changes. Independent of personal taste, Sonos is the home sound system. Learn more here.
We first crossed paths with Mads and Emil at the Architectural Digest Design Awards Ceremony, and became fast friends. From Berlin last year, to their home and studio in Copenhagen this year, we're excited to see the new ways that their work is constantly evolving. 
If you're interested in seeing what the future of Danish design looks like, head on over to the website of Krøyer–Sætter–Lassen. For a more intimate look at the design duo, check out Mads and Emil's Instagram accounts. If you want an insider's look at life in Copenhagen, you can find more from the FvF vault here. For our design driven readers, you can read about the other studios we've visited here, and if your ears are still wanting for more—head on over to our Mixtapes section to see what creatives around the globe listen to while they're at work and at play.
Text: James Clasper
Photography: Helena Lundquist