When Caroline and Michael Ventura bring their dog Darryl to work, the reverb around the West Village is palpable.
Phone calls flood in to their West Village concept store, Calliope (pronounced "kah-lie-oh-pee"), not just from savvy shoppers looking to acquire a piece of their contemporary, mid-century furniture or bespoke goods, but also to check if the couple's friendly Wirehaired Pointing Griffon will be working the weekend shift.
The store's family-run, community vibe is one where customers are encouraged to just pop by, hang out and chat or read a magazine is particularly desirable right now. Indeed, browsing the assorted curios in the airy, light-filled space, it's easy to feel at home. But that's no surprise. The mid-1800s building that houses the store is also home to the Ventura's apartment, and to their respective businesses—Sub Rosa, Michael's creative agency and BRVTVS, Caroline's minimal jewelry line. Though connected by the stairwell, each space exists apart from the other: "They're separate entities, of course, but they're siblings," explains Michael. "Sometimes they fight but at the end of the day they're all family."
This portrait is part of our ongoing collaboration with ZEIT Online. Head over to ZEIT Magazin Online to see more images and further insights on Caroline and Michael.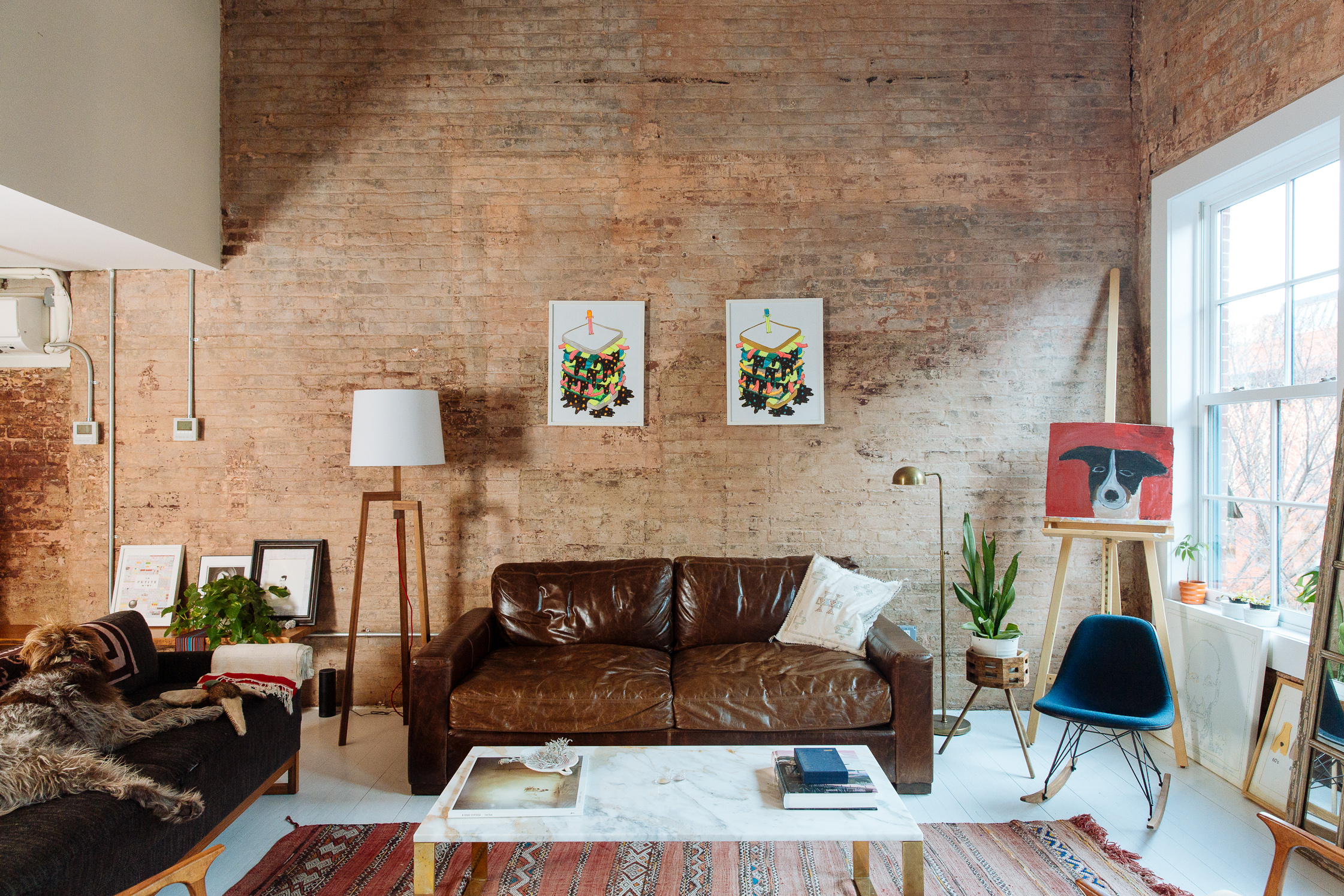 Let's start at the beginning. How did you both meet?

M: Caroline and I both had businesses on the different coasts in our mid-twenties. Caroline was running her production company out of Los Angeles and I was running the beginnings of our business in New York. I was creative directing a photoshoot and I hired her as a producer to oversee some of the content. We hit it off that day and I went back to New York but we spent the next six weeks doing long distance by phone to get to know each other. We had our first kiss at the baggage claim six weeks later and have been together ever since!

And now you live and work together on all four floors of the same building…

M: When we got married and moved to New York, we both had studios for our respective businesses and we discussed how good it would be to work where we live and expand our businesses together. For every New Yorker, that's the real estate holy grail, but it's also quite difficult to find. It took us three years to find a desirable neighbourhood at a price we could afford. Once we'd found it, we moved in one fell swoop. We signed the lease on the whole building and moved in as residents, business owners, and shop owners.
"We both love the curatorial aspect, meeting other makers and learning how they get inspired."
It sounds like you do everything together! How do you create distance when you need it?

C: It was tough for us at first because we live where we work and we work where we live. We'd be at dinner and I'd get an email from a customer about a bracelet so I'd just pop down and I'd work on it really quick. Now we try and make a conscious effort that when you're done with your work day, you're done with your work day. It's ok to wait until tomorrow.

When did the opportunity present itself to open Calliope, and what made it worth pursuing?

M: Masochism! When you have something you commit to emotionally, you sort of will it into being. It was something we saw on the distant horizon and something we wanted for ourselves, our community and our creativity and we kept looking at that point and willing it into being.

How does the creative exchange work between you both? For example, how do you choose which artists and designers to stock?

M: It's not like one of us is the creative person and one of us is the business person. We both love the curatorial aspect, meeting other makers and learning how they get inspired.
C: We don't have a set formula. The rule is that we both have to love what we're bringing into the store. Occasionally one of us will present something the other doesn't like. Michael makes sure to remind me of some Japanese serving trays that I was adamant that weren't going to sell at all and they sold the first week we were open!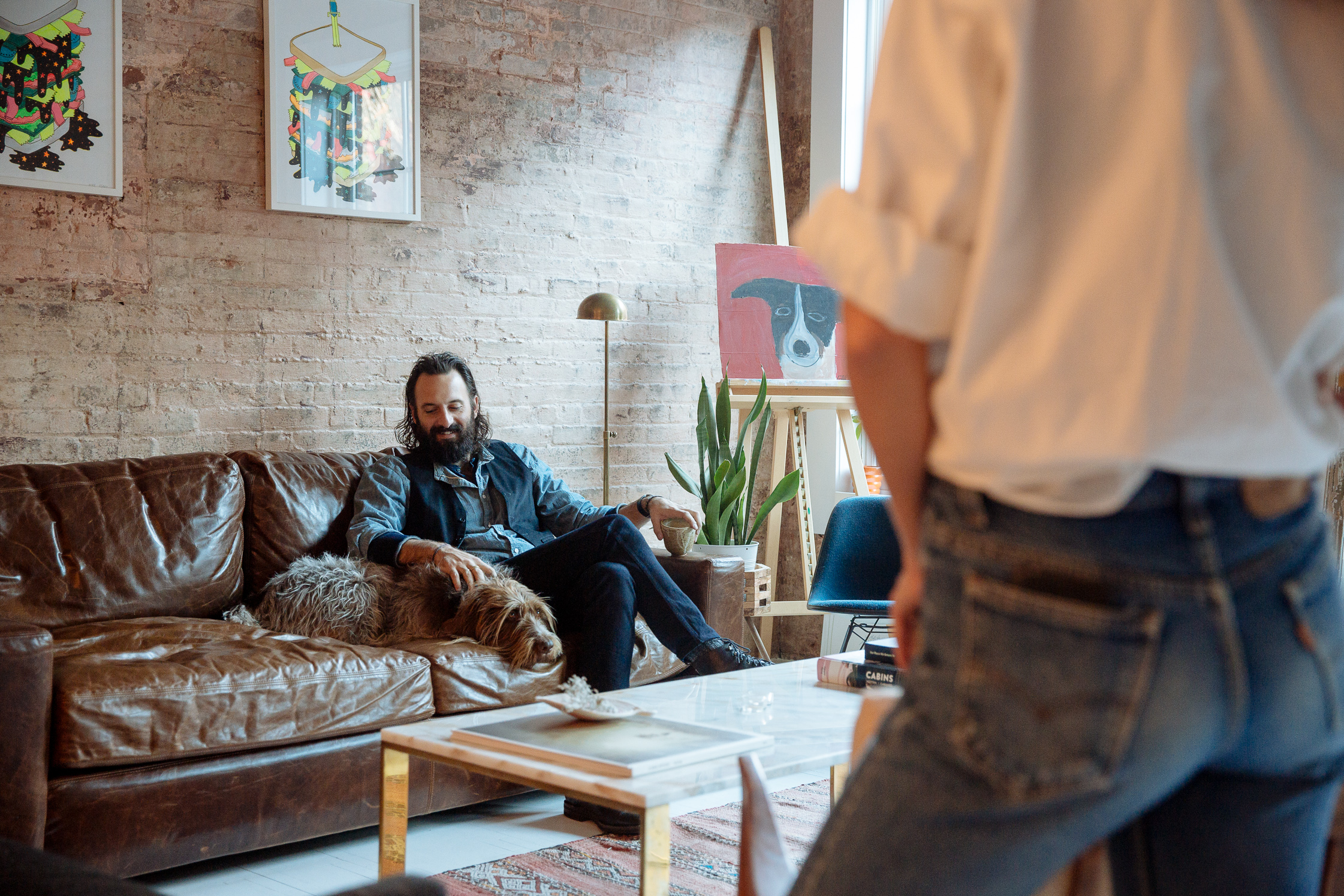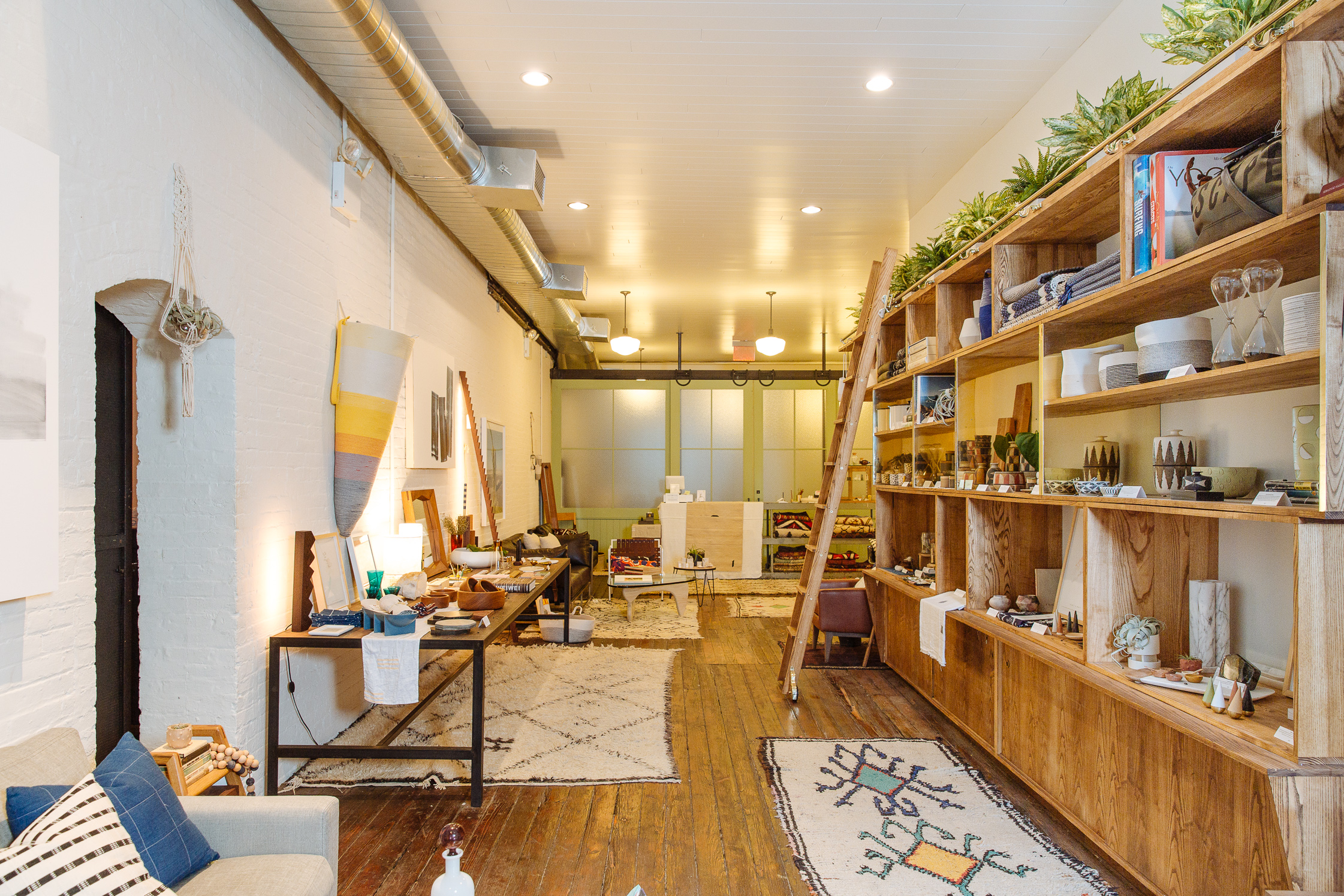 Michael, Caroline and Darryl walk us around their West Village Neighborhood
"The big brand stores are starting to close and in their place is a new crop of 'mom and pop-esque' stores."
How do you resist buying things for yourself if you really fall in love with a piece?

C: I was really worried about that in the beginning but our apartment actually has very little product from Calliope in it. They're two very different spaces and there's crossover aesthetically, of course. But because this building is our whole life and we spend so much time in Calliope, the pieces feel like ours already. The chronic shopper in me is satisfied by buying it for the store, I don't need to buy it myself.

How would you describe the local creative community? Do you think having your own store caused you to support local businesses more?

C: Definitely. Our neighbourhood in the West Village is really conducive for that. Everyone knows us. Actually, most people know our dog before they know us! People call the store to see if he's there before they come and visit. There's a great sense of community. We're now friends with the butcher guys next door just from going in to buy stuff. The big brand stores are starting to close and in their place is a new crop of 'mom and pop-esque' stores.
So what sets Calliope apart?

C: Us! I don't meant that egotistically. New York is a place you can get something anywhere, anytime. Whether that's a cheeseburger or a weird hand-woven basket! But we've tried to create a space, an environment that you want to hang out in that's beyond buying.
M: I just can't imagine that happening in Crate and Barrel!

Do you see this sense of community as a wider reflection of changes in the retail industry in general?

M: We hope so! Everybody in this day and age is looking for a shopping experience to be more than just about the product.
C: It's slowly trickling in in New York. We're getting tired of a one way aspect to shopping. You want to feel connected. We try and create a nice experience while you're in the store but we also reach out to our customers just to say hi. All of our events are open to the public and neighborhood. We just want people to have fun.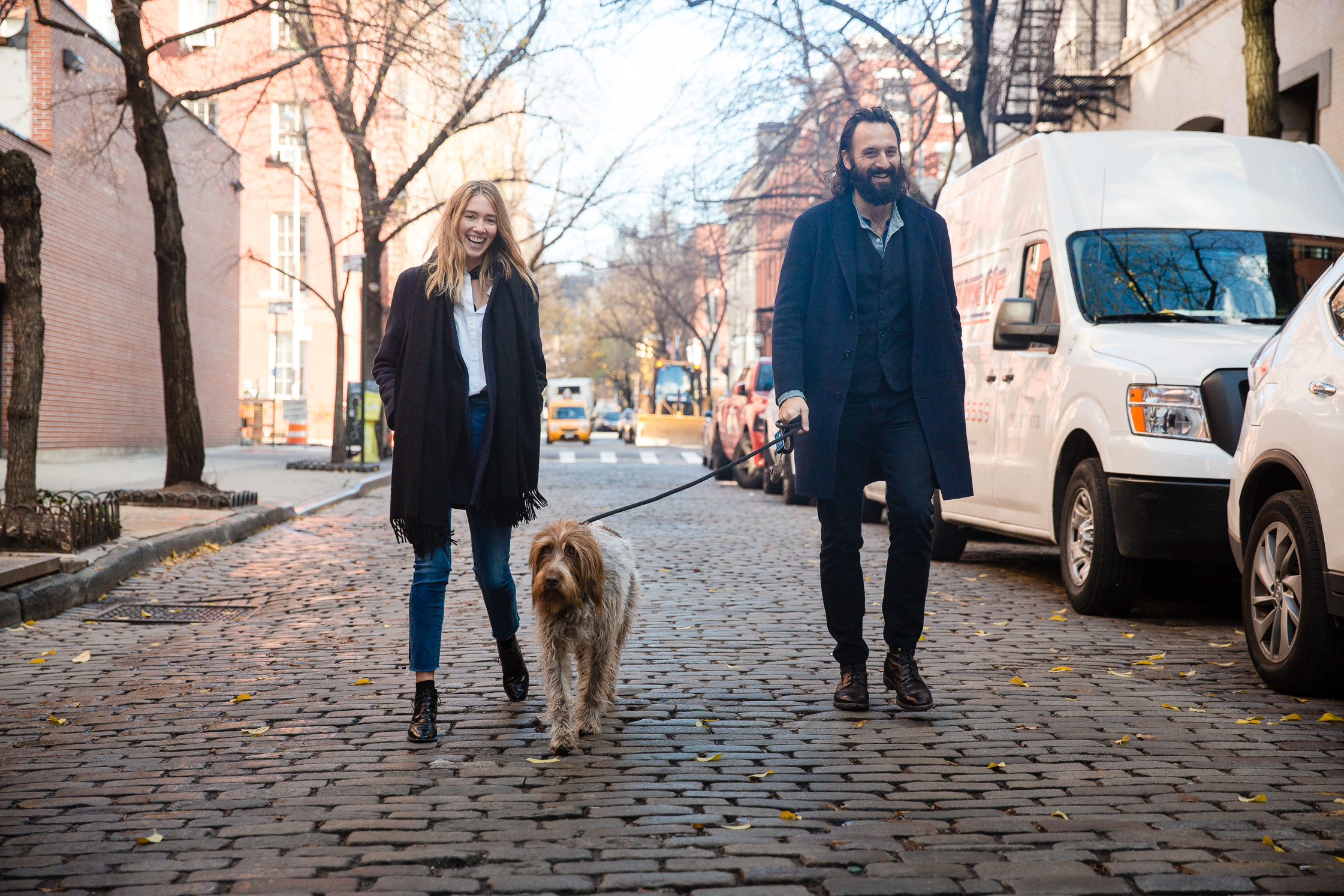 Thank you Caroline, Michael and Darryl for showing us around your favorite haunts in the neighbourhood, and for welcoming us into your home. For more information, visit the Calliope website here, find out more about Caroline's jewellery line BRVTVS here and to learn more about Michael's creative agency Sub Rosa, click here.
For more of our stories from New York, click here.
Text: Alexandra Rhodes
Photography: Mark Wickens