The biggest piece of Norway outside of the country can be found in Berlin. That's no symbolic allusion or sentimental gesture, but a piece of Norway in the physical sense.
For a building that houses Berlin's Norwegian embassy, the famous Oslo-based architecture firm Snøhetta transplanted a 15-meter-tall, 120-ton granite block from Idd in Southern Norway all the way to the German capital. The monolith makes up the southern end of the Norwegian embassy building in Tiergarten, which shares the compound with their Danish, Finnish, Icelandic and Swedish counterparts. Inaugurated in 1999, the five houses of representation form an impressive assembly of modern structures that appears to portray the Nordic embassies as both an ensemble and as autonomous institutions. Although materials (or entire blocks of granite) characteristic to the individual countries were used for the buildings, the embassies are also encircled by an outer band of copper. It seems hardly surprising that this collective architectural solution originates from the Nordic countries themselves.
Yet, what the euphoria for Nordic architecture and Nordic design so often misses is the specific aspects that the individual countries hold. The umbrella thinking, does, however, come from a positive place nonetheless: Since the first publication of the World Happiness Report, Denmark, Finland, Iceland, Norway and Sweden have always topped the list and the countries share many of their values and a common cultural heritage. The education systems of Northern Europe have long been a worldwide discussion, not to mention the architecture and design. Though we may fancy ourselves experts on these countries, when scrutinized, the real confusion sets in. 'Oh, that's Norwegian? I had no idea!'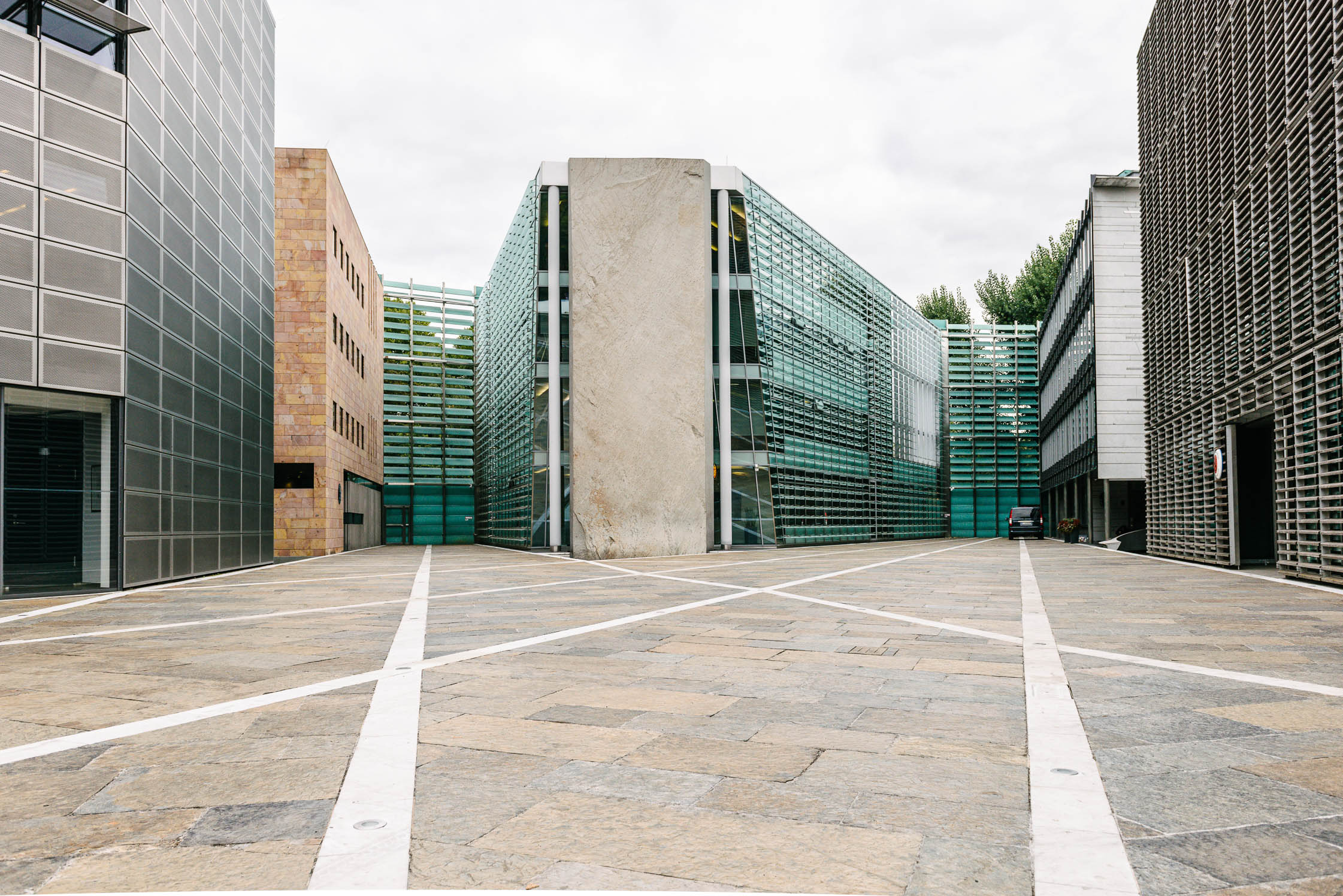 At the ambassador's table
So, how to learn about about Norway abroad? It starts—as is so often the case—at the dinner table. On this particular occasion, it's the table of the Norwegian ambassador Elisabeth Walaas at her Berlin residence where she opened her doors to FvF and friends. Though Walaas describes it as a privilege to serve in an exciting city like Berlin, it's also a great privilege for those invited to sit at her table. Anyone thinking of a fancy banquet in ostentatious spaces is in for their preliminary lesson in Norwegian culture that first and foremost conveys a down-to-earth serenity. Upon entering the residence in Berlin-Grunewald, you already feel like you're visiting friends. The Norwegians are known for their immediate and nonchalant use of informal language and the interior of the house projects a certain lived-in feel that you would seldom expect in a house of representation. The residence also showcases an impressive art collection including loan pieces from the art collection of the Norwegian Ministry of Foreign Affairs, works by Edvard Munch, Tore Hansen, Olav Christopher Jenssen, Svein Johansen and Per Kleiva, as well as selected design objects and furniture pieces that illustrate the artisanal traditions of the country.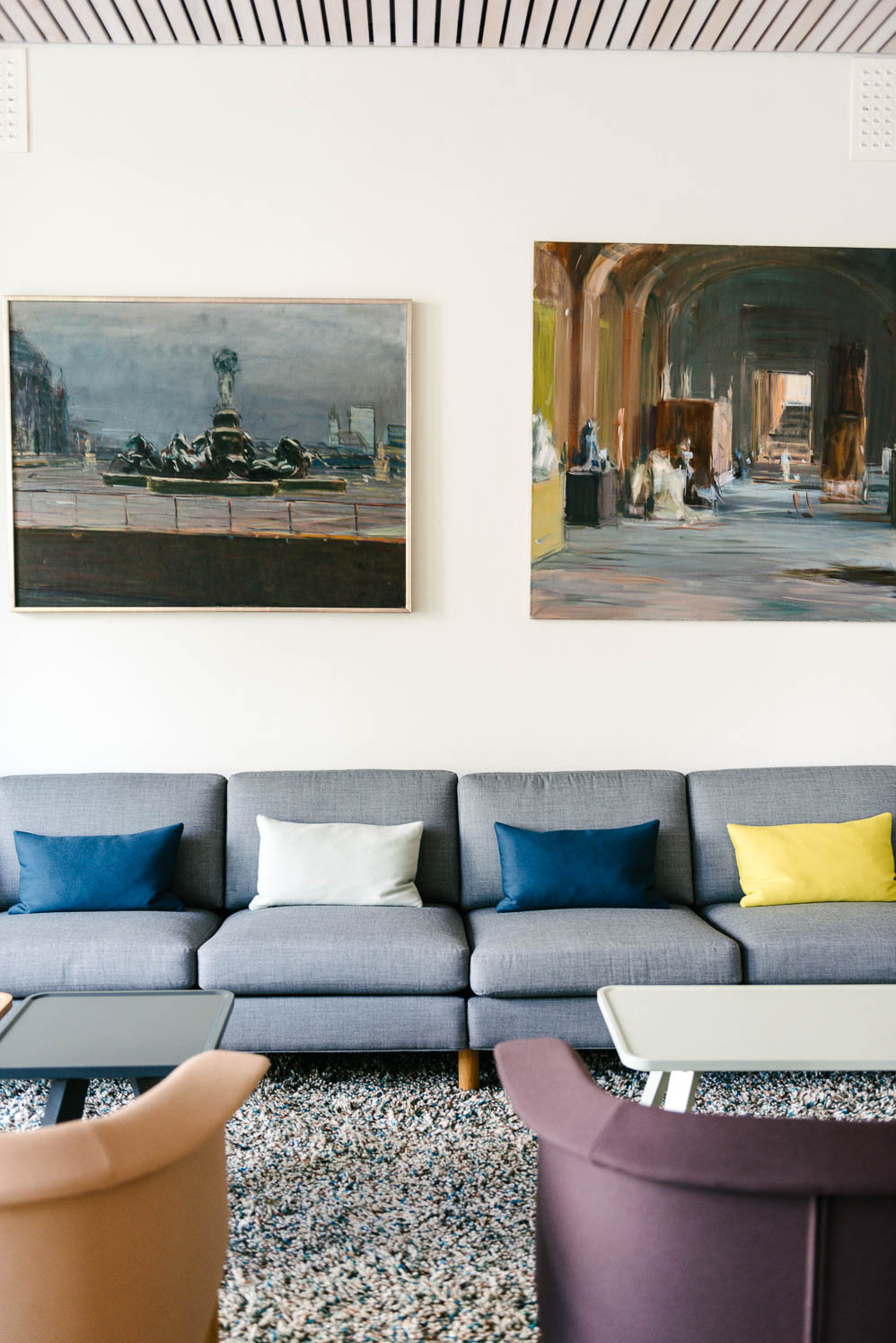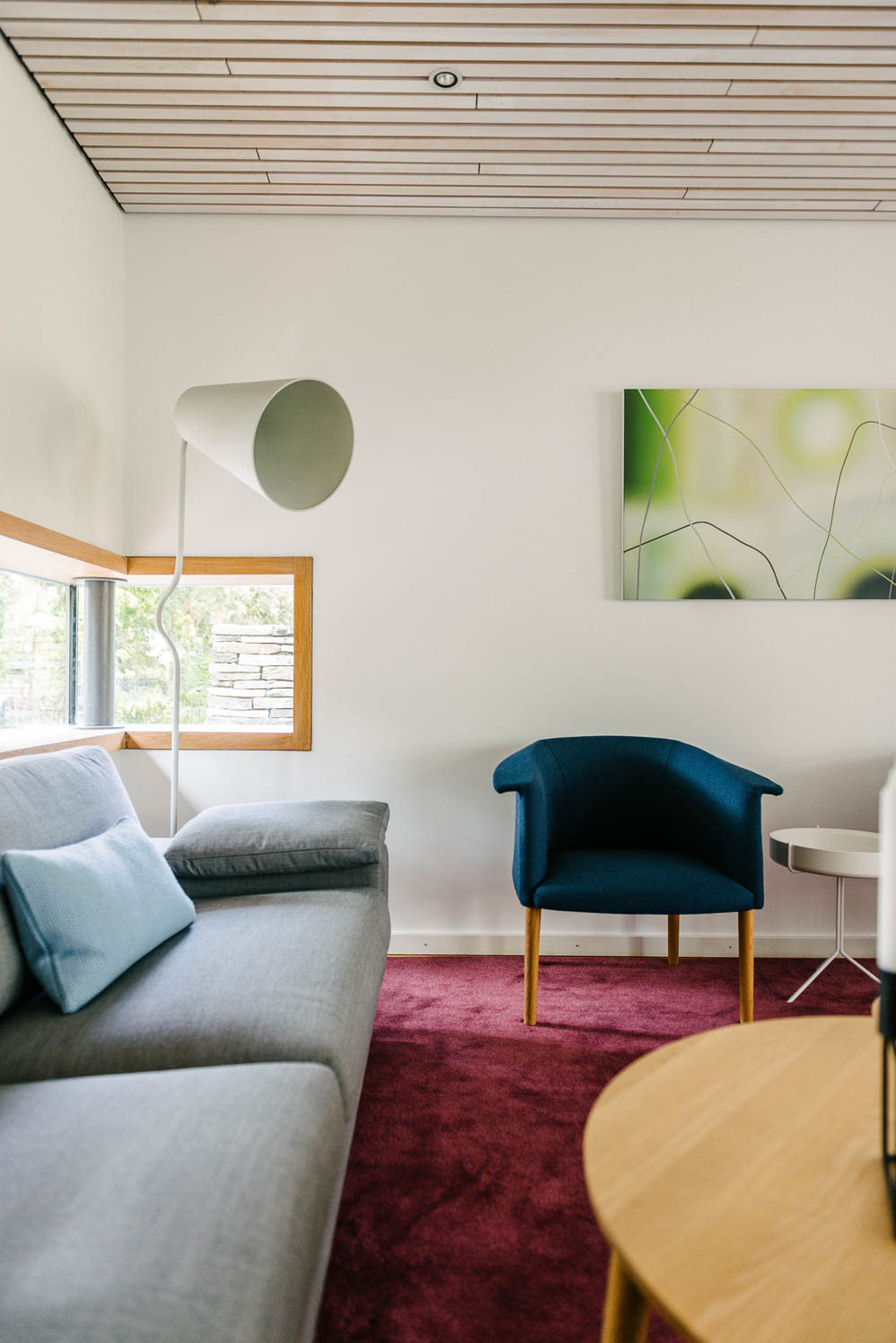 Elisabeth Walaas calls our attention to the fluid light fixtures made of bent oak ply that she herself had hung in the entrance area. They were designed by Thomas Kalvatn Egset and Peter Natedal for Northern Lighting and represent a traditional kind of wood processing practiced in Norway. Materials like wood are characteristic of Nordic comfort but large windows that allow a lot of light in play an important role at those latitudes as well. "When I moved in, the first thing I did was take down all of the curtains," reveals Walaas as she looks at the floor-to-ceiling windows overlooking the garden and terrace set with Norwegian granite. The tension between interior and exterior is fundamental for a building tradition that's constantly exposed to climatic extremes. Natural influences have inevitably and deeply integrated themselves into Norwegian culture. In this sense, the answer to natural forces lies in the architecture and by contrast the traditional materials confer their specific Scandinavian coziness on the interior spaces.
What's Norway known for? Spectacular fjords, rough mountainous landscapes, picturesque glaciers and a seemingly endless coastline—one of the longest in the world. People come to Norway from all over the world to see the Northern Lights and listen to the silence of the meter-deep snow drifts; to hike, fish, ski or to retreat into the remote mountains and fishing huts.
"More and more foreigners find their way to Norway in search of urban experiences."
One thing that Norway is unjustly less known for is the latest developments in the country's urban centers. "Oslo is the fastest expanding capital in Europe. New, exciting architecture is rapidly transforming the city. The culinary scene is vibrant and second to none," Elisabeth Walaas tells us. But the gastronomy in Bergen, Norway's second city, has already garnered attention beyond their borders. Here Christopher Haatuft is cultivating a culinary genre that he refers to as 'neo-fjordic' at his restaurant Lysverket, a place that's only possible in and because of Bergen. Christopher cooks with local ingredients: His friend Knut Magnus Person, for example, dives for scallops just twenty minutes outside of Bergen, which are later served on the plates of city-dwellers that very same evening.
"The result is that more and more foreigners find their way to Norway in search of urban experiences like food, culture, architecture or design, rather than unspoiled, spectacular landscapes." Elisabeth Walaas is anxiously awaiting this development—samples have already found their way to Berlin, the city where she lives and works. In July of 2012, Kristian Moldskred and Benjamin Mosse opened the Oslo Kaffebar, the interior of which is reminiscent of a Norwegian weekend cottage. That Norway is a hotbed of first-class coffee is rather obvious: Internationally, it's Norwegians and Finns who top the list for per capita coffee consumption.
An evening with Lysverket in Berlin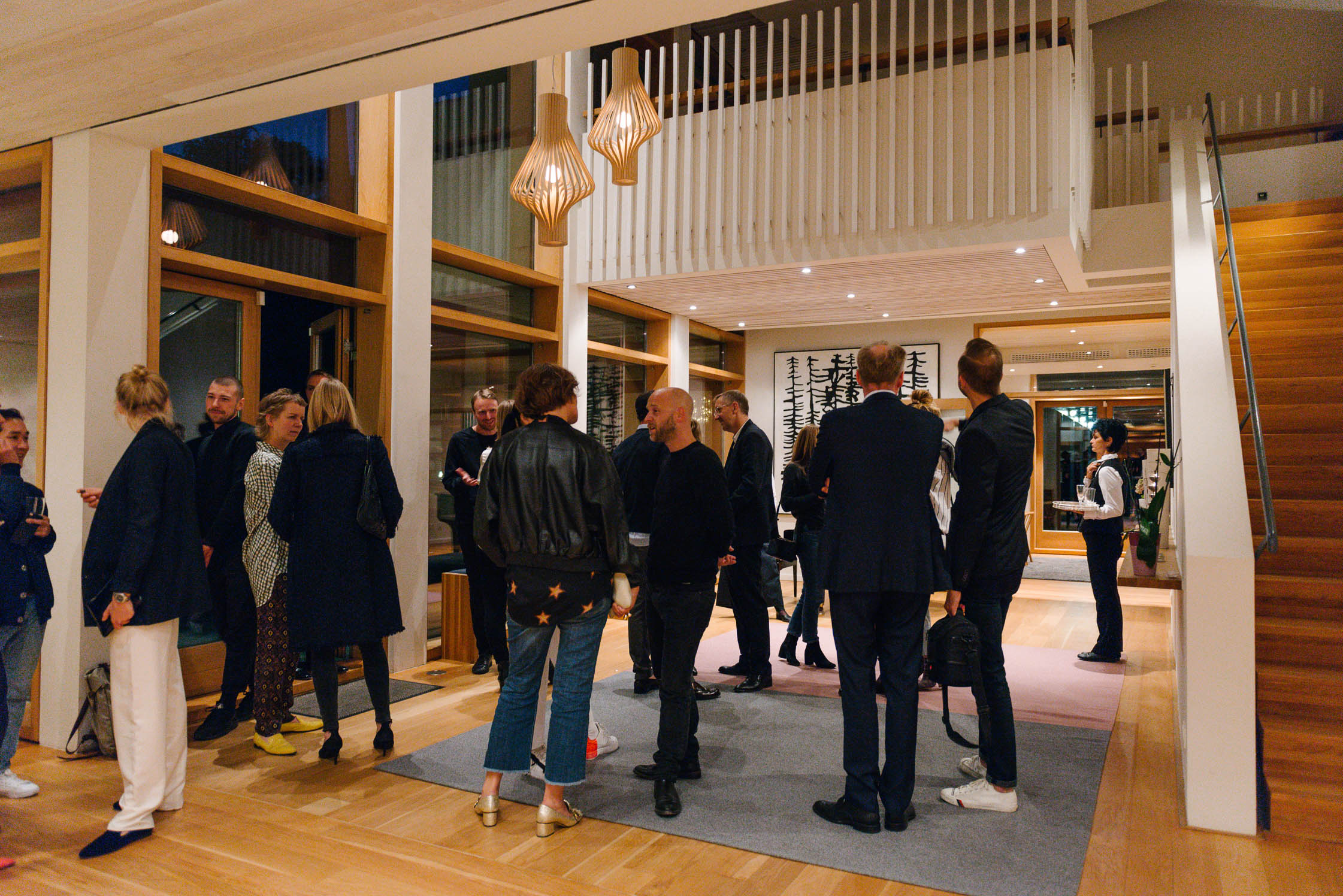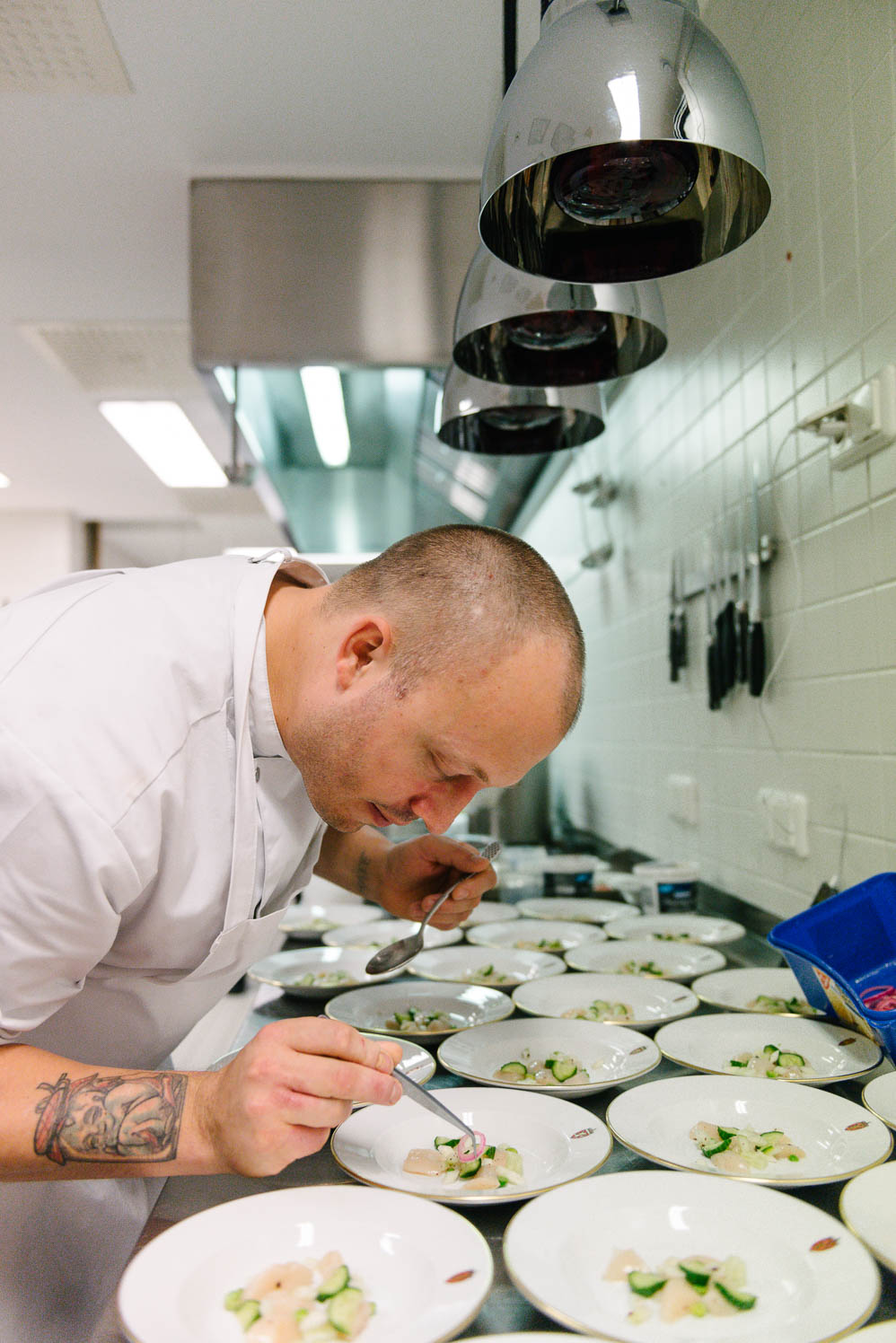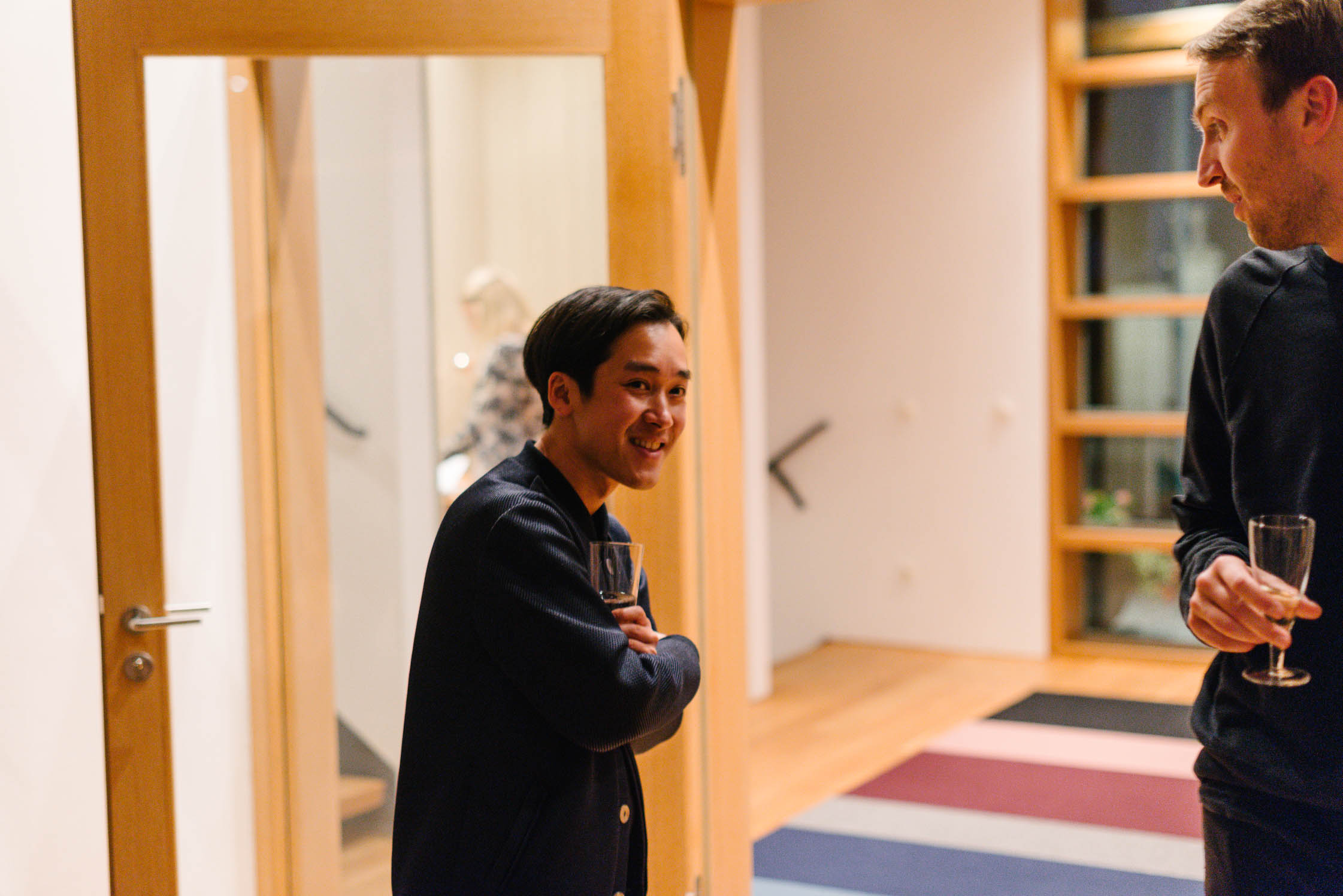 One thing that's not so easy to export to Berlin is Christopher Haatuft's neo-fjordic cuisine—and the locavore chef would hardly think of doing so. But the experience of making a guest appearance in the Berliner residence of Ambassador Walaas just couldn't be missed: "I brought most of the seafood from Norway, although the vegetables I got from a local organic market. The squid was bought on impulse from a seafood store, as it's one of the ingredients I wish there was more of in Norway. I get some as by-catch every now and again, but not enough. The oysters and clams were from Knut Magnus Person, who we went out diving with when you visited us in Bergen."
After Christopher presents the menu, the first course is served. Bon appétit—how do you say that in Norwegian? The embassy counselor Narve Solheim interjects: "In Norway, we don't say 'bon appétit', we simply start eating." People tend to thank the chef afterwards with a "Takk for maten".
Christopher Haatufts 'neofjordic' Menu
Raw scallop from Knut Magnus, cucumber, peas and sorrel

Crab stuffed, grilled sucrine, turnips and plankton

Grilled squid, bitter leaves and pickled plum

Bergen fish soup

Langoustine, mushroom and quince

Klippfisk, grain ragôut, lovage and legumes

Apple, rhubarb, tarragon and goat milk ice cream
How do people from other places, for instance in Berlin, view Nordic or even neo-fjordic cuisine? For Christopher, it's important here to distinguish between the old and the new: "The Nordic food that Magnus Nilsson [Author of The Nordic Cookbook] writes about in his beautiful new book is largely unknown to people. It is peasant food born out of poverty and resourcefulness. The other, new-Nordic, is something entirely different. Its basis is rediscovery and potential. What could we do with the resources given to us, freed from historical connotations?"
Local foods are being rediscovered in cities like Bergen beyond their historic or conventional uses and as usual, this attracts the attention of sceptics: "There is definitely a lot of Portlandia-esque silliness going on, with everything being cooked in whey, seasoned with insect garum and garnished with dog fertilized urban greens. But that is the hipster, food media cynic who doesn't understand how radically influential that movement has been to the redefining of our food." With a healthy portion of self-irony, Christopher elaborates on the exaggerated opinions of those critics who find the culinary goings-on of city-dwellers to be ridiculous. But those who visit Lysverket—or in this case are treated to a meal by Christopher right here in Berlin—can form their own opinion. Christopher's menus exhibit a balance of tradition and experimentation. Anyone who visits his restaurant is greeted by a bowl of his old-school fish soup before the more elaborate dishes with unusual local ingredients like seaweed or plankton follow. For him, this special blend is what defines contemporary Nordic cuisine.
But does he see himself as some kind of culinary ambassador? "Truthfully, yes, maybe a bit. Not that I have taken it upon me to educate the masses, but I try to find meaning behind what I do."
Bergen fish soup
Ingredients

1

fish stock

2

400 + 170g sour cream

3

400g heavy cream

4

80g beurre manié

5

6 egg yolk

6

salt

7

vinegar (7%)

8

sugar
Method
Add fish stock, sour cream, and cream to pot. Bring to a boil. Whisk in beurre manié and  simmer for 20 minutes.

Combine second weight of sour cream with egg yolks and mix until smooth. Add to pot of fish stock mix slowly to thicken.

Reduce until desired consistency. Too much reducing will break the soup.

Season with 7% vinegar, salt, and sugar.

Garnish with julienned carrot, celery and leek. If you want it more filling, add pieces of poached cod.
This portrait is part of a collaboration between Freunde von Freunden and the Norwegian Embassy. Along the way, we're uncovering the Nordic nation's way of life: through conversations with leading personalities across creative fields to adventures into the unmissable landscape.
A special thanks to Ambassador Elisabeth Walaas and her team for their hospitality and a memorable evening. In theFelleshus of the Nordic embassies, you can learn more about Norway—in Berlin—with various exhibitions and events. Takk for maten, Christopher! Anyone planning a trip to Bergen soon should definitely go his restaurantLysverket. You can find a report about our visithere.
A big thank you also to Oslo Kaffebar for the great coffee we were served with the desserts. From mid October you can find Oslo Kaffebar not only at Eichendorffstraße in Berlin-Mitte but also at Felleshus.
Text: Vanessa Oberin
Photography: Daniel Müller