To provide you with a better picture of who the people are behind Freunde von Freunden, we want to introduce you to our international team on a regular basis. Some of them have been with us even before the very start of FvF and others joined the crew along the road throughout our captivating global adventures.
Fette Sans can be described as a restless, multi-tasking wunderkind. Since first meeting her, we can never be quite sure exactly where to find her. After stumbling upon some of her fantastic older video projects we just had to touch base with her. From these early projects her talent behind the lens has continued to provide us with significant perspectives and insider snapshots of various FvF guests in New York, Los Angeles and Berlin. Fette visited Creative Director Marc Atlan and captured the stunning view over the Hills. She met artist Paul Sepuya in his atmospheric living space and the inspiring surrounding of Wendy White, just to name a few.
Fette's photographs have appeared in a range of worldwide publications while also being presented in exhibition in Los Angeles and Berlin. In addition to this, she manages a digital inspiration board on Tumblr, where you can find displays of Fette's favorite art objects, excerpts from interesting articles, music and – of course – her photography. Make sure to browse through her diverse range of videos also.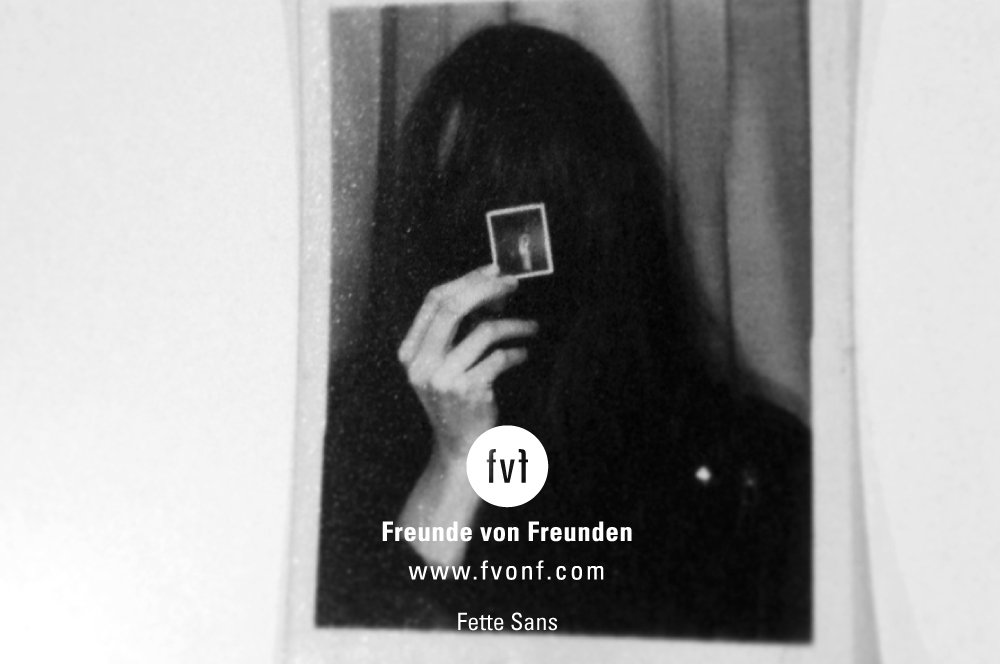 What's your favorite daily ritual?
Walking to my neighborhood coffee dealer, in Los Angeles, Handsome and Deus take care of me, In Berlin, there are Five Elephant, The Barn and CK. I walk, I collect my thoughts, photograph the day, and then I have coffee and I write.
What do you do when you are not working with FvF?
I make photographs, and I write. At the moment, I am completing a two months residency in Los Angeles at Kinkead Pop-Up Residency – and it's been giving me a tremendous amount of space and time to experiment, and to figure out intentions. I am also working on a book of stories of coincidences.
Where do you go when you want to relax or get inspired in your city?
I simply leave the house and I start walking.
How has technology influenced you?
From the day my father put a camera in my hands and taught me how to handle this exceptional, soulless machine; to the hours I have spent traveling the internet, technology has trained me to want to find a voice, diligently, and has enabled me to reach out for further preoccupations, to find people with similar pursuits. It's a peculiar and obsessive relationship, often an overwhelming one, carrying optimistic traits while rendering itself absurdly vapid at times.
Best travel memory?
My memories of travels become intertwined with my dreams, and often they are taking place inside trains, or on boats.
Your latest artistic discovery (musical, art or design)?
Julian Hoeber makes the kind of work that brings me to make my own work. And then there is always Cabinet.
What was the last great meal you ate & where?
It was at my friend Sarkis's few weeks ago – he is the magician behind Daily Dose Downtown, Los Angeles. We drove to the market and cooked a fabulous meal at home for the two of us.
Three websites – more or less – you visit daily ?
Tumblr, Google and Democracy Now, the New Inquiry, Ubu.
Who would you like to see featured next on FvF?
Cathie Opie, Zana Bayne, Rusty Lazer, Dawn Kasper, Michael Doyle & Bethany Shorb, Anouk Kruithof.
You lived in Paris, Berlin and LA – what are your favorite things about these cities?
In Paris, walking, and walking along the Canal Saint Martin. The Velib' rides home from a club and the first batch of croissants at a boulangerie at 5 am. In Berlin, meeting a fox when the city becomes quiet. And in Los Angeles, everything else.
Do you have an artistic role model?
The rituals and obsessions of writers intrigue me; Joan Didion, Marguerite Duras and Unica Zürn come to mind.
Thank you Fette for your answers and for being part of the FvF network. If you wish to learn more about Fettes work check out her website. You can also find Fette on Tumblr, Twitter and Vimeo.