Since early 2012 Brian W. Ferry, has consistently provided us with a range of quality images. Now living in Brooklyn, New York, he supplied us with one of our first London portraits, documenting artist couple, Tim Noble and Sue Webster last year, and we have enjoyed working together ever since. After a few years of practicing law in New York and London, Brian decided to make a career change, turning to his passion in full capacity. Since making this pivotal move, Brian has been working full-time as a freelance photographer fulfilling his dreams and talents.
In his work he strives to take mood-driven, exploratory photos often inspired by interesting light. Today he now works with a wide variety of editorial and commercial clients photographing interiors, still-life, people, artists & creatives, travel, in addition to food and lifestyle stories. In 2011 Brian's book, "Quality of Life" was published by Lawson's Books, showcasing his creative prowess.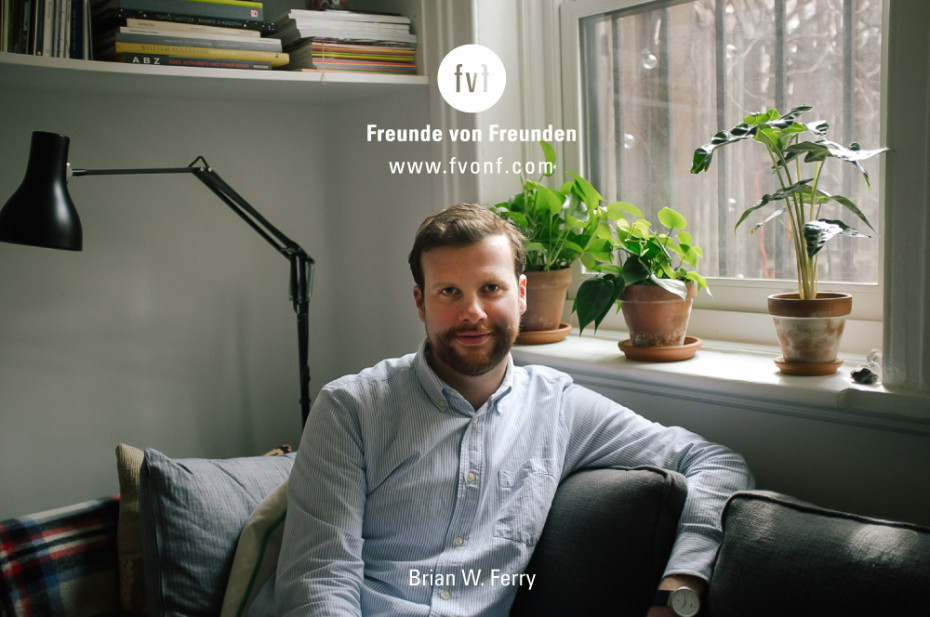 You might remember Brian's more recent FvF portraits of: Design Consultant, Tracy Wilkinson in Los Angeles; Textile Designer, Isabel Wilson in New York; and jewelery designer and photographer couple, Jessica Barensfeld and Simon Howell, also from New York. We get to know Brian a little better in this contributor interview.
What's your favorite daily ritual?
A hot morning shower. It always clears my head.
What do you do when you are not working with FvF?
I explore – ideas as well as places. I do this mainly by taking photographs for myself or for clients.
Where do you go when you want to relax or get inspired in your city?
If I need to relax, then I meet a friend at my favorite local restaurant, Roman's, for some wine & a plate of pasta. If I am looking for inspiration, then I usually need to leave NYC and see something different. Close by, I'll take a quick train north to Dia: Beacon – a museum in Beacon, NY. The quality of light in that museum is amazing – not to mention the art!
How has technology influenced you?
It has made it much easier for me to share my work and to see new things. It also makes it easier to meet like-minded creative folks. I have a lot of good friends now that I originally met through the internet.

What is you best travel memory?
Spending the day in the sun and swimming at Bagni Sillo in Sori, Italy.
Your latest artistic discovery (musical, art or design)?
Lois Dodd's paintings and Matt Paweski's sculptures. Both of them are inspiring to my work. I had the chance to meet and photograph Matt in Los Angeles last month.
What was the last great meal you ate & where?
A long dinner with my family to celebrate my father's 60th birthday, at Millwrights in Connecticut.
Three websites – more or less – you visit daily?
Aside from the usual news websites, here are 3 daily reads:
1. Unchanging Window
2. Chances With Wolves – music to listen to while I work
3. Leslie Williamson's photo blog
Who would you like to see featured next on FvF?
Bryan Ferry – the musician, of course! Or the photographer Uta Barth.
Who is your biggest influence (personal or professional)?
I can't choose just one person! This is too difficult. I'm influenced by many people – those close to me as well as strangers. Joel Meyerowitz and Uta Barth have been a big influence on my photography.
Are there any cities you want to live in in the future?
I might want to live in Los Angeles for a bit.
Thanks so much Brian for your time and for being a constant member of the FvF team. If you want to see more of Brian's work view his website here, or look at his FvF portraits here.
For regular updates on our latest content subscribe to our FvF newsletter.