Whether it's an elephant inspired chair or a supersonic nosed rocking horse, the Spanish born creative creates characterful designs that defy categorization.
"It's really hard to define what I do," admits the Spanish-born creative Jaime Hayon. Originally training in industrial design in Madrid and Paris, Hayon then worked at Fabrica design and communication academy in Treviso for eight years before moving back to Barcelona in 2000. Just one year after being back in his native country, Hayon opened his very own eponymous design studio, Hayon Studio. Now basing the studio's main office in Valencia, with subsidiary offices in Barcelona and Treviso, he produces work that fluctuates between fine art and design: from abstract installations to functional furniture, commercial products to works that are displayed in galleries all over the world.
Fusing the exacting world of design with fine art might not seem straightforward to some, but to Hayon it's second nature. "I'm this really meticulous guy on the one hand, and on the other I'm a super bizarre dude that nobody understands," he says. "I'll do a green chicken rocking chair in an exhibition with a supersonic nose, and they're all like 'what the hell is that? That's not a chair to sit on'," he continues, referencing one of his seminal creations. "But it doesn't matter, because it's in this sort of hybridity where innovation lives."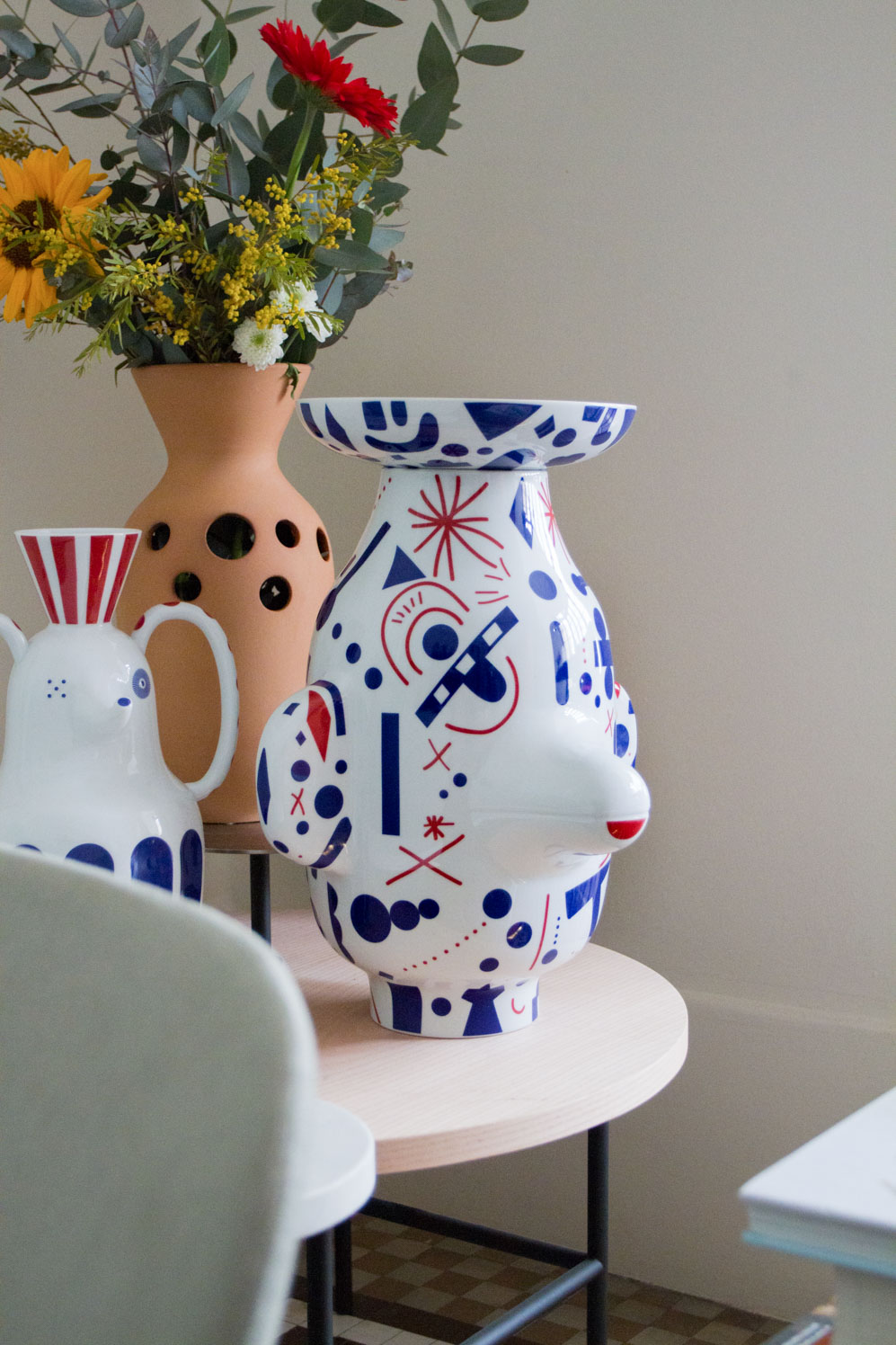 Before setting up Hayon Studio in 2001, Hayon started his creative journey by working as a ceramicist and placing his creations in a friend's gallery. "I worked more as a ceramicist because it was easy to make shapes very cheaply, but that looked very expensive, so I thought it was a good material to work with," Hayon says, laughing.
Since these earthenware beginnings, Hayon has gone on to accrue international renown, work in a variety of mediums for copious clients, but still has a deep affection for working in ceramics—the medium that springboarded him to success almost twenty years ago. "I believe that this material is actually alive and it's so interesting. You can make it change constantly and you can make loads of different things with it. There's a richness to this material that's revered worldwide," he explains. "You've got rice all over the planet. It's just cooked differently. Ceramic and porcelain are very similar. They speak different languages, can be cooked different ways, and have many possibilities." This global mindset has proved very helpful for Hayon, who now travels all around the world for work on a regular basis. A self-proclaimed globetrotter who visits Australia at least once a year, and hops around Europe constantly, Hayon says that his nomadic lifestyle helps him gather inspiration for upcoming projects, and gives him plenty of time to sketch whilst on long-haul flights. This being said, coming back to his home in Valencia has a stabilising effect.
Hayon's ceramic and sculptural beginnings have shaped the way he now approaches his other design work, particularly in the way he thinks about light in relation to furniture. "The tendency of designers is not to think about light and how it goes into pieces," he states. "But if you're, say, Henry Moore, and work in sculpture, you'd think about how light goes into the marble, how it metamorphoses into it and creates different effects," Hayon continues. "So, when I think about furniture, I think how the textiles should be done in a way that it would absorb enough light."
"If you get an emotion because an artwork or piece of furniture is speaking to you, that's good storytelling."
Along with light, Hayon is also very concerned with themes and storytelling, and these elements inform all aspects of his work. "If you get an emotion because an artwork or piece of furniture is speaking to you, that's good storytelling," he says, explaining that he wants people to react to his creations, and sometimes, even interact with them. "I showed these sculptures in Atlanta, and they were on plinths that could be moved," he explains, reminiscing about his Tiovivo: Whimsical Sculptures installation in Atlanta, which featured four brightly colored sculptures in the shapes of familiar objects, aiming to inspire playfulness and joy. "It's a small thing, but it was really quite fun. It's like you're part of it." This interactivity is also a key feature of his furniture designs, as aside from the obvious interactions of sitting on chairs and eating off tables, Hayon likes to give his clients the opportunity to customize his products. "I did this one blue cabinet which has 20 different sets of legs. People could choose depending on what style they liked, and do it their own way."
"Creativity always has to be something unexpected."
Hayon has just finished developing the Elefy Chair, a perfect example of his thematic way of working. "From the beginning I started to draw these elephant-like characters, so I always thought about the chair in this way," Hayon says, explaining that the animal's ears are the most evident point of comparison with his new creation. "And it does have that sort of body, you know, these ears… it's like a chubby little chair, but it also has lightness," he states, referencing the thin legs which are made from either steel or elaborate woodwork.
Balancing affordability with the desire for the chair to "fit perfectly in every space and situation" was one of the most challenging aspects of the project, Hayon admits. But three years, and 25 prototypes later, he has achieved his democratic dreams, by making the Elefy chair out of affordable plastic, whilst also giving more affluent buyers the option to upholster it in maximum quality leather.
The Elefy chair also reflects Hayon's tendency to be inspired by animals and nature in general, rather than other designers or artists. Looking to things outside of his discipline is a practice that he thinks helps him to be innovative and present people with surprising creations. "You know, creativity always has to be something unexpected," he says. "Think about it. If people expected it already, then there's no glory in it."
Selected work
Hotel Barceló Torre De Madrid

Hotel Barceló Torre De Madrid

Catch Lounge for &Tradition

La Terraza Del Casino / Photo: Klunderbie

La Terraza Del Casino / Photo: Klunderbie

Stone Age Folk
Jaime Hayon is an artist and designer currently based in Valencia. His design studio, Hayon Studio, has been running since 2001, producing a range of artistic installations, furniture designs, and working in collaboration with clients such as b.d. barcelona, Cassina, Fritz Hansen and Magis. The Elefy chair is the product of a collaboration with Danish Design company &Tradition, who are based in Copenhagen and pride themselves on marrying tradition with innovation. FvF Productions worked with &Tradition to develop this video on the occasion of The Preview, an exhibition showcasing Jamie Hayon's latest products, on view during Salone del Mobile, Milan from April 9 – 14, 2019. To find out more about &Tradition, check out our interview with the company's founder and creative team.
Text: Emily May for FvF Productions
Photography: Paula Prats for FvF Productions