Diandra Donecker has risen up the ladder of her chosen profession, currently holding the position of CEO at renowned Berlin auction house Grisebach. Her determination and subsequent success proves that—even in the competitive, male-dominated art industry—hard work pays off.
"From the first moment I read about the house and its history I was determined to work here," says Diandra Donecker on why she was initially attracted to her role at Grisebach auction house in Berlin. Specializing in artwork from the 19th, 20th, and 21st centuries Grisebach was founded by Bernd Schultz in 1986 in the hope of sparking a cultural and artistic renaissance in the then politically troubled Berlin. "He dreamed of a united Germany, and that Grisebach could be an auction house for the whole country." As well as the house's unique foundation story, Donecker was also attracted to join Grisebach because of the high caliber of art professionals working at the company—out of around 55 total employees, approximately 40 are art historians, many of whom are experts or authors of books on certain artists. "There is a high due diligence here, and a lot of passion and love," she says, emphasizing the familial spirit of collaboration that permeates the entire auction house.
This portrait is produced together with USM for the series "Personalities by USM." See a different angle to this story here.
"I want this house to be an open place for everyone who's curious."
"You would think that there are many females in the arts to look up to, but when you get higher up the ladder, you find out that most people in leadership positions are men."
For Donecker, art has always been a family affair. With her mother being an art historian, and her father studying as a photographer, she spent all of her childhood surrounded by art and going to museums. Leaving her hometown of Frankfurt to study art history in Munich, she describes herself as "very determined" in her choice of career. She undertook an array of international internships during her studies, including one at the department of hand drawings and printing graphics at The Metropolitan Museum of Art in New York. Her first full-time job was at Christie's, where she spent time in both their London and Munich offices. At the latter, she worked under the "smart and precise" director Marie-Christine Gräfin Huyn. "You would think that there are many females in the arts to look up to, but when you get higher up the ladder, you find out that most people in leadership positions are men." But the lack of female leadership in the arts has never held Donecker back. She has quickly risen through the ranks of her chosen profession. At the age of 30, she is the CEO of Grisebach, which is quite an impressive feat after only joining the organization in 2017.
Alongside her position as CEO, Donecker is also the head of the photography department at Grisebach. She assumed the role after a period of shadowing her predecessor, with whom she had a close connection. "To many people, photography has always felt like more of a science rather than an art form," she says. She notes that widespread accessibility of cameras in the 21st century has influenced people's perceptions of the medium. What with anyone being able to upload an edited, filtered image to Instagram in a matter of seconds, "everyone feels like the act of taking a picture is so familiar and normal," says Donecker. "But when you look at the prints that we sell at Grisebach, they have outstanding compositions, they're printed on beautiful paper, and the people who took them are extremely knowledgeable about their art form. It's not just a matter of clicking a button." But this doesn't mean that Donecker is anti social media. "I hope that the popularity of Instagram and other image-based platforms will actually raise people's interest in photography and its history."
"Art should be universal and timeless."
When selecting artworks to sell at Grisebach, Donecker always strives to offer bidders pieces that she really loves. But she does admit that there are some differences between what she would hang on her wall at home and what she would acquire for auction. "As a department, we don't have any preferences for particular artists or photographers. This would make our selection very narrow, and of course, we have to deal with the consignment offers we have." Professionally, Donecker is more preoccupied with acquiring works according to quality and rarity. One of the most famous pieces Grisebach has sold is the 1942 painting Weiblicher Kopf in Blau und Grau (Die Ägypterin) by renowned German artist Max Beckmann. Going for 5,530,000 euros at the house's spring 2018 auction, this is the highest amount ever bid for a work of art at an auction in Germany to date. Grisebach is also renowned for achieving the highest price in Germany for a single photo, selling a vintage photogram by Bauhaus artist László Moholy-Nagy for 487,500 euros, again at their spring auction in 2018.
Donecker's personal interest in photography veers towards portraiture, and work taken by female photographers, in particular. "My current crush is Germaine Krull," she says, referencing the avant-garde German photographer who is described by MoMA as "the prototype of the edgy, sexually liberated Neue Frau (New Woman)" of the 1920s. "Being a woman in the '20s would have meant you wouldn't be allowed to have your own flat or have a job without your husband's agreement. Female photographers at the time, of which Krull was one, were so self-confident that they just took their chance and were brave enough to say 'I want to have a camera and I want to shoot.'" Krull wasn't just revolutionary in her choice to be a photographer, but also her choice of subjects, photographing other women naked in her studio, a shocking undertaking at the time. Donecker believes that images of women shot by female photographers are very different from those taken by men. "It has to do with the projection many male photographers have on female bodies. They often sexualize them, or present the female as an object," she explains. "Female photographers present women in a much more sensitive way."
When asked about any trends or forecasts she has for the art market, Donecker says that she doesn't like to make predictions. "For me, art should be universal and timeless. So I wouldn't want to give any hints." She is, however, aware of the industry's demand for greater diversity in both the pieces that are put up for auction and the people who buy them. "My dream is for more people to become involved in the cultural world, whether that's through ballet, painting or literature," says Donecker. She fears many young people are put off attending auctions due to thinking they can't afford to participate. "I want this villa to be an open place for everyone who's curious. We're working on a lot of ways to open it up. I don't want anyone to question whether they're allowed to enter or not." Grisebach has two main methods of trying to attract wider audiences: running events, exhibitions, and summer parties with no entrance fee, and starting online-only auctions so that tech-savvy individuals can bid from home. They also have a department dedicated to art priced between 500 and 3,000 euros. Named "Third Floor" after its original location in the auction house, it aims to help new buyers make their first purchases on the art market. "We have many stories of clients who started off in this department, but now spend a lot more money."
"My dream is for more people to become involved in the cultural world, whether that's through ballet, painting or literature."
Outside of her working hours, Donecker spends most of her evenings meeting clients to discuss consignments and acquisitions in restaurants around Berlin. One of her preferred spots is Lode & Stijn, a Scandinavian fine-dining eatery in Kreuzberg. "I also love Paris Bar," she adds with a smile. Heading over to the West Berlin brasserie—which has been a popular meeting place for members of the Berlin art community since the late '70s—it's easy to see why it's such an art world favorite. Kitted out with dark wooden tables and black and white checkered floors, the walls are covered in posters as well as framed paintings, photographs, and sketches. Many of the pieces were left by artists in order to settle up at the end of long nights of drinking. "This one is by the Austrian photographer Elfie Semotan," says Donecker pointing at an image, once again highlighting her preference for female creatives.
Attracting the attention of the waiter, Donecker proceeds to order glasses of champagne and a portion of french fries to share. She is seemingly very at home in her Berlin neighborhood, despite earlier confessions that she once imagined moving back to London or New York. "Berlin is the only city in Germany that is comparable to London. It offers you so many options of being yourself," says Donecker. Her main hope for the city and its art world is that it will stop thinking in divisions and borders, especially between what venues are defined as galleries, auction houses, or studios. "We all belong—and should all work—together."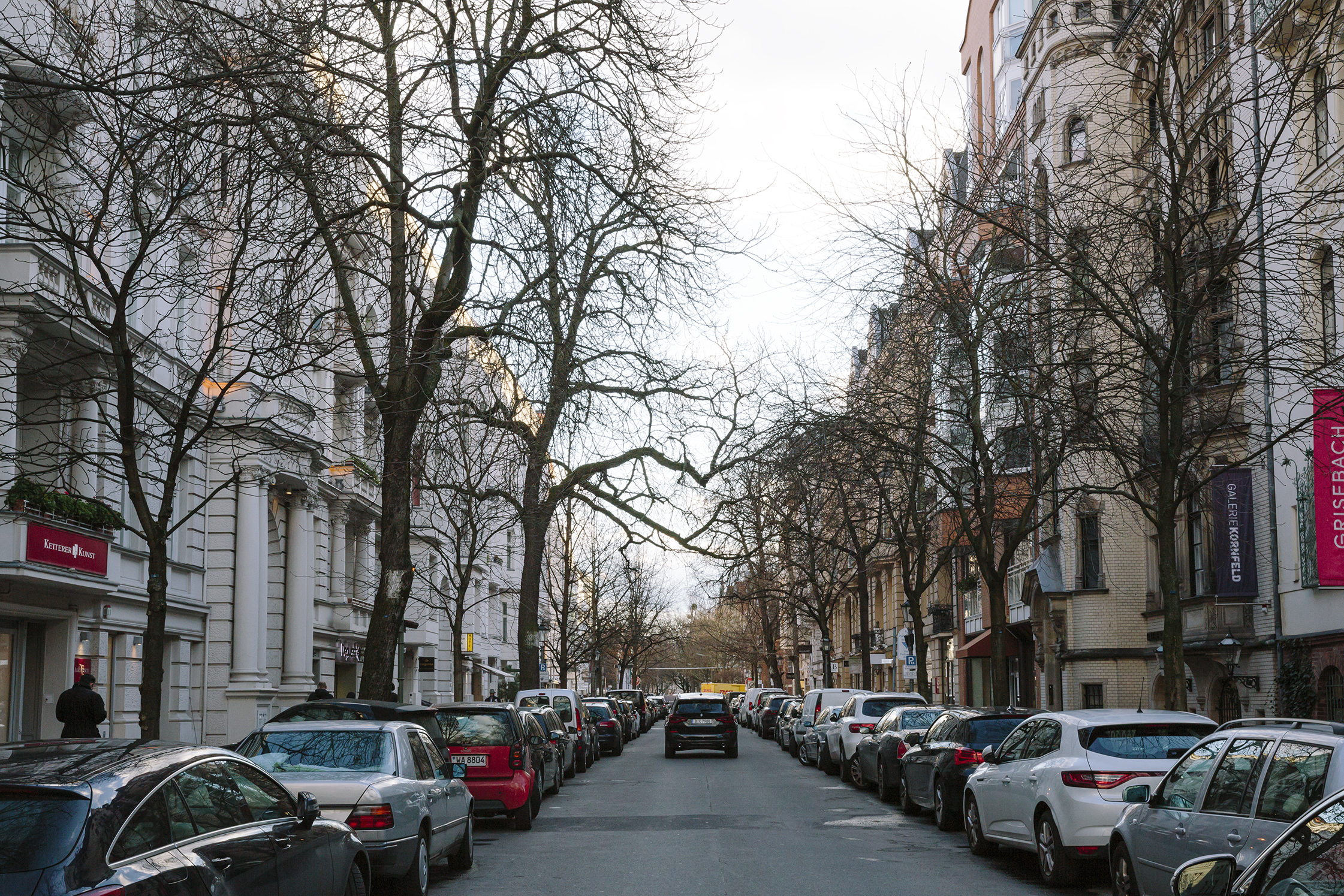 Diandra Donecker is the CEO at Grisebach, a Berlin auction house focusing on work from the 19th, 20th, and 21st centuries. Having studied art history in Munich and held positions at Christie's and The Metropolitan Museum of Art in New York, she now specializes in photography.
This portrait was produced in collaboration with Swiss modular furniture company USM as a part of the ongoing series, "Personalities by USM."
Text: Emily May
Photography: Marina Denisova