From seedy sex shops to the thoughtfully curated shelves of independent bookstores, erotica has gone mainstream.
When did you see your first "dirty" mag? Was it hidden under an older sibling's bed? Peeking out from the top shelves at a newsstand? Discovered in the dirt at a nearby park?
Seen through the lens of today, these publications might seem about as risqué as the tired Playboy brand that pushed the genre into the mainstream, but once upon a time they (and Playboy Magazine) were championed as progressive antidotes to the puritanical attitudes of the mid–twentieth century. There was just one obvious flaw: the pursuit of pleasure was told from a strictly male point of view.
Now, a new generation of millennial publishers are revisiting the printed page to explore sexuality with a distinctly contemporary feel. Whereas so called "girly magazines" were garishly designed and cheaply printed—all the better to roll up and slide in your back pocket—these new titles are exquisitely designed and err towards the cerebral, covering topics ranging from the decriminalization of sex work to the connection between sexuality, power, money, and poetry.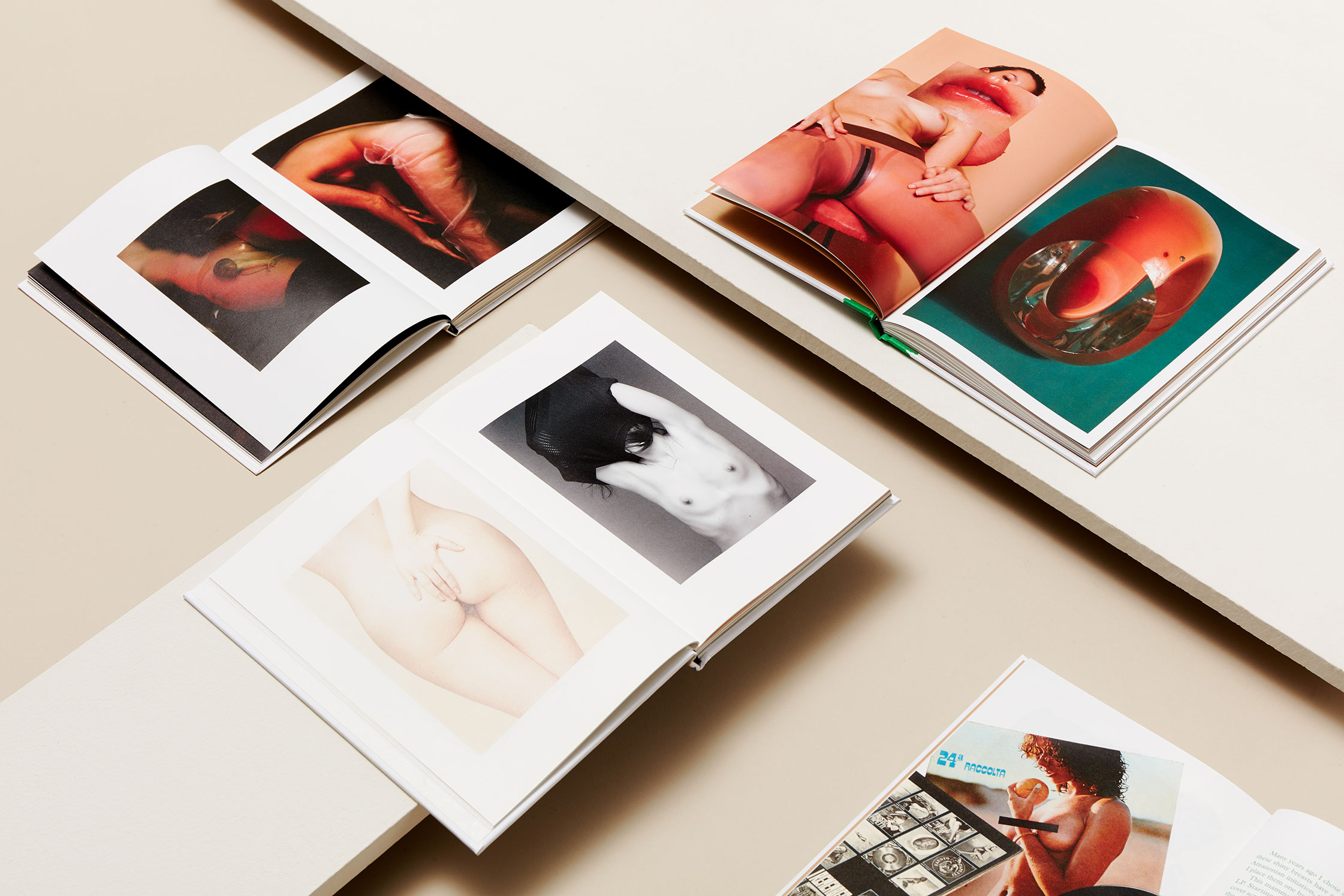 "There's an explosion of really amazing sex magazines," says Kitty Drake, the Editor of London-based magazine subscription service Stack. As a journalist Drake often writes about sex, which she sees as an inherently political act. "It really frustrates me the way people are written off for writing about sex because it's a really valid, significant, difficult and knotty topic," she explains. "What these magazines are doing is showing that it's not just a dirty, fun thing that people do. They're thinking about sex as an academic life force."
"Independent magazines aren't regulated by the stipulations or concerns of their advertisers or the commercial interests of their publishers," she continues. "They can talk about sex in a way that isn't puritan or holier than thou, and they can be really explicit and really daring and say stuff that you couldn't say at The Sunday Times, Time Out, or The Guardian."
One such publication is the bi-annual, Montreal-based Leste. "Leste stands for erotica that is self aware, self critical, open, tender, political, honest," says the magazine's founder and Managing Editor Sara Sutterlin, who was inspired to create the magazine after coming across the "intimate" work on sex, sex work, and dating by writers like Lyle Suxe and Nailah Ahmadon on Tumblr. Although a poet herself, when it comes to Leste, Sutterlin prefers not to center herself in the project—instead populating the magazine with a diverse community of artists and writers who are underrepresented by mainstream publishing.
Beyond the printed magazine, which is now on its seventh issue, Leste also has a popular Instagram channel featuring weekly takeovers by creators and activists from marginalized communities. One recent example was @relampagito, a self-described "multidisciplinary artist, small time tattooer, jewelry maker, founder of a QTPOC cookbook, and aspiring gecko and dog parent." Like many people featured on the Leste channel, they shared intimate details of their life as well as links to go fund me pages from members of the LGBTQI+ community. Sutterlin sees reposting these fundraising initiatives—asking for Vemo payments from followers to help with anything from paying heating bills and car fines, to transition surgery and moving house costs—as a vital part of the platform. "This type of fundraising is vital for marginalized folks and requires the attention of those of us who benefit from a white supremacist, transphobic, capitalistic society which willfully excludes and harms anyone living within those margins," she says.
While it is unarguable that Instagram has allowed these publications to build communities and helped get their issues into the hands of like-minded people, the platform's draconian (and many would say sexist) rules regarding sexual content also leaves them vulnerable to censorship. Having your account suspended, or worse, banned, is a constant fear for makers and purveyors of erotica. Math Magazine—arguably one of the more explicit of this new batch of publications—is currently using a backup Instagram account after their primary account was banned. Phile Magazine, who describes themselves as an "International Journal of Desire and Curiosity," is similarly on its third account after the first two were taken down.
"[Independent magazines] can talk about sex in a way that isn't puritan or holier than thou."

Kitty Drake
Jens Stoltz, founder of U.S. based S Magazine, sees the social media platform's rules as hypocritical and out of step with the world we live in. "There's a lot more soft porn, soft porn meaning fashion with tits," he says, "but at the same time authorities are deciding for the general public that we are not allowed to see female nipples. Who are these people who are deciding what other grownups can see?"
Conversely, Stoltz still sees print as offering a unique freedom from censorship. "If social media was completely liberated and we could show whatever we want to in our personal profiles then it wouldn't be interesting to do it in print. But it's the only playground if you want to show something that's a little shocking, daring, or playful."
It's not an accident that the mainstreaming of erotic magazines mirrors the rise of independent, art and design focused bookstores more generally. At Soda Books in Berlin publications like S Magazine and Math Magazine are presented alongside hundreds of titles spanning topics from leatherwork to psychology for designers and in doing so reduce the stigma that might have otherwise been attached to them. "People ask for those magazines just as they do with the other ones," says store manager Isabell Hummel. "I don't recall any customer ever being visibly ashamed (or especially proud for that matter) when buying one of those magazines."
Hummel sees this trend as a logical next step in an industry that has always flirted with the erotic. "Some fashion magazines have been spicing their magazines with hints of sex here and there for a long time now," she says, "and since there aren't as many taboos as there once were, it makes sense to go the extra mile and leave out fashion all together."
Emmy Koski Editor-in-Chief of Odiseo, a beautiful hardback journal mixing commissioned essays, poetry, and art, agrees. "If you look at fashion and art magazines today, not much separates them from what could be classed as 'erotica,'" she says, noting that she doesn't see the content they produce as controversial at all. In fact, she would prefer to lose the "erotic" label altogether: "Labels belong in the past, and we don't want to be tied to a strict definition of Odiseo as an erotic magazine."
Similarly, the editors of Amsterdam-based Extra Extra see the erotic not as a separate theme or category but something that can be found within all aspects of urbanity. "What we do with Extra Extra is we connect very much to culture and city life," founder and editor Samira Ben Laloua said in a recent interview with G-IRL Magazine. "The erotic aspect of the magazine is about being softer to one another, and all the gestures that come with that."
But no matter what the kink level, what joins all these magazines is that there's no place for shame or judgment within their pages. By flirting with the mainstream but staying proudly independent they're able to retain an authentic, and yes, sexy, voice, which unlike their predecessors is proudly feminist and intersectional. "There's a problem where making a magazine or reading or writing about sex is viewed as this kind of frivolous thing," sums up Drake, "because sex is fun obviously, but it's also hugely significant."
Extra Extra, Leste, Math, Odiseo, Phile, S Magazine are part of an emerging wave of magazines dedicated to the erotic. Kitty Drake is a writer and editor based in London. Stack magazines is a subscription service that delivers a different independent magazine to your door every month. Soda Books stock curious publications for curious people. Visit them in their stores in Berlin and Munich or order online.
If you're looking for more FvF interviews with purveyors of printed matter check out our recent pieces on Huck and Fluffer Everyday.
Text: Chloe Stead