Caren Motika and Adam McPherson bought their home in Mount Washington, Los Angeles, six years ago, and with it they inherited a unique story.
Their humble residence was originally conceived as a test model: Built by a man who made a successful career as a carpenter in Los Angeles (he went on to design and build Barbra Streisand's mythic Malibu compound), the house was an opportunity to explore new ideas and techniques with wood. He believed in the idea of designing as you go—a practice that Caren and Adam have embraced, picking up where he left off. Adam has since built a small, hillside studio just below the main house. The pair are also working on a secondary living quarters upstairs, a space they'll move into one day in order to re-define the house as a shared living space.
Visiting Caren and Adam's home is seeing California at its best. It's high in the hills and West-facing with a large living space that feels at one with the landscape The sun is setting in a clear sky, the light in the hilly L.A. neighborhood lending a dusty patina to the evening. A monastic simplicity sets the tone of the house. Hand-carved details and Adam's wooden plinth support a sculptural shade tree and a legacy of care and intention—but it wasn't always the case.  "When we first moved in the house was in such a bad way, it had literally been left to decay," says Caren. "I learned from one of my teachers that everyone wants to serve and be acknowledged for their service. A house represents this idea as well. Its very bones provide us with shelter and in exchange for this great service we tend and care for those bones," she adds.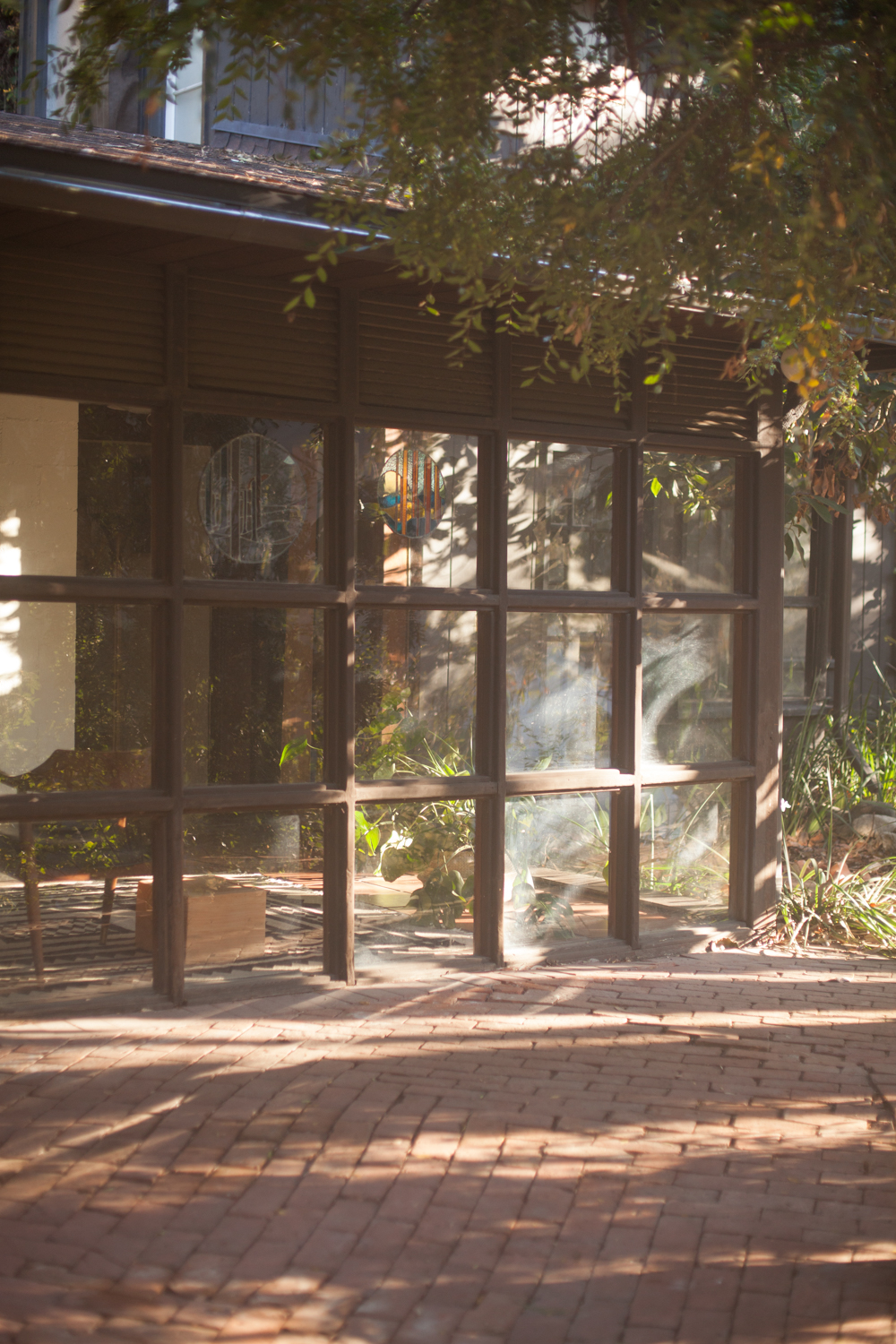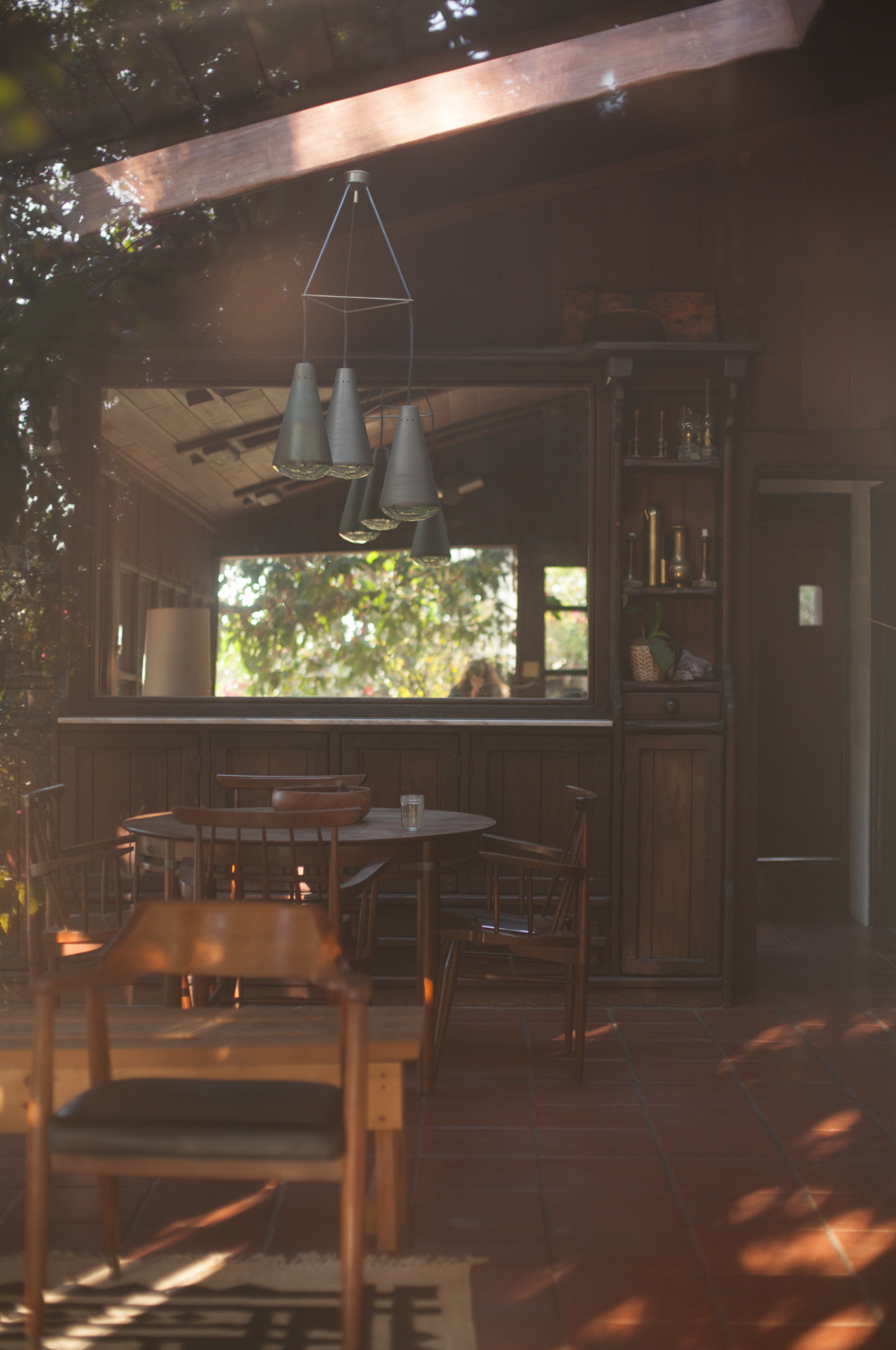 "In Maine where I grew up, the power used to go out often and these lamps were a go-to source of light."
Today, their home is still a work in progress. They've taken the time to notice and feel their needs. "Adam spends a lot of time observing. The work flows from there. Everything has its own rhythm and natural direction." One of their first projects was a small, hillside studio that Adam built below the main house. The pair are now working on a secondary living quarters upstairs to re-define their home as a shared living space. "The building of a home is a co-creation with the space and the house itself. It's about going with the grain instead of against it. There is a lot of trust when you design as you go—trusting that it will come together and make sense and that the parts will be cohesive," says Adam. "You can only premeditate so much. Ideas change."
The philosophy of observation and intention extends to their work. Caren holds degrees in design and Traditional Chinese Medicine and she's a licensed acupuncturist and herbalist. She's built meaningful relationships with local artists and artisans and supports their healing products and creations. Adam is a builder and an artist. He balances routine woodwork with an emotive, poetic art practice. "They represent daydreams that I have during a mundane blue-collar carpentry day," explains Adam of his sculptures. "They are bi-products from the jobs made from wood that I bring home at the end of the day. Certain shapes trigger my creativity. It's free raw material so why not use it?"
Their home is filled with thoughtfully displayed collections: small glass vials, straw hats, baskets, perfumes, dried plants, and hurricane lamps: "In Maine where I grew up, the power used to go out often and these lamps were a go-to source of light," says Adam. "It brings up the morale. They're hopeful objects—a sculptural source of light." Meanwhile, Caren's oils and glass bottles give a glimpse into her life's work. Many are gifts from friends or other healing practitioners. "They have all housed at one point a perfume, essential oil or flower remedy I've worked with," she explains. "Sometimes, I keep them to remind me of that time or process. I also keep them as a reference. They're specimens of plant and flower material. I take note of how they affect body, mind, spirit and archive the result."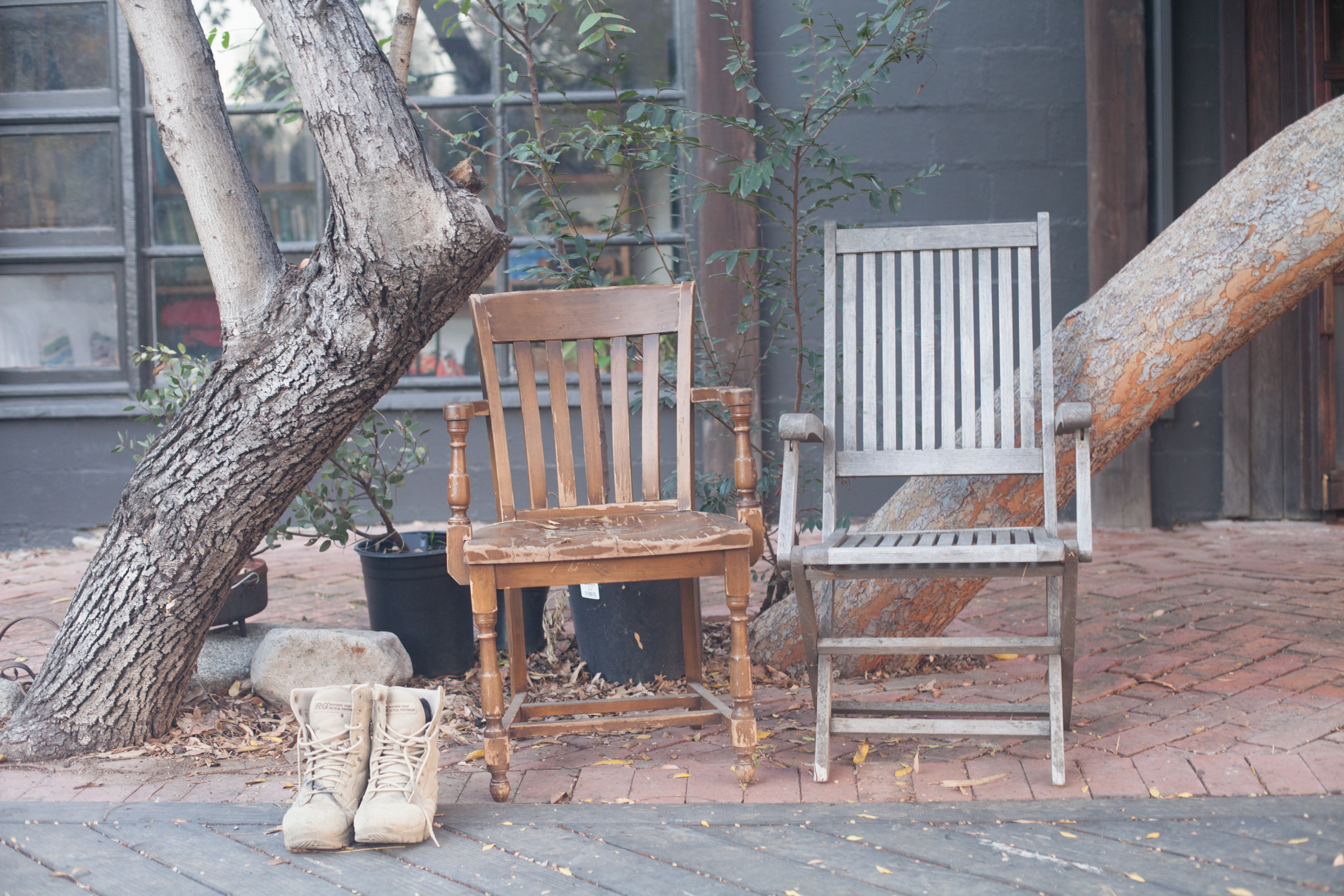 Caren and Adam now share the two geographies: California and Coastal Maine—and their life and work is tethered to both coasts. "California was ingrained in my grandparents," says Caren, a Los Angeles native. "They lived in a midcentury home in a canyon. My grandmother loved art and collected lovely things." Nostalgic for a slower pace in the city, a time before smart phones and SUVs, Caren would rather be riding bikes barefoot and spending most of the day outside, exploring with family and friends. The home she and Adam have created captures the comfort of these memories—a place where they're still possible.
Caren's work has culminated into a dynamic healing arts space, Window of the Sky in Eagle Rock, LA. "Window of the Sky was a way to bring my healing and creative work together," she explains. "I wanted to explore healing in a broad sense; healing is often why people create in the first place. It is a process. Light but also dark and possibly chaotic, joyful, frustrating, and enlightening. It is nuanced and contradictory. And, unique for everyone." The center is a space for healing and conversations, for, as Caren elaborates: "the non-linear path to feeling well and what that means to people."
There's a balance of practicality and poetry in the way Caren and Adam live and create. Their home has been re-built with salvaged wood and discarded materials. Window of the Sky emerged from a dilapidated storefront that they resurrected in the same way. Caren made a coffee table out of a circular piece of faux-marble laminate that she dug up in their yard. "Budget and availability of materials dictate the process," says Adam. You would never know it. The beauty eclipses the economy of their approach. Caren and Adam live life in a way that makes sense. Simple, honest and full of the energy that has defined not only the American West, but the indefatigable American spirit. Increasingly, this is an America for which we are nostalgic. Warm, inventive, intentional and calm.
Thank you, Caren and Adam for inviting me into your home and trusting me with your story. Your life and work is a beautiful reminder of what's important in this life.
To learn more about Caren's practice, visit windowoftheskyla.com.
Text & Photography: Claire Cottrell