Pioneer Works is an alternate universe. Visiting the gargantuan multidisciplinary space in Brooklyn's industrial Red Hook neighborhood is a little like stepping into Willy Wonka's Chocolate Factory or falling down a rabbit hole.
It is, without sounding hyperbolic, an organization multifaceted with creativity and underpinned by iconoclastic entrepreneurship, with curiosities that beckon around every turn. Loosely described as "a center for research and experimentation in contemporary culture," it was founded in 2012 by artist Dustin Yellin within a 25,000-square-foot manufacturing warehouse on the Brooklyn waterfront. At the heart of Pioneer Works is its residency program, providing free space to creative practitioners in the arts, sciences, technology, publishing—and, most recently, music—that work in close proximity, cross-pollinating energy and ideas. Currently, there are 15 residents in-house, including the Korean painter Keunmin Lee, collaborative mixed media artists MSHR (Birch Cooper and Brenna Murphy), and the writer Suzannah Lessard, author of The Architect of Desire: Beauty and Danger in the Stanford White Family.
"Once it went on the market it was basically beg, borrow and steal to buy the building."
Then there are the facilities available to these residents, including 3D printing, a risograph machine, film and print lab, recording studio, technology lab (presided over by Nanotronics founder Matthew Putman, who is on the board of directors at PW), and a publishing department that releases its own magazine, Intercourse, pocket series, Groundworks, and pamphlet series, MIMO. There's an outdoor space with a garden that provides weekly CSA pick-ups for the local community, performance spaces, and a bookshop across the street, Pioneer Books. In tandem runs the public program, which features the popular Second Sundays—a monthly series of open studios, live music, and site-specific installations, plus exhibitions, events, film screenings, a supper club, concerts, and an education program full of workshops that range from Turkish Psychedelia Paper Marbling to Deconstructing Switchboard Synths. The School of Apocalypse series examines connections between creative practice and notions of survival.
On an oven-hot August afternoon, Yellin's cousin, Gabriel Florenz, is showing us around the building. "Dustin and I are like brothers," he says. "I started out as an assistant, making his work, and then slowly got stuck into managing the studio. We had a space down the street, which is his studio as well as his ex-girlfriend Charlotte Kidd's studio. It was a gallery, Kidd-Yellin. He had this idea a long time ago about putting everything into one space, and him and Charlotte collaborated on this project and the idea of a residency got involved. This building was this thing he looked at for a long time, and we were all obsessed with it. Once it went on the market it was basically beg, borrow and steal to buy the building. I took on this project at that time. It was very ambitious. It was kind of miracle on top of miracle as far as always being completely broke, never being able to plan three months ahead because we never knew where we wanted to be, if we were going to have the money, if we were going to have to stop the project or take out loans."
"It was kind of miracle on top of miracle as far as always being completely broke, never being able to plan three months ahead."
Indeed, Pioneer Works was born out of a baptism of fire—or water, in this case. "We'd just finished all of our major renovations and Dustin, Charlotte and I and a bunch of friends were all staying here during the hurricane [Sandy] and we were really excited about seeing the waterfront and were going to have a really nice night with wine," recalls Florenz of that fateful evening in October 2012. "We had no fucking clue what kind of apocalypse was going to happen. We ended up getting five feet of water and swimming in the water ourselves, trying to save as much as we could. Basically, everything got totally destroyed, but we had insurance, and for various reasons it really allowed us to make this entire space into a foundation. Before, it was going to be partially a studio, because financially we couldn't afford otherwise. But once the flood happened…the studio next door became open, so we could build Dustin's studio there, and then this could function fully as a foundation. It was this horrible disaster and the worst year of our lives in terms of dealing with it, but it really pushed us years ahead right away."
"The goal is that it's not New York contemporary related, but it's a global platform."
Initially financed through Yellin's artwork sales, Pioneer Works now functions as a non-profit, completely underwritten through a mix of public funding, grants, fundraising and private donations. "We started building this amazing board of directors who are hugely supportive and really allow this to happen," says Florenz. "We also do a fundraiser every year—we raised over a million dollars this past year, which is a pretty big bulk of our funding." They also rent the space out for weddings and events. "A wedding pays for an entire exhibition, and we can rent it for a day corporate event, and that pays for five artists to have three months in the space."
As well as their creativity and curatorial nous, the cousins certainly know how to juice their connections and charisma. On the board of directors at PW sits Benjamin Bronfman, Thierry Despont and Andres Santo Domingo (among others), and their advisory board includes boldface names such as David Byrne, Shirin Neshat, HRH Princess Eugenie of York, and Justin Vernon (aka Bon Iver). For a young upstart still in his twenties, Florenz lives a very jet-set lifestyle, albeit one that appears genuinely in service to the business that seems to run off the fumes of his boundless energy. He estimates he works "like, 90 hours a week", and has just returned from a trip to the Berlin Biennale and a visit to Leipzig, where he was consulting on a warehouse project.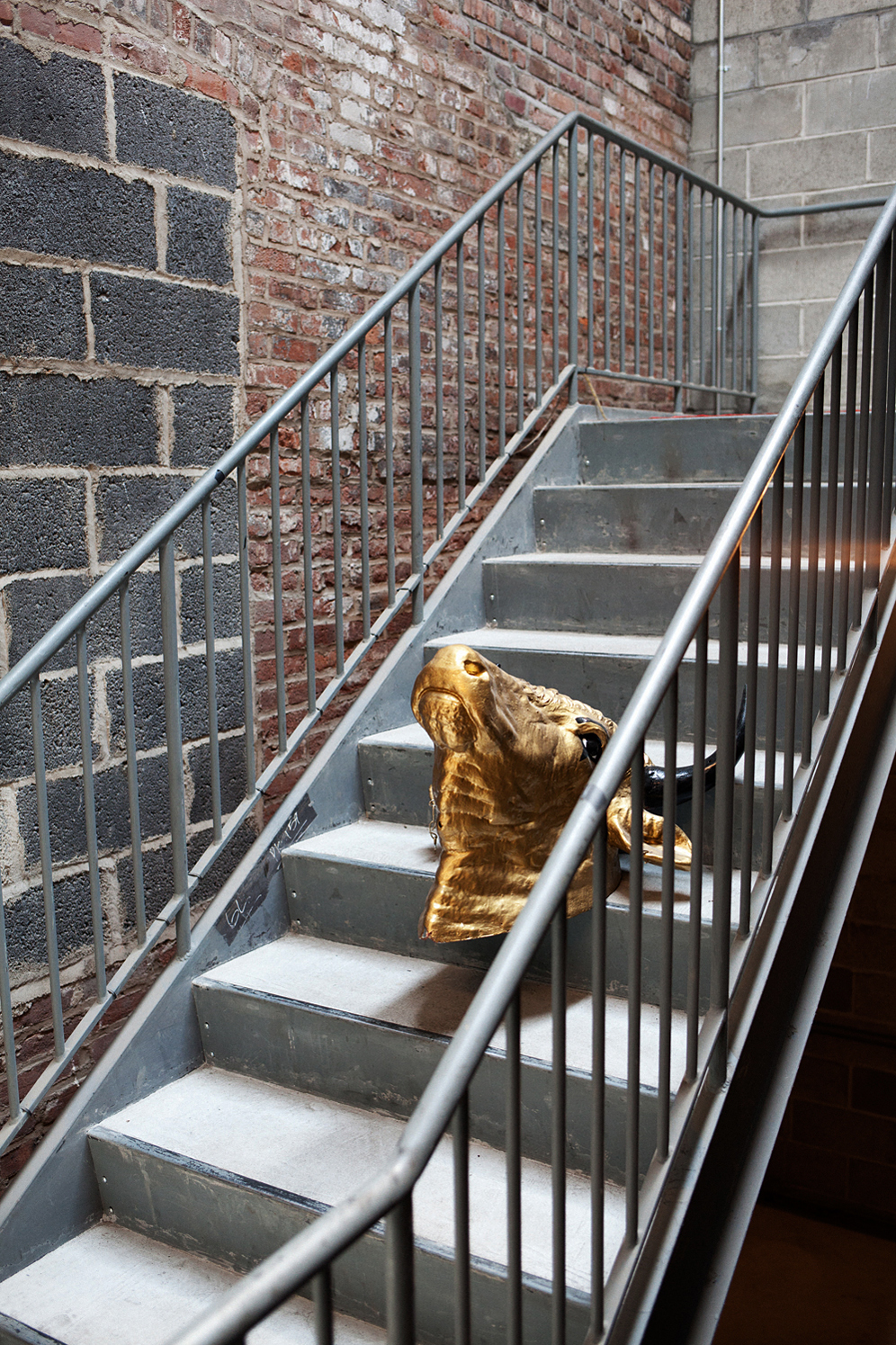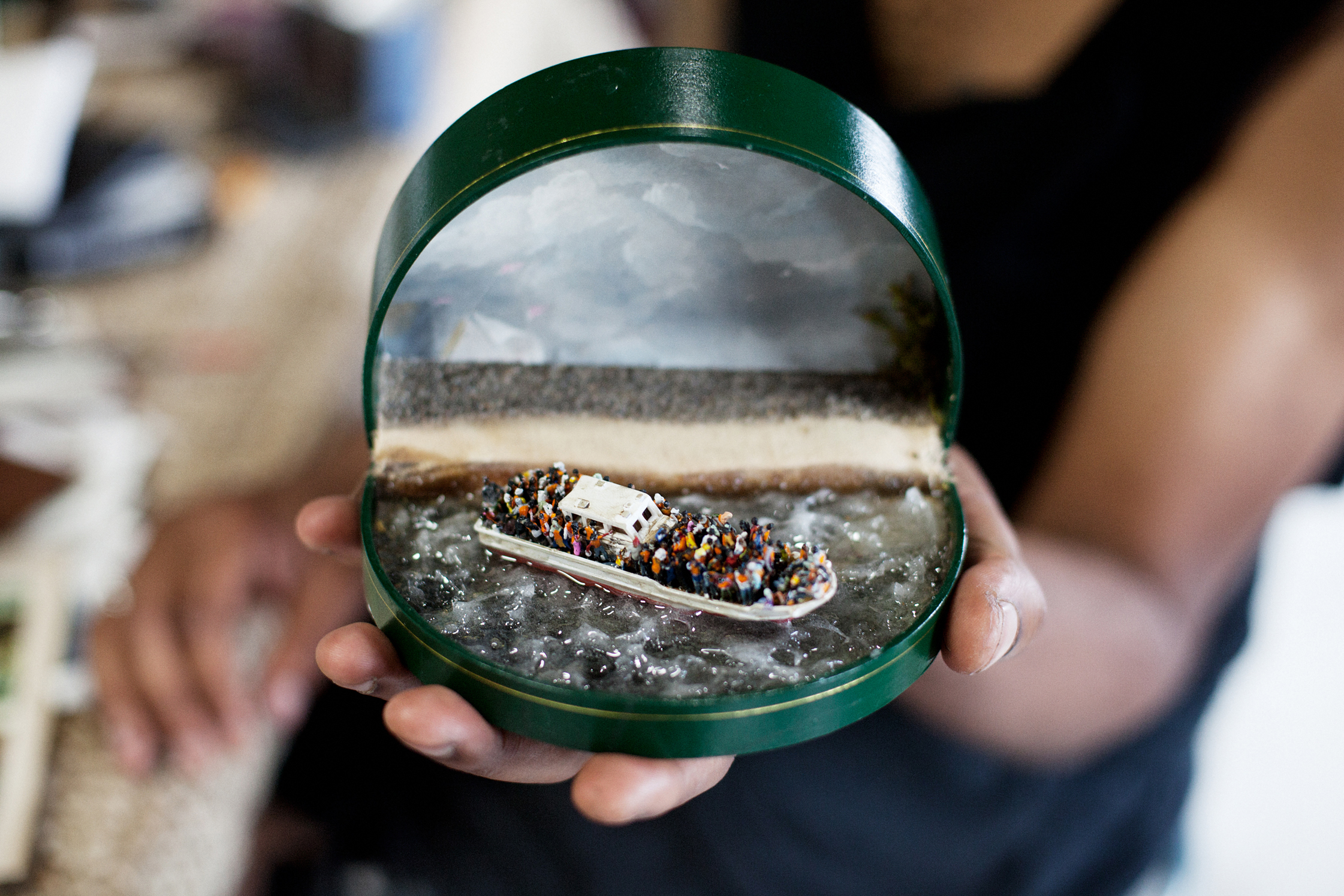 "I'm a big believer in, there's no original ideas per se, but there's original combinations."
"We have an open application [process] and then we're always out there looking for people. I was just in Amsterdam and Rotterdam meeting artists and looking for people to do shows with, but also to pull into our residency program," he says. "A lot of times it's specifically aligning with different organizations and foundations in different countries so that we have as much reach as possible and figure out how to connect with these great people all over the world. The goal is that it's not New York contemporary related, but it's a global platform." Mexico and Beirut are currently on Florenz's radar and he's about to start a new writing project, beginning in Haiti. "In collaboration with PEN Haiti's writing program, I'm sending the writer and poet Ariana Reines to Haiti in October to work with them and to choose writers to bring over here. She's also going to be contributing articles for our magazine and working on this large project that we're doing involving Haiti in the next year."
The laundry list of programs, projects, initiatives and output appears endless. Is there anything quite like Pioneer Works that exists in the world? "I think we basically just copied different things and then put it all together—I'm a big believer in, there's no original ideas per se, but there's original combinations," says Florenz. "And if you bring together different combinations of these amazing systems that already exist, then you can create your own best example." He name-checks Blackwell College, the Kunsthalle movement and community centers such as New York's 92nd St. Y, as touchstones. "But it's just not that specific," he concludes. "We love what tons of institutions are doing in New York but we're not trying to compare ourselves to them. We're also always working with different people, so for our residencies we're working with Recess and Residency Unlimited and for our performances we work with Issue Project Rooms and Blank Forums, and the institutional residency of Clocktower Radio… The idea that, you're not only taking in people, but you're taking in institutions. We're trying to be a global filter and you need as many people as possible to get involved. We don't want to define it that much."
"We're trying to be a global filter and you need as many people as possible to get involved."
Florenz leads me outside to the garden, where Molly Lowe's grass nipple sculpture takes pride of place. Other temporary installations include Adam Stennet's Artist Survival Shack (in which he lived for a month in January, collecting rainwater off the roof), and a single occupancy structure in a dumpster by Greg Kloehn, who creates free dwellings for the homeless. Kloehn has been living out of it for the past three summers while building what Florenz calls "a massive utilitarian sculpture" that serves as a bar for events and is now home to a café run by Pintail Coffee and The Fat Radish.
Above, in another shipping container, musician Miho Hatori from Cibo Matto is recording a new album, bringing to life Florenz's latest passion project. "We're trying to start a record label here…I'm talking to lawyers now and trying to figure out how to do it so we have the best record contracts in the world, so that it's always better for the artist," he says. "Also the idea that Miho is making a record here, she could be using people [also in residency] to not only work on the music with her, but the visuals around it, and we can help her through the process of production, distribution and image rights. We're also trying to start a video series of recordings here that gets disseminated all over the world." That interweaving of people, dynamics and disciplines is clearly what makes Florenz—and Pioneer Works itself—tick. "We have tons of live performances, and a lot of the time—we're trying to make this happen more—our recording platform ties into our production platform and our performance platform. There's not that many spaces where an artist can experiment and record and then play in the same space."
The grand plans don't stop there. Florenz gazes skyward as he explains his dream for a Highline-esque structure above the garden that will house an intimate restaurant and chef's residency, a catering kitchen to supply the events business and feed back into the non-profit, and a subsidized community café. "And then that walks the whole way around and there's an elevator up to a second and third floor, and if you continue walking, you hike up this mountain and end up on this beautiful concrete path, and underneath would be a cave and you could do some crazy art installation in there. And then you keep walking this way and there's a big community theatre…." He barely pauses for breath as he explains what sounds like a very ambitious pipe dream. But judging by the scope of what Florenz, Yellin and his circle have created to date, it could very soon become a reality. "It's super fun," he adds. "I had to stop making artwork, which is very difficult, but I can do so much here…there's different ways to be creative. Now I feel I get so much more gratification, because I'm working with so many different people and I'm able to manipulate these massive structures. It's all just personal connections, like Miho—I've been loving her music since I was, like, 16! It's very surreal."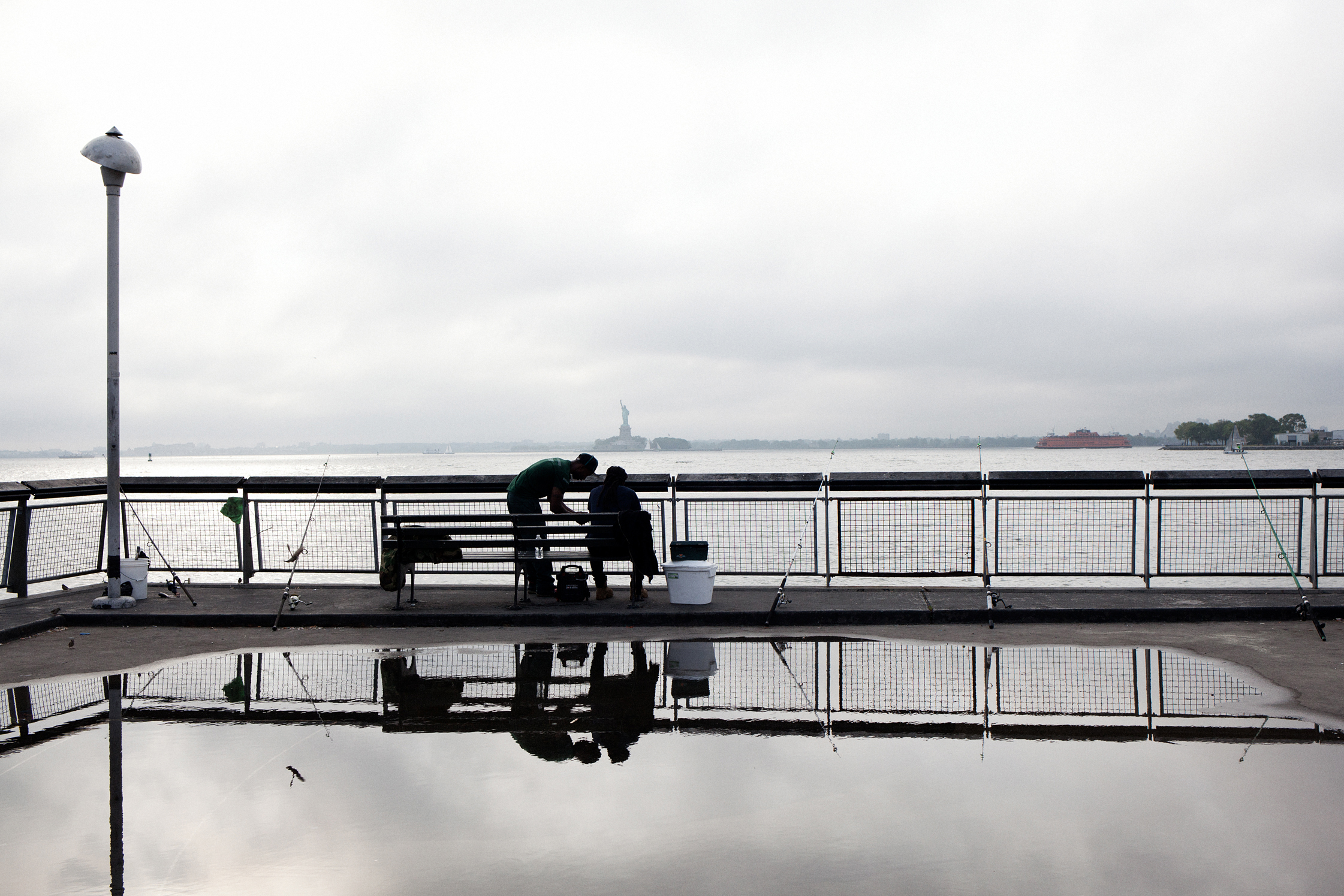 Thanks Gabe, for showing us around Pioneer Works and letting us in on just how it ticks. Visit the Pioneer Works website for more on their astounding programs. If you love NYC as much as we do, flick through our archive of interviews in the city brimming with creative energy.
Text: Natalie Shukur
Photography: Anna Rose