When Deniz Ova first moved to Turkey in 2007 she wasn't intending on settling there for good.
Born and raised in Stuttgart—where she was working in event organization and management—Ova relocated to Istanbul after she was offered a job at the Istanbul Foundation for Culture and Arts (IKSV). "Though it was initially a short-term plan, twelve years later I'm still working for IKSV!" she says. After initially living in the heart of the city, Ova finally settled in the Bomonti district, which is well-known for its multicultural community and recent urban transformation. "Here you can still hear church bells on Sunday morning and see crowds of people gathered; it reminds me of the Noel or Easter celebrations we used to have in Germany," she says.
A prominent figure in promoting Turkey's design and contemporary art scene, Ova has been the Director of Istanbul Design Biennial since 2013. Before that she led IKSV's International Projects department where she developed festivals and events for the foundation in a wide-range of European cities. Now in its fourth edition, the theme of this year's biennial is A School of Schools, which was developed by curator Jan Boelan and associates Nadien Botha and Vera Sacchetti. It centers on the process of unlearning. "The world is constantly changing," says Ova. "We don't know what the future will bring and yet we continue to educate with old methods. We need to formulate design education in relation to present-day concerns."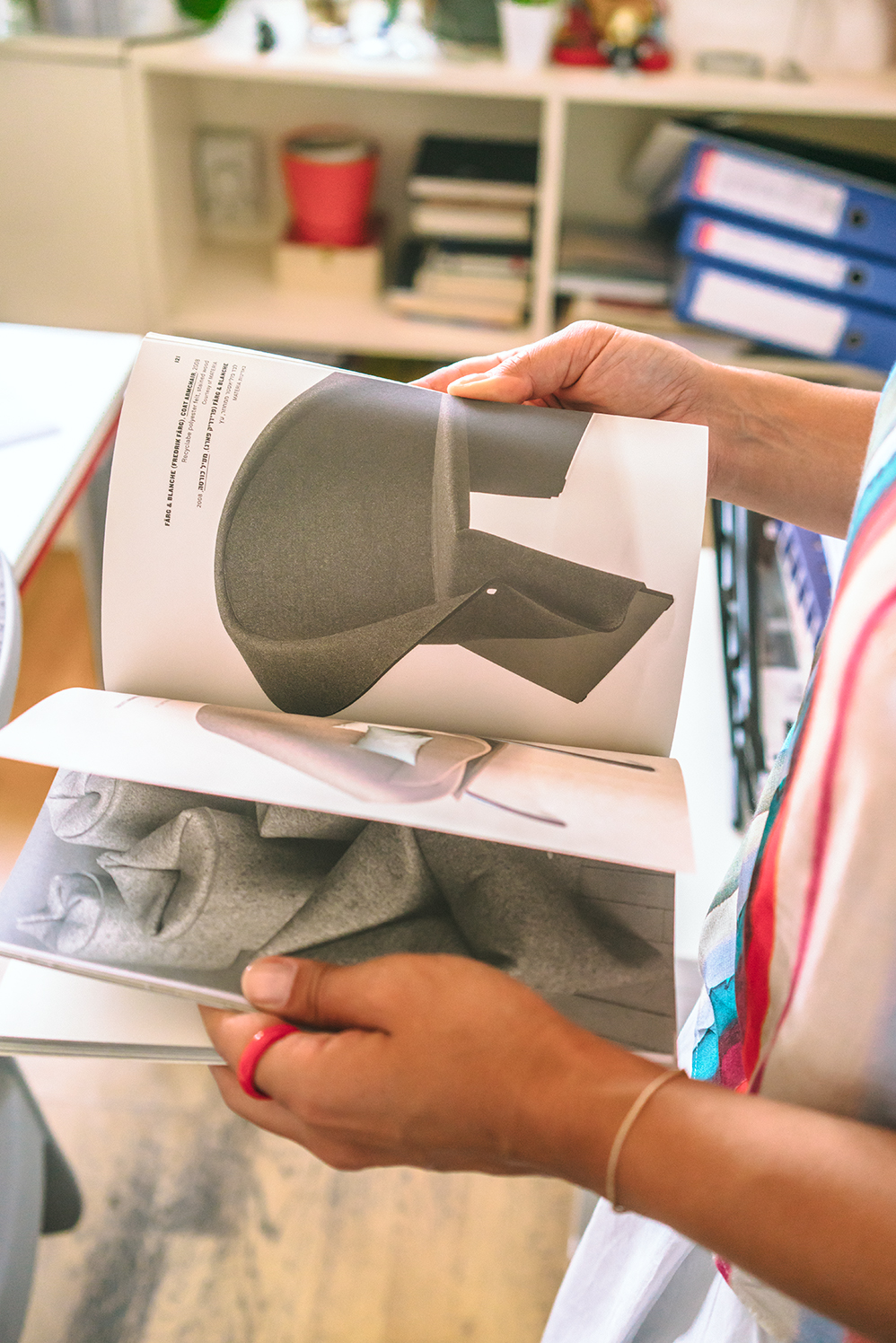 You have a background in political science and linguistics. How did you make the move to working in the arts?

I was studying Political Science and Linguistics because I didn't know what else to study! I was educated at a Waldorf school that emphasized creativity and hands-on learning, so I was actually introduced to the arts at an early age. My first love was the performing arts; I worked in the theater industry for a while before realizing that it wasn't exactly what I was looking for. Tourism and event organization runs in my family, but it was only after my experience planning festival events in Stuttgart that I decided to head in this direction. But I still finished my studies in Political Science and Linguistics. The analytical thinking and diplomacy skills that I learnt while studying have come in handy over the past twelve years of my career.

The title of the upcoming 4th Istanbul Design Biennial is A School of Schools. With your team you work on expanding the concept of the format. Could you elaborate on the importance of questioning education and learning methods today?

The world is constantly changing and we don't know what the future will bring. Thousands of designers are being educated at schools in order to work in the industry after graduation, but maybe in the future there'll be no need for their skills in the industry. Maybe new professions will come up in other fields of operation that we don't know about yet. A School of Schools questions the very idea of learning; it asks what school or education means and how design as a learning platform can contribute to society. It manifests a set of dynamic learning formats that encourage creative production, collaboration and social connection.

What do you mean exactly by design education?

When we say education we don't only refer to education offered in academies or universities but education taking place in different settings—levels and forms that go beyond the concept of "school." We want to learn design together with our audience. A School of Schools tries to bring together old and new knowledge, academic and amateur, professional and personal—focusing on the process as much as the outcome. I believe learning needs to be organic and adaptable. Similarly, design education should be based on attitude rather than a specific technique. It should move from an object-focused methodology to process-oriented one and encourage action. In other words, learning by doing; being able to try and fail is the key!
"We want to challenge the idea that a biennial shows up in our life every two years and then disappears."
The "learning by doing" attitude brings to mind alternative education models, such as Black Mountain College or Bauhaus… What can we learn from these models?

These models were both formed in accordance with the necessities of the sociological-political agenda back then. We should appreciate that they encouraged experimentation and an understanding of art's relationship to society and technology. Yet an important question remains unanswered: How can we build design education in relation to present-day concerns? In the biennial we want to develop an education methodology that isn't based on specific techniques but aims to build muscles for tackling problems that may arise in a speculative future.

Given that this year's emphasis is on "learning as a process," how could a biennial challenge its time-space limitations and become a place of learning?

We want to challenge the idea that a biennial shows up in our life every two years and then disappears. We are working on building a process-oriented platform, which extends the experience and discussion over a longer period. We've put out an open call inviting scientists, sociologists, engineers, students or simply anybody who is interested in a year-long investigation of design to come and think together. For us the biennial is about the journey not the destination; along with finished works there will be open-ended works, which take shape throughout the biennial, keeping the exhibition space active. This is a challenge for us since we don't know what the outcome will be, but we consider this as a form of learning.

You previously mentioned the social aspect of design; I'd like to hear your insight on designer's roles in transforming our cities. How could or should they take part in this process?

They should actively take part in the transition process as this will lead to better results for the city, but the whole responsibility should not be left only to designers. We have to be aware of social dynamics; here the majority of socially engaged projects are small-scale initiatives by individuals. We need to widen the scale of local projects for them to be successful in a more impactful way and this requires great involvement and new ways of engaging with the public. We have to work on anticipating local needs or demands into possible intervention scenarios, and designers should build the necessary skills needed to meet these expectations.
"We try to explain that design is more than a luxury object; it is an integral part of our everyday life."
Installation views from a School of Schools
Sergi Fotograflari 'Chick Strand'

Peter Zin 'Bakudapan'

Sergi Fotograflari 'Lifepatch'

Sergi Fotograflari 'Bakudapan'
Do you think Turkish citizens are ready for this intervention into their daily lives?

It's quite hard to compare the perception of design in Turkey with the rest of the world. Here we have two extremes: one refers to design as a luxury object, whereas the other is more concerned with the social aspect and functionality of design. The public perception of design in Turkey mostly lies in parallel with the first scenario; the social and cultural aspect is forgotten. We try to explain that good design is more than a luxury object; it is an integral part of our everyday life. Design can be a simple, functional product that is not necessarily expensive, but more rewarding in the long term. Through the biennial we try to create this consciousness and encourage better consumption patterns, and we're aware that it's a long term process.

How does the biennial connect Turkey with the rest of the world? What kind of perspective could Turkish designers add to the global design scene?

We aim to make use of the city as a dynamic space for projects, actions and interventions, which engage transdisciplinary practitioners from Turkey and abroad. It's a great opportunity for the local design scene to build connections with international designers. Though Istanbul isn't seen as a design city like London or Milan, there are things that we have to offer to the global scene. We've got a long-established tradition of crafts, for example. It's not the case that we don't have good design education here and we can't educate good designers. There are lots of good designers though they may not always be in the public eye.
Deniz Ova has been the Director of Istanbul Design Biennial since 2013.
A School of Schools runs between 22 September-until 4 November 2018. See their website for further information and details on how you can get involved.
Be sure to check out our past stories featuring protagonists from Istanbul's art and design scene.
Text: Seda Yildiz
Photography: Ekin Özbiçer, Kayhan Kaygusuz