Choreographic duo The progressive wave discuss five influences on their spiritual dance performances
Berlin-based choreographers Matan Zamir and Gal Naor on spirituality, collaboration, and the similarities between dance and Sign Language.
Isreali choreographic duo Matan Zamir and Gal Naor come from very different artistic backgrounds. While Zamir started his career performing for top contemporary choreographers such as Ohad Nahrin—the legendary director of the Batsheva Dance Company and subject of popular documentary Mr. Gaga⁠—and Berlin-based Sasha Waltz, Naor originally trained in theatre and Israeli Sign Language before deciding to work as a dancer and choreographer. "I was a kid that always loved to perform, so learning Sign Language was very natural for me," says Naor, reminiscing about how he used to visit his Deaf grandparents every other weekend to enrich his vocabulary. At the age of 20, he decided to study it more professionally and also started working as a Sign Language interpreter at the Children's Museum in Tel Aviv. "It was the first time I met Deaf people my age and it really blew my mind. They had so much confidence about who they were, talked about Deaf with a capital D"—many members of the Deaf community prefer to capitalize the word to denote a cultural group—"Deaf identity, and Deaf culture. I was really fascinated."
Naor and Zamir's worlds collided when Naor auditioned for a work Zamir was creating in Tel Aviv. After falling in love through the duration of the production, Naor decided to move to Europe to be with Zamir (who was already living in Berlin) and so the pair could start working together on theatrical works which fused their disparate backgrounds.
Titled bodieSLANGuage, the first work the duo created together—in collaboration with Berlin-based company matanicola—was performed by a mixed cast of hearing and Deaf performers. "The main aim was to find the meeting points between the physical languages of dance and Sign Language and to discover how they can extend and influence each other," explains Zamir. Since this initial project, The progressive wave has continued to work with mixed-ability casts, collaborating with organizations such as the Berlin-based mixed-ability theatre company Theater Thikwa. "For us, it's not about talking about the fact that our performers are special or different," says Naor. "It is more important for us that we create beautiful art with them. We don't want to just create sweet and nice performances that are viewed as community projects," he continues. "Also if you think about it in a spiritual sense, our essential selves don't have bodies, nationalities, ages, or social backgrounds," adds Zamir.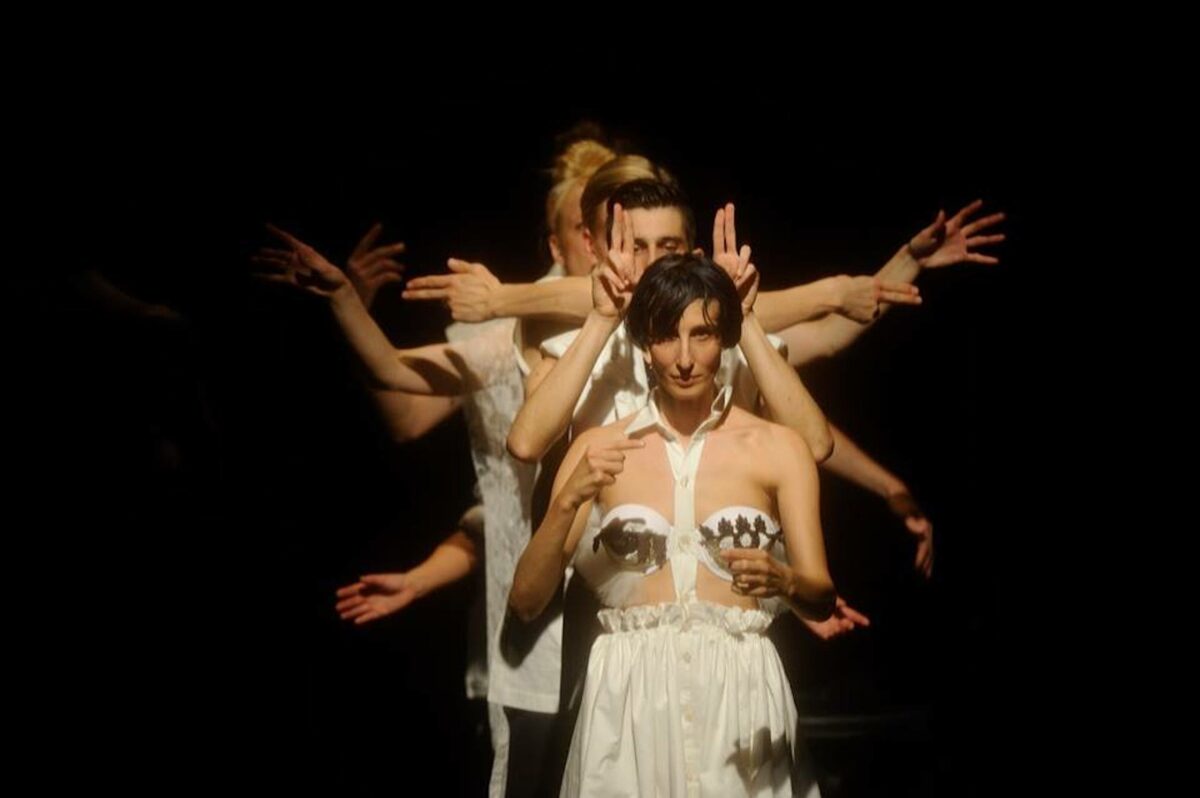 "Art should not praise the artists themselves, but the knowledge they are exploring. We are the vessels to somehow make this knowledge accessible."

Gal Naor
Spirituality is another key theme of The progressive wave's artistic practice. While Naor's spiritual studies have focused mainly on Kabbalah—Jewish sacred mysticism—and Zamir's on Indian traditions, the pair's artistic research explores how all spiritual practices relate to the same ultimate reality. In their performative trilogy Science of Signs they even explore how religion and science, two disciplines that are often seen as the antithesis of each other, interrelate. "Spirituality believes that consciousness is the ultimate reality, whereas science believes that matter is—that's the contradiction," says Zamir. "But in our eyes, the two can combine to teach us something bigger than reality." Having already created the first two installments of the triptych—with Lights & Vessels exploring Kabbalah teachings within the setting of a science laboratory and Oráculo creating an elemental, imagined future onstage—the third is yet to be made, and true to form, will feature an inclusive cast of performers from Theater Thikwa.
As well as producing their own theatrical performances, The progressive wave is also frequently invited to work on collaborative projects. "We love collaborations. They are an opportunity for us to grow and communicate with other artists," says Zamir. "When you're asked to work on a concept that wasn't initiated by you, you can really discover something new about yourself because you have to adapt to someone else's idea."
Lights and Vessels. Image by Ruthe Zuntz.

Zone. Image by Irma FS Cadudasa.

Zone. Image by Irma FS Cadudasa.

Oraculo. Image by Ruthe Zuntz.

Oraculo. Image by Dieter Hartwig.
Such collaborative projects have ranged from working with inclusive theater company Possible World on a queer, dance, and Sign Language-based interpretation of Shakespeare's A Midsummer Night's Dream, to ZONE, a sufi⁠—a style of circular Islamic dance⁠—inspired performance recently showcased in in Halle am Berghain. Created in conjunction with fashion label UY Studio to celebrate their fifth anniversary, the latter saw a phalanx of gold skirted dancers form swirling, circular patterns around the stark concrete interior of the infamous Berlin nightclub to an original sound score created by techno artist Dasha Rush. "For us, it was a true pleasure to work in this legendary space," says Naor. "The venue connects very much to our exploration of spirituality as it is written in the scriptures that dance is the highest form of prayer," he continues, explaining that many frequent Berghain visitors call it 'the church' and attend regularly for movement-based worship. "We find it nice, but also a bit funny, that the concept of spirituality has become so fashionable nowadays. We believe that this has something to do with the future of art in general," Naor muses. "Art should not praise the artists themselves, but the knowledge they are exploring. We are the vessels to somehow make this knowledge accessible."
The Progressive Wave select five influences on their choreographic practice
Ohad Naharin (B.1952 in Israel)
MZ: "Batsheva dance company was the first company I got into at the age of 18. Meeting Ohad Naharin⁠ just blew my mind. He destroyed everything I thought I knew about dance, and opened me up to a completely new way of understanding the body and movement. During my time in Batsheva I also worked with many other artists, as at that time Ohad would invite a lot of guest choreographers from Europe and abroad. This also really expanded my ideas about movement and has influenced the way I dance.
Yasmeen Godder (B.1973 in Israel)
MZ: "Yasmeen Godder is another Israeli choreographer who I have known for over twenty years. She is a very dear friend of ours and she completely blew my mind in a very different way to Ohad. His exploration is completely devoted to the body, whereas Yasmeen's work deals with emotional states, and allowing these to be visible in the performer's faces. This was a revelation for me as a dancer."
GN: "There's also something about her approach which is so free, honest, and authentic. I am amazed by how detailed and choreographed her work is, whilst maintaining the organic quality of improvisation. You also really get a sense of the individual characters of performers in her work. This is something that I am very much inspired by."
Sasha Waltz (B.1963 in Germany)
MZ: "I wasn't in Sasha's company for a very long time but the experience was so influential for me as a dancer and choreographer. The way she perceives space and movement it was completely new for me, so when I work on site-specific projects or have to choreograph in very unique spaces, Sasha Waltz is very present in my mind."
Romeo Castellucci (B.1960 in Italy)
GN: "Romeo Castelluci's work is just is so beautiful. He produces incomparable theatre pieces. We really admire the way he works with the topic of spirituality. Sometimes, you can walk into one of his productions and be confronted with very violent, raw, rough, and dark scenes, but they are always about the relationship we have with the divine."
Pina Bausch (B.1940 in Germany)
GN: "Pina is a pioneer when it comes to combining dance and theatre. She blurs the border between the two. She's also a great inspiration when it comes to allowing your performers to express themselves as individuals onstage. One of her famous quotes is: 'I'm not so interested in how they [her dancers] move as in what moves them.'"
The progressive wave is a Berlin-based choreographic project exploring how to translate spiritual ideas into a theatrical setting. Formed by Matan Zamir and Gal Naor, The progressive wave often work with casts with mixed abilities and incorporate Sign Language into their performances.
This interview was produced as part of our series In a Nutshell. Head over to read more articles where creatives around the world talk us through references that inspire their work. Or, if you'd like to read more about the interrelation between Sign Language and art, check out our portrait of Berlin-based Deaf artist Christine Sun Kim.

Text: Emily May