Famed in foreign minds for its picturesque perch at the mouth of the Tagus river, quintessential tiled buildings and century-old trams—Lisbon paints a charming picture.
Behind these famed facades though, a charm of another kind is stirring. Our friends Inês Matos Andrade and Paula Cosme Pinto of O Apartamento take us to meet the Lisbonites behind the wealth of community organisations that are reviving districts and with them the local spirit.
O Apartamento itself is part of this cultural mission: a collective hosting art residences, events and workshops with the mission of bringing the world to Portugal, and introducing the best of Portugal to the world. Our tour traverses Lisbon's many barrios: from historic Mouraria, where a community kitchen offers disadvantaged people a new career path; to downtown Lisbon where a collective of designer grandmothers defy slowing down; all the way to a former factory that is now a prime cultural venue. The projects make good use of their cityscape: Street artists add their own palette to Lisbon's walls, and Village Underground repurposes shipping containers into a jumble of creative coworking spaces. In Mouraria, a once notorious district, photographer Camilla Watson's outdoor exhibitions chronicle the local generations and put the area back on the cultural map.
Click over to Part II to follow more intriguing personalities boosting the Portuguese capital's creative energy.
A Palpable Sense of Community in Lisbon's Cultural Scene
Village Underground: co-working in shipping containers
A place where creative minds merge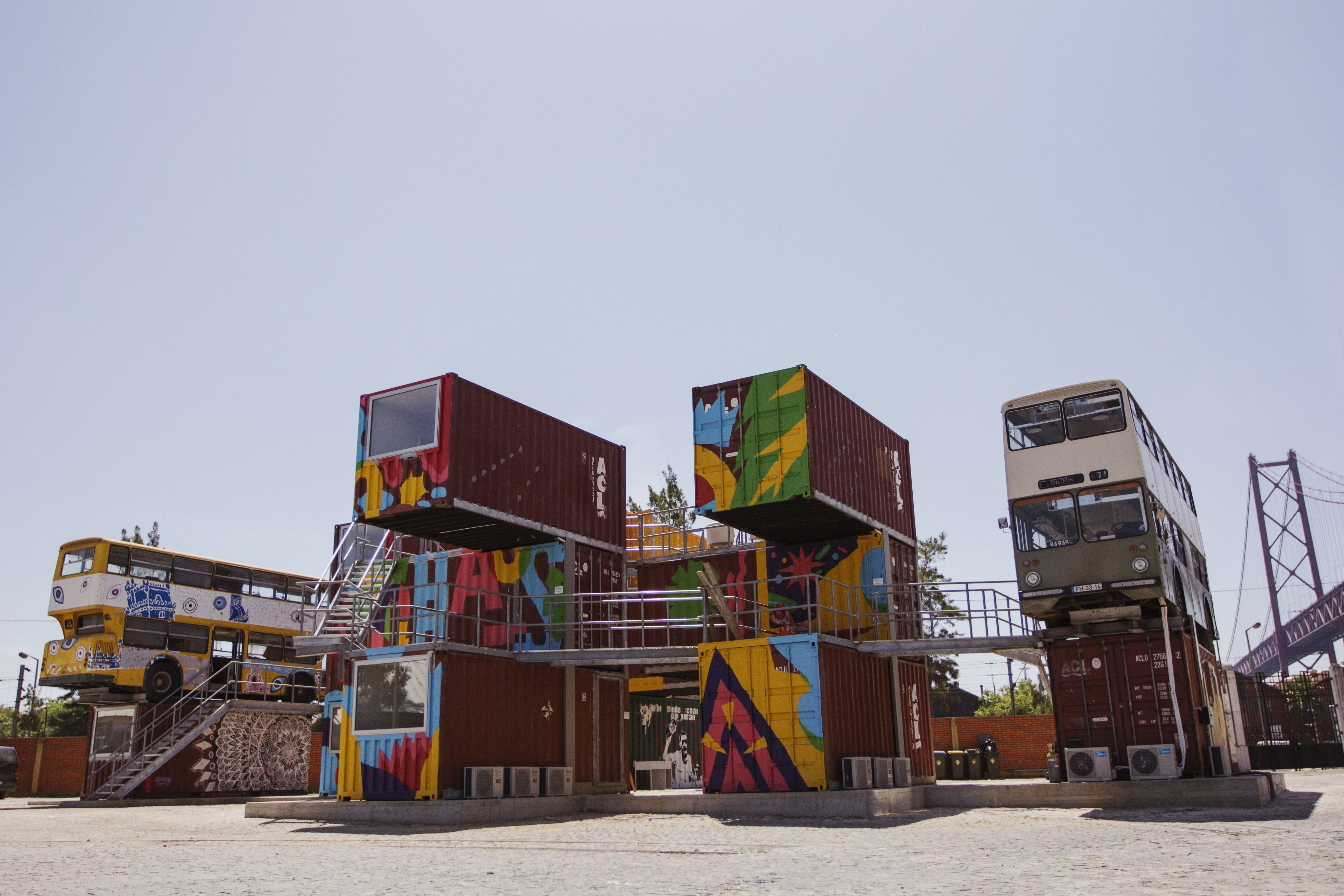 The path up to Village Underground is, in itself, a unique experience; nestled under the 25 de Abril Bridge—a miniature version of the Golden Gate Bridge—the VU is inside the grounds of Carris Museum, a set of warehouses where Lisbon's hundred-year-old trams sleep. If you follow the tracks all the way to the end, you'll come face-to-face with a pile of brightly painted shipping containers, courtesy of local street artist AKA Corleone, with two vintage buses suspended overhead.
The Village Underground concept, a coworking space, was created by Tom Foxcroft in London ten years ago, as a way to gather his friends in one single workspace, thereby reducing the cost of rent and expenditures. It was based on this model that Mariana Duarte Silva opened the VU in Lisbon in 2014. Mariana kept an office full-time at the VU London when she felt the urge to reproduce this idea—a place where artists, musicians, designers and other creative minds live together.
"Lisbon wasn't ready."
"Lisbon wasn't ready at first. For example, Lisbon's City Hall only created a department dedicated to innovation and entrepreneurship in 2011." When Mariana contacted Carris (Lisbon's public transport company) to try to obtain old buses for the space, she realized it might be possible to set up inside the museum. Nowadays, there are other companies inside the station that aren't part of the Village. Currently, the 14 containers are creative rental spaces, housing a breadth of thinkers from writers, environmental engineers and musicians.
But Village Underground is not just a cluster of rentals. In the suspended olive-green bus, there's a two-story cafeteria where, in addition to brunch and lunch, movie dinners with famous chefs and classic films are held. Every month, the agenda has a strong offering, which might include Cargo, a large outdoor fair with food trucks and small brands from all over the country, or wild parties with concerts and DJs.
Adriana Freire's community kitchen in Mouraria
Homemade food cooked by the neighborhood's denizens
Newcomers often lose their way in this typical Lisbon neighborhood, looking for an awning or a sign that will tell them they are in the right place. There's nothing on street level to indicate the existence of this community kitchen, but a group of kids playing soccer outside show the way. Having overcome this barrier, we enter a room with mismatched tables and chairs, a well-equipped open kitchen, and a cozy patio with a motley collection of pre-loved sofas.
On the table is one of the best focaccias in Lisbon—a local chef's recipe—well-seasoned hummus, poultry liver pâté and cottage cheese garnished with herbs. Who prepared such delicacies? People from the neighborhood, with complicated lives, both in their wallets and in the years of hardship, they've endured.
Francisca, a delightful 80-year-old lady who lives by herself in a house nearby, is now in charge of the kitchen sink and is the unfaltering hand that prepares the custard for the dessert. Frying the pataniscas (fritters made with salted cod), one of the evening's main course dishes, is João, a 57-year-old who was unemployed because the job market is unforgiving when it comes to age. Helping out with the rest of the menu are two ex-cons who, thanks to this kitchen, cut ties with their past lives of crime.
"In the future, I want to create an autonomous, sustainable and technological village, where the walls are vegetable gardens and rainwater is reused."
Adriana Freire, photographer, journalist, cook and benefactor, proudly lists the people this social inclusion project has helped. "During my collaborations with magazines and newspapers, I photographed a lot of kitchens, which I always enjoyed. That, coupled with the desire to be part of a large family—which I never had—created a need in me to provide aid through food." With that in mind, Adriana applied for funding from the Lisbon municipality for a community kitchen project in Mouraria. "It was time. After coming back to live in Mouraria, I realized that this area, which had been undergoing rehabilitation, was finally changing." The process was bumpy, but at last, in December 2012, the Cozinha Popular da Mouraria took off.
In the beginning, the workshops served as a means to get the kids off the street and keep them entertained. To this end, the only recipes that worked were familiar local dishes, such as the bifana, a Portuguese spicy pork sandwich. Nowadays, the workshops for the community have become more professional, with many being taught by great Portuguese chefs. The dinners, training courses and occasional events help pay for expenses and the wages of the neighborhood collaborators.
Across the street from the kitchen, Adriana is already trying to open a cooking school aimed at teaching the people from the neighborhood and preparing them for the job market. "In the future, I want to create an autonomous, sustainable and technological village, where the walls are vegetable gardens and rainwater is reused."
The "Grandma Came To Work" initiative
A creative workshop for people over 60 to continue their explorations
Graphic designer Susana António and psychologist Angelo Campota are both people who believe in the power of sharing as a form of social innovation. In 2014, they joined forces to give birth to a project affectionately named "Grandma Came To Work" ("A Avó Veio Trabalhar"): a workshop for people over 60 where they can once again find regular work, which not only gets them out of the house but also stimulates their creativity, autonomy, and dexterity. Guided by Angelo and Susana, they learn and practice crafts such as sewing, crochet, screen printing and weaving, with the aim of producing four annual collections of fashion accessories and decorative items.
"It is important to dignify their work, challenge them rather than discourage them."
Pillows, blankets, wallets, gloves and other products are handcrafted by the "grandmas" and sold at the workshop, which doubles as a store. In addition to elegant launch parties, the packaging of each article has a bold design, featuring the photograph of the person who manufactured it. "It is important to dignify their work, challenge them rather than discourage them, give them confidence and extricate them from the half-dormant state in which they often find themselves," explains the pair.
Therefore, the process is always one of co-design. The grandmas are encouraged to bring ideas, suggest new techniques, propose fabrics, colors and patterns, and they themselves are always the models used in the catalogues. In addition to their own collections, they also take orders and offer sewing training sessions. The small profits enable the workshop to keep its doors open and allow for activities such as field trips to meet artisans in other cities. In making this possible, Angelo and Susana play a multitude of roles in these people's lives. Not only are they  psychologist and designer, they are also teachers, salespeople, conflict mediators and friends.
Fábrica do Braço de Prata: seizing culture
A former firearms production site transformed into a cultural hub
Philosopher Nuno Nabais' connection to the Braço de Prata Factory isn't ten years old, it is going on 50. When he was a kid he stole some weapons from the Navy Museum, just for fun. Weapons which, ironically, had been produced in the same factory that he has breathed new life into today. Even though the police forgave the child's offence, the illegal act couldn't be taken back—the first of many in the shared history of Nuno and the Braço de Prata Factory.
It is not easy to explain what the Factory is. A former arms production site, it was left abandoned for decades until Nuno envisioned it as the ideal setting for a cultural space. In 2006, far from the city centre, in a disregarded industrial area, a project was born which encompassed an enormous philosophy bookstore, a monthly agenda of fine arts exhibitions and musical performances, workshops and themed events. All this in a factory with hole-ridden walls and cracked ceilings, which are part of the charisma that it sports to this day.
"Disobedience has always been an integral part of the history of philosophy."
Bureaucratic issues related to the halted construction of a huge private condo on that same property drove him to another illegal action which became a hallmark of the Factory. Ten years later, after many appearances in court, as well as petitions from fans of the space, the squatter movement persists. "Disobedience has always been an integral part of the history of philosophy," says Nuno. "Here, we demonstrate that unsubsidized but sustainable culture is possible. And that it is worth believing in the citizens who cherish their heritage and rehabilitate it with their own hands."
At the moment, the Factory hosts 20 musical performances a week and six art exhibitions a month. Afternoons are devoted to children, with workshops on theatre, music, cooking and, of course, philosophy. At night, access is granted to the building's several run-down rooms, where you might catch some flamenco, bossa nova, or a jam session.
Nuno looks at all this with his idealistic and challenging demeanor. And it is not surprising, therefore, that he fell in love with Sílvia Rebelo, the woman who became his right hand at the Factory and in life. Sensible, organized, dynamic and very grounded, she has been the real driver between theory and practice since 2009. Together, they give soul and body to the Factory, a space which, today, is also a monument to their love. Their love for each other, but for culture as well.
Camilla Watson: The neighborhood photographer
Seeing a troubled area as a diamond in the rough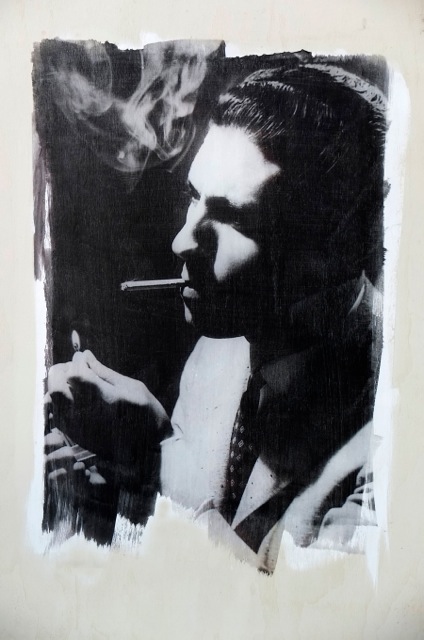 It was love at first sight. Photographer Camilla Watson first passed through Lisbon on her way to work as a volunteer in Sao Tome and Principe. On her return trip, she decided to stay in the Portuguese capital, leaving behind her native England.
Nine years later, she already feels more of a Lisbonite than English. She chose to live in the Mouraria neighborhood, an area that has as much tradition as it is troubled. Feared by many because of its history of poverty, illegal immigration and drug trafficking, in 2007, it was a forgotten area for most of Lisbon's citizens. But Camilla saw it as a diamond in the rough. "It was a very central neighborhood, full of real life and with a great sense of community. But, at the same time, very neglected and forgotten, just like the people who've always lived there."
"It was a very central neighborhood, full of real life and with a great sense of community."
More than twenty years of experience in photography, part of it related to humanitarian causes, led her to realize that the power of images could be crucial to undoing the myths surrounding that community. She started photographing the elderly from Beco das Farinhas, next to the square where, today, she has a workshop open to the public.
This first exhibition showcasing portraits of locals brought many curious people to Mouraria, even those who were otherwise afraid of going there. But it was her second project, "Fado Portraits – Tribute to Mouraria" which definitely helped put the neighborhood on the itinerary of places to visit in the city. A total of 26 portraits of artists linked to the history of Lisbon's typical style of song are, today, spread out all around Mouraria, the neighborhood which is considered the birthplace of Fado. All are printed directly onto the walls, at night, using a mobile darkroom built by Camilla. To see them, all you need to do is venture into the neighborhood's labyrinth.
It's been amazing exploring Lisbon's rich cultural scene and noteworthy initiatives through the eyes of Inês and Paula of O Apartamento. Click over to Part II to follow more intriguing personalities boosting the Portuguese capital's creative energy.

Text: Inês Matos Andrade & Paula Cosme Pinto
Photography: Nuno Fox