London's Tower Bridge stands majestically astride the Thames, the tourists flock to walk across it, take selfies beside it, or to leisurely watch the boats pass underneath it with the city in view.
Behind the throng of people on the south side of the river, the area known as Shad Thames is seductively quiet, with cobbled streets that weave around converted warehouses. Completed in 1873, what was then the largest warehouse complex in London housed tea, coffee, and spices, all within easy access to Victorian riverboat transportation.
"When we moved here nineteen years ago, we had smells of the spice trade," exclaims interior architect Sevil Peach. "It was so nice to walk down the street and smell the cinnamon and cloves," she says. "You could smell nutmeg in this building for a start—it was all in the bricks. As the area got developed and luxury houses and offices got built, we lost the smell, which is really sad." As I enter Nutmeg House, home to SevilPeach Architecture + Design, the wide floorboards creak and the light streams in from two sides of the corner plot. It's not the predictable cavernous, industrial space you might imagine, rather, an intimate studio, with no more than ten people at work.
"When I looked at the offices being designed…they were not places I ever wanted to be in or ever wanted to design. I didn't know the solution for what an office should be."
Sevil set up the studio in 1994 with Gary Turnbull, having both left director roles at YRM Architects in order to create this small, design-driven practice. To describe their work is to look to their own office ethos: "We work with our personal experiences. I think it's a good yardstick to do projects with," explains Sevil. "The scale of this office feels just right. So when we're doing our big projects where we're designing for 1,000 people, then we make sure there's a footprint of this dimension, not more than ten people, maximum 15 people at a time. Then we create an architectural armature that breaks up the space and gives that intimacy." Examples of these 'big' projects include an ongoing 20-year-long relationship with Vitra, for whom they've designed the Vitra Center in Birsfelden along with the Vitra offices within the Weil am Rhein Campus not once, but twice, over the span of a decade. Other clients include Sony, Microsoft, Swiss Re, Novartis, and Spaces, one of the European pioneers of coworking offices.
"We do it firstly with passion. Take a workspace, meet the people, and have not just a dialogue but a symbiosis with the people so that we can design for them."
For Sevil, designing offices didn't begin as the impassioned venture it is now. The Turkey-born interior architect moved to London in the 1960s aged 16 (with the permission of her very open-minded and trusting parents), finished her studies and went on to work at three architectural firms. At each of these companies she was often given the hotel projects as they were deemed 'feminine'. "The men did the offices and the airports and I did the hotels," she says, matter-of-factly. "When I looked at the offices being designed, they were all very much in the Taylorist cubicle concept, not places I ever wanted to be in or ever wanted to design. Back then, I didn't know the solution for what an office should be."
It was a fortuitous project with Barclays Property Holdings that led Sevil to the solution and what would become a widespread design shift for the workspace. "Back then there was no such thing as user dialogue, nobody asked the people working what they wanted, we started that with this project ourselves; talked to the people, told them that they can really sit on the floor if they can't find a desk or a surface." By dramatically shifting away from the popular model of boxed-in, dark cubicles surrounded by executive window-facing offices, Sevil set the tone for flexibility and a freer environment in which to work.
"It was a trial to actually convince people that you could work in open-plan, and that it is useful, it is about teamwork, it is about collaboration—these days you cannot do without it, it's a must," explains Sevil. "But what you need to do is create other supportive elements such as retreat areas for when you need to be quiet." By involving the human perspective, grasping the very DNA of a company, its workforce, and their needs, Sevil can begin to reimagine a space and its newfound possibilities. "We do it firstly with passion. Take a workspace, meet the people, and have not just a dialogue but a symbiosis with the people so that we can design for them. A lot of emotion goes into it."
Arguably, the role of a successful interior architect is part psychology, part education, part design. It's clear that what Sevil and her studio strive for isn't just design for aesthetics or improved use of space, but design that has the ability to actually improve the overall workplace culture. After all, shouldn't the office environment embolden and inspire creativity and productivity, rather than stifle it? By designing collaborative spaces, created to bring people together to interact positively, it challenges any outdated hierarchies. "If we have done a good job in discovering the company spirit, then you do see the effect in the people," says Sevil. "The physical environment changes the way they behave but the physical environment alone isn't adequate, there has to be a dialogue with the users. We have to open their minds and with that, we've seen big changes in company behavior. I think that reflects quite well in the places we've done."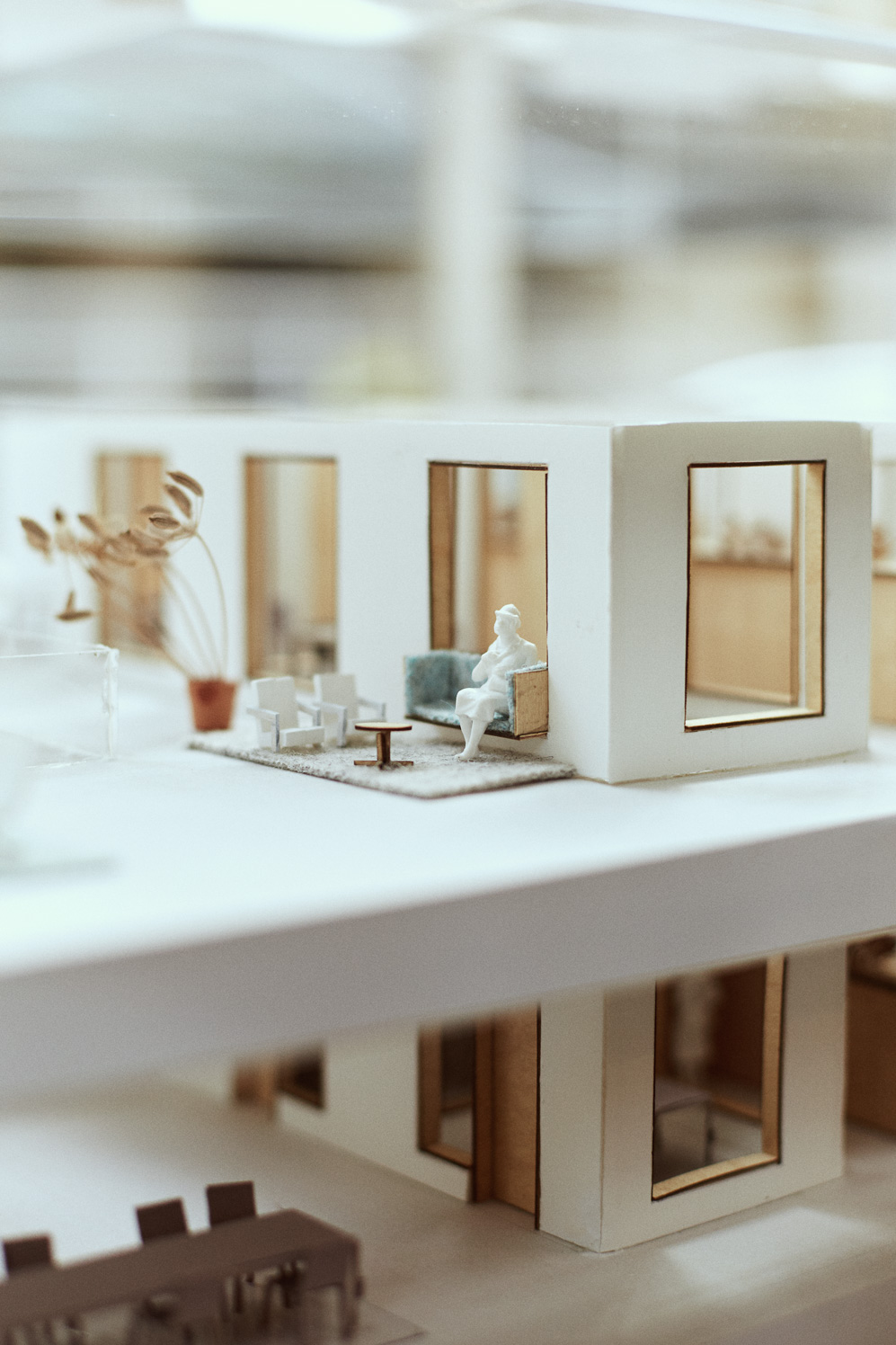 At a time when we are able to work from almost any location, Sevil believes the interior realm is even more important. "bringing the people into a focal hub, encourages cultural identification with the company and enables collaboration. This is now more important than ever," says Sevil. "Of course, you can collaborate using technology, but there is actually nothing better than being face to face." Such a human-centered approach brings with it the challenge of getting people to adapt to new ways of working. "People always ask about how we deal with personalization," says Sevil. We're living in a very 'me' culture so you carry the 'me' to the workplace, too. They don't get the 'we' and hence they say things like, 'But I like to have my wife's photo on the desk'. Well, why on earth do you want your wife's photo, you know? And why do I have to look at your wife all day? I mean, it's just strange why people think they should do this in a communal office environment!"
Visiting Vitra
At the company's Weil am Rhein and Birsfelden Campus
The Vitra Center Studio Office: Providing space for impromptu meetings around the coffee point. Sevil bumps into Vitra's Juergen Durrbaum

Library zone for meeting or relaxing

Personalizing as a communal identity. "No wife photos!"

Choose where you work and collaborate

Multi-functional wall system
"We're living in a very 'me' culture so you carry the 'me' to the workplace, too. They don't get the 'we'."
Ten years ago, Sevil began working with a relatively unknown concept, that of coworking. Creating spaces where sharing is key, not just with the colleagues you work directly with but the ebb and flow of other businesses, too. The SevilPeach studio continue to design a lot of these environments: "Now it's very popular," says Sevil. "It created a new way of working in a shared space. You basically pay membership to have one good space with a variety of good support facilities so you don't have to rent big footprints yourselves and avoid repeating what's available as a common facility. I think that's a really nice way of sustaining the environment and it's picked up."
A strong focus on eco-responsibility factors in each of Sevil's projects, not without constant urban challenges. "We can't continue building, there's just no greenery left—it doesn't make sense," stresses Sevil. "If we're going to build new things then we need to make sure it has the ability to have a new life. We really need to look at what's existing, see how we can improve what's already here, and change our attitudes to how we work and how we live." By rethinking and reworking, finding new solutions and helping companies make these positive changes, only then do the gradual shifts begin to happen. "The challenge keeps us completely engaged, you have to solve all the time and there's no quick ways around it so that's exciting," says Sevil. "We've really got to think about what's happening to the world, the 'me' culture has to somehow come to an end, and so we try and do our bit in that."
A selection of work from the SevilPeach Studio
Spaces Vijzelstraat, Amsterdam

Spaces Hague

Spaces Hague

Spaces Zuidas Amsterdam

Kvadrat HQ Denmark

Mexx Design Centre

Spaces Rode Olifant, The Hague

Spaces Hofplein, Rotterdam
For more information on SevilPeach Architecture + Design, see their website. With thanks to Sevil and Gary for the insightful studio visit. Check out more of their workspace projects here. For more of what inspires them in their work along with some behind-the-scenes, see their Instagram.
This article and video was created in cooperation with Vitra, with whom we have portrayed many inspiring individuals with a special feel for design. To find out more about Sevil Peach's ongoing work for Vitra, visit the Vitra Magazine.
Video: FvF Productions
DoP: Dominik Wieschermann
Director: Frederik Frede
Interview and text:Andie Cusick
Photography:Ana Cuba (London) & Robert Rieger (Weil am Rhein)