Drawing on the tension between polar opposites, Barkow Leibinger creates extraordinary architecture, both aesthetically and functionally. Their designs evoke classical modernism while gazing squarely into the future.
Nestled between a handsome collection of hipster bicycles stands a colossal iron structure. This unfathomably heavy historical landmark is adorned with larger-than-life wheels and a sheet-metal bending machine from the industrial age. A few steps up, in the model building shop on the mezzanine floor, the operation is still up and running—machines hum along, bundling, folding, and forming directly adjacent to a glass box encasing a digital milling machine, laser cutters, and other mysterious high-tech tools. A scattering of people are seated at computers in the bright airy lofts above. A concentrated silence permeates the rooms, bathed in light cast by the classic Norwegian Luxo lamps designed by Jac Jacobsen. The juxtaposition woven between these three levels offers a glimpse into a world of internationally celebrated architecture created in this backyard in Charlottenburg. It is here that Barkow Leibinger have opened a space in which to create their work.
This story is part of Architect Dialogues, an interview series by Freunde von Freunden and Siemens Home Appliances that explores current design philosophies, urban living trends, and global challenges with four award-winning architects and interior designers.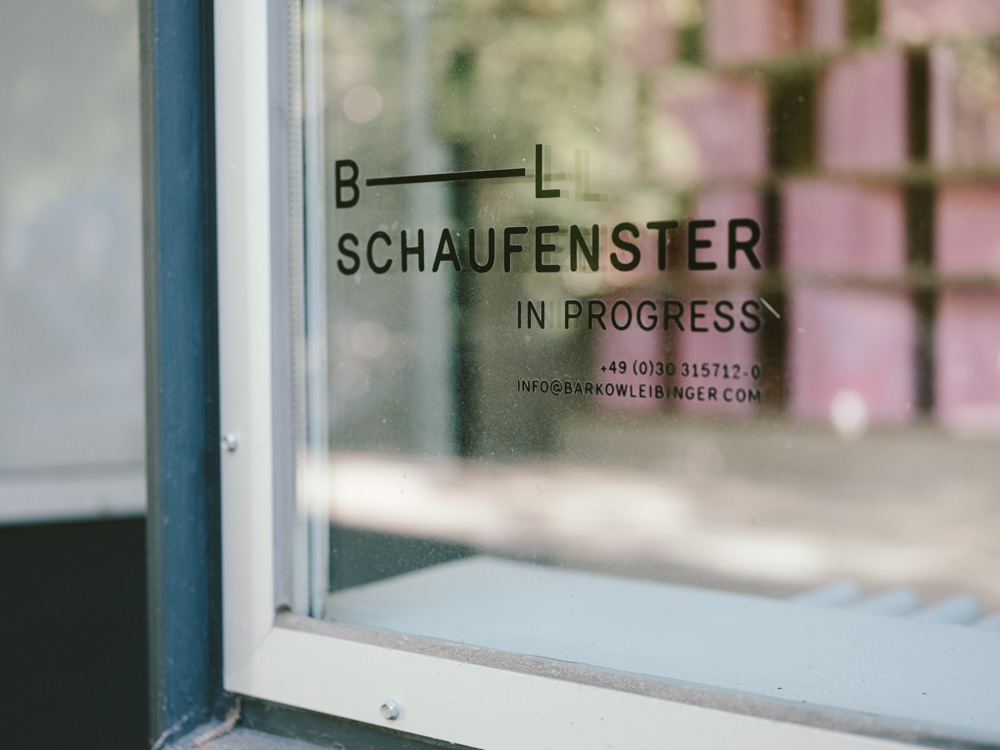 "Our work flow is a dialectic between doing and thinking. A constant back and forth," explains Frank Barkow. "You can intellectualize the process, of course the concept is important, but at its core, it's about the material. It's about experimenting with old and new tools and with the form itself. The concept comes with the project, but it all comes back around to the design." This ongoing dialectic has its origins in the playfully opposing forces of of the company's founders, who couldn't be more different. There's Frank Barkow from deep Montana, a "Bricoleur" and tinkerer with a thousand and one ideas, whose fingers fly over the table top during animated conversation, as if in search of piano keys, a crayon or a hammer. And then there's Regine Leibinger, the bubbly business magnate's daughter and granddaughter of an art dealer, who was given a classical education and acquired a Swabian knack for business along the way.
An unlikely pair. And yet, it was love at first sight when the two first met at Harvard University in the early '90s. "It was really funny," recalls Barkow. "Regine was very rational, very European—so sophisticated. I was more experimental and expressive. But we shared a sensitivity to space and materials," he adds. "True," Leibinger chimes in. "We both always thought in terms of spatial layouts. And about building facades, ceilings, roofs, the fifth facade. And we shared this insane interest in materials. Mine was always concrete and for Frank, oh, basically everything. But our perspectives at that time were totally different from one another."
"Our work flow is a dialectic between doing and thinking. A constant back and forth."
And it's no wonder. After all, Leibinger was fresh out of Berlin, where postmodernism was all the rage in the early '80s. Students were learning about residential architecture from the likes of Mies van der Rohe and Bruno Taut. The International Architecture exhibition at that time dealt with "critical reconstruction" and Josef Paul Kleihues, which opened Leibinger's eyes to American architects like Peter Eisenman and Louis Kahn.
These were names which Frank Barkow hadn't heard much about before enrolling at Harvard. "I came literally from the middle of nowhere. Montana was pretty far removed from architectural discourse, so the first architects I knew were Buckminster Fuller and AntFarm. Or Bruce Goff and his idol Frank Lloyd Wright." In the vast lands of Montana, Barkow grew up with architecture that was marked by agriculture and heavy industry—railroads, dam buildings, mining, timber. Infrastructure more than architecture, really. "This connection between landscape and building is still very important to me to this day," says Barkow. "These small mountain towns in Montana have beautiful examples of architecture that were created during the gold rush of the 19th century. That's also why I came to love the artist Donald Judd, who said, the most beautiful things in the USA were shaped by industry."
"The Trumpf Smart Factory in Chicago is our first building created using the principles of Industry 4.0—the digitized, globally linked production network utilizing artificial intelligence."
After finishing high school, the seventeen-year-old started building wooden houses with simple tools. He developed an intuitive "native understanding" of architecture, as his wife Regine puts it. But ultimately it was American self-determination, the attitude of thinking and doing for yourself, which led him to study architecture. "From early on I was pretty handy, and I had the manual skills to build houses on my own. But all the knowledge and references that Regine used so playfully, I had to learn the hard way, slowly, step by step."
And yet it is due to their disparate approaches that the work of Barkow Leibinger is so special. After some initial success at competitions, the recession in the US and and the narrow mindedness of Stuttgart pointed them in the direction of newly post-wall Berlin, which was pulsating with social change, art, music, and photography. Their first office was situated in Regine's old studio apartment in Schöneberg. Their breakthrough followed soon after in 1998 with the award-winning Trumpf laser factory in Ditzingen, close to Stuttgart. This was the family business that Regine Leibinger had chosen not to enter into because she fell victim to the architecture bug.
When Frank Barkow sat down at a table with Regine's father Berthold, a true tinkerer and art lover, there were undeniable sparks between the two. "Berthold is a German genius," Barkow raves. "He thinks like an engineer and a poet at the same time. He gave us freedom but also the right amount of push back, and it was only through Trumpf that we found our way to metal."
This story is somewhat reminiscent of Walter Gropius, who built the now famous Fagus Factory in Alfeld for Carl Benscheidt. It was the so-called Fagus-knot, two crossed beams, which allowed Gropius to construct floor to ceiling windows using steel frames without the use of visible structural support, resulting in a sense of openness. Barkow Leibinger owe a great deal to their collaboration with the renowned engineer Werner Sobek, without whom they wouldn't have created the massive roof construction of the Trumpf Canteen, which rests on a few filigree steel columns. The polygonal, partially glazed wooden honeycombs that populate the roof are not just homely ornaments, they also absorb some of the the noisey clatter and chatter of the canteen. The space below can easily transform into a gallery, an auditorium or a venue for a Christmas party. "But, of course, you can also eat Maultaschen there, which is very important," adds Barkow.
Innovations in technology and materials as well as production methods seem to fertilize the artistic creativity of Barkow Leibinger's designs. Albert Kahn's Ford factory in Detroit marked the beginning of "Fordism", which not only changed industrial production, but also society as a whole. In the not-so-distant future, one might look back and see Barkow Leibinger's Smart Factory for Trumpf in Chicago as a pioneering piece of industrial construction. "It's our first building created using the principles of Industry 4.0—the digitized, globally linked production network utilizing artificial intelligence," explains Regine Leibinger. Indeed, the giant displays in the control rooms overlooking the machine rooms with the plate bending machines and the laser cutting stations are reminiscent of the science fiction visions in Steven Spielberg's Minority Report.
To counteract the abundance of high-tech gear, the airy entrance hall is covered with warm pine wood and the facade is left discreetly rusted. Chicago is, after all, at the edge of the American rust belt, the now defunct heart of the old American automobile industry. "The architecture is archaic on some level while still managing to be progressive," explains Barkow. "We tie in the materials and the aesthetic of American industrial history—steel, Mies van der Rohe, and the construction of the American freeway, whose bridges and signs, according to Donald Judd, are a major influence on American culture—and combine them with the new high-tech processes of industry 4.0. That's what makes it so interesting for me."
"We see our office as a research platform. When we see potential in a problem, we take it to our students at Harvard and Princeton where we can work on it on at an extremely high level."
The particular way in which Barkow Leibinger weaves together tradition, craftsmanship, digitization, and aesthetic precision into an artistic concept of spatial design with clear functionality can be seen in their pavilion for the American Academy in Berlin. The glass bungalow offers the scholars of the academy delightfully simple workspaces overlooking Greater Wannsee, a lake located in the south west of the German capital. It evokes a contemporary variation of Mies van der Rohe's Farnsworth House, but with a complicated, offset roof structure made of steel. The idea for this was born from a Moroccan weaver, who showed Barkow Leibinger his centuries-old craft, which was then taken to Berlin where the team digitized, scaled, and transformed the texture of the carpets into a gigantic installation made of 1,001 pine-suspended cotton threads for the Marrakech Biennale. Elements of this hyperbolic structure are now towering over the heads of the fellows at Greater Wannsee. "The fact that our material studies and prototypes find a place in the real world is very satisfying," says Leibinger.
"We also see our office as a research platform," says Frank Barkow. "When we see potential in a problem, we take it to our students at Harvard and Princeton where we can work on it on at an extremely high level." This is exactly how a utopian car design that Chris Bangle made for BMW turned into flexible, sustainable structures for affordable housing. Like in his own office, it is this dynamic tension, a way of approaching things at eye level, the doubts and the struggle for the best solution, that Barkow appreciates about the "tough schooling" of Harvard: "I need this resistance," he insists. "These young, very motivated students challenge me," confirms Leibinger. "They also keep me up to date when it comes to new technologies, materials, and perspectives." The best ones tend to join their office in Berlin, a city whose creative energy the two swear is second to none.
Select Projects
Trumpf Smart Factory, Chicago, United States

Trumpf cafeteria, Ditzingen, Germany

Loom Hyperbolic, Marrakech Biennale 2012

Serpentine Summer House, London, United Kingdom

Tour Total, Berlin, Germany

Fellows Pavilion American Academy, Berlin, Germany
While drawing infinite inspiration from the city of their choice, Barkow Leibinger slowly shape Berlin's urban landscape with their own buildings. Just take a look at the elegantly twisted Total skyscraper at the main train station from 2012, or the Estrel Tower in Neukölln, which is slated to be the tallest building in the city. The architects are even moving traditional conservative developers like a Berlin housing construction company to integrate innovative methods into their building experiments. "This new building material developed by civil engineer Mike Schlaich at the TU Berlin is amazing: it not only supports and protects the material from wear and tear, it also provides insulation and is fully recyclable. We are making a highrise out of the material for the first time," explains Leibinger.
A couple of years ago, Barkow Leibinger made their old dream of having an office in New York come true. "I'm pretty critical of American architecture," says Barkow. "And I think my Europeanized understanding of architecture can help to make it better." In the tradition of Le Corbusier, Erich Mendelsohn and other exiled architects who helped to shape American building culture in the 1920s and '30s, Frank Barkow, an American architect from the depths of Montana, returns to the land of his grandfathers to import education, a sense of art and architectural culture back into the USA. Even if the New York office is still in its infancy, Barkow enjoys this narrative. It is yet another bridge between this theoretically unlikely but practically fruitful combination: Barkow and Leibinger.
A collaboration between Freunde and Freunde and Siemens Home Appliances, Architect Dialogues explores current design philosophies, urban living trends, and global challenges in conversation with four award-winning architects and interior designers. For more insights from Barkow Leibinger, the Berlin-based power-couple profiled in this part of the series, see the extended conversation over at Siemens Home Appliances. To learn more about individual projects turn to the architects' own website. Stay tuned for upcoming entries to the series and be sure to check out our other portraits in collaboration with Siemens Home here.
Architect Dialogues is supported by FRAME and Baumeister, who help bring select interviews from the series to new audiences on their end.
Text: Sarah Elsing for FvF Productions
Photography: Daniel Gebhart de Koekkoek for FvF Productions