Natural and artificial light have proven effects on our mental and physical health. Thanks to transdisciplinary research and innovative lighting technologies, the buildings we dwell and work in are finally catching up.
In 1943, while considering the repair of the bomb-ravaged House of Commons, Sir Winston Churchill famously said, "we shape our buildings and thereafter they shape us." More than 70 years on, this statement still resonates because we instinctively know it to be true: entering a high-ceiling museum hall can feel uplifting, an office with a view inspires ideas, and a sunny roof-top terrace makes for a perfect place to relax. Our built environment has an enormous impact on how we feel and act. Famed architect Le Corbusier called architecture "the masterly, correct, and magnificent play of masses brought together in light." Light, however, not only determines architectural quality—it is, above all, what affects our moods, health, and our ability to thrive.
"People want to be where there is light, both light and space shape behavior."

Kasper Guldager Jensen
According to the U.S. Environmental Protection Agency (EPA), the average American spends 93% of their life indoors—be it at work, at home, at school, or in the car. The less time we spend outdoors, the more important the quality of indoor lighting—both natural and artificial—is for our wellbeing. This is particularly true for the workplace. A recent Gallup Report found that a shocking 85% of people are either not engaged or actively disengaged in their jobs—and not necessarily because of their commute, their boss, or their salary, but often due to their physical and sensory environment. More than indoor air quality or thermal comfort, notes a World Green Building Council report, it is the generous access to daylight and quality electrical lighting that determines how we feel. Exposure to the right amount of light at the right time of day, for example, is vital for our circadian rhythm—the natural cycle of sleeping and waking that relies on light amount and color to keep it on track. In a study published in The American Academy of Sleep Medicine, researcher Ivy Cheung examined the impacts of sitting next to a window at work and found that this kind of appropriate daytime light exposure can lead to an extra 46 minutes of sleep every night.
How to optimally combine natural and artificial light is being investigated in research and industry partnerships worldwide. Fraunhofer Institute for Industrial Engineering and lighting company Zumtobel, for example, studied how a group of employees perceived the light qualities in their office spaces and found preferences for light direction (people want both direct and indirect light), light colour (responses were mainly 4000 and 5000 Kelvin), and desired illuminance levels (800 lux or higher, which is way above what most offices are typically designed for). Based on this research, Zumtobel developed tunable lighting systems that simulate natural light and allow granular parameter changes at the push of a button. Impact studies developed together with neuro-scientists found that not only did employees prefer the new lighting system, but there were measurable improvements in productivity, and biometric data showed stress and agitation levels decreased.
The assessment of how people are impacted by the buildings they inhabit or work in is increasingly recognized as an important first step for improving health. Much like sustainability standards measure a building's energy use, new metrics like the WELL Building Standard evaluate how it performs for the wellbeing of its inhabitants. Developed by American physicians, researchers, and designers and adopted by over 2,000 projects across more than 50 countries, WELL sets international standards for a variety of building parameters including air and water quality, acoustics, and—a core component—the use of light. For an office, a public building, or a private residence to qualify, it needs to meet WELL's optimum for access to indoor light exposure, glare control, visual comfort, and overall quality of electrical lighting.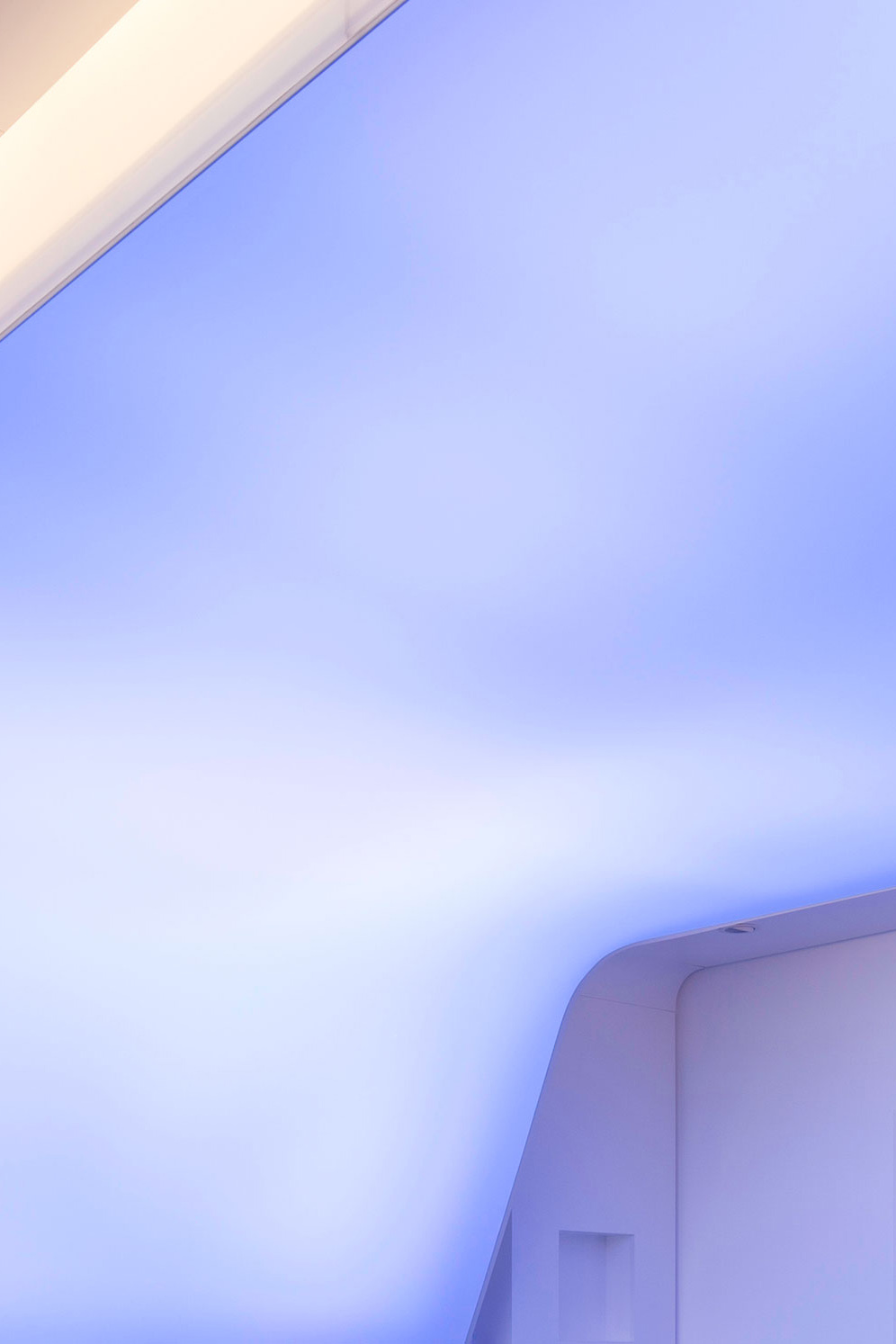 "Light is an essential nutrient—almost like food."

James Turell
Research into the links between the quantity and quality of light, and our physical and emotional health are not new in architecture. In the past, exposure to daylight and nature has been central to design for healing and even considered as a treatment for illness. Until antibiotics were widely available after World War II, the state-of-the-art treatments for tuberculosis were daylight and fresh air 'treatments' which involved relaxing outdoors. These sparked new health care typologies, like sanatoria (a notable example is Alvar Aalto's Paimio Sanatorium built in 1933) and cure cottages (such as those at Saranac Lake in New York starting from the 1870s), where people recuperated on therapeutic architectural features such as roof decks and cure porches. Today, the benefits of daylight in health care settings are well studied: in 2006, the American Center for Health Design confirmed that exposure to natural light reduces depression among patients, decreases the length of hospital stays, and improves sleep rhythm. Focusing their attention on intensive care units where daylight is not an option, Berlin's Charité hospital in Germany has been experimenting with how artificial light can reduce pain therapy medication, enable more restful sleep, and speed patient recovery. Their ambitious pilot project brought together an interdisciplinary group of doctors, architects, lighting designers, and sleep experts to design and test three intensive care hospital rooms that use immersive light screens to stimulate patients and reduce their pain. Inspired by a comforting cocoon, each bed features a room-sized media screen on the ceiling that displays a range of natural imagery like gently moving clouds, changing sky and weather conditions, and pulsing light. "Patients used to leave and say that they were grateful for the care but that they spent their time—days or even weeks—just looking at the acoustic ceiling tiles, counting the dots," says Thomas Willemeit of GRAFT architects, who helped conceive the project. "It could not be more different now."
But not all ills can be treated in light-optimized health care environments. In 2017, the World Health Organization reported that for the first time in history the leading cause of disability worldwide is not contagious diseases—it's depression and related mental illnesses. Thankfully, there's a burgeoning group of architecture and design offices carrying out their own research on how light impacts people and how to better design for it. Danish architecture office 3XN, for example, has created a research group dedicated to exploring green architecture and what they call 'architectural psychology' to better understand how their designs affect people. Like a growing number of architecture firms, they use digital design and simulation tools as a way to understand the interplay of natural and artificial light in their buildings. Daylight was a driving concept for 3XN's recent Swedbank Headquarters in Stockholm; by using a zigzag floor plan to break up the building's form into a triple-V shape they were able to create five internal courtyards and a dense variety of naturally lit workspaces. The articulated design with its multitude of surfaces maximized the light and fresh air entering the building, ultimately creating a much friendlier, healthier environment for Swedbank's employees. "People want to be where there is light," explains GXN's Kasper Guldager Jensen, "both light and space shape behavior."
Light can also create a sense of wonder. Danish architecture firm Schmidt Hammer Lassen, for example, enlisted famed American light artist James Turell for the new extension to the ARoS Aarhus Art Museum. Due to open in 2021, the extension fuses art and architecture to create a dramatic relationship between the spaces above and below ground. It will feature two subterranean gallery spaces, stretching 120 meters below the surface, and two semi-subterranean immersive light installations designed by Turell. The only above-ground structure, a monumental, 40 meter wide dome, will house one of the artist's famous skyspaces. Something of a Turell trademark, the structure will open to the sky, creating a dramatic space for performance and live art. "I like to think of the museum as a mental fitness centre and this extension will expand upon this idea," explains ARoS director Erlend G. Høyersten. More so than their intellect, the expansion, once completed, is posed to stimulate the visitors' senses. Experiencing the wide range of sensations induced by natural and artificial light might just prompt a new appreciation for the mundane yet miraculous medium and its role for the human psyche. As Turrell himself once put it: "light is an essential nutrient—almost like food."
This essay is part of our content collaboration with Austrian lighting design company Zumtobel that illuminates how light inspires art, design, and architecture. See our past explorations here and stay tuned for future ones. A long-standing Freunde von Freunden (FvF) partner, Zumtobel also contributed to the furnishing concept of the FvF Friends Space.
Text: Terri Peters
Photos: Adam Mõrk (Swedbank Offices)