Due to its turbulent political history, North Macedonia's capital of Skopje has become a melting pot of contrasting influences. We met up with Macedonian DJ and artist Aleksander Grozdanovski to find out more about how the city's journey from Socialism to democracy has influenced its electronic music scene.
"We were both on time, and we're from the Balkans!" says Aleksandar Grozdanovski jokingly. The Macedonian artist better known by his DJ name of Herzel has been tasked with introducing me to the city of Skopje's electronic music scene. Originally from the town of Bitola near the Macedonian and Greek border, Grozdanovski first moved to Skopje in 1994 to study philosophy and has since become a key figure in the city's electronic music community. Having recently moved to Berlin, he now works on the editorial team for music platform Telekom Electronic Beats, collaborates closely with record label Parallel Berlin, and has even started his own label named Bran (which means wave in Macedonian) with fellow DJ Andrej Micajkov. However, despite this relocation, he still travels back to Macedonia almost every month.
In Macedonia Square, a neon red Coca-Cola sign overlooks the central statue of Alexander the Great, which is encircled by buildings that, although neo-classical in style, look oddly new. With this kitsch backdrop in mind, it's a surprise to learn that we are about to embark on a walking tour taking in Skopje's famed Soviet-era, Brutalist architecture. "It's crazy, Skopje's like a completely different city now," says Grozdanovski as we begin to walk to our first destination. He is, of course, referring to the controversial redesign project that has been taking place in Skopje since 2014. Over the past four years, the local government has been attempting to create a new national identity, replacing buildings erected while Macedonia was part of Yugoslavia—a former socialist dictatorship which fell in 1994 and formerly encompassed modern-day Croatia, Montenegro, Serbia, Slovenia, and Bosnia and Herzegovina—with gaudy facades and statues in an effort to boost national identity and increase tourism. "Our whole connection with socialist Yugoslavia is being systematically erased," says Grozdanovski, with a tinge of sadness in his voice. "But it's still here, in the spirit of all the people."
The first evidence we come to of Macedonia's socialist past is the former Central Post Office. Now dilapidated due to an unexplained fire seven years ago—"it was kind of an accident, but it was also a political thing"—the Post Office was once a "beautiful" example of the Brutalist architecture that once covered the city, which was largely rebuilt in this style after a devastating earthquake in 1963. Designed by famous Macedonian architect Janko Konstantinov, the structure's interior was formerly adorned with murals that illuminated with the light flooding in from the central atrium. Now all that remains is its grey, concrete, spaceship-like exterior. "There isn't a building like this that is protected in any way. That's the problem," says Vase Petroviski, our photographer who recently worked on a project with Blue Crow Media creating a modernist map of Skopje. "Some architects are trying to make it so it's a building of historical significance. But then again I also heard a rumor that someone wants to buy it."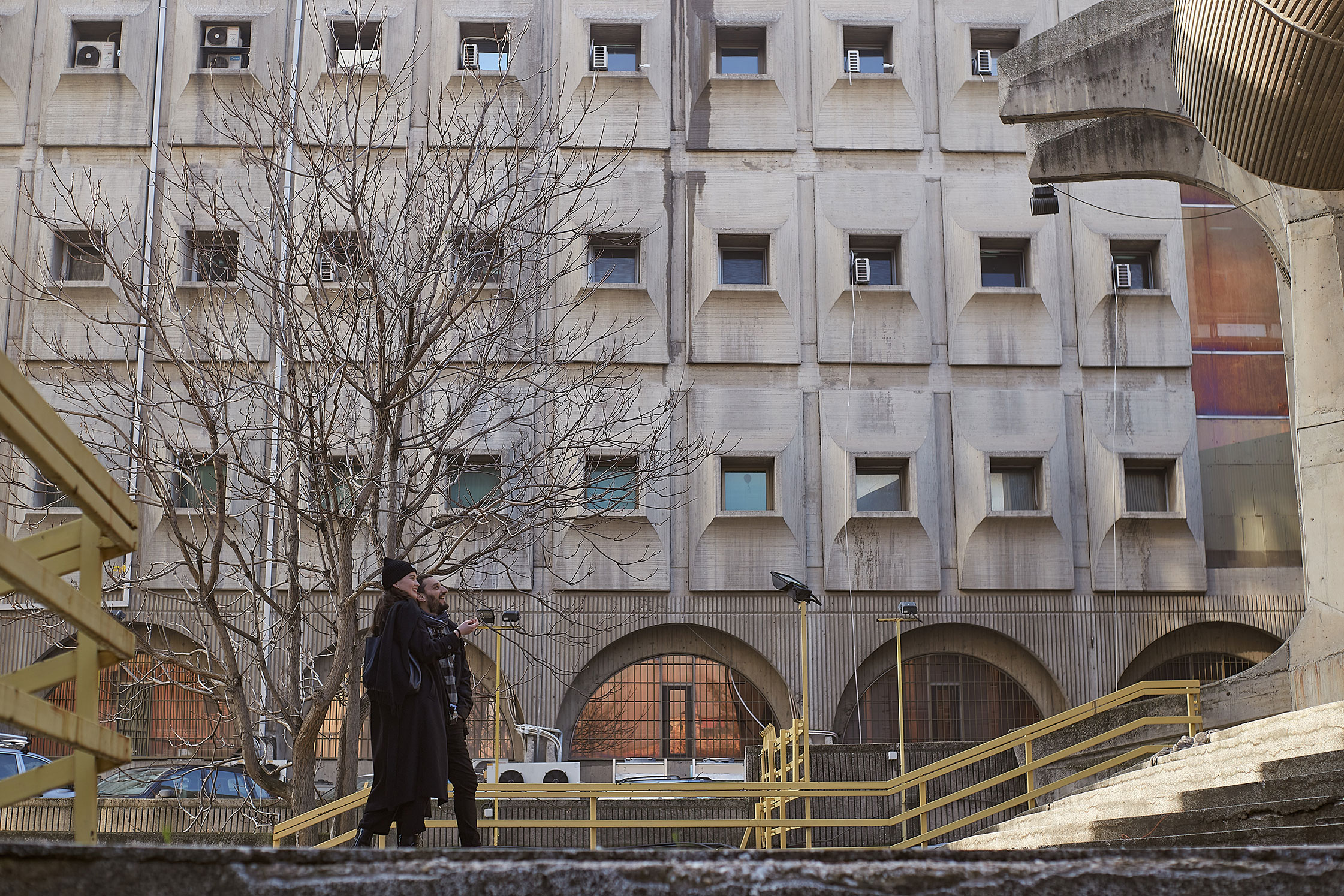 "Our whole connection with socialist Yugoslavia is being systematically erased."
We make our way over to the Old Bazaar, one of the few areas of the city not destroyed by the 1963 earthquake. The winding network of artisanal shops dates back to the Ottoman period, and while it now houses the workshops of a variety of craftspeople—one shop displays a plethora of bejeweled tiaras—it used to be the central hub of Skopje's thriving club scene. "It was so magical, being outside in the streets and clubbing amidst these 12th century objects," he reminisces. "The transition period between Socialism and the new government lasted until 2004. There was a lack of laws about nightlife, so you could do whatever you wanted because there were no police to come and close you down." While today, trap music is very popular in Skopje, during the transition period DJs were mainly influenced by American music scenes and predominantly played house and techno tracks. "For many years there has been a tight connection between Skopje and Detroit. I think we were the first place in the Balkans to invite Detroit artists to play in our clubs," says Grozdanovski proudly. The first DJ to come over was Derrick May, who played a "legendary" set in 2001 by Lake Ohrid. "It was one of the best parties ever. And then it all started," he continues, referencing the fact that Skopje is even mentioned in Hi Tech Soul – The Creation Of Techno Music, a documentary about the music scene in Detroit.
While most clubs now are located in central Skopje—many moved from the Old Bazaar during the 1991 Yugoslav Wars, ethnic conflicts that made people scared to walk through the predominantly Albanian and Turkish area at night—Grozdanovski's favorite still remains. Tucked away in a quiet, square courtyard dating back to the 15th Century is Kapan Han, the first place Grozdanovski ever DJ'd in the city. "Every other club has changed, they're not in the same locations and they don't have the same owners or managers. But this is still the same," he says, explaining that it's particularly great in the summer when the party spills outside and the clubbers can enjoy the warm weather. "It's very easy to organize parties here because the owner is such an awesome guy."
Parties haven't always been easy to arrange in Skopje in recent years, however, due to the restrictive laws put in place by the first government to take power after the country's transition period. "They prohibited smoking in bars, clubs, and cafes, and you weren't allowed to buy alcohol after 7 pm. The club scene suffered a lot. Even four years ago it was completely dead." But now, with a new, more liberal government—apart from when it comes to drugs, "you can end up in a court of law for smoking a joint!"—and investments from sponsors such as cigarette companies Winston and Malboro, Skopje's club scene has begun to flourish once more. "That's why you can end up having ten foreign artists playing here in the space of a weekend. It was not possible before."
According to Grozdanovski, one of the best developments in Skopje's music scene has been the growth and acceptance of the queer community. "Queer and drag culture are getting more vibrant and open. We had pride here for the first time this year and it was very successful. There were no incidents like in Belgrade," he says, leading us into Short Bus, a small bar-cum-arts space that is a hotspot for Skopje's queer community. As we enter the venue, we see a group of people carefully selecting and arranging artworks on the walls in preparation for an upcoming exhibition. "They're not only a music venue. They also do talks, readings, and poetry nights," explains Grozdanovski. "I used to live across the street. I was here nearly every day."
It's not just the queer community that has been given a greater voice in Skopje in recent years. "In the '90s, being a DJ was a very macho thing. For women, it wasn't possible to be involved. Now it's completely different," says Grozdanovski. Mileskaya—a Macedonian DJ who we saw play the night before—was one of the first female DJs on the scene, as was Emi Ermilova. A 29-year-old Skopje based DJ, Ermilova is a resident DJ at LongBus parties and was also part of the Telekom Electronic Beats weekender line-up. "I want to bring her to Berlin, she's never played there before," Grozdanovski adds.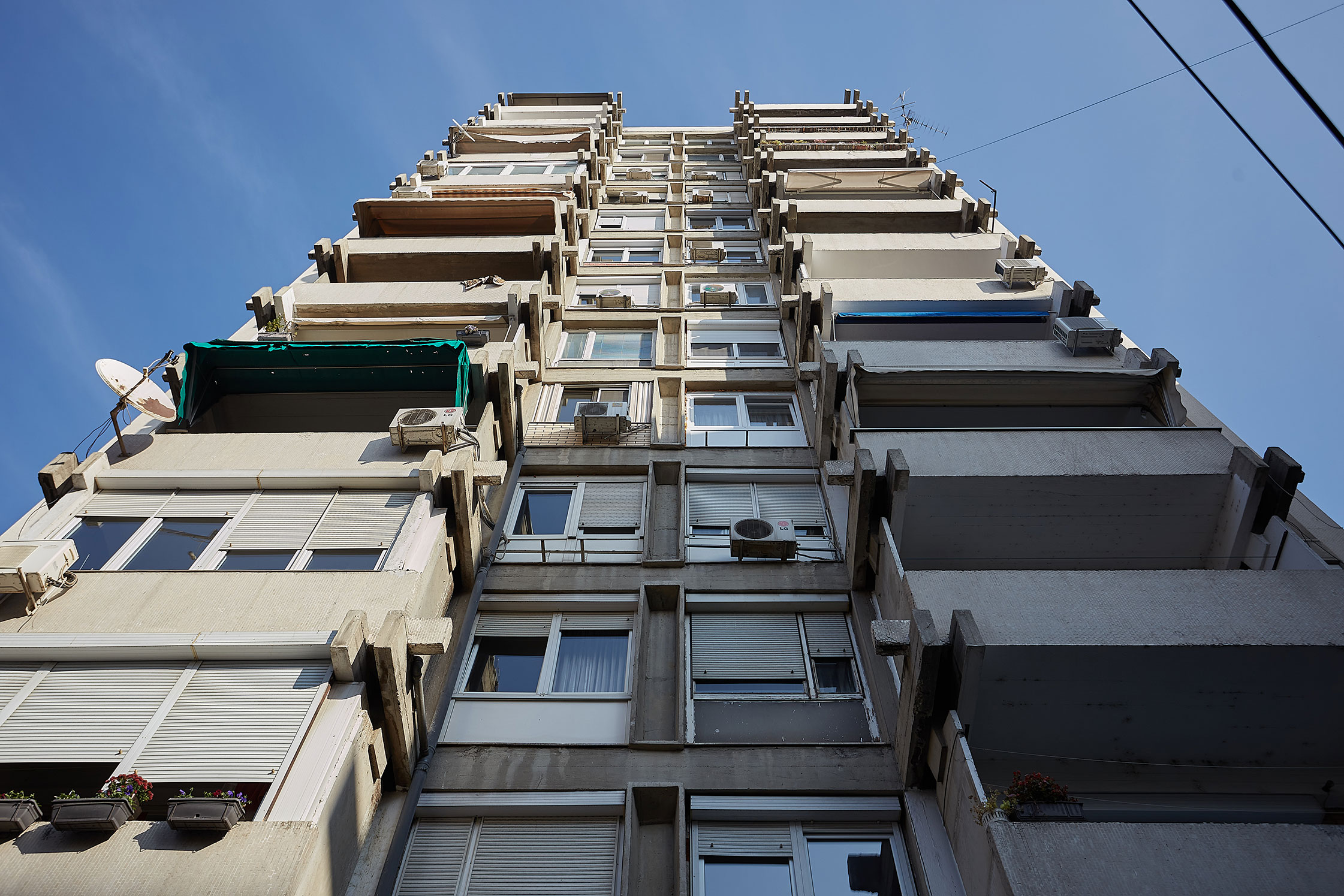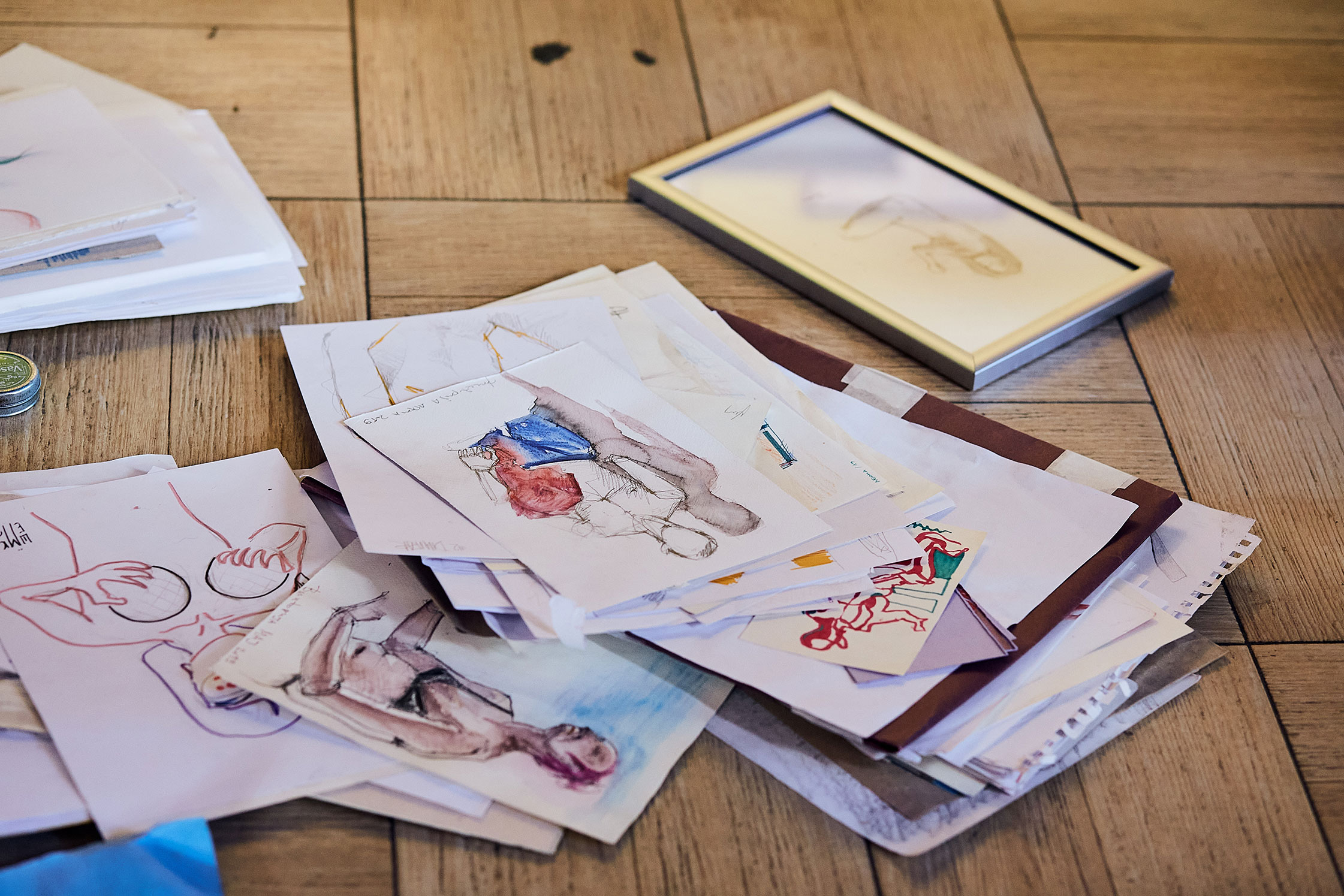 "In the '90s, being a DJ was a very macho thing. For women, it wasn't possible to be involved. Now it's completely different."
We meet up with Ermilova in a cafe in Skopje's Debar Maalo district. Over a cup of coffee, she tells us that she started DJing when she was 13 when her cousin first bought a computer. "Later I started to listen to trance music and went to all the trance parties. I think my first mix was a trance mix," says Ermilova, explaining that Skopje used to have a large psychedelic trance scene. Now, her mixes encompass house, electro, and the genres she selects often depends on the venue she is playing at. While she says that there are many opportunities for young DJs in Skopje—"anyone who wants to be a DJ can be a DJ"—she also notes that it is almost impossible to make all of your money from music in the city. "Most DJs have other jobs. I'm a graphic designer, and I search for tracks whilst I'm working."
According to Grozdanovski, the inability to make a living out of music is why many Macedonian artists are leaving Skopje for Western Europe and the US. Even Ermilova herself professes a desire to move to Berlin, where she would join a host of other Macedonian DJs who have migrated to the German capital, such as Grozdanovski himself, and Stojche, who runs the renowned label Tangible Assets. But perhaps this dissemination of the scene will only help to alert the rest of the world to the talent that has been brewing in Skopje over the past few years. "We have very good DJs here. Most of the time, when you invite guests, the Macedonian DJs still end up being the best," says Grozdanovsky smiling. "I've been thinking about hosting a Macedonian only artist night in Berlin." So if you stay tuned, you might be getting a taste of the Skopje music scene in a local club near you, which may even tempt you to head over to Macedonia and sample the real thing for yourself.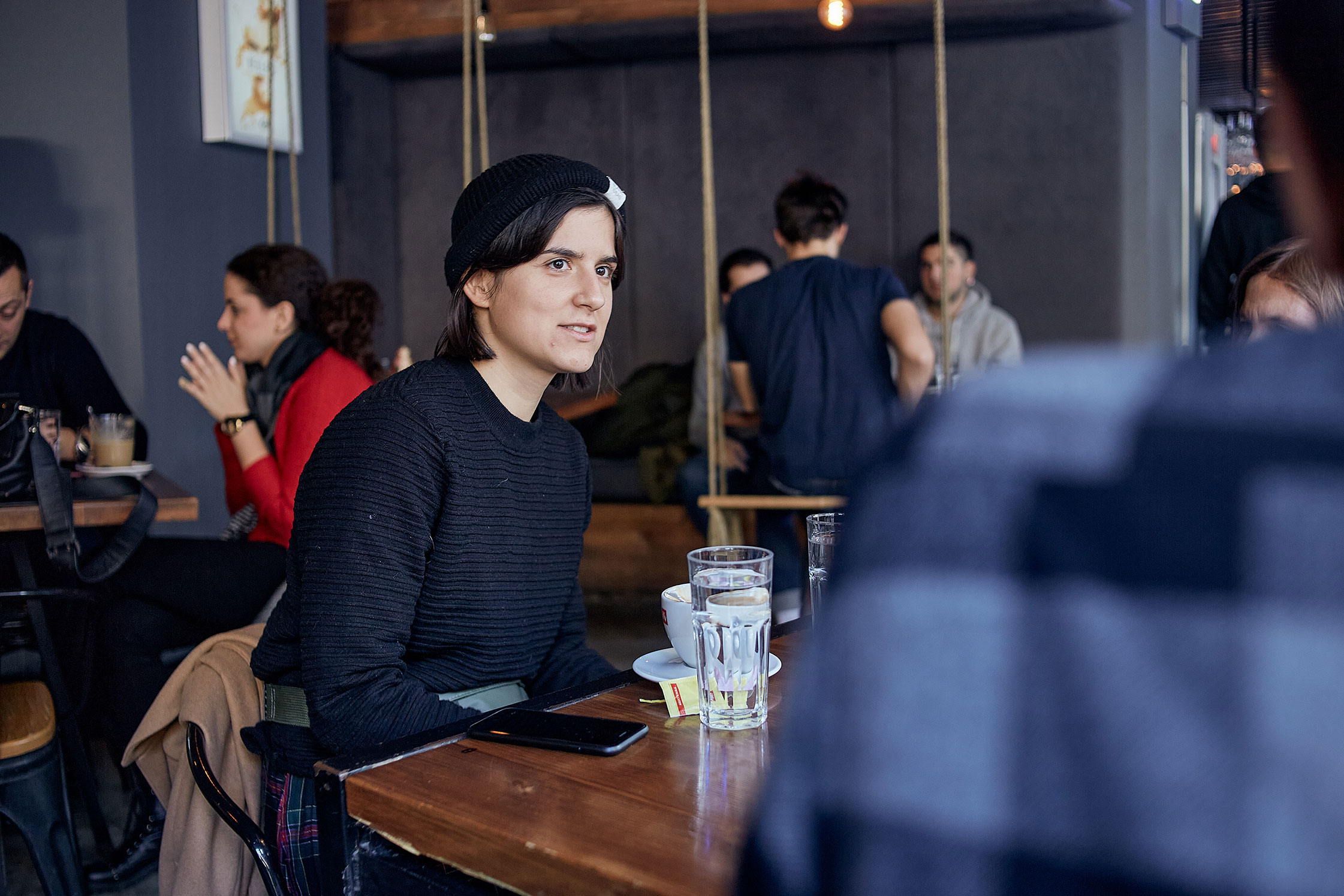 FvF was invited to attend the Telekom Electronic Beats Weekender in Skopje where Aleksander Grozdanovski—also known as Herzel—showed us around the city.
As part of our ongoing collaboration with Telekom Electronic Beats, who have been working with creative minds of Eastern Europe for many years, we're eagerly exploring more Eastern European cities and scenes. If you enjoyed this article, why not take a look at two of our recent tours of Budapest and Bucharest?
Text: Emily May
Photography: Vase Petrovski