The MINI LIVING Urban Cabin is a temporary home constructed to accommodate the needs of urban dwellers. Co-designed with local architecture firm FreelandBuck, the third iteration in a five-city tour served as a centerpiece at this year's L.A. Design Festival.
When thinking about residential life in Los Angeles, the mind often conjures images of canyon cabins, beach bungalows, and mid-century masterpieces. Rarely is life in the City of Angels associated with a downtown apartment, arguably the truest form of city living in a landscape criticized for its vast urban sprawl. All of this is changing, however, as L.A., like many cities, is experiencing a cultural migration that makes the demand for creative, small space solutions imperative. This is where MINI LIVING and local architects FreelandBuck come in.
Embodying the ethos of MINI LIVING, "Big Life, Small Footprint", the rooftop installation features a minimalist façade anchored by a three-dimensional entrance that gives the illusion of an expanse of space. The interior, comprised entirely of pegboard walls wrapped in perforated metal, offers endlessly malleable, modular functionality that belie the relatively tiny 15-square-meter footprint.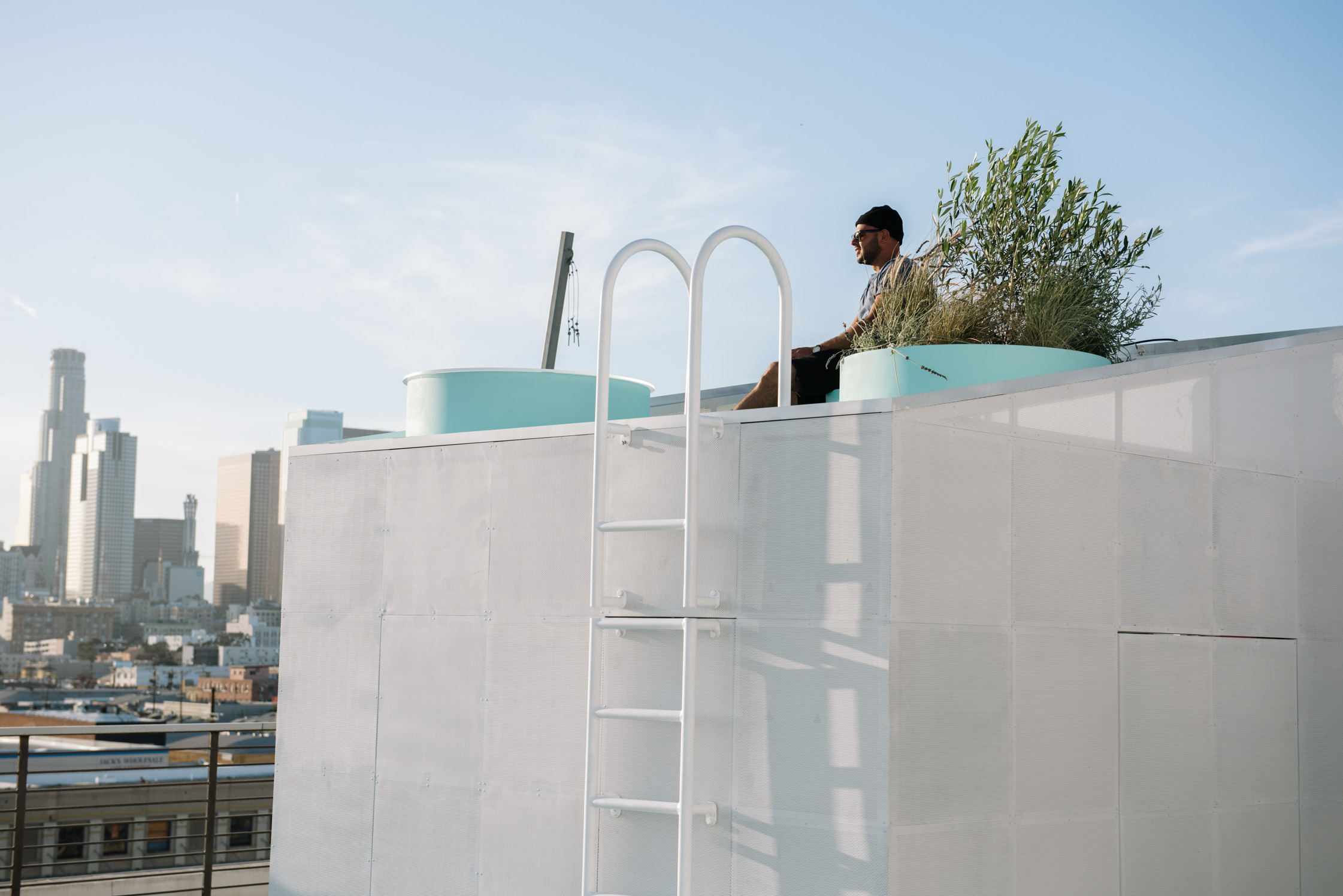 "We were interested in how a flat, two-dimensional graphic aligns to your point of view and then unfolds into a three-dimensional set of planes and surfaces that change as you move around and through them."
The duo worked in conjunction with Corinna Natter, designer of the Urban Cabins at MINI LIVING, to create a completely inhabitable structure that marries form—in this case a playful kaleidoscopic entrance or "experience room"—with a functional interior that can open the space to communal gathering as well as close it off to private habitation.
"We played with the light and what's important for people in L.A.," Natter says. She cut geometric shapes into the pegboard to allow the light to cast shadow patterns on the walls and floors both inside and out. Portions of the walls, like secret doors, flip open to reveal an outdoor dining table or makeshift towel rack. The bed can even slide through the wall to allow for sleeping under the stars.
L.A.'s famed sunsets proved inspirational, too. Natter chose tangerine for the kitchen (a potential reference to the history of ROW DTLA, a still functioning fruit market operating since the 1920's) highlighted by moveable teal shelves, while FreelandBuck's wrapped imagery framing the entrance seems to fade from burnt orange to the faintest sky blue reminiscent of the city's "golden hour."
"We tried to make the space feel like an outdoor attached yard or garden," Buck adds, referencing the lack of green space in most urban metropolises. "We added plants, which are not on the ground but hanging down from the ceiling, to give the sense of being outdoors as much as possible."
FreelandBuck Architectural Plans
"Living in small spaces should be desirable, inviting, and exciting…we think it's crucial to provide architecture that goes beyond pure efficiency."
The purpose of the Urban Cabin Tour is to highlight the ways in which our cities are becoming as homogenous as they are overpopulated with an increasing need for livable solutions for those new to a city.
"Living in small spaces should be desirable, inviting, and exciting," Brennan Buck explains. "There's so much pressure on efficiency in terms of cost and use of space in small-scale, dense housing that we think it's crucial to provide architecture that goes beyond pure efficiency."
The Urban Cabin idea is prototypical in that it will culminate in a co-living hub in Shanghai, slated to be finished in April 2019. A communal living and working space that, much like the Urban Cabin, allows for both privacy and community building will hopefully pave the way for more in the future. "We think about how cities can change," Corinna Natter says. "And how we want them to change."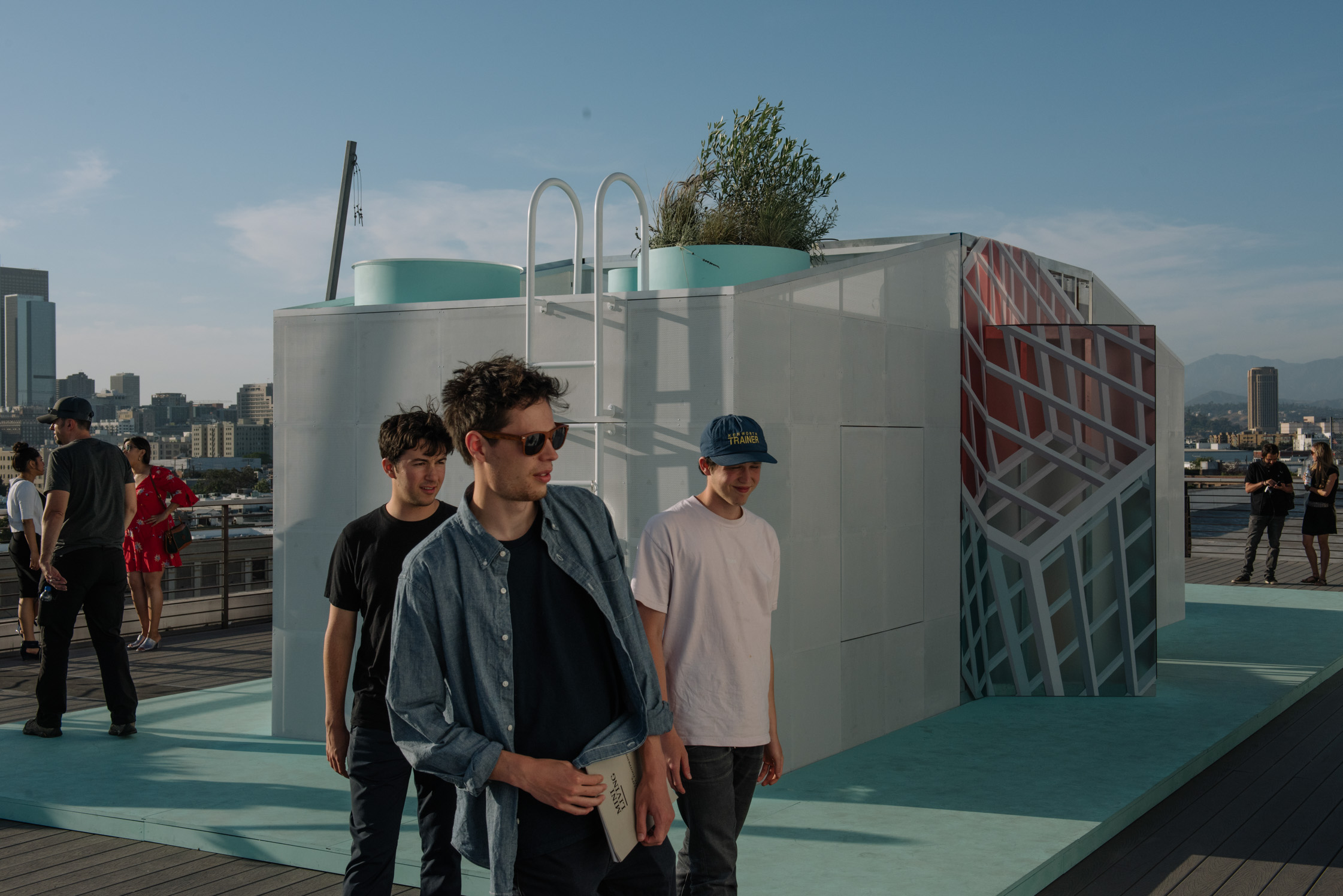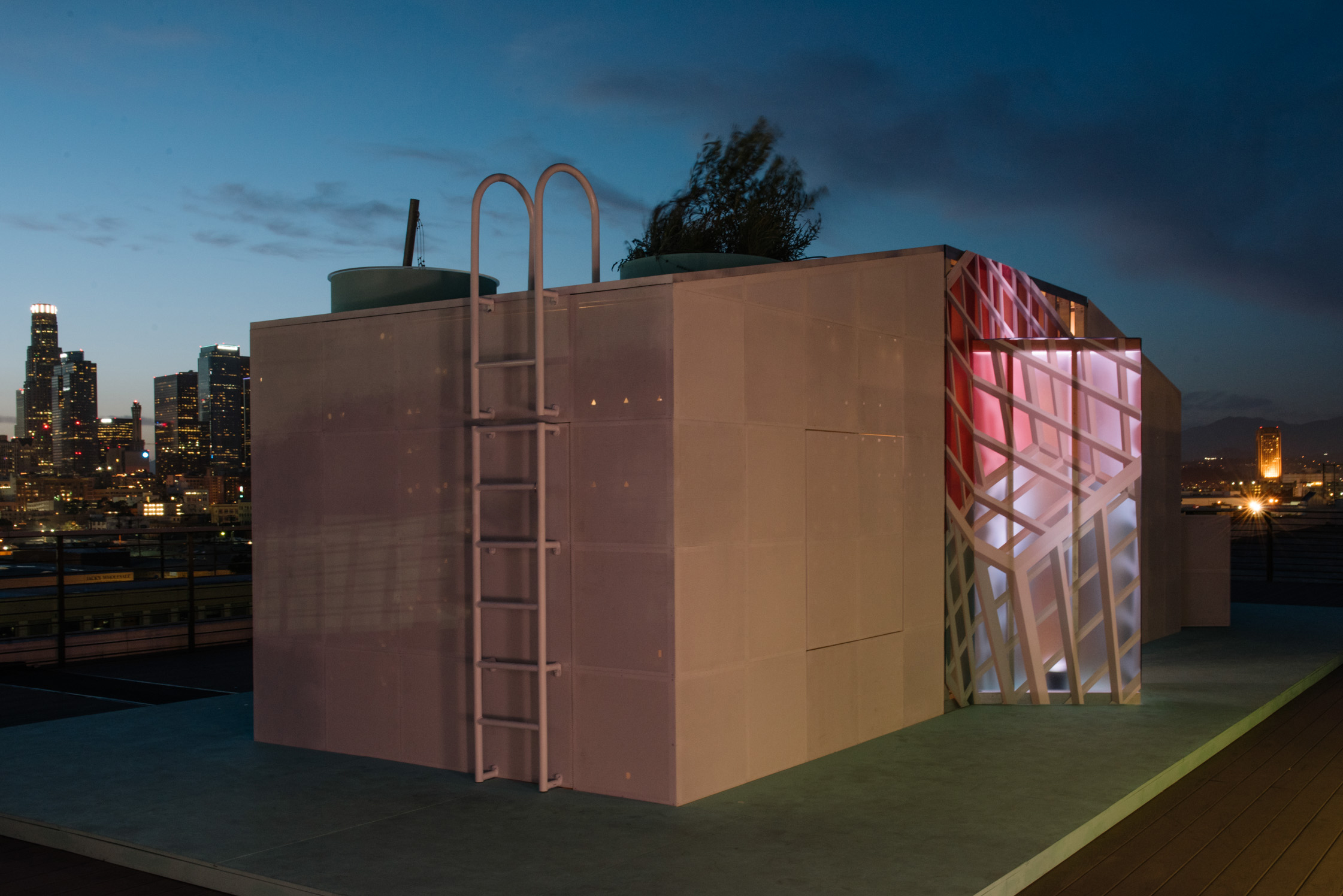 As our cities are undergoing constant change, MINI LIVING eagerly respond to urban challenges by involving local communities and companies, such as the L.A.-based architecture firm FreelandBuck. The Urban Cabin Tour includes five destinations—besides L.A. it will visit Shanghai and Tokyo—where local architects and MINI LIVING designers will present a variety of installations.
The Urban Cabin Tour, along with the visionary and multi-generational concept Built by All presented at this year's Salone del Mobile in Milan, is one of several initiatives founded to reimagine the creative use of space inherent to metropolitan living.
Text: Andi Teran